The best jamborees and festivals in the nation for your summer and fall destinations By the staff of Dirt Wheels
Summer is upon us and fall is coming quickly. The warm weather is starting to make us get the itch to visit a great jamboree, rally or festival soon. There is nothing like having epic trail rides during the day, following it up with good food, good company with family and friends, and maybe a concert or two at night to top it off. Plus, the free giveaways, because who doesn't like free swag?!
But where can you take your family or pals out for a great ride, you may ask?  Clean out the camper or air out that tent, because we have compiled a list of the best and most famous family-friendly jamborees there is, that will fuel your summer and fall fun all the way until November!
1: RALLY IN THE PINES 
LOCATION: MACKAY, IDAHO
DATE: JULY 6-9TH
CONTACT: www.rallyinthepines.com, 208-241-8596
COST: $89 per person for self-guided rides, $109 per person for guided rides. Kids 6–15 years of age are $20. Kids 5 and under are free.
A fan favorite of ATV and UTV enthusiasts, you can enjoy incredible riding opportunities in the mountains surrounding Mackay, Idaho, at Rally in the Pines. Located just east of Sun Valley and west of Yellowstone National Park, the rides reach mountain peaks over 12,000 feet high! Rally in the Pines offers group rides for ATVs and side-by-sides with knowledgeable ride leaders, geocaching rides, lunch rides, night rides and lots more! The rally is next to a small western town that welcomes ATVs and side-by-sides. You can ride your ATV or SxS on any city street in the town of Mackay, Idaho. Get gas, go grocery shopping and go out to dinner, all with your ATV or SxS. Mackay has a population of 500 people and has everything you will need, including restaurants, a grocery store, a bakery, gas stations and a laundromat. You can ride into the history of the Old West on the mine-hill tour, take a lunch ride with a complimentary BBQ lunch or hit the haunted ghost-town night ride where you visit historic cabins, ghost-town sites, a railroad trestle and mines.
2: DUNEFEST 
LOCATION: WINCHESTER BAY, OREGON
DATE: JULY 26-30TH
CONTACT: www.dunefest.com, 800-247-2155
COST: Adult, $40-$45; kids 6 to 12 years old, $20–$25. Single-day event pass, $30
DuneFest has sand, water and a forest of trees, so it shouldn't need anything else, but it doesn't stop there. The event is packed with exciting activities for all skills and age ranges, with plenty of activities all weekend long. There is something for everyone, including freestyle shows, concerts, a night ride, moto activities, show-and-shine, a treasure hunt, sand drags, a charity auction and OEM demos!
3: JERICHO ATV FESTIVAL 
LOCATION: BERLIN, NEW HAMPSHIRE
DATE: AUGUST 4-5TH
CONTACT: www.adroscogginvalleychamber.com/jericho-atv-festival, 603-752-6060
COST: $10 per person, kids 6 and under free.
This event features mud races, demo rides, live music and delicious food. The festival takes place at Jericho Mountain State Park. The park has more than 80 miles of trails, but is connected to more than 1000 miles of interconnected OHV trails in the Ride the Wilds trail network. New Hampshire's Grand North is paradise for ATV riders. For those looking to experience new machinery, there are free demos of machines. There are plenty of nighttime activities, including the famous block party in town, and you are welcome to ride/drive your OHV into town for the festivities.
4: SUMMER BLAST 
LOCATION: PATTON, PENNSYLVANIA
DATE: AUGUST 10-13TH
CONTACT: www.rockrunrecreation.com, 814-674-6026
COST: $64.50 for adults, children under 12 are free
Set in the rural parts of northern Cambria and southern Clearfield counties, the Rock Run Recreation Area trails provide spectacular views from atop the Allegheny Mountains. There are over 140 miles of trails that you can enjoy on whatever type of machine you like. The Summer Blast offers a live concert, skills competition, trail riding, food, camping, manufacturers' midway and vendors. You won't want to miss out on the memories that can be made at Summer Blast!
5: MANTI MOUNTAIN ATV RUN 
LOCATION: MANTI, UTAH
DATE: AUGUST 17-19TH
CONTACT: www.mantiatvrun.com, 435-835-2401
COST: $50 for one rider, $90 for rider and passenger
The trails around Manti and in the Arapeen OHV trail system will handle ATVs and accommodate 50-inch-or-wider UTVs. But with a starting altitude of 5600 feet and climbing to 10,000 feet, the organizers recommend vehicles with engines larger than 325cc to manage the climbs. There will be guided rides all three days, but you can get a map and explore on your own. There is plenty of lodging and camping in the area.
6: BRYCE CANYON ATV/UTV RALLY 
LOCATION: PANGUITCH, UT
DATE: AUGUST 22-26TH
CONTACT: www.brycerally.org, 800-444-6689
COST: $85 for driver, $40 for passenger
The Bryce ATV/UTV Rally claims "some of the most beautiful trails you will ever see." You can take a guided tour (limited to 25 riders per tour, but there are 15 tours the first day, 14 the second day and 13 the final day), or grab a map and head out on your own. Either way, you will experience scenery and trails like you have never seen before. Garfield County trails border Bryce Canyon National Park and is home to Casto Canyon, one of the top 10 most scenic trails in the U.S. In the evening, there is the ATV rodeo. Enter and compete or just cheer on your friends.
7: UTV INVASION 
LOCATION: SAINT ANTHONY, IDAHO
DATE: AUGUST 31ST-SEPTEMBER 4TH
CONTACT: www.utvinvasion.com
COST: Free
The UTV Invasion Powered by BoonDocker is a great UTV destination event! Bring your friends, your family and all your sand toys to St. Anthony, Idaho, over Labor Day weekend, August 31st to September 4th, for one of the biggest UTV events of the year. The main event takes place at Idaho Dunes RV Park with direct access to the biggest dunes in North America. Events include a teeter-totter challenge, vendor row, concert, group rides, raffles, show-and-shine and a Rugged Radios relay.
8: FARM FEST 
LOCATION: ANDOVER, NEW YORK
DATE: SEPTEMBER 1-3RD
CONTACT: www.tallpinesatvpark.com, 716-474-7660
COST: $20 for day pass, $10 for passengers, $10 for camping per day
Trail access is limited in New York state, so it is fortunate that there are privately owned riding areas like Tall Pines ATV Park. The final date on the 2017 calendar at Tall Pines is the Farm Fest. There is trail riding each day of the Fest from 9 a.m. to dusk, but there is entertainment and many events to break up the riding. You can even join a foot race through the mud bog. ATVs and UTVs are welcome, but no three-wheelers.
9: SAN JUAN ATV SAFARI 
LOCATION: MONTICELLO, UTAH
DATE: SEPTEMBER 14-16TH
CONTACT: www.sanjuansafari.com, 800-574-4386
COST: $100 per rider, $175 per couple, $300 per family of four ($75 fee for each additional person)
The San Juan ATV Safari is a three-day adventure that will leave you breathless. From the top of the Blue Mountains in the center of San Juan County to the depths of the surrounding canyons, this ATV extravaganza will surround you in the beauty and excitement available only in the Canyonlands region of Utah. ATV enthusiasts will experience three fantastic days of world-class riding, with a banquet and entertainment at the close of the event. This annual ATV rendezvous will be something you will not want to miss! There is a 350-rider limit, so act now.
10: ROCKY MOUNTAIN ATV/UTV JAMBOREE 
LOCATION: RICHFIELD, UT
DATE: SEPTEMBER 18-22ND
CONTACT: www.atvjam.com, 435-893-0457
COST: $100 per driver, $100 for passengers
There are a massive number of trails to choose from. Some require trailers, many require a vehicle narrower than 50 inches, but many allow wide machines. This year the parade will be held after the opening dinner, and a lights parade will be held during the jamboree. Think about all the ways to light up your machine for that! Entry fee covers guided rides Monday through Friday, dinners on Monday and Friday evenings, continental breakfasts in the park Tuesday through Friday mornings, a short-sleeved T-shirt, poker cards, a 2017 Paiute trail sticker and entry into the prize drawings.
11: ATV HISTORICAL COLOR TOUR 
LOCATION: BUENA VISTA, COLORADO
DATE: SEPTEMBER 19-23RD
CONTACT: www.coloradoohvtour.org, 719-395-6612
COST: $90 per person
The Buena Vista Chamber of Commerce hosts an annual community charity event called the ATV Historical Color Tour. Riders and drivers head to the rally and mountain festival to visit the area's old mining sites and ghost towns on self-guided tours. Ride near the top of a 14,000-foot mountain, cross the Continental Divide and take in the fall colors as the aspen trees change to gold. Buena Vista is in south-central Colorado, which has the greatest concentration of 14,000-plus-foot peaks on the continent. The mountain scenery and fall colors will take your breath away. The nearby mountain trails offer OHV rides for all skill levels—from easy forest roads to trails much more challenging. Night time is get-together time with BBQs, entertainment and prizes.
12: CAMP RZR EAST
LOCATION: BERLIN, NEW HAMPSHIRE
DATE:  SEPTEMBER 22-23RD
CONTACT: www.camprzr.com 
COST: $10 all weekend for adults, $7 for under 18 years of age
The Minnesota-based OEM Polaris has rebranded two major events and named them both Camp RZR. For the eastern trail riders, Camp RZR moves to Jericho Mountain State Park. With more than 80 miles of trails within the park and more than 1000 miles of interconnected Ride the Wilds trails in New Hampshire, Jericho Mountain State Park is a popular off-road destination in New England, making it the perfect place to host Camp RZR. Some town roads will be open to OHVs during the event. Attendees will experience everything from rocks to mud and hills to flats. Camp RZR New England will be featuring live entertainment, hundreds of thousands of dollars in giveaways, vendors and demo rides. Important to note: for Camp RZR New England, you'll need to register your machine in the state of New Hampshire ($40 per machine for 10-day registration).
13: EASTERN SIERRA ATV AND UTV JAMBOREE 
LOCATION: WALKER, CALIFORNIA
DATE: SEPTEMBER 26-30TH
CONTACT: www.easternsierrajamboree.com, 530-208-6078
COST: $160 per rider (16+) and $90 per child rider (under 16)
The Eastern Sierra Jamboree is held at the Antelope Valley Fire Station in Coleville. It's the only ATV and UTV jamboree in California. All rides take place in the nearby Humbolt-Toiyabe National Forest and BLM lands. The jamboree is limited in the number of riders allowed. With your registration, you'll receive a full breakfast each morning, chances to win prizes at the Tuesday-night BBQ and ice-cream social, four days of guided trail rides, dinner on Saturday evening, a trail T-shirt and a goodie bag. Be sure to make your lodging/RV reservations early, as they are limited.
14: TREK THE MIGHTY MAC & EXPO 
LOCATION: SAINT IGNACE, MICHIGAN
DATE: SEPTEMBER 30TH
CONTACT: www.stignace.com, 906-643-6950
COST: $35 per driver, $25 per passenger
This is a historical ride where ATVs, side-by-sides and off-road motorcycles get to ride across Michigan's famous Mackinac Bridge. Why all the excitement about what is basically a street ride? The ride begins in Mackinaw City. After crossing the bridge, you get to continue through downtown St. Ignace to the Little Bear Arena. There will be a lunch and an after-crossing party with a live band. That takes care of Saturday, but Sunday everyone is welcome to hit the trails near the arena. Hotel reservations should be made in advance. Stay in St. Ignace, since that's where you'll ride.
15: PUMPKIN/POKER RUNATV RALLY 
LOCATION: HURLEY, WISCONSIN
DATE: OCTOBER 5-8TH
CONTACT: www.mercercc.com, 715-476-2389
COST: $12
Hurley and Mercer offer the largest trail system in Wisconsin, and the Chamber of Commerce invites you to experience the true Northwoods during the changing of fall colors. For this 14th annual Pumpkin Run, you can participate in fun, family-friendly ATV events and spectacular fall ATV riding. Those who pre-register will receive a Pumpkin Run poker-run sheet, an official limited-edition Pumpkin Run bandanna, a free Iron County ATV trail map and lots of other great prizes too!
16: NATIONAL TRAIL FEST 
LOCATION: GILBERT, WEST VIRGINIA
DATE: OCTOBER 5-9TH
CONTACT: www.trailsheaven.com, 304-664-3477
COST: $45 for adult package, $35 for 12-and-under package, plus $35 for an event permit if you don't have a current one-year pass.
National Trail Fest claims it will be bigger and better than ever before in 2017! It's one of the premier UTV and ATV riding events in the country. There is direct access to the Rockhouse trail of the Hatfield-McCoy system from the host site location. Trail Fest has tons of daily and nightly entertainment to enjoy, or you can participate in drag racing, a mud pit, poker run, dice run, mud run for cash, scavenger hunt, casino night, ATV/UTV parade and manufacturer demos. Most of these events are covered by your event registration fee. You may also select a $60 meal package that includes Friday and Saturday dinners, as well as Friday, Saturday and Sunday breakfasts.
17: MUDTOBERFEST
LOCATION: JACKSONVILLE, TEXAS
DATE: OCTOBER 6-9TH
CONTACT: www.mudcreekoffroadpark.com, 903-586-6972
COST: $50 per person
What do you suspect there is to do at a four-day event called Mudtoberfest at a venue named Mud Creek Off-Road Park? Oh, and it is presented by High Lifter. We're going out on a limb here, but there might be mud and OHVs involved. You are welcome to trail ride all four days, but there are events running constantly for those looking for something more organized. The poker run is popular, and so is the obstacle course. No doubt you will find plenty of dirty fun.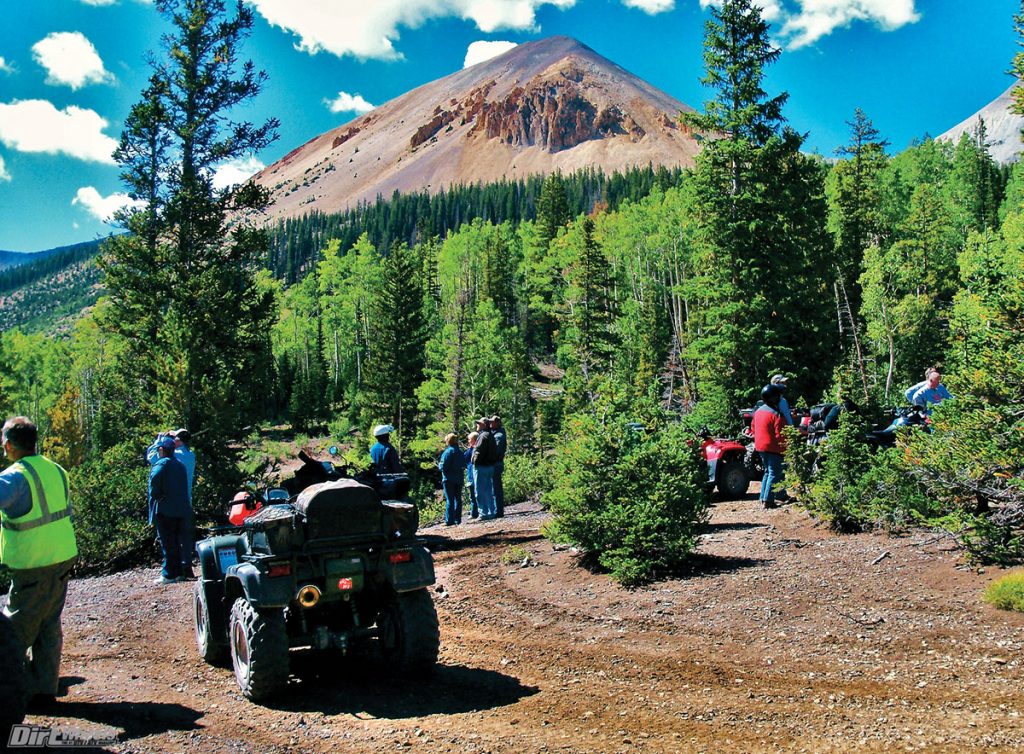 18: WINDROCK PARK FALL JAMBOREE 
LOCATION: OLIVER SPRINGS, TENNESSEE
DATE: OCTOBER 19-21ST
CONTACT: www.windrockpark.com, 865-435-3492
COST: Adults 13+, $15; children 6–12, $5; kids 6 and under are free
Grab your family, your gear and head to Windrock Park in Oliver Springs, Tennessee, for some ultimate family adventure! The Windrock Park Fall Jamboree has all kinds of activities that include competitions for ATVs and UTVs, guided rides, poker run (fund-raiser for Anderson Co. and Morgan Co. rescue squads), ATV rodeo, Windrock Challenge obstacle course, drag race, mud bog and the unforgettable Ladies Dash for Cash! Get spooked on the ghoulish Haunted Trail Ride, then join the Windrock Park crew for a bonfire dinner with live bluegrass music afterwards. There is always some muddy fun for the kids as well with the kiddie mud bog! An array of vendors will be on hand, which includes demo rides. Now, 72,000 acres of nonstop fun awaits you.
19: SXS ADVENTURE RALLY 
LOCATION: HURRICANE, UTAH
DATE: NOVEMBER 9-11TH
CONTACT: www.sxsadventurerally.com 
COST: $110 adults, 10 and under are free.
The CST Tires SxS Adventure Rally takes place in the heart of southern Utah at Sand Hollow State Park. It's near St. George and Hurricane, so there are plenty of places to eat and stay, or you can camp primitively inside the park. You'll experience incredible views of the lake, red rocks and epic trails. The SxS Adventure is a family-friendly event with guided trail rides—primarily rock crawling with some less technical scenic rides in and around Sand Hollow State Park. Other options for this event include free demo rides from top manufacturers, free Rockstar Energy drinks, chances to win a set of SxS tires and a chance to win a Polaris RZR!