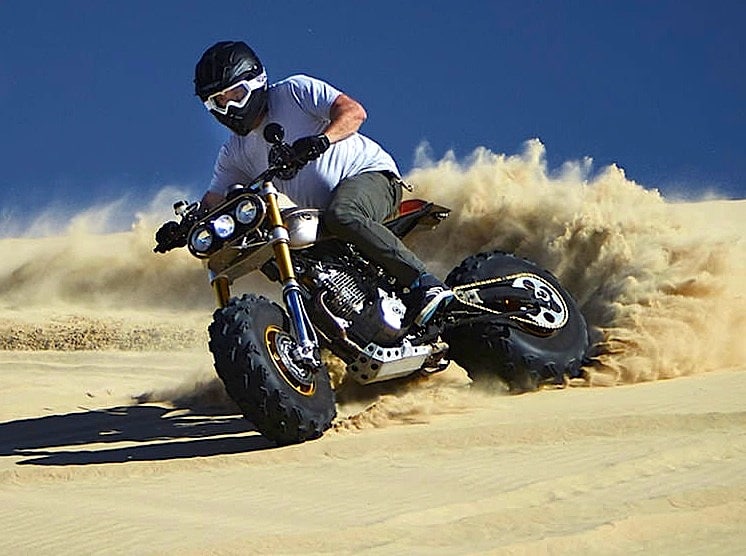 THE PERFECT HONDA FAT CAT 650?
The Honda Fat Cat is kind of like a dirt bike, but it's also like an ATV too. The fat tires allow it to carve across the sand better than skinny tires. If you've ever ridden a normal dirt bike at the dunes you had to deal with the front tire cutting in deep in the turns and the rear tire spinning wildly trying to find traction. This Fat Cat 650 is an effective solution to that problem.
Although this Fat Cat 650 is a custom build, its concept was based on the original Honda Fat Cat 200 that was available for sale at Honda dealers back in 1987.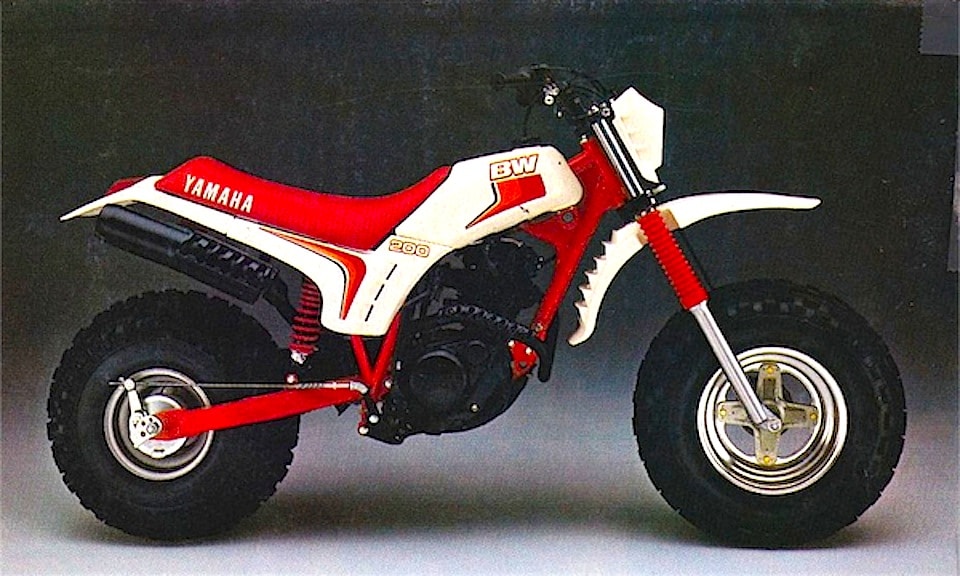 Honda didn't invent the fat tire 2-wheeler ATV. They were basically continuing a trend that Yamaha made popular with its BW200. It became available at Yamaha dealers in 1985. A larger BW350 was later added to the lineup as well. They're no longer available now, although you can still buy a street-legal TW200 today.
This Fat Cat 650 was built by a shop known as Classified Moto. They have had a reputation for putting together custom machines that have a unique look and style. We'd say they certainly achieved that goal with their big Fat Cat here based on a Honda XR650.
Because of the wide rear tire, the chain can't take a direct route from the front sprocket to the rear sprocket like a normal motorcycle. Instead, there has to be a jackshaft designed into the front of the swingarm. It allows an additional sprocket to be mounted outboard of the engine's drive sprocket. From there another chain can clear the tire as it continues back to the rear sprocket.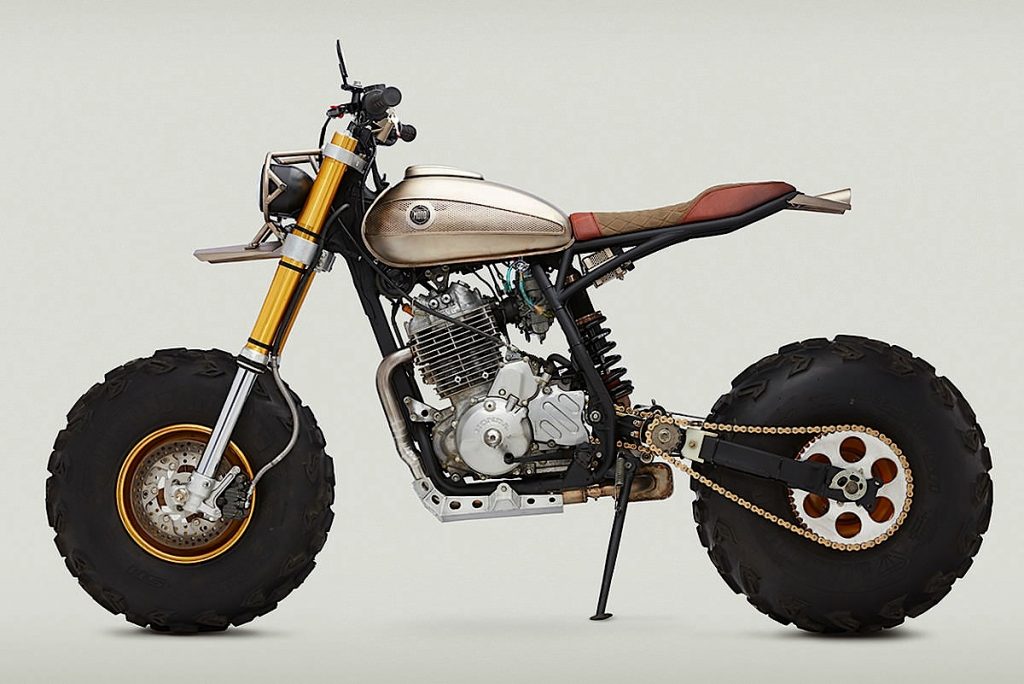 This jackshaft system was standard on the Yamaha BWs and then Honda's Fat Cat 200 as well. As you can see the Fat Cat 650 utilizes that concept too. Another unique factor is the wider triple clamps that move the front forks apart to clear the wider front tire.
The front and rear view of the Fat Cat 650 certainly provides a unique look for a dirt bike or an ATV. You know this thing is very serious about what it was designed to do. It sure seems like it'd be fun to ride or just sit and admire its ruggedly handsome appearance.
Here is a list of the major parts used to put it together:
Donor: 1996 Honda XR650L
Forks: 2014 Yamaha WR250R
Triple tree: CM custom billet upper and lower
Front-wheel: Honda ATC250R
Front brakes: Honda XL600R
Rear-wheel: Yamaha BW200
Tires: STI Black Diamond (DOT radial)
Rear shock: Progressive Suspension 465
Tank: Honda CM185T
Intake: Custom CM stainless
Exhaust: Full CM custom stainless
Seat: Custom waxed canvas and leather
Battery: Shorai Lithium-Ion
Chain: DID Gold X-Ring
Instruments: Acewell digital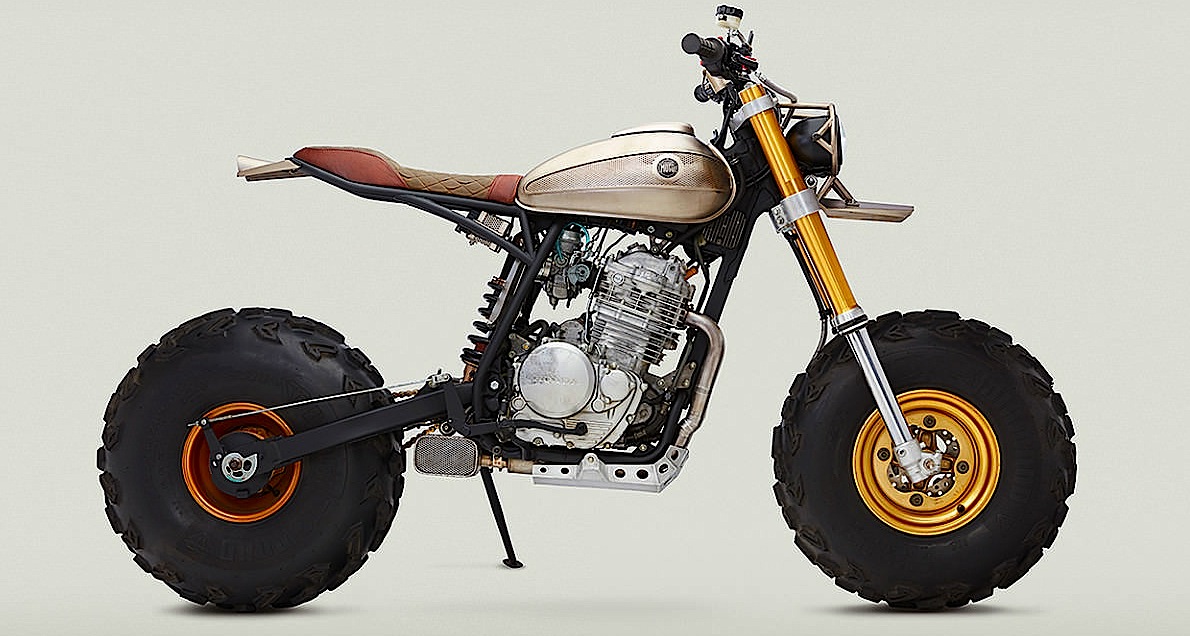 ---
GET YOUR $25 GIFT CARD> https://hi-torque.com/product/dirt-wheels-holiday/
To subscribe to Dirt Wheels Magazine in print or digital form click here https://hi-torque.com/product/dirtwheels.
.Enter to win a free set of tires by taking our 2021 Readers Survey HERE.