HONDA TRX350R 2-STROKE QUAD
As close to a new 2019 model as you can get
HONDA TRX350R 2-STROKE QUAD
What has been considered the greatest high-performance quad of all time? Well, most of the experts agree that Honda's TRX250R set the standard when it first came out in 1986. It handled very well, had good suspension and its 250cc 2-stroke engine provided instant power that helped it get down the trail very quickly.
You could buy a new TRX250R from your Honda dealer in 1986, 1987, 1988 and 1989. Unfortunately, it was removed from Honda's lineup for 1990. ATV people were shocked. Why would Honda kill off a super quad everyone loved? It's a long story involving lawyers and the negative publicity ATVs were getting at the time. Anyway, it just meant that 250R owners had to keep their machines going year after year, because they couldn't go buy a new one.
HONDA TRX350R 2-STROKE QUAD
Eventually, you could buy a Honda TRX450R that was actually as good as the 250. However, it had a 4-stroke motor instead of a 2-stroke. For some people, they still wanted the same type of power that the original "R" came with. And so, you still see plenty of 250R project quads being built today. We're going to take a look at this one that Montrail Jordan put together.
For a 250R project quad these days you don't have to start with the original chassis. Instead, you can order a new one up from a frame builder who specializes in sport quads. Arens makes a good frame based on the original 250R specs, but is much stronger. That's what Montrail went with. Attached to the Arens frame are Laegers +2 A-arms and a Laegers -1 swing arm. He also went with a PEP rear shock along with PEP triple rate front shocks.
HONDA TRX350R 2-STROKE QUAD
You no longer have to massage an old 1986 motor these days, because several companies offer up their own new casted cylinders and cases as well as crankshafts, gears, and such. You're not limited to just 250cc either. Eddie Sanders Racing sells a great 350cc power-valve cylinder and that's what Montrail decided on for his project machine. Other items are a LED big bore pipe, 39mm carb, CR250 ignition, and CBR oversized radiator. It also has Flex handlebars and Hipertech wheels.
What Montrail wound up with here is basically a brand new 350 2-stroke quad that is lightweight and very fast. As you might expect it is a blast to ride. Do you have an interesting sport quad, 4×4 quad or UTV that you've built? Would you like to see it featured here on our website and in the printed magazine? Well, all you have to do is send us good photos and some info on it. Make sure you include your name, city & state and Email it to [email protected]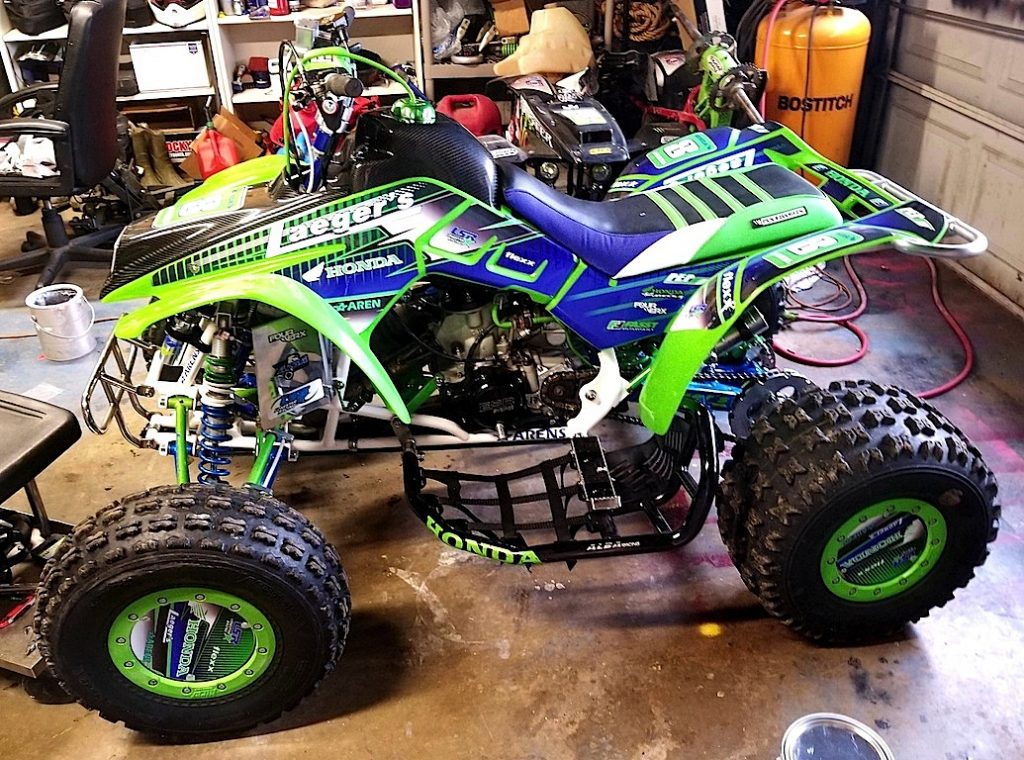 MORE 2-STROKE QUADS YOU'LL LIKE BELOW:
https://dirtwheelsmag.com/2019-honda-250r/
https://dirtwheelsmag.com/25-years-ago-in-dirt-wheels/
https://dirtwheelsmag.com/atv-test-lonestar-racing-trx250r/
https://dirtwheelsmag.com/honda-250r-motor-in-450r-frame/
https://dirtwheelsmag.com/ktm-300-xc-quad/
https://dirtwheelsmag.com/building-an-awesome-banshee/
https://dirtwheelsmag.com/yamahas-new-two-stroke-yfz250r/
FREE $25 GIFT CARD> https://hi-torque.com/product/dirt-wheels-holiday/
.
.
.