— READER'S RADICAL RIDE —
The Oregon Sand Dunes at Winchester Bay is one of the best places on earth to ride a quad. Carving the dunes is even more fun if you have your machine modified to improve its sand performance. It also doesn't hurt if you give it a custom look to make it stand out from the other quads.
That's what Brandon Becker did with his Honda here. It started out as a 2005 TRX450R, but then he pulled the engine apart to increase its size and power. John Dyer of Racerz Edge in Tuscon, Arizona installed a new crank with a 6 mil longer stroke, and a 99 mm bore cylinder for a final displacement of 545cc. Jeff Schrick of Oregon Coast Powersports tuned Brandon's quad and then put it on the dyno, getting a 73 hp reading.
Along with more power, Brandon made his machine wider with Lonestar +1, +2 A-arms. An 8″ over swing arm was added to help keep the front tires on the ground. He uses the stock shocks with new spring rates to deal with the new length and width.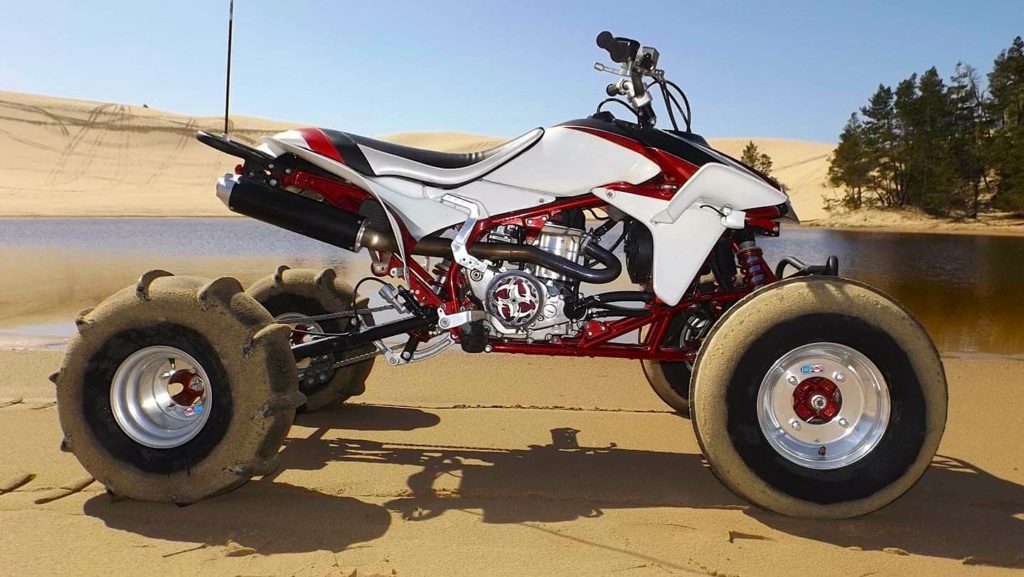 The frame got a treatment of custom blazer crystal paint and many of the aluminum parts were polished to get that chrome look. Some of the plastic got a carbon fiber pattern dip. The Cascade Innovations seat cover was a good match to the red,white, sliver and black look. A few other accessories, such as lights, clutch cover and exhaust, rounded out the project.
    Is your sport quad, 4×4 quad or UTV the next one we should feature here and in the printed magazine? Well then send us some good photos of it. Also, you must provide some specific information about your machine, along with a list of the aftermarket parts. Make sure to include your name, city & state.
E-mail to [email protected]