HONDA•400EX UPGRADES: BEST•BANG•FOR•YOUR•BUCK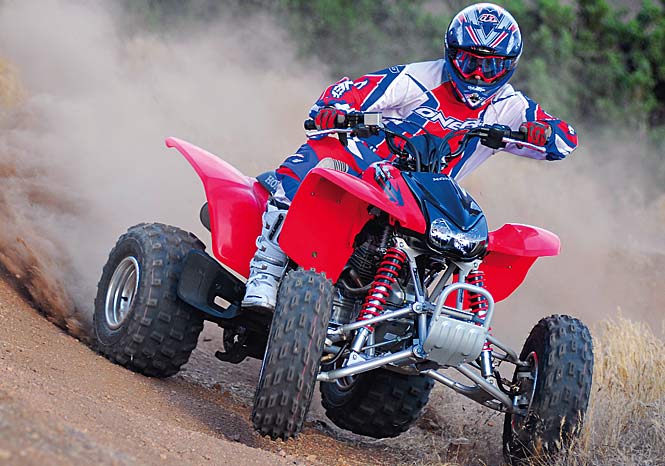 Honda's 400EX is one of the most popular ATVs on the planet. After ten years in existence, it has proven to be exciting to ride and pretty hassle-free to maintain. If you are thinking of investing in a new 400EX or even looking at a used one, we want to tell you which cost effective products out there can make it even better.

TIRES
To get an idea on how tires wear and what brands last the longest on the 400EX, we called up a rental outfit to see what rubber they run and recommend and why. California Motorsports, a Southern California and Baja California tour company, says "We use Innova tires.  In the front we use the $60 Innova Speedgear AT22x7-10's and in the back we use the $50 Innova Polar model AT20x11-9." For them, they are the most durable, and have excellent traction. Their quads are exposed to some very challenging, rocky terrain and the Innovas hold up better than anything else they have used in the ten years. California Motorsports also tells us the timing chain tensioner constantly wears out on the 400EX's. They use the original equipment for a replacement.
Also, the guys at Goldenwest Cycles say ITP's XCR tires are a great all around tire. They are six-ply tough yet light in weight. Special angled shoulder knob design provides increased side bite for faster, more controllable cornering. The tires retail for $165 pair front and $201 pair rear.
ENGINE
To get a feel for what engine mods work and which ones don't, we spoke to Duncan Racing in California, a respected engine hop-up shop, and Golden West Cycle, a major accessory supplier also located in California.
Golden West Cycle's John Gregory says that in the motor department, he would install a GWC Bolt-On performance kit. This kit includes a Motoworks SR-4 Slip-On Exhaust, a Velocity filter Kit and a Dyno Jet Kit. The Motoworks exhaust looks good, weighs less and gives more torque and horsepower from top to bottom on the powerband. A spark arrester is also included if needed.
The Velocity filter kit includes the flange, high-flow filter and pre-filter cover for protection. This kit will allow more airflow to the engine for increased power. It also filters the air so your quad breathes better for longer engine life. The Dyno jet kit provides more fuel at the right time to compensate for more intake/exhaust flow. This will run $399.99.
 Duncan Racing suggests their Fat Boy full exhaust system for $600 and it comes with a free jet kit. For a bigger budget, you can get even more power from a 440cc cylinder kit for $995. The unit bolts to the stock engine cases and works with the stock head and cam or a ported head and race cam. Different compression ratios of 10:1, 11:1, 12:1 or 13:10 are also available. 450cc and 465cc kits are available for $100 more.

ACCESSORIES
Parts giants like Golden West Cycles and K&K ATV sell tons of accessories for all types of ATVs on a daily basis and are located on opposite ends of the country. However, the one thing they do have in common is that a good majority of their customers are 400EX owners. GWC face man John Gregory says a GWC Steering Stabilizer is a must for any quad! It eliminates bump steer, reduces rider fatigue, and has seven  different settings. All for $99.99. Next, Tag X-5 Aluminum handlebars will allow you to upgrade your quad's looks and comfort at the same time. If your ATV  ergonomics fit you better, you will be able to ride longer and faster. The aluminum bars will also reduce some of the impact from jumps and other obstacles. Price: $59.99
 Also, a GWC Parking Brake Block-off kit is a good buy. It includes a clutch lever, perch and billet block-off plate. The biggest benefit is that it reduces clutch pull by 30 percent to reduce rider fatigue and saves about 12 pounds by eliminating one brake cable and the parking brake assembly. Price: $29.99
Rath Racing, which has been know primarily for offering Polaris hop-up parts in the past, recently introduced a Honda 400EX Product Line. The most popular product they sell is the Pro Peg nerfbar assembly.
All products are available in the standard brushed aluminum finish or powdercoated gloss or flat black. Rath Racing products are 100 percent made in the USA!