HONDA'S NEW ELECTRIC PIONEER
— New innovations in battery systems —
The folks at Honda have been working on a new swappable battery pack system and they used their Pioneer 500 to showcase how it works. Instead of the normal 500cc gas engine, it's powered by electric motors. Juice for the electric motors comes from batteries that easily slide in and out from the side under the driver's seat.
There are many kinds of electric powered vehicles these days and they all have different types of batteries in a variety of shapes and sizes. Most are not designed for quick removal and replacement. Honda's goal is to have a standardized design for batteries that allows them to be interchangeable in a variety of vehicles and usage.
An example of this need is in Formula E auto racing. These electric powered race cars go very fast, but they can't do the full race distance on one charge. Instead of pulling into the pits and swapping a drained battery with a charged battery, the drivers get out of the car and climb into a second car with a charged battery. We understand if you haven't been paying much attention to this race series where the cars make no noise. Can you imagine sitting in the stands at the Indy 500 and the announcer says, "Pay attention folks, the cars are about to come by." Without the screaming sounds of gas engines the excitement isn't the same.
Honda's swappable battery pack system wouldn't be limited to just vehicle usage. It could be handy for powering any electrical device at home, in the garage or out in the field. They show how the battery can be transported to different locations with their mobile cart design. It's common now for homes to have solar panels on the roof, but the electrical power generated needs to be stored for use at night. Honda has their Battery system designed to where wind and solar generated power at home would be linked to it to be stored.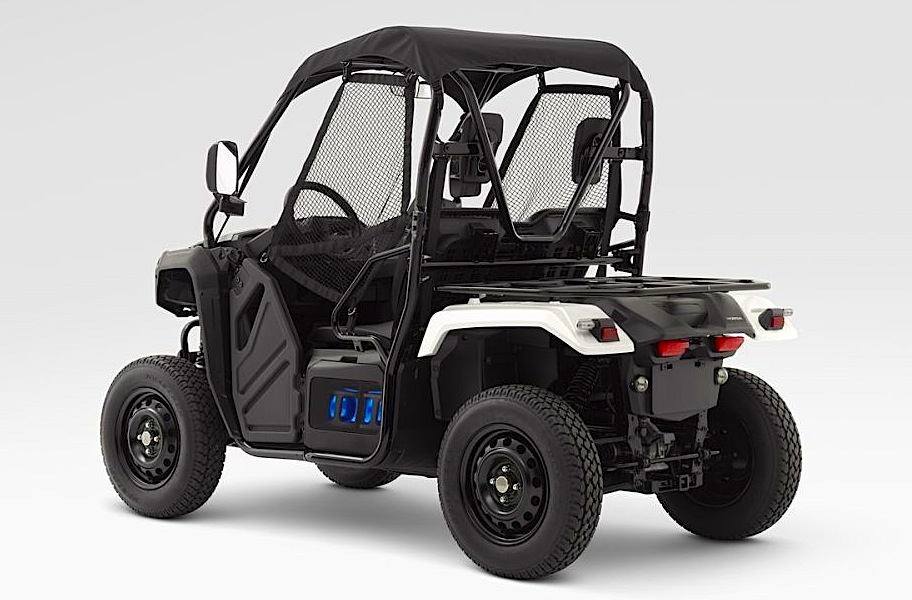 It should come as no surprise that Honda would be at the forefront at these kinds of innovations. The company has always encouraged its engineers to work on new ideas and concepts. Back in 1969 the first ATC90 was the result of an new kind of vehicle competition that Honda sponsored for its engineers. Today, that encouragement for new ideas sparked the development of Honda electric robot vehicles.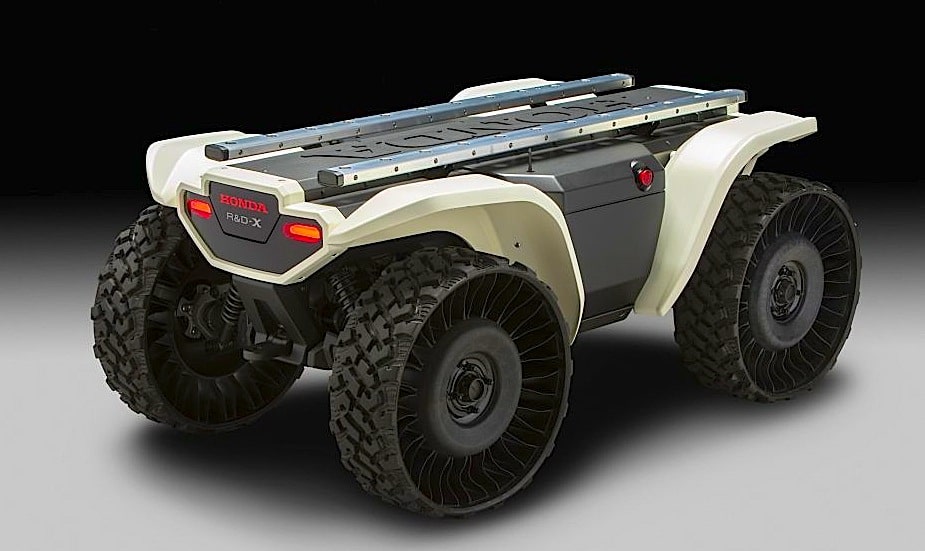 This remote controlled autonomous workhouse with an electronic drive system was designed by Honda to assist fire fighters, search and rescue, construction and agriculture.
Another example of Honda's experimental vehicles is this electric powered people mover. It too was designed to accept Honda's swappable battery pack system. It would help bring the cost down on producing various forms of things like this if they didn't have to worry about designing their own separate battery system. Instead, the engineers just allow the space and dimensions for Honda's (or others) standardized battery to slide into.
Electric scooters have become the popular new thing for the European market and Honda hasn't been sitting still on that. They have one that looks rather stylish as it goes zipping around village streets.
Honda's electric scooter has the swappable system that allows batteries to be easily removed so you can take them inside your house to be recharged. Or, you can have extra batteries so there's always one charged ready to go.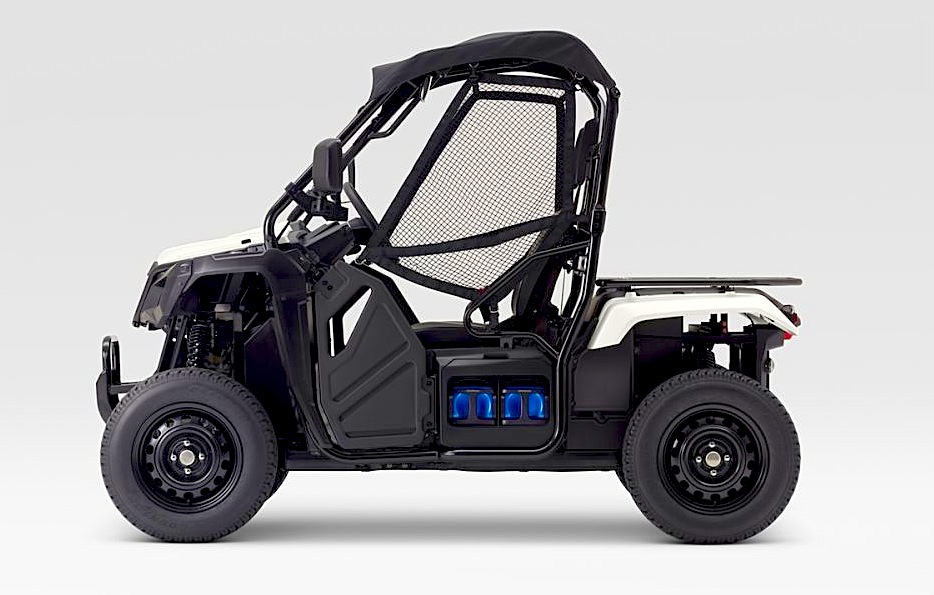 Having extra batteries fully charged would be great for Honda's electric Pioneer too. You ride around for 25 or so miles, come back to the truck and slide in the other charged batteries you brought along, then head back out for another 25 miles. An electric powered Pioneer might not be what everyone is dreaming of, but there could be a market for it with hunters, resorts, forest service personnel and amusement park employees. Stay tuned for more info on new Hondas.
.