HOW TO HAUL YOUR ATV & UTV
Loading, storing and transporting ATVs and UTVs is a big part of our job at Dirt Wheels. Some weeks all we do is drive up and down California rounding up, returning and placing machines with test riders and photographers. After decades of doing this, we have learned what works best and what not to do. We put together a group of tips and products to show you the best way to get your ride out to the trails.
We use the heavy-duty Black Widow ramps from Discount Ramps. They can handle up to 3000 pounds and will probably outlast your current ATV.
LOAD UP
During our daily activities, there is always a quad or two in the back of our pick-up. To load them up, we rely on folding aluminum ramps from Discount Ramps. Since we load machines up to 1500 pounds, we use a pair of the 3000-pound-rated heavy-duty Black Widows. They fold up thin and stow under any machine. These ramps are a little on the pricey side at $300, but they are such good quality that we expect them to last longer than our current pick-up truck. Discount Ramps does have lighter-weight steel and aluminum ramps starting as low as $69. Moose Utility Division also carries a complete line of lightweight folding and solid-aluminum loading ramps. See your Parts Unlimited dealer for a catalog or go to
www.moooseutilities.com
.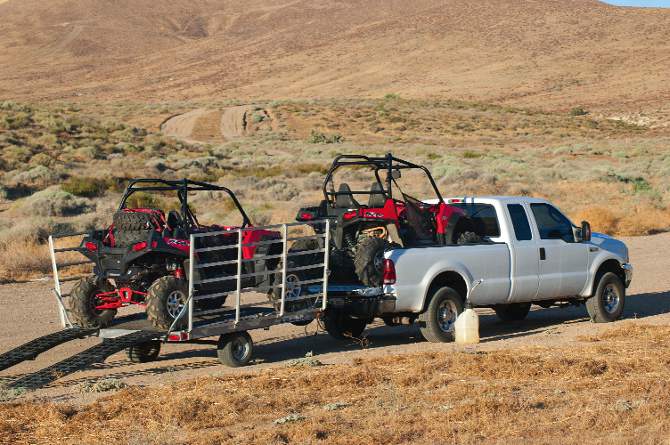 The Dirt Wheels crew is always loaded down. No matter if we are going testing, traveling to pick up new machines or hauling ATVs and now much heavier UTVs, it's a big part of our job.
 Another great way we have found to haul an ATV with our pick-up is on top of the bed with a Black Diamond HD truck cover. This strong aluminum cover can bolt to almost any full-sized truck and provide a platform to haul up to two ATVs on. The HD version has a 1600-pound capacity, so almost any pair of 4x4s would fit on it. Custom, long, folding aluminum ramps are available and allow you to carefully roll your four-wheeler up and down the side of your pick-up. The cover clamps solidly to your bedrails, then you secure your ATV to the supplied tie-down cleats. Check out the complete line of DiamondBack truck covers at www.diamondbackcovers.com or call (800) 935-4002. You can also order them through www.discount ramps.com.
A product we haven't tried yet but plan on testing soon is the Trail Rack. This platform allows you to carry machines that are longer than your pick-up box by providing a platform above the rear bumper with the machine's weight held up using the truck's 2-inch receiver. Discount Ramps is also a dealer of the Trail Rack.
You can haul multiple ATVs on top of your truck's bed using a cover like this one from DiamondBack. It clamps to the truck's bedrails, then your ATV gets secured to the supplied anchor points. Long ramps can stow under the bed along with the rest of your gear.
DRAG 'EM
Our primary ATV mover is a 24-foot, steel Carson flat bed. It holds a lot of machines and has a rear gate that double as a loading ramp. There are, however, some lighter, more ATV-specific trailers available from companies like Aluma at (866) 415-3285 or
www.alumaklm.com
. We are in the process of testing one of their ATV-specific trailers. This model is a 16-footer and only weighs 760 pounds empty. You could pull that with a small SUV. It holds up to 4500 pounds has tie-down points everywhere, and the short sidewalls easily remove and double as loading ramps—now that's convenient. Look for a test of this and other trailers from Aluma soon. Polaris also has a complete line of aluminum ATV trailers and truck tops you can see at
www.polaris-trailers
.com.
Sometimes UTVs are a tight fit in enclosed trailers or toy haulers. In a case like this, we let most of the air out of the Rhino's rear tires to get it to clear the bunk bed and fit inside.
HOLD ON
Once you have your machine loaded up, you're not finished until it's securely tied down. Good-quality tie-downs are available from companies like Moose Utility, O'Neal, Pro Armor and DragonFire Racing, just to name a few. These days, tie-downs do come with a few bells and whistles that you should consider. The most basic is a soft strap. This was originally designed to be wrapped around aluminum handlebars so the metal hooks wouldn't wear them down during transportation. We find ourselves using them by wrapping the straps around frame tubes and cargo racks. This foot-long strap basically gives you endless tie-down securing-point opportunities. They can also help you find alternative points on a trailer to secure things. However, keep in mind, don't let the nylon strap run on any sharp edges. We have seen straps start to fray in just five miles and break in under 50.
Another great feature about modern-day tie-downs is that some of them have spring-loaded safety clips or carabiner-style hooks. These completely keep the tie-downs connected to the machine, truck or trailer if the load shifts, the road gets really bumpy or something catastrophic happens.
When rolling your ATV up or down ramps, secure them to the truck with a pair of tie-downs. Without them, jerky acceleration or braking can easily cause the ramps to slip and fall off the tailgate. Yes, it has happened to us before.
For more tie-down power, ratchet-style tie-downs are now available in small powersport sizes. The $46 Moose Utility ratchet strap even has a swivel hook on one end. Any ratchet strap will help you tie down your machine extra tight for traveling on something like a flat bed or truck-bed top. These products are a little more expensive, but keep in mind you only need the ratcheting tie-down on one side. You can use a standard pull type on one end, then cinch it up with a ratchet style on the other.
On our trailer, we have mounted a Hi-Lift Jack that can help change tires on the road or on the trail. It's one of those items we bring along and hope not to use, just like the pair of spare tires for the trailer. The day you leave them at home is the day you will need them the most.
One of the most unique tie-downs that we have tested in the past is the locking tie-down from Lockstraps. These $40 straps have the carabiner-style hooks with a small combination lock built in. The wide nylon strap has a full-length, thin-braided steel cable embedded inside to prevent them from being sliced with a pocketknife or razor blade. They are not completely theft-proof, but they should turn away small-time crooks. To order these, call (951) 506-3682 and tell them you read about Lockstraps in Dirt Wheels magazine.
Most of you may have one specific quad or set of quads you haul around. If so, you may be interested in a product like the Super Clamp (
www.superclamp.net
or [403] 203-2210). For quads and UTVs, the Super Clamp is a set of front cradles that you drive your ATV up on. At  the back of your machine, another set of clamps compress your machine forward at the tires and can secure your machine in place. The heavy-duty aluminum and composite clamps connect to set steel bases that get bolted to the floor of your truck bed or trailer loading platform. With this system, there is no need for tie-downs of any kind. Plus, the rear clamps have provisions for a padlock to keep your ride from being stolen. We will have a complete product evaluation of the Super Clamps in a future issue. If you can't wait that long, call (403) 203-2210 or log on to
www.superclamp.net
.
When hauling two machines, we put the brighter or bigger machine toward the rear. Then, from a glance at the rearview mirror, we can still keep an eye on both quads. In this case, it's the bright handguards that are easily spotted.
TAKE-OFF
If possible, put smaller machines in front of larger ones, or you can offset the rear machine to one side or another. This will allow you to easily keep an eye on them through your rearview mirror while driving down the road. Every time you stop and get out of your tow vehicle, check to make sure your straps are tight and see if the load has shifted. Keep in mind, if your are hauling in the rain, nylon straps stretch when they get wet, so extra attention is needed if things are damp.
An easy way to save the front of your bed from damage, or, even worse, your rear window from being broken by your quad's bumper, use an old tire to wedge it between the ATV before tying it forward. If you need an old tire, we have plenty, or you can ask your local tire shop if they have any lying around. High Lifter (
www.highlifter.com
) also has an inexpensive bed protector that works even better.
While we have never lost an ATV from the back of a truck or off of a trailer going down the road, we have lost bodywork and seats. Especially if you transport your ATV sideways, these items can take flight; some manufacturers may not have considered a machine traveling 70 mph sideways when they designed them. Using an extra tie-down or a bungee cord over a loose seat or a set of fenders could save you from a ruined day.
We prepare our tow rigs the same way we would a race machine, with the best equipment. On this trailer we rely on Carlisle trailer tires and wheels. These products are just as strong as ITP's ATV tires, which are also made by Carlisle.
TRUCK AND TRAILER TIRES
To get the job done of moving machines around run smoothly, we have to make sure our tow vehicles are properly outfitted as well. On the Dirt Wheels Ford, we are currently running a set of GBC 235/85/16 Kanati tires on all four corners. The GBC Kanatis are one of very few mud-terrain tires that come in narrow sizes. While you might think big, wide mud tires look cool on your truck, we think they do more harm than good. A wide (12-plus inches), heavy mud tire puts extra wear on spindles, brakes and steering components. Plus, they are louder, take more power to turn and reduce your gas mileage. These 8-inch-wide meats we installed give the truck an aggressive look and great traction, whether we are driving through a staging area at the dunes or trying to get out of the parking lot at a muddy GNCC race. The Kanatis have as much sidewall traction and protection as a GBC Dirt Commander. Along with an ever-growing line of sport and utility ATV and UTV tires, GBC has a complete line of truck and trailer tires. Check them out at
www.gbcmotorsports
and
www.green
ball.com. If you are a racer trying to get sponsorship from an ATV tire company, you might want to consider one that can help outfit your hauler as well. You can always negotiate a deal that includes free or discounted truck and trailer tires.
The Super Clamp system is used to secure an ATV in a truck bed or to a trailer without using any tie-downs. It's adjustable for any size quad and has a place to use a padlock to further protect your machine.
On some days the Dirt Wheels Ford pick-up encounters the same nasty terrain our test quads do, so we have equipped it with a set of GBC Kanati Mug Hog tires. They have the traction of GBC Dirt Commanders and come in a ton of sizes to suit any size truck.
When we have to transport one machine in the bed of a truck and one on a trailer, we can back the ATV off of the truck to the trailer then onto the ground without unhooking the trailer.
On our dual-axle, 24-foot Carson flat-bed trailer, we use 205/75-15 Carlisle radial trail tires, which are stronger than what comes stock. These tires have an incredible 1820-pound rating per tire. So distributed out to four tires, we could easily haul a half-dozen 4x4s or a couple of UTVs without any stress. Just in case, we carry two spares on this trailer. In our experience, if we drop a wheel off of the highway or hit something on the road, that hazard, more often than not, will take out both tires on that one side. One spare may not get the job done on a dual-axle trailer. Carlilse is the parent company of ITP, who has been in the tire game longer than any of the mainstream players we deal with. You can get Carlisle tires at shops like Pep Boy's and America's Tire. Check out
www.itptires.com
or
www.carlilsetire.com
. You can also call them at (800) 827-1001. ITP's direct number is (909) 390-1905.