HOW TO HAUL YOUR MACHINE
Dirt Wheels readers show you how they do it
HOW TO HAUL YOUR MACHINE
1. Ron Murphy hauls his quads with a trailer that can load from either side. The gates fold down and become ramps. He pulls it with a mid-size SUV.
2. A stylish way to haul your quad is in a classic Chevy El Camino with a V-8, custom paint, and chrome mag wheels. This is how Andre Kok does it.
3. You don't need a big truck to pull an ATV trailer. An Econo car-like Brandon Hardin has here will work just fine as long as it has a strong trailer hitch mounted to the chassis.
4. A four-door pickup truck is considered the dream tow vehicle by most people. Chris Bodkin's Chevy Avalanch here has plenty of room for crew with gear in the back. His double axle trailer is able to haul plenty of weight.
HOW TO HAUL YOUR MACHINE
5. David Pinnock has a trailer here big enough to carry the whole family's quads and UTV. The number one rule is Big family, big trailer.
6. I don't need no stinking trailer, says Bryan Welch. He can get his YFZ450 flat-track racer to fit in the back of his family van. For taller quads, you can use a tie-down to compress the suspension and also rotate the handlebars down.
7. Michael Macauley here has a trailer just big enough to fit his RZR on it. That means he can keep it parked in his garage. Having a place to stow a trailer can be a problem for some people.
8. Steve Harrison's single axle trailer is okay for hauling lightweight three-wheelers. However, if he was hauling two UTVs he'd probably want a dual axle set up.
9. Derek Mission keeps it simple and low-budget with his rig here. This is fine as long as you don't have to drive down muddy roads to park and unload.
HOW TO HAUL YOUR MACHINE
10. A couple of sport 450s and a Raptor 700 is the perfect formula for a fun day. This is what it looks like when Guero Torres and his buddies go riding.
11. Leave no rider behind: A school bus and a long trailer are one way to get everyone to the riding park. It can also be used as a camper. This one belongs to Jonathan Love.
12. This is how Ryan Volk gets his machines to the riding areas. With this much weight, you'd want the trailer to have brakes. They're usually electrically operated, but some use surge brakes which are typical of boat trailers.
13. Adam Potts likes to bring his pop-up camper for extended weekend rides. He just needs to have long loading ramps to get his DS450 up on top.
14. Anthony Bradford doesn't believe in having a tow vehicle that's worth more than his Raptor and trailer. He goes fast on the trails, but not necessarily on the way there.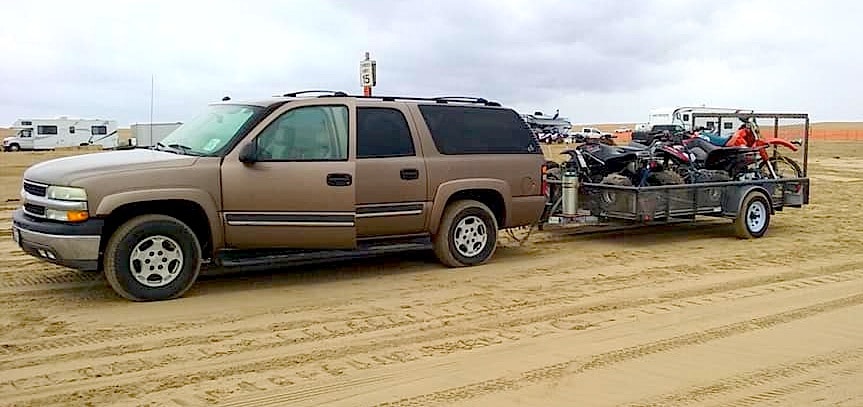 HOW TO HAUL YOUR MACHINE
15. The dunes is a fun place to go when you have a few quads and a dirt bike loaded up. This is how Barry Burkey does it.
16. Jason Harper can keep his quad on the trailer in the garage and simply back his car up to it, hook up, and be on his way riding very quickly.
17. Charlie Given has the option of putting a quad on the trailer along with his RZR.
18. Josh Mecham set up his truck to carry his RZR so that he can also tow his big camper trailer. All the comforts of home even when spending a week out in the middle of nowhere.
19. You can buy trailers of different lengths and Ole Spiering has one here that just barely gets the family machines to fit.
HOW TO HAUL YOUR MACHINE
20. Some people don't want to drive a big pickup truck around town all the time just to tow a trailer a couple of times a month. As Mike Thompson shows here, even a small sports car can tow a sports quad and trailer.
21. Tony Scott rents a trailer to go riding. In the long run, this can actually be cheaper than buying a truck for 40 grand.
22. Scott O'Brien hauls his Grizzly on this small trailer you can get from a Home Depot-type store without spending much. However, the little tires are more likely to go flat, so you certainly want to carry a spare (or two.) Also, the wheel bearings are worked harder and need to be replaced more often.
23. Sport quads allow you more options on how to arrange them on a trailer. As Demetrios Benetos illustrates here you can stand three up and haul them on a shorter trailer.
24. Fernandez Lopez pulls his Ranger with his family van. For long weekend rides it's good to have a buddy with a nice camper trailer.
HOW TO HAUL YOUR MACHINE
25. Side-loading trailers have wider beds so that you can haul three 4×4 quads as Harry Matz show here.
26. UTV racing doesn't have to be expensive. The first rule is don't blow a ton of money on your tow rig. Keep it simple like Scott Townsend here.
27. Glenn Burkey has a good rig here to get a couple of quads to the riding park. Just need to stop for some ice and drinks to put in the cooler.
28. Jonathon James worked at it for a while, but he did manage to get his Honda 400EX loaded inside his minivan and close the rear door.
29. A Ram truck is what Justin Goldsmith uses to pull his Can-Am X3. It has enough power to tow the rig up into the mountains.
HOW TO HAUL YOUR MACHINE
30. Here is what many people might call the ultimate towing setup. Your machine is hauled in a luxury garage while you stay in a luxury motorhome. Trevor Peoples is the lucky owner of this.
31. Gilles Begin uses a Camaro muscle car to haul his machine. He can't do donuts though when the trailer is hooked up.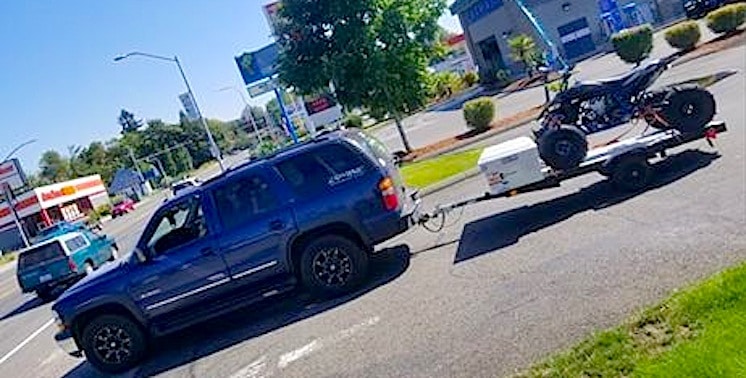 32. This is the simple rig Matt Dizzle uses to get his YFZ450 to the riding area. Afterward, he can leave it on the trailer when he stops at the car wash.
33. Chris Trach has plenty of room to haul his Banshee. In fact, he could probably fit five more on there as well.

34. It's important to position your machine on the trailer to have the proper tongue weight on the hitch. Looks like William Brobst has it figured out here.
HOW TO HAUL YOUR MACHINE
35.  "Hey, it looks like my ATC250 should fit up there just fine." Devin Cantrell just had to go riding.
36. Frankie Whitt's car suddenly had fender flares when he started cranking down on the ratchet tie straps.
GET YOUR $25 GIFT CARD > https://hi-torque.com/product/dirt-wheels-holiday/
To subscribe to Dirt Wheels Magazine in print or digital form click here https://hi-torque.com/product/dirtwheels.
.