FINDING THE RIGHT USED PARTS
Find Used Quad Parts at PowerSports Nation
By the staff of Dirt Wheels
Are you looking to save big money? Then you can with used quad parts at Powersports Nation. Located in Norfolk, Nebraska, this is one of the largest shops of its kind on the planet.
FINDING THE RIGHT USED PARTS
Our staff has had plenty of experience with salvage yards for our cars, trucks, and even motorcycles. Generally, there are rows of stacked machines in various states and conditions. Some allow you to find and remove your own parts, while others have staff that handles those tasks.
Generally, parts from these sources look about like something pulled off of junk. We had never been to a salvage business for quads and UTVs, so we weren't sure what to expect, but it certainly wasn't what we imagined to see at Powersports Nation (PSN).
FINDING THE RIGHT USED PARTS
The company has a storefront and nice office area despite only a tiny amount of walk-in business. There was a full staff manning screens and dealing with customers. The expected rows of dilapidated and cannibalized machines were not in evidence, either.
The vast majority of used quad parts come from dealers, who, thanks to PSN, can offer a modest trade-in price on machines that a dealer could not offer for sale used. When the machines arrive on 48-foot gooseneck flatbeds, they are evaluated by techs. Most are not accident salvage. In some cases, the engines check out healthy, and they are tagged for sale as used, but most end up in parts or as cores for PSN's crate motor division.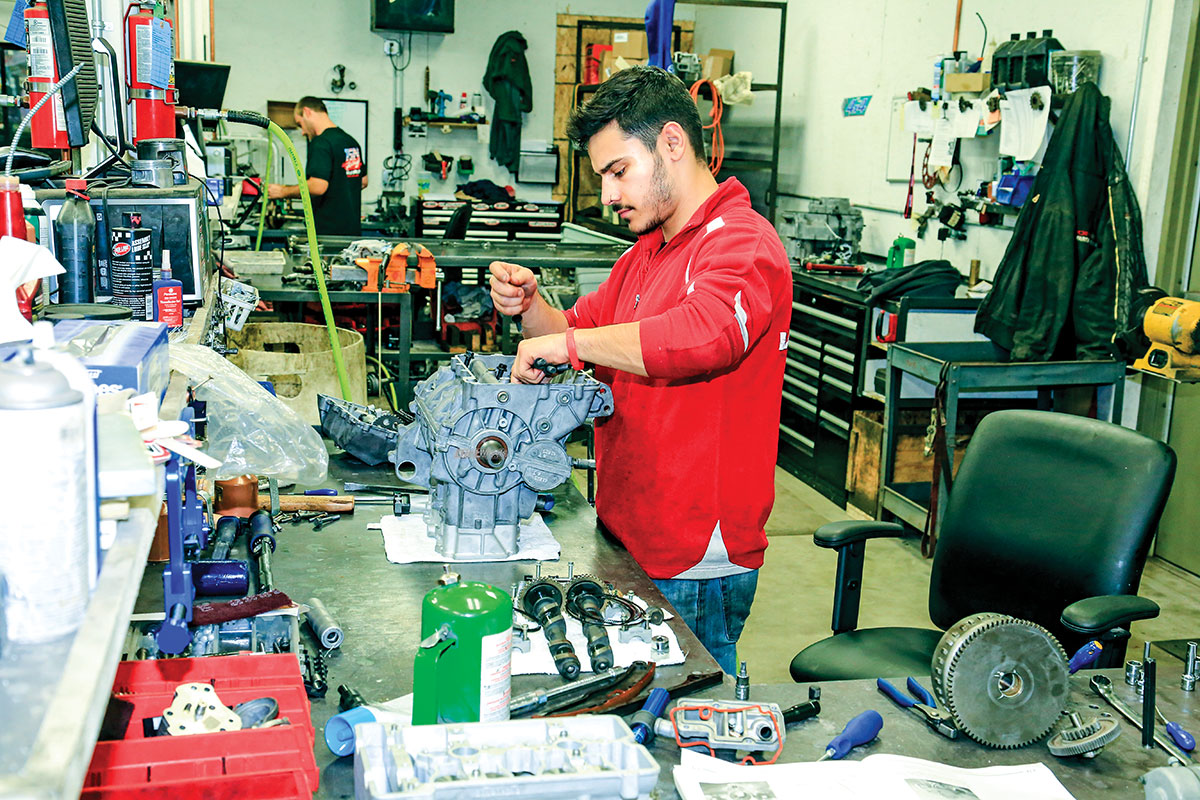 Machines are washed, pulled partially apart, and washed again. All the fluids are captured, and then a single tech per machine tears it down. Parts are evaluated and divided into parts for recycling or trash and parts that are viable for sale. In the case of PSN, that means parts that are of good quality (parts deserving a 30-day warranty). What is left of each machine gets loaded onto a rolling cart.
FINDING THE RIGHT USED PARTS
Each and every part is photographed, small parts are bagged and all of the wearable parts (like clutches or bushings) are graded 1 through 5 and given a bar-code sticker. Then the entire machine is stored in a bar-coded cubby. Used quad parts are sold out of that cubby for six months. At the end of that time, all left-over parts valued at less than $50 are discarded.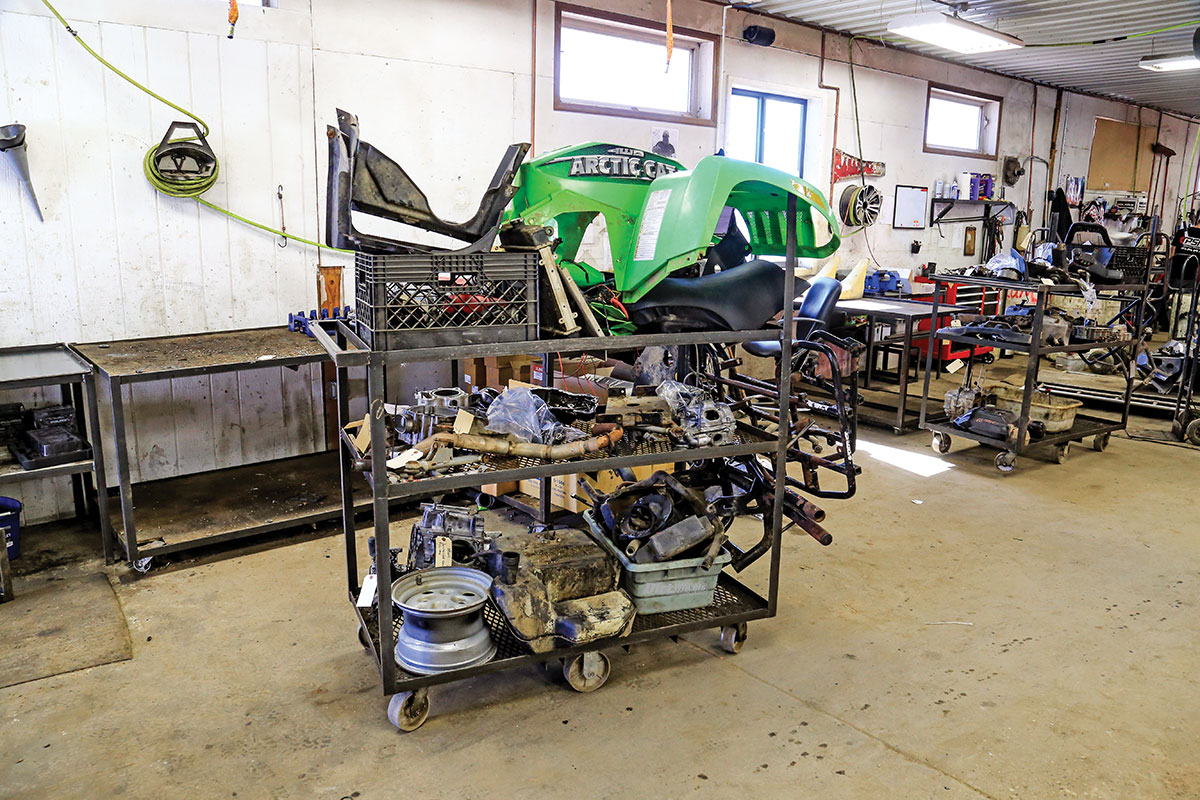 Frames that check out straight and in good shape are set aside for inspection by law enforcement. All frames deemed fit for sale are coded, titled, and stored outdoors for sale.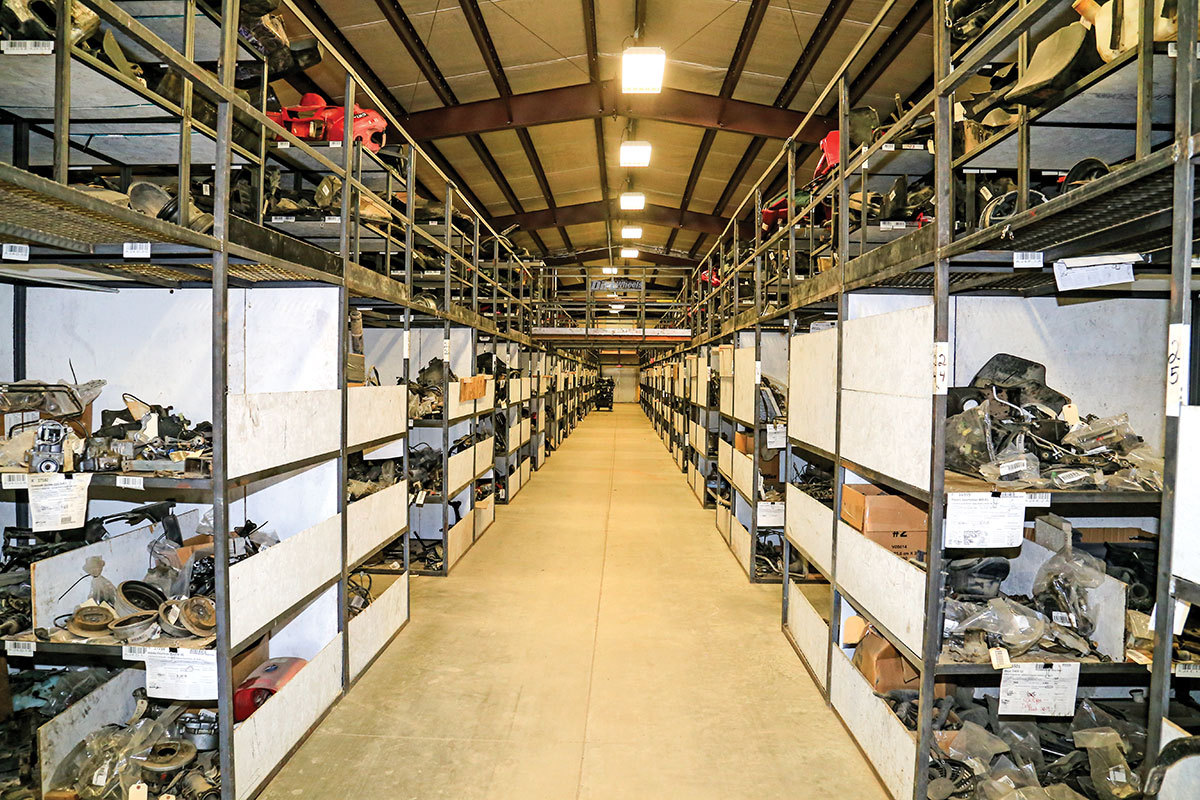 FINDING THE RIGHT USED PARTS
CRATE MOTORS AND TRANSMISSIONS
More and more PSN sells fully rebuilt engines and transmissions rather than used engines. PSN engines have warranties, and we watched a room full of techs building engines and transmissions. The company keeps a number of engines on the shelf and ready to go, but increasingly they use the customer's engine and/or transmission for a core if possible. If the engine isn't salvageable, PSN uses a core in stock.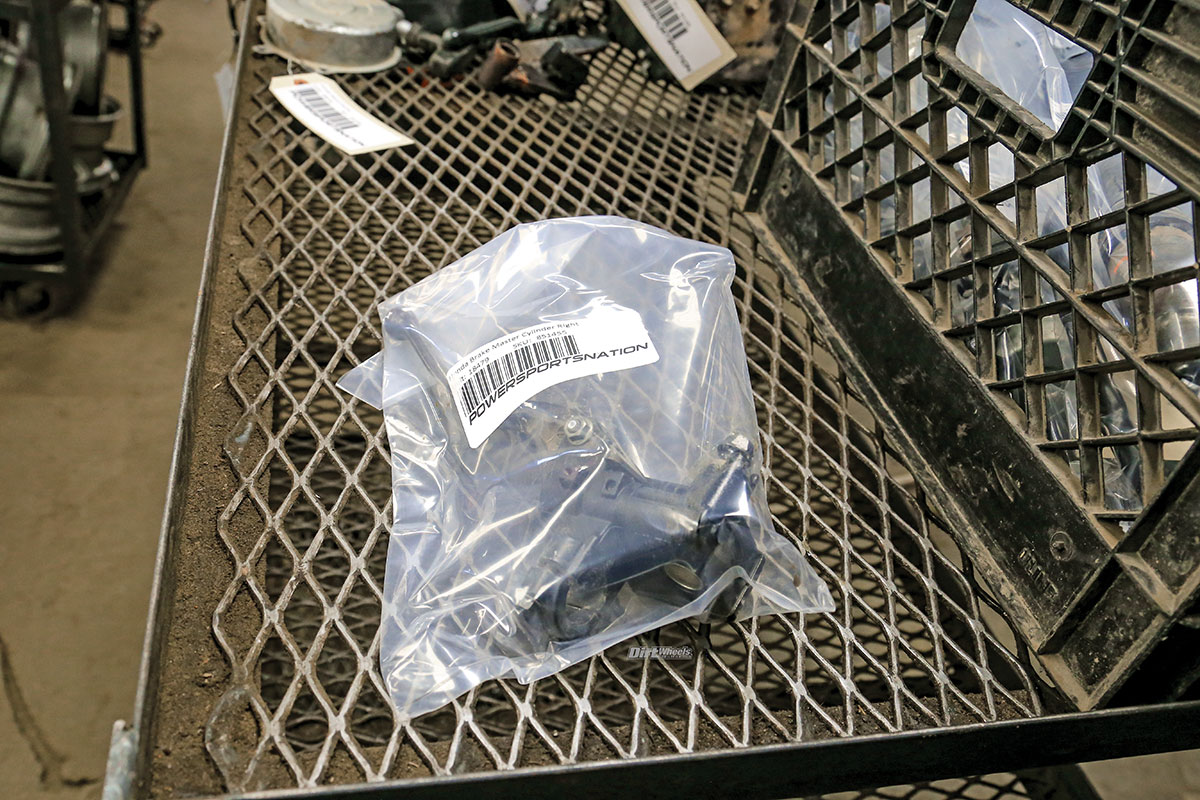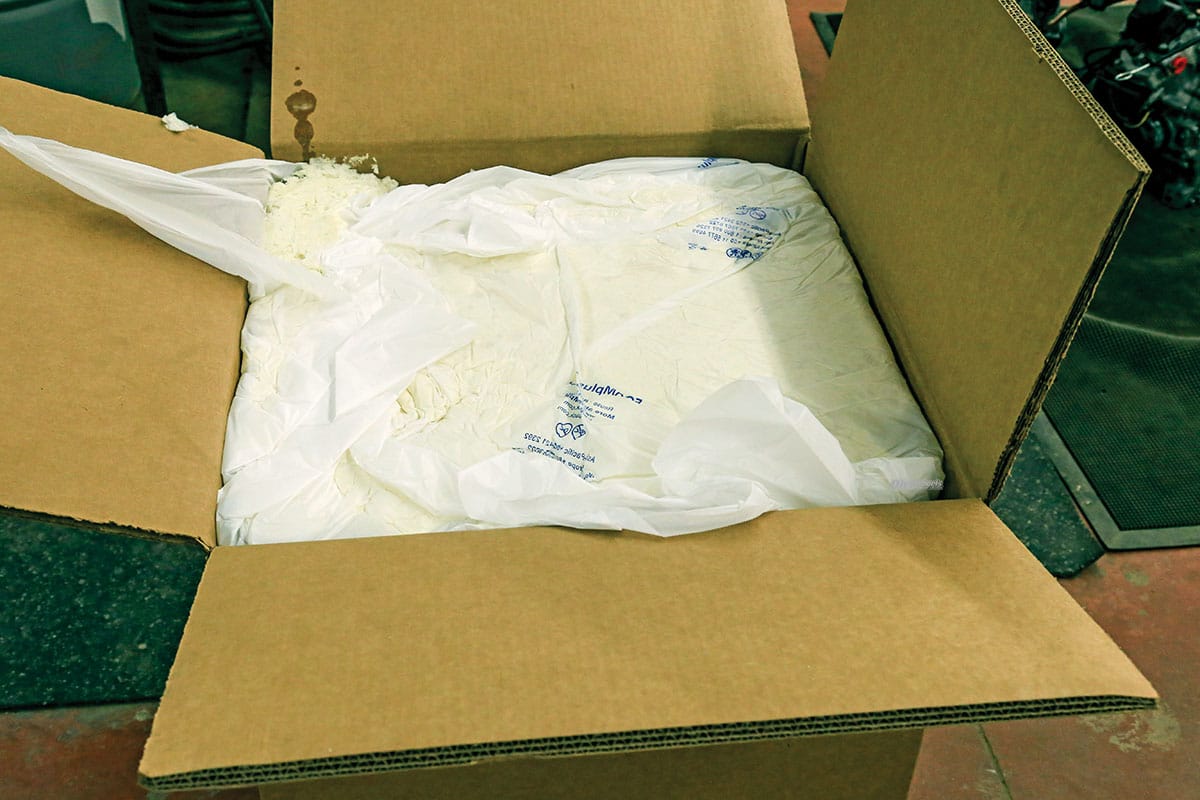 FINDING THE RIGHT USED PARTS
We witnessed the process and were impressed with the quality of the work. Unfortunately, if you have a brand-new machine, chances are PSN won't have one parted out. But we walked a warehouse with literally thousands of tested, rated used quad parts for sale, and we saw a large number of 2017-model parts on the website.
We were impressed with the quality of the parts and the knowledge of the staff, so we asked about some small parts we needed for 2018 machines. The part numbers cross-referenced, and we went home with the parts. All parts come with at least a 30-day warranty, and all crate engines have a warranty! Contact PSN at (402) 371-7002 or find them at www.powersportsnation.com.
To subscribe to Dirt Wheels Magazine in print or digital form click here https://hi-torque.com/product/dirtwheels.
.