McGRATH'S KRX 1000 KOH PRE-RUNNER
Jeremy McGrath's KOH ride...
By Staff of DIRT WHEELS
McGRATH'S  KRX 1000 KOH PRE-RUNNER. Few people would question Jeremy McGrath's dedication as a racer. His Supercross career is unrivaled with two 125cc SX championships and a championship—the first of eight—in his rookie year in the 250cc (then the Premier class) class. Some of our staff watched as he attempted the nation's toughest motorcycle hill-climb in Billings, Montana, where he missed winning the event by one-tenth of a second riding borrowed bikes he had never sat on before.
In another lesser-known adventure, McGrath entered the infamous Erzberg Rodeo extreme enduro in Austria on a one-dollar bet with Travis Pastrana. McGrath was on a borrowed Honda CR250R freestyle bike—not a prime enduro mount—and he finished in his first attempt.
McGRATH'S  KRX 1000 KOH PRE-RUNNER
After his motocross and Supercross days, he had a successful career in stadium trucks, but that was then and this is now. For his first UTV race, McGrath chose the toughest one-day race—King of the Hammers (KOH)—in the world on a nearly stock Kawasaki KRX 1000. Just one month before the KOH, McGrath started building a racer and a practice/pre-runner for the 131-entry-strong UTV event. 
McGRATH'S  KRX 1000 KOH PRE-RUNNER
WHAT IT TAKES
With the King of the Hammers race, McGrath was committed to the four-wheel equivalent of riding the Erzberg Rodeo extreme enduro for his first off-road race. But, of course, he had already done that. In terms of mileage, the brutal rock gardens that give the race its name are a small but hazardous fraction of the 142 race miles.
Most of the miles and the vast majority of the opening lap are high-speed desert racing. There is a single UTV class, so normally-aspirated machines like McGrath's 110-ish-horsepower, 65-mph-limited Kawasaki KRX 1000 compete against turbocharged cars like the podium-sweeping 195-horsepower Can-Ams. Can you say "disadvantage"?
Starting positions are allocated through qualifying times. The qualifying course had some brief rock sections but was largely a fast, open course that was a handicap for the stock KRX. McGrath earned the 42nd fastest time—that meant starting well behind the leaders, then dealing with traffic in front and perhaps faster cars in the open sections coming up from behind.
McGRATH'S  KRX 1000 KOH PRE-RUNNER
THE MODS
Fortunately, and most likely not a coincidence, McGrath's KOH race idea coincided with the opening of Jeremy McGrath Motorsports in Lake Elsinore, California. JM2 for short is a UTV race shop specializing in Kawasakis but works with other brands as well. 
We don't know of any race organization that allows stock UTVs to race. All must meet basic safety standards, and a new, stronger roll cage is one of those. JM2 has a partnership with Extreme Performance, and it built a slick but strong cage with all the appropriate mounts and tabs mounted. Perhaps our favorite additions are the tiny, tucked mirrors, but the Rigid light bar, the GPS and radio antennas, the fire extinguisher, and a roof are all part of the cage.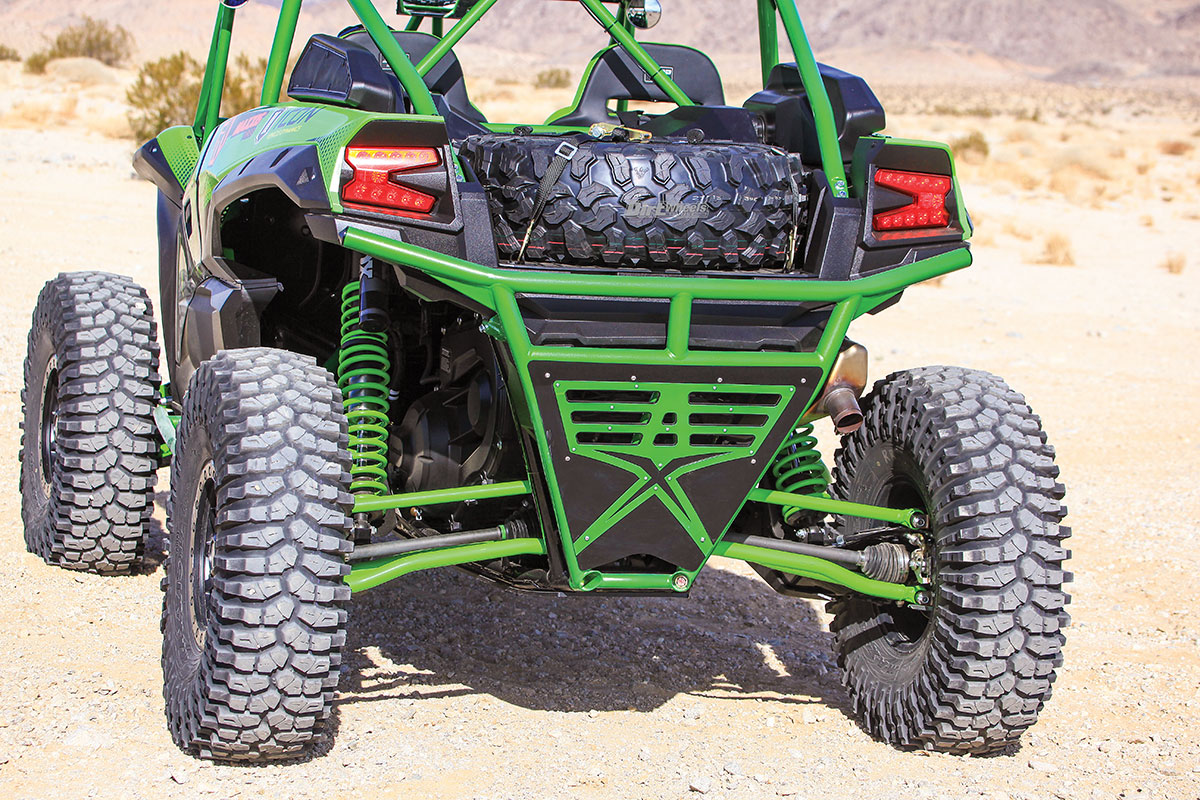 McGRATH'S  KRX 1000 KOH PRE-RUNNER
On the pre-runner/practice car that will see recreational use, the cage has a roof-mounted rack that carries a full-width Rigid LED light bar. Both cage and rack are JM2 products. While the cage protects the occupants, the car deserves some protection, and it gets it from more JM2 and Extreme Performance products: front and rear bumpers with built-in skid plates and sleek nerf bars.
On the pre-runner, they are color-matched in Metallic Green to the D'cor wrap, and the front included a second small LED light bar. The final protection was yards of Kawasaki accessories UHMW plastic skid plates for the frame, floor pan, and all suspension arms.
Through talent and perhaps some luck, McGrath never tested the roll cage on either the practice car or the race car. The same cannot be said of the bumpers and the skid plates. They were bashed, scratched, scraped, and dented, and they only look that good because the driver and co-driver were careful.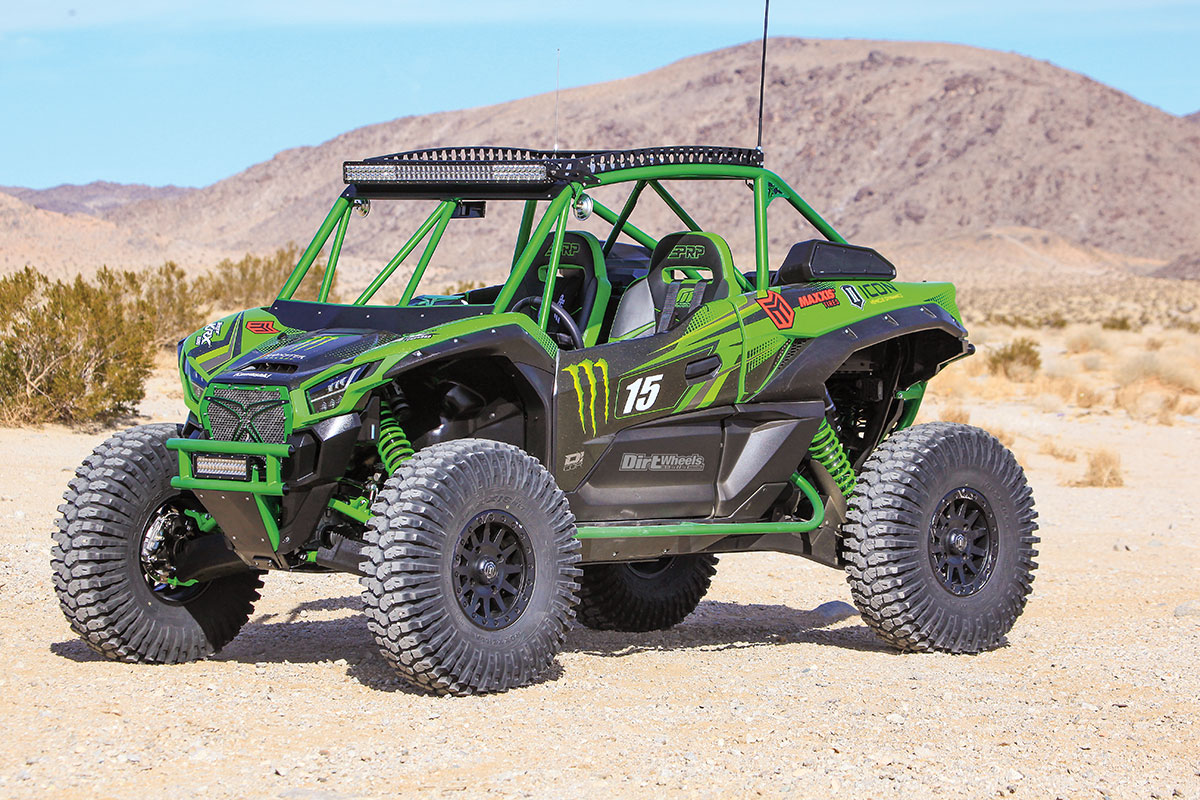 ROLLIN', ROLLIN'
With the JM2 Icon Beadlock wheels and massive, gummy-soft Maxxis Roxxzilla 35×10-15 tires, the team gained a handful of benefits. The taller rubber boosted the vital ground clearance—a priceless commodity at KOH—picked up a load of traction on the multitude of diabolical surfaces that Johnson Valley provides, made it possible to run low tire pressure without popping a bead (and drive a bit with a flat in an emergency), and decreased the likelihood of a flat. 
The tires also allowed the stock-engine KRX to top out at 74 mph. That may not sound like much, but the stocker is electronically limited to 65 mph, and at race time, nobody had been able to defeat that programmed limit. Some of the turbo cars with large-diameter tires will break 100 mph.
Larger-diameter tires roll over bumps easier, and that suspension aid was important. McGrath ran stock axles, stock suspension arms, and even stock shocks and springs. During his testing, he made multiple stops to boost the shock spring preload.
McGRATH'S  KRX 1000 KOH PRE-RUNNER
INSIDE JOB
Inside the car are radios and a Lowrance GPS from JM2 partner Rugged Radios. Included are car-to-car and intercom functions. Rugged also provided the clean-air system that Jeremy and his trusty co-driver Brendon Thompson enjoyed. For some races, the co-driver is basically a navigator until something breaks, but at KOH, they are in and out of the car to spot lines, handle the winch cable, and multitudes of other tasks.
Luckily, Thompson wasn't called on to flip the car back over, but he did sprint for miles through the desert to bring a back-up car to steal parts from to finish inside the eight-hour race cut-off.
Both passengers enjoy Jeremy McGrath Motorsports-edition PRP seats and harness-type seat belts for comfort and safety. You need comfort for the many jostling and juddering hours they spend racing these machines.
BIG FANS
We are fans of McGrath and the Kawasaki KRX 1000. We have seen his talent and uncanny ability to adapt to new conditions and challenges. Those are vital talents for a racer. The KRX is fast becoming a favorite ride when we are headed for seriously technical trails. When the going is high-speed rough, the stock Kawasaki is not as at home, and it frankly would not be high on our choice for a race with this much fast desert running. 
In some of the fastest running between the start and the first pit, McGrath jumped up from 42nd to 15th. That was without any sort of quick-dump fueling. With 20 miles to go, and all of the hardest sections completed but the final drop down Back Door, the team had a failure.
What McGrath later termed a "small mistake off-course" damaged the front-wheel bearing carrier. Thompson then ran miles in his driving suit to retrieve a car to cannibalize for parts. That allowed the team to get back in the race and finish 29th in one of the few normally-aspirated machines, which is also likely the closest machine to a showroom stocker in the race.
McGrath promises to be back with the Kawasaki KRX 1000, and we are excited to see what he and his crew can accomplish with 12 times as long to prepare for the 2021 KOH.
PARTS AND SERVICES
JEREMY MCGRATH MOTORSPORTS: (951) 805-1313, www.jeremymcgrathmotorsports.com
KRX Chromoly 2-seat cage   with roof $2,250
KRX 3-piece mesh grill $149.99
KRX modular roof rack $399.99
KRX lower valance $150
KRX upper visor $150
KRX dual-tube Chromoly front bumper kit w/ skid plate $424
KRX single-tube Chromoly rear bumper kit w/ skid plate $499
KRX custom aluminum dash $750
KRX front seat slider kit for PRP seats $150 ea.
KRX side mirror kit $119
KRX nerf bar kit (comes with spuds & hardware) $315
ICON VEHICLE DYNAMICS: (951) 689-ICON [4266], www.iconvehicledynamics.com
UTV-spec compression wheels $251.99 ea.
MAXXIS: www.maxxis.com
Roxxzilla 35×10-15 TBA
PRP: (800) 317-6253,  www.prpseats.com
GTS suspension seat $1,297 pair
5.3×2 harness $135–$185
KAWASAKI: www.kawasaki.com
HMW full skid plate set $399.95
HMW front A-arm guard set $169.95
HMW rear trailing arm guard set $179.95
HMW rock slider set $279.95
Rigid www.rigidindustries.com
E-Series PRO light bars $1,784.98 both
Rugged Radios: (805) 541-1696, www.ruggedradios.com
RRP660 2-person system w/ 60-watt radio & helmet kits $1,228
Lowrance Point-1 GPS Antenna $249.99
Lowrance Elite 7 GPS $549
To subscribe to Dirt Wheels Magazine in print or digital form click here https://hi-torque.com/product/dirtwheels.