JOEL HETRICK WINS ATV MX NATIONAL CHAMPIONSHIP
Wrapped up second AMA title at Indiana's Ironman Raceway
JOEL HETRICK WINS ATV MX NATIONAL CHAMPIONSHIP
HONDA PRESS RELEASE, August 2019: Phoenix Racing Honda's Joel Hetrick returned to the track that nearly derailed his title hopes earlier this season and clinched his second AMA ATV Motocross National Championship on Friday, August 23. Finishing second overall in the Pro finale at Indiana's Ironman Raceway, Hetrick rode flawlessly all weekend to nab the number-one plate aboard his TRX450R. The Seneca, Pennsylvania, resident's other title came in 2017.
The Pro-only season finale was held in conjunction with the final round of the AMA Pro Motocross series, but even with a huge crowd on hand, the pressure never got to Hetrick as he racked up holeshots in both of his motos. He dominated the first race and then rode at a conservative pace in moto two to finish third. Hetrick also earned the 2019 Top Qualifier and Holeshot titles, having snagged 15 holeshots over the course of the season, and qualified first eight times.
The title was particularly gratifying, as it came a year after Hetrick lost his crown at the final round, due to mechanical issues. Even this season, Hetrick was forced to make a come-from-behind charge in the points chase after encountering bad luck at earlier events.
JOEL HETRICK WINS ATV MX NATIONAL CHAMPIONSHIP
"After round six we were 29 points down, so there's not much I could do other than try to win motos," Hetrick said. "I decided to just go out there, race, and have fun. We went to RedBud [round 8 of 10], and the tables turned. We went to Loretta's [the penultimate round] one point down and we left with a five-point lead. I came in here with the plan to win the first moto and finish the second moto in the top four. That plan worked out, but this feels insane. I had no idea I was going to be in the position to come here and be battling for the championship. This is what we work so hard for every day. All that hard work paid off."
This is the second title of the season for Salisbury, North Carolina-based Phoenix Racing, which also fields Honda-supported efforts in the Kicker Arenacross and GNCC series. "It's great to have the pressure lifted after the misfortune of last year, and then to dig ourselves out of a hole like we did this year," said team owner David Eller. "It's great for the team, and it's nice to show how competitive we are. I'm really proud of Phoenix; we won the Arenacross title and now we won this. If we can secure a top-10 spot in GNCC, we'll have met or exceeded our goals for the year."
To subscribe to Dirt Wheels Magazine in print or digital form click here https://hi-torque.com/product/dirtwheels.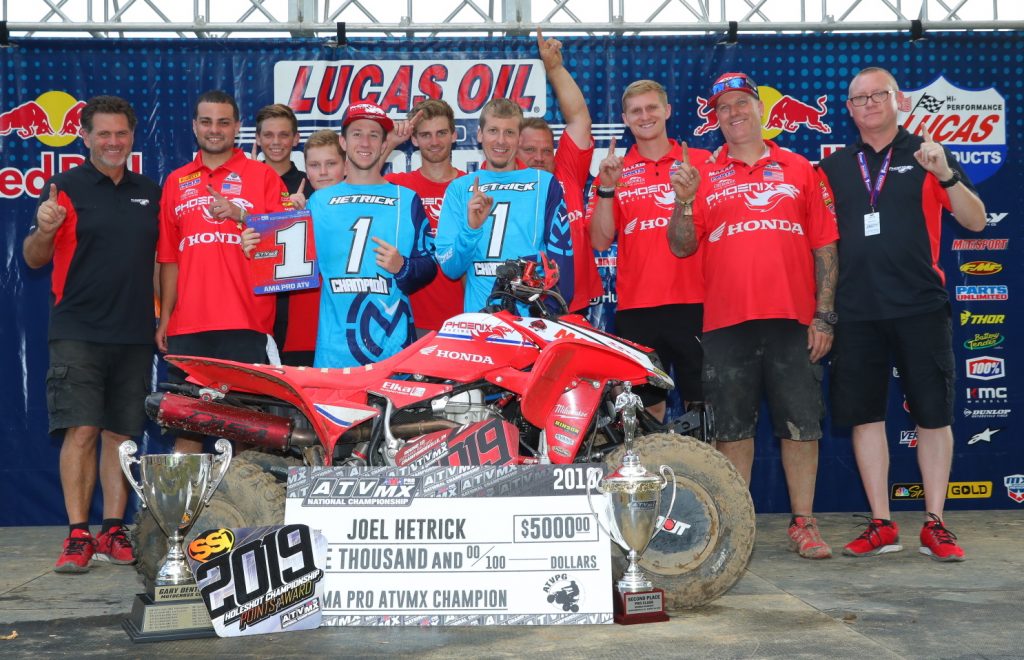 .
.