Jolene Van Vugt: Empowersports & Polaris Adventures
Jolene Van Vught helps Polaris level the playing field, and get more women riding through adventure outfitters across the country.
Jolene Van Vugt helps Polaris level the playing field, and get more women riding through adventure outfitters across the country.
International Female Ride Day was introduced by Vicki Gray in 2007 as a way to encourage women to get involved with the powersports industry. Extreme sports, and generally all things engine-oriented tend to be male-dominated fields, historically, because it was unthinkable for women to be "dangerous". Even in our advanced society where women have fought for equality, it can still be intimidating for females to get into the extreme world of powersports. There are so many new ways for females to get out and ride. One of the ways Polaris has helped women get involved is through the Empowersports Women's Riding Council. The council was created by Polaris to help women be more visible across the powersports industry and help push females to venture into riding, maintenance, and even racing. The Polaris database shows that their female ridership has gone up by 30% in the last year alone. Wouldn't it be great to have the lady in your life be interested in your hobbies, especially if that means she begs you to take her riding instead of her begging you not to go at all?
This year, Polaris has stepped up their game for International Female Ride Day with help from a very impressive lady on their Women's Riding Council, Jolene Van Vugt. Jolene is most famously known for being the first woman to successfully backflip a motorcycle, which landed her a spot on the Nitro Circus stunt team. Van Vugt is now a pro stunt woman and RZR ambassador as well as an entrepreneur. As a co-owner of The Outpost lodging cabins in Big Bear California, Jolene partnered up with a local Polaris Adventure outfitter, Happy Trails Rental, to give some ladies a taste of what she loves most.
If you are interested in getting out to ride either on or off-road, but maybe don't have the knowledge, the vehicle, the trailer, or the money to dive headfirst into the powersports lifestyle, then Polaris Adventures is perfect for you. The Adventures program has 175 locations to choose from where you can make reservations with an outfitter who will provide vehicles and guidance for the ride of your life. You can even join their new membership program. How it works is rather than making a payment to the bank every month for one vehicle, you pay a monthly fee that gives you a certain amount of credits to use on or off-road vehicles that you can pick up, have delivered, or go on a booked tour from an Adventure Outfitter location. Unused credits roll over so that you can be flexible, or save up credits for something big. Vehicle options include ATVs, UTVs, snowmobiles, Slingshots, Indian motorcycles, and even boats.
Happy Trails Rental, located in So-Cal, operates out of Johnson Valley at the foot of the San Bernardino mountains. This 100,000-acre playground of public land will give you a wide variety of terrains to choose from for all skill levels.  From dunes and washes, to dry lakes and massive rocks, this scenic landscape is what I imagine it must be like to drive on the moon or mars. You may know of the Johnson Valley desert because of the ever-popular King of the Hammers Ultra4 race annually held in the Southeast corner of the riding area for over a decade.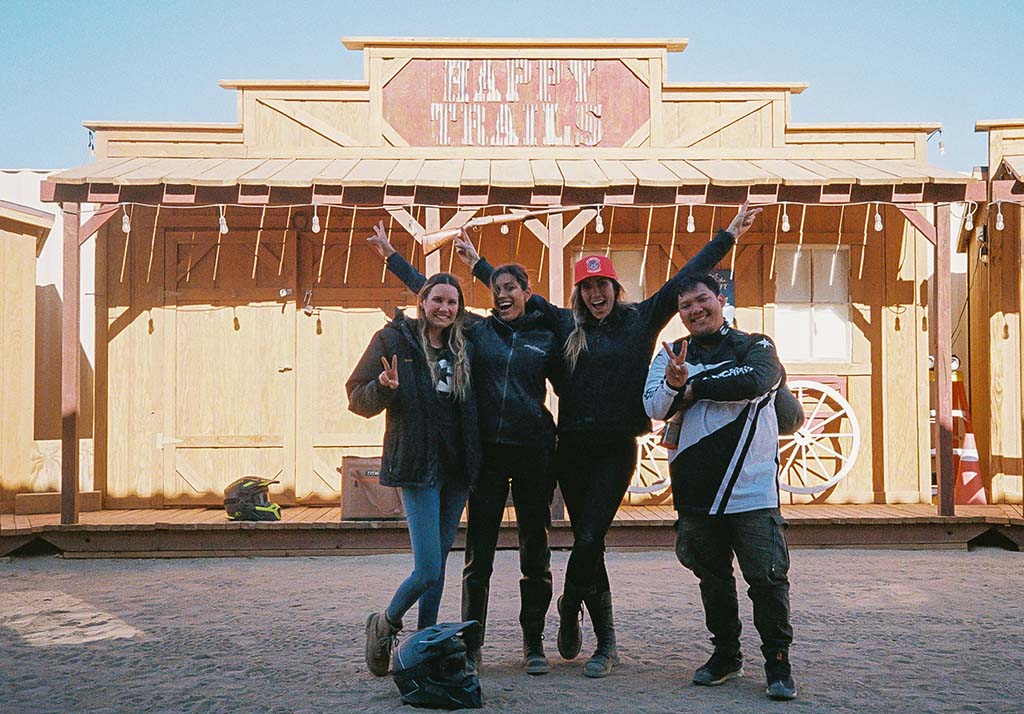 Recently we joined Van Vugt and Polaris for a guided Adventure experience that was perfect for outdoor lovers looking to get a taste of the thrills of off-road, in a beginner and family-friendly setting. The whole group met in Big Bear to stay on The Outpost property with Jolene. The cozy cabins were built in 1931 but were recently refurbished in 2021 to keep the mountain lodge look with a more modern feel. Outfitted with hot showers, a fireplace, a kitchenette, an outdoor fish cleaning station, and of course a smart TV, you can experience the lake and nearby trails without having to rough it in a tent or miss out on the outdoor involvement in a high-tech ski-resort.

In the morning we meandered out to the Outpost brewhouse to enjoy breakfast bagels from town before loading up and heading down the mountain to Happy Trails. Our tour guide Ben went over all the safety instructions before showing the new riders all the features of their brand new RZR, especially the ride command- for GPS and Bluetooth music purposes of course. The pace was slow enough to help the new riders get comfortable with the vehicles, but not so slow that we veteran off-road junkies got bored. Although our loop was fairly short in distance, about 50 miles, we were able to explore bushy trails, silty lakebeds, mountain vista points, and a scenic stint at Cougar Buttes. Because the Dirt Wheels crew is not a bunch of beginners, we got to head off into the boulders with Ben for some advanced crawling, while Jolene took the newbies out in her passenger seat to experience some less intense rocks.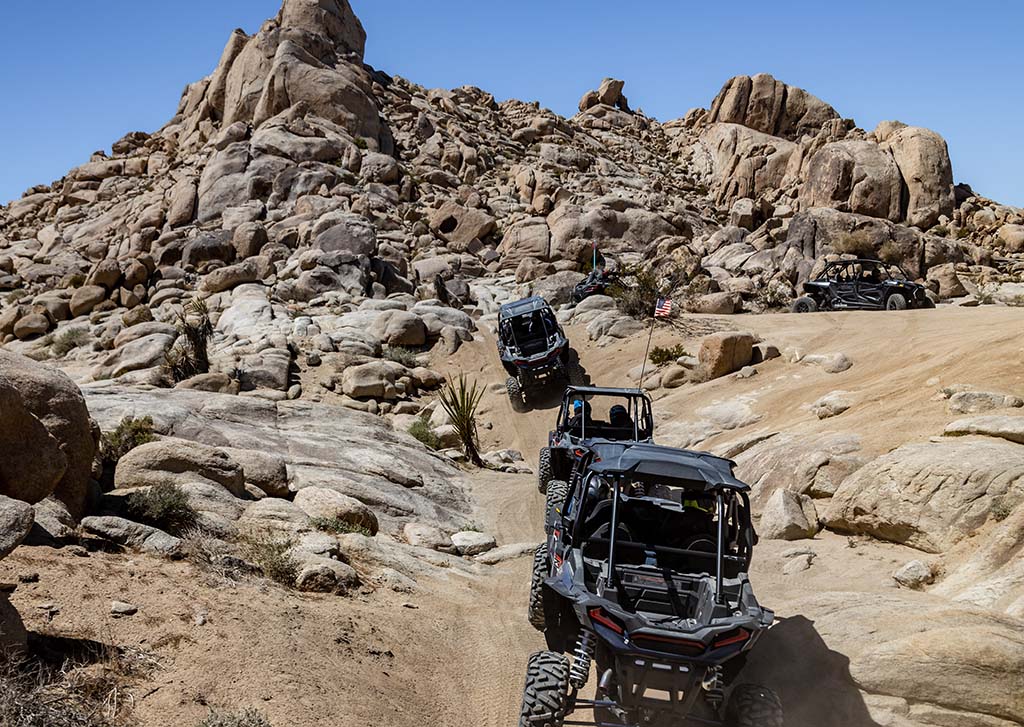 Nearly 85% of the US population has a current valid driver's license, which means that 85% of the population is theoretically capable of becoming part of the UTV community. While this was a more mellow cruise day for us, which was still a ton of fun,  for a novice it would have been a great way to get a feel for terrains, vehicle capabilities, and driving techniques. The bright-eyed beginners on the ride who had never hit the dirt before, couldn't wipe the smiles off their faces and kept saying "I can't believe we get to do this….on a Wednesday!" like they had ditched school to do something that only the cool kids were doing.

After heading back to our cabins for a refreshing shower and some clean clothes, tacos and s'mores around the Outpost fire pit were the perfect ending to a picturesque day. If this sounds like something you or the lady in your life might be interested in, then check out this and other Polaris Adventure opportunities and start planning your adventure today!
Just get out and ride- Happy International Female Ride Day!