KAWASAKI KFX450R RACER
Dirt Wheels reader builds a National level ATV MX race machine
KAWASAKI KFX450R RACER
Hi Dirt Wheels, my name is Mack McDermott from Rhode Island.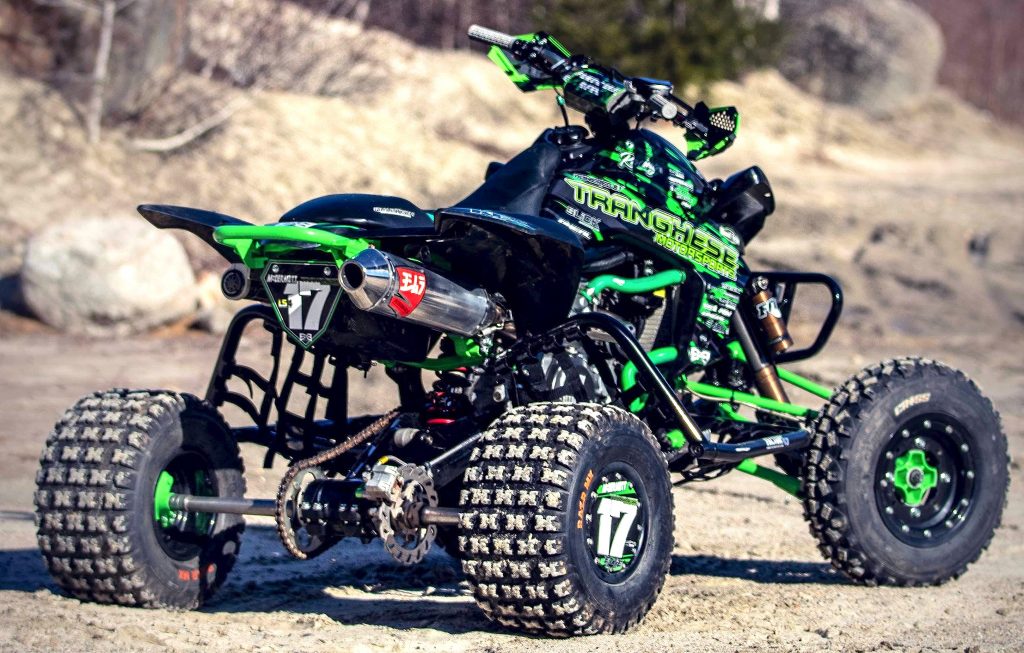 This is my 2009 Kawasaki KFX450R. Bought it a little over a year ago in bone stock form and after riding a track a few times I decided to get full-blown into racing and build my KFX450 to as close to a national level build as I could. I Teamed up with Tranghese Motorsports out of Springfield, Massachusetts to help me build it and race in the NEATVMX series. Photos by Mike Fig Photography
KAWASAKI KFX450R RACER
MOTOR:
Carillo rod, Wiseco 12:4:1 piston, head fully ported and polished by Baldwin Motorsports, KX450 cams, Ported throttle body, FCI intake, Honda TRX airbox, PCV, Hinson full bulletproof clutch, CV4 rad hoses, Jeep coil mod, had full Yoshi RS3, but now running full Pro Circuit TI4 exhaust
BODY:
Custom fabbed lowered subframe, Quadtech carbon hood, Quadtech carbon underhood, Powermadd handguards, Factory43 nerfs, Factory43 front bumper, graphics by Graphics by Edge
KAWASAKI KFX450R RACER
CHASSIS:
Laeger +2+1 long travel a-arms, Gen 3 Fox Floats, Fox Podium rear, Lonestar rear axle, Walsh stem, Alba beadlocks, GBR stabilizer, Galfer brake line and brakes all round, ASV levers, Renthal bars, JT sprockets, LSR carrier.
Should we do a feature on your ATV or UTV? If so, then send us good photos and info on it. Include your name and state, and Email it to [email protected]
To subscribe to Dirt Wheels Magazine in print or digital form click here https://hi-torque.com/product/dirtwheels.
.
.