— ADVANCED 2-STROKE TECHNOLOGY FOR 2018 —
Walt Shumacher is racing the GNCC cross-country series on a machine that is a little different from most. It's a 2-stroke, but not the standard Honda 250R you usually see. He wanted the most up to date modern version of a 2-stroke and that seems to be coming from KTM right now. We'll let him describe what all was involved in building his KTM 300 XC race machine…
This is my 10th season racing GNCC.  Coming into this year, I was considering doing something different, just to keep things interesting.
in 2012, I bought a KTM 2 stroke 250XC dirt bike and I couldn't believe how different it was from the 2 strokes I remember playing with as a kid.  It was MUCH smoother, started on the first kick, idled clean, loved to be lugged and to this day, having since purchased another one as well, I have never fouled a spark plug, flooded the bike, lost spark, or had any other reason for either of them to just suddenly not run.  My experience with "modern" 2 strokes was so different than I remember Blaster and Banshee life being that I pretty quickly started considering building a hybrid.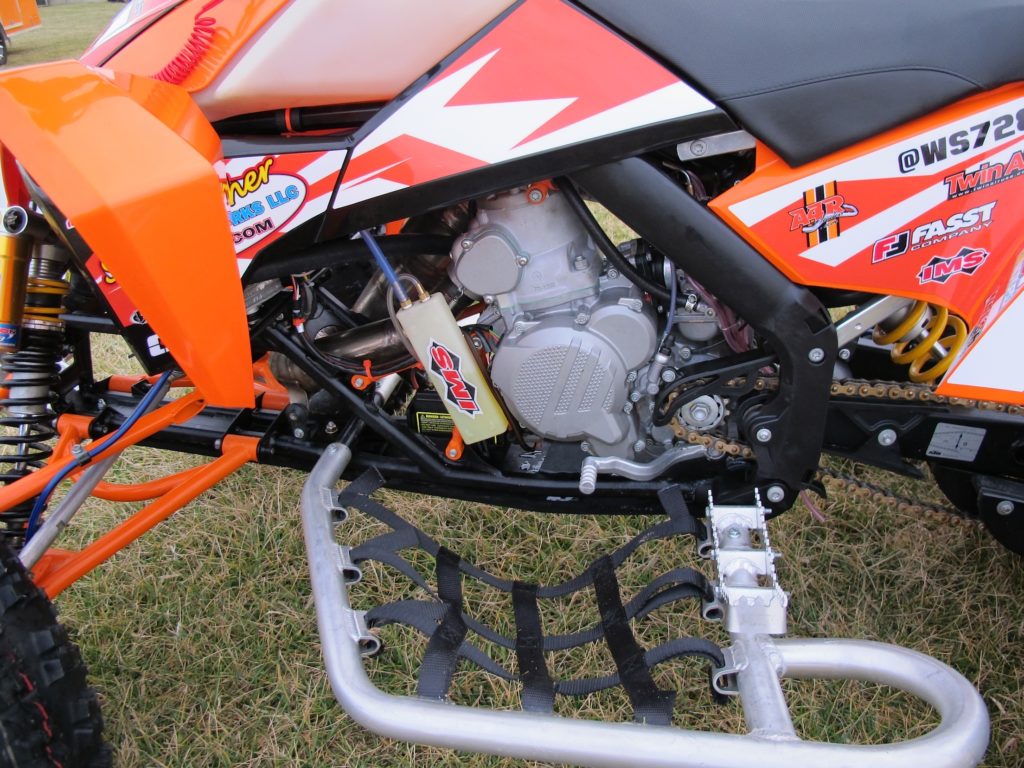 The trouble was vibration.  The non-counter-balanced 2 stroke dirt bike engines were buzzy enough in a bike chassis that I thought they'd be a problem for sure in a quad.  The only explanation I've ever heard for this that makes any sense is that the big heavy forks on the dirt bike act like a tuning fork an dampen the vibrations out.  Since quads don't have a fork, the vibration is absorbed by the chassis and most every 2 stroke dirt bike engine swap I've ever seen ends up with so much vibration that the owner either goes back to a 250R engine quickly, or decides to tough it out and the frame cracks in short order.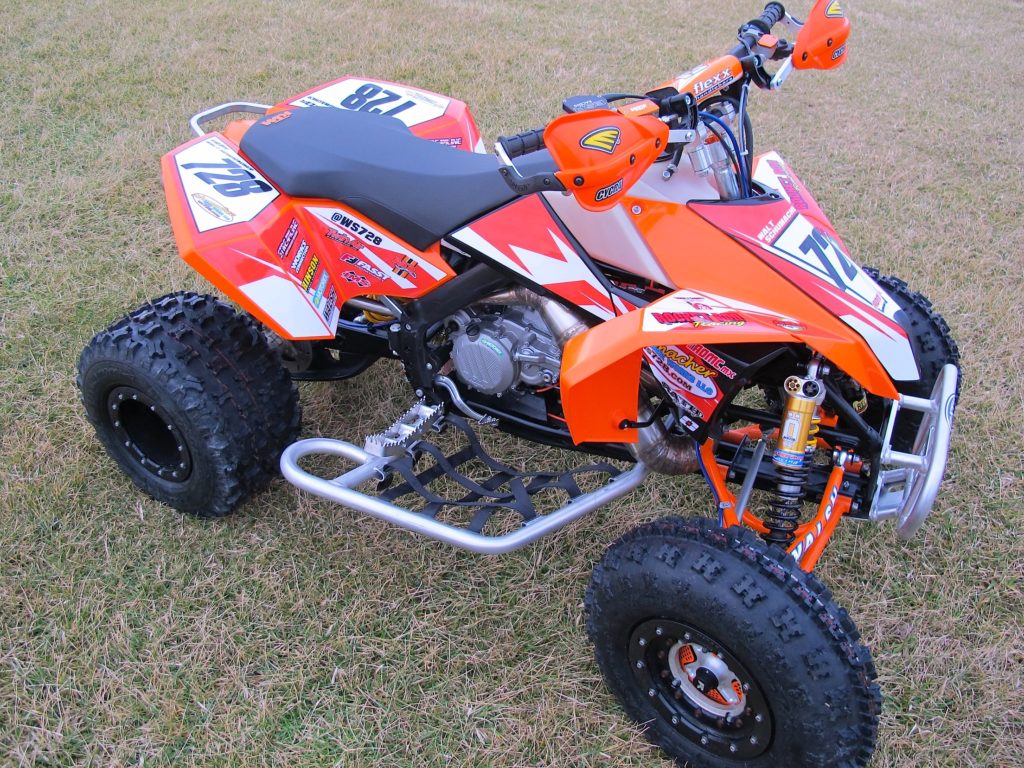 For 2017, KTM added a counter-balanced the 250/300 engine.  In addition, they upgraded the electric start system so that you could rely on it full time.  The previous iteration was a bit under engineered and was only to be used once the bike was already warmed up.  I started working in early 2017 to source an engine.  Jamin Jones at Appalachian Off Road Motorcycles has supported me for all 10 of my years of GNCC racing and has been a huge part of my program.  He was able to get his hands on an engine for me.  It was a lengthy process, but a couple of days before Thanksgiving, it showed up!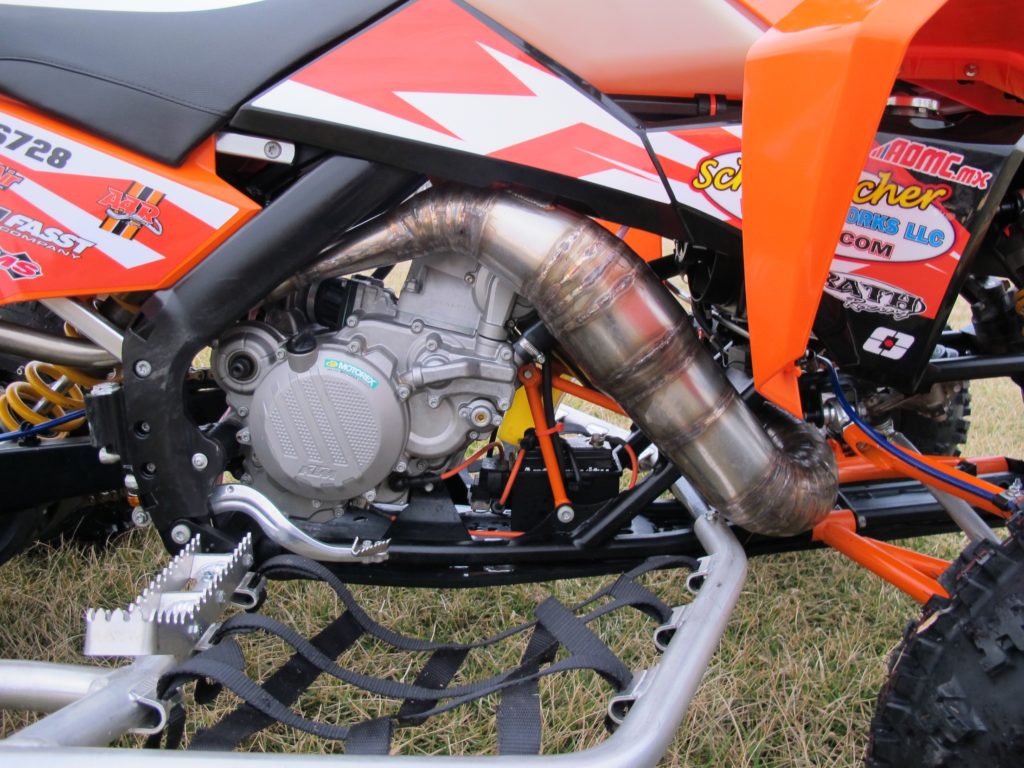 My dad and I started trying to fit the engine into the KTM 450 chassis later that evening, spending a few hours moving things around and doing a lot of measuring.  I remember that night we saw so many challenges trying to get everything to fit that I said, "Man, I hope I didn't just waste all that money… This is not going to be easy…"  Fortunately, once we got going, it wasn't near as bad as I thought it would be.  There was a LOT of work involved in fabricating the engine mounts, coming up with an intake that fit and flowed well, building a wiring harness, and everything else along the way.  The exhaust was hand built by All 4 Racing in MI, and is basically a clone of an FMF Fatty for a KTM 300XC.  The silencer is an FMF Titanium 2.1 for a 2017+ KTM 300XC, which was something I wanted to do so that we would have an easily available off-the-shelf solution in the event of it getting smashed up in a crash.  The carburetor is a 38mm PWK Air Striker.  The head has been modified by Slavens Racing, who also supplied a 300 SXS CDI.  The cooling system and most of the chassis are stock KTM 450/525 XC components with Walsh Race Craft A arms and Steering Stem, Fasst Flex bars and Rath Nerf bars, bumpers and hubs.  The amazing OEM KTM brakes have been retained, with stainless braided hoses by Streamline, as has the hydraulic clutch, electric start, and everything else that makes a KTM a KTM.  The shocks are the same Ohlins TTX shocks that Adam McGill ran on his factory KTM back in 2009.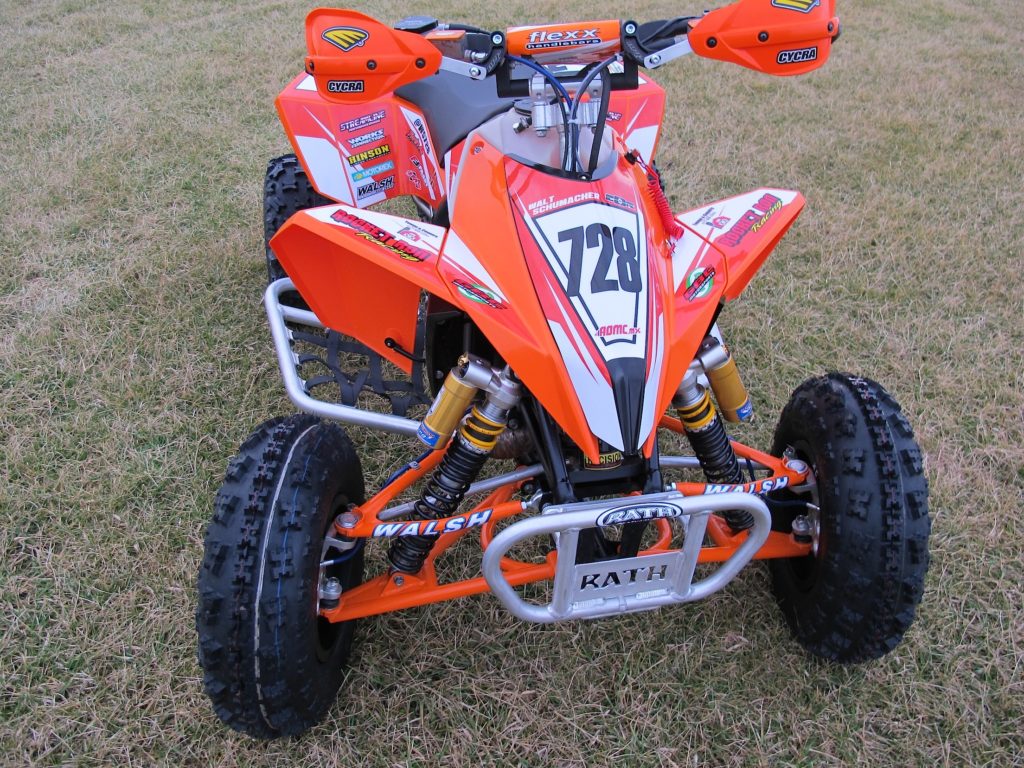 I only have 3 races on it so far, but I couldn't be happier with the finished product!  It performs fantastic, handles amazing, (having lost around 35 lbs from what was already the lightest 450 ATV on the market) has plenty of over-rev power, but still likes to be lugged down low as well.  I wish KTM had stuck it out a little longer in the sport quad market, as this would have been a fantastic production machine!
I couldn't do any of this stuff without my mom, my dad, and my girlfriend Nicole, along with All4Racing, AOMC, COR Moto Graphics, FASST Company, GBC Motorspors, Hinson Clutch Components, IMS Products, KLIM, Leatt Protectives, Motorex USA, Rath Racing, Rocket Ron Racing, Schumacher Race Works LLC, Scott Spots, Streamline Brakes and Controls, Towne and Country Real Estate, Twin Air, Walsh Race Craft, and Works Connection
Thanks! — Walt Shumacher # 728