AMAZING RESTORED 1988 HONDA TRX250R
Keeping it all in the family By the staff of Dirt Wheels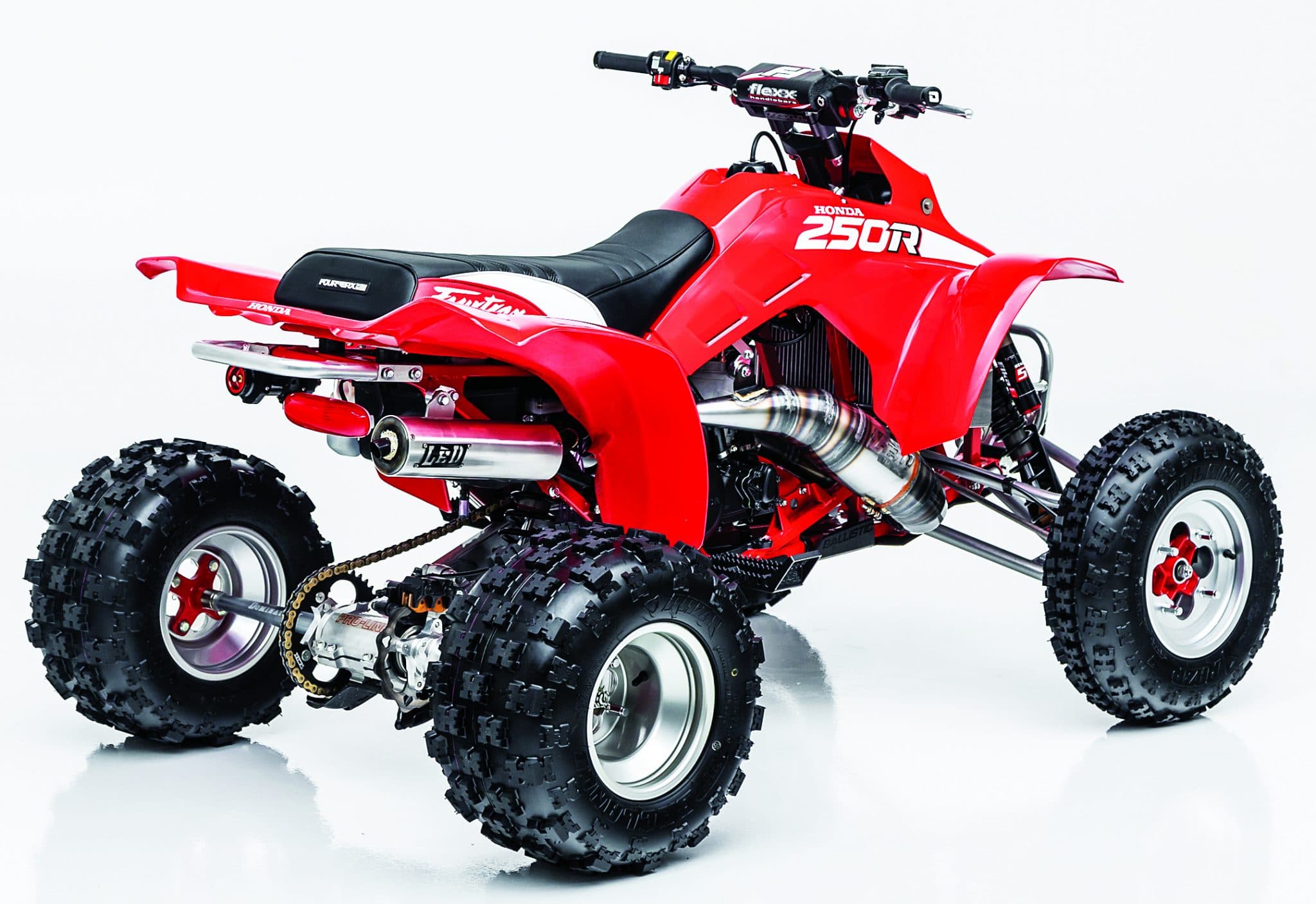 Every once in a while a project machine we spot on social media is so intriguing that we have to see it for ourselves. It turns out, the TRX250R posted by @shaun_88r on Instagram was conveniently located along our travel route through Boise, Idaho. While it is common to call any full rebuild of a vintage machine a "restoration," but restoration means returning it to fully stock, like-new condition. Shaun took amazing efforts to keep parts of his TRX stock but other parts are modernized, too. In automotive circles, this is called a "resto-mod." That is the designation for a machine that is like new with a roughly original look and modernized performance. Whatever you call it, this Honda looks better in person than on the web. Better yet, there was a special story behind the build itself that is worth sharing.
STORY WORTH RESTORING
Shaun's dad originally purchased the 1988 TRX250R new from a dealership in Michigan in 1987 where the family lived when Shaun was only 6 years old. Shaun still remembers riding sitting in front of his dad with his feet on the fenders hanging onto the middle of the handlebars.
Over time, this 250R had some mild engine work done to it, as well as the addition of a Paul Turner pipe and FatBoy2 silencer, which you can still buy today at Duncan Racing.
However, by the time Shaun was old enough to ride the R, most of the family's riding group started getting interested in other things, so the family 250R got parked in the garage. Shaun's dad passed away from ALS in 2013, so the 250R was moved to a family member's place while Shaun was in the Marines until 2019. After exiting the Marines, Shaun had time to bring the 250R out to Boise.
SOME STOCK, SOME NOT
Rather than keep it stock, Shaun wanted to pay homage to the past while adding some modern touches. He says, "The engineer in me took over, and the choice of every part became an obsession. Even things like the coolant overflow bottle and OEM front bumper, parts that most discard or upgrade, were very important to have. I had also never put an engine together, or even jetted a carburetor before, so I had a lot to learn. But, luckily, these days we have the 250R Facebook groups, some great YouTube videos via Michael Sabo and, of course, my dad's trusty Honda service manual."
FRAME UP
With the generational timeline to consider, there was no thought to replacing the stock frame. The frame was stripped and reinforced in areas where the stock frame cracked with a Pumashine gusset kit from www.tlr-
online.com. The kit strengthens the rear shock mount, key frame tube junctions and even boxes the swingarm pivot like a modern machine. After the bracing, the frame was powdercoated in Prismatic Racer Red.
Other stock parts, like the aluminum swingarm, linkage and skid plate, joined the stock frame, but they were vapor-blasted, grain-sanded (for OEM look) and clear-coated. OEM Pro-Link stickers were applied to the swingarm.
SUSPENSION GOES MODERN
While the swingarm is stock, not much attached to it is. A Roll Design-tuned Elka Stage 5 rear shock with a rear-mounted reservoir gained a custom line to clear the stock coolant overflow bottle and provide airbox clearance At the rear of the swingarm is the much-lauded RPM Dominator II +1/+4 axle, twin-row bearing carrier and anti-fade nut. Even less of the stock front end was utilized. It started with Roll Design +3 MX A-arms and tie-rods fitted with TRX450R tie-rod ends and ball joints. The arms are controlled by Elka Stage 5 long-travel front shocks. Again, they are set up by Roll Design. Original '88 spindles and hubs were used with new OEM hardware and bearings. Black Cerakoted, fully rebuilt stock calipers also made the grade, but Galfer wave rotors, pads and custom brake lines modernize the brake performance.
Roll Design was tapped for the extended steering stem and anti-vibe bar clamp. Two further mods improve the suspension. A Precision Racing Elite steering damper was added to help control the front in the rough, and Fasst Company Flexx 15-degree Quad Racer low bars add further hand comfort, and Fasst anti-vibe handle inserts help the hands.
A MIGHTY MOTOR
The TRX engine was an advanced product in 1988 with its counterbalancer, but it was a simple piston-port design with a steel cylinder liner. LED Performance has a 300cc top-end kit that includes a Sphinx 300cc cylinder (72mm piston and 72mm stock stroke). It has a seven-transfer port design, Nikasil bore, and further port work and magic by Arlan Lehman. The kit includes a billet exhaust flange and double-O-ring head. 
Shaun chose a race gas dome, so the engine drinks VP110 fuel mixed with Dumonde Tech L111 oil at 40:1. A matching LED Performance exhaust in Raw Metal was welded up by KC Reed, and it was mated with an LED round silencer. Raw pipes are hard to care for but look great, so the pipe was finished with hi-temp Cerakote clear by FBC Boise.
That trick top end was not slammed on a tired vintage bottom end. The crank was expertly rebuilt by Crank Works with a Japanese Pro-X rod, welded tins and was balanced to the larger 72mm piston. The stock cases were CNC-bored to fit the Sphinx cylinder skirt.
During reassembly the bottom end was refreshed with all-new OEM seals, bearings, bolts and gaskets. In place of the stock clutch was the interesting combination of a Hinson billet-proof clutch basket with a Rekluse TorqDrive clutch.
Carburetion was modernized and sized for the 300cc engine with a Keihin 38mm Air Striker that breathes through Moto Tassinari VForce-3 reeds heading into the cylinder.
Wiring from 1988 can be problematic, so Shaun ordered a full replica OEM '88 wiring harness from South Texas Banshee. Further modernization came in the form of an eBay-sourced GPI radiator and hoses.
SWEET MEMORIES
"It sure was a 'trick treat' when that sweet two-stroke fired up for the first time on Halloween 2020." Shaun went on to say, "Although I didn't know when starting out, refreshing the 1988 plastics was the hardest job of all. It took hundreds of hours of wet sanding and polishing to get them just right. In the end, it was all worth it. Now they match the rest of the quad's showroom-fresh look. Even though these machines are getting rarer and more expensive by the day, return on investment never factored into the parts I purchased or time spent."
The goal was to build a dream 250R in a classic but somewhat modern way and to do it all himself. We are sure he was thinking about his dad while doing it. The quad is something he says he will keep forever. "Considering it has been in the family 34 years, I think we will at least have it for another 34. My dad never got to meet his grandson, Olin (my nephew), but I hope someday to pass it on to him when he's ready. As my dad (and I'm sure many others) used to tell me, 'You can't ride it if you can't start it.'"
Shaun wanted to thank Arlan at LED Performance, Dean at FBC Boise, Jed at Roll Design, and Blake at DBC Racing for all the help.
SPEC SHEET 1988 HONDA TRX250R
AC RACING: (951) 245-4040, www.acracing.com
Rear grab bar: $50
AXIA ALLOYS: (480) 216-6266, www.axiaalloys.com
Flag mount: $40
CRANK WORKS, INC.: (480) 897-1746, www.crankworks.com
Rebuilt OEM, Japan Pro-X rod, welded tins, balanced to piston: $480
D.I.D. RACING CHAIN: www.didchain.com
520ATV2 Gold X-Ring chain: $85
FASST COMPANY: (877) 306-1801, www.fasstco.com
Flexx 15-degree quad racer low bars: $400  Anti-vibe handle inserts: $60
FOURWERX CARBON: (262) 501-9696, www.fwcarbon.com
Custom seat cover and foam: $550
GALFER USA: (805) 988-2900, www.galferusa.com
Front & rear wave rotors and sintered pads: $300
Custom stainless steel braided brake lines, all black: $250
HINSON RACING: (909) 946-2942, www.hinsonracing.com
Billet-proof basket: $285
ISF RACING: (417) 372-8972
Stainless steel radiator shrouds: $100
LED PERFORMANCE ENGINES: (503) 522-2465, www.ledperformanceengines.com
Sphinx 300cc cylinder top-end kit: $1,955
250C raw pipe: $450
Round silencer: $225
Keihin 38mm Air Striker: $250
MACDADDY RACING: www.macdaddyracing.com
Coolant temp gage: $50
MOTO TASSINARI: (603) 298-6646, www.mototassinari.com
VForce-3 reeds: $150
NELSON PRECISION MANUFACTURING: www.nelsonprecisionmfg.com
Billet exhaust mounts and rear brake block-off: $100
ODI GRIPS: www.odigrips.com
Ruffian lock-on grips: $22
PRECISION RACING PRODUCTS: (209) 365-1850, www.precision-rp.com
Elite steering damper: $600
REKLUSE: (208) 426-0659, www.rekluse.com
TorqDrive: $360
RENTHAL: www.renthal.com
Front sprocket (14 tooth): $25
ROLL DESIGN: (760) 731-5920, www.rolldesign.com
Elka Stage 5 rear shock setup by Roll Design: $1,500
+3 MX A-arms and tie rods: $1,600
TRX450R tie-rod end ball joints: $120
Elka Stage 5 long travel front shocks setup by Roll Design: $2,090
Extended steering stem: $315
Anti-vibe clamp: $115
Footpegs: $250
RPM: (928) 771-9363, www.team-rpmcom
Dominator II +1/+4 axle: $460
Anti-fade brake hub: $230
Twin row bearing carrier: $220
SOUTH TEXAS BANSHEE: www.facebook.com/texasbanshee
Full OEM '88 replica wiring harness from Kevin Galindo: $108
Replica on/off light switch: $55
TERRYCABLE: (800) 854-4691, www.terrycable.com
Throttle cable for Air Striker carb: $50
UPP RACING: www.uppracing.com
Case saver, chain slider, intake: $200
WORKS CONNECTION: (530) 642-9488, www.worksconnection.com
Clutch perch and lever: $155