RAZOR DIRT QUAD 500 36V ELECTRIC ATV
MACHINE TEST: Electric kids quad
RAZOR DIRT QUAD 500 36V ELECTRIC ATV
Off-roading is a lifelong sport. It's one of those hobbies that can be enjoyed at any age and at any pace. With the right machine, two, three, and even four generations of family members can all partake at the same time.
At the younger end of the spectrum, the activity starts with toys in the dirt until kids grow and can start riding on their own. The step right before getting on a gas-powered off-roader usually lands kids on an electric machine like the Razor Dirt Quad 500. 
DIRT QUAD 500
Sold at Walmart and other big-box stores, for $600, the Razor is a quarter of the price of a 50cc gas quad from one of the big-named manufacturers. So, it's a logical and practical purchase to see if your kid is even interested in the sport. Another advantage is that the machine is virtually silent, so cruising around in a backyard or within the confines of a neighborhood will keep the parents happy, too.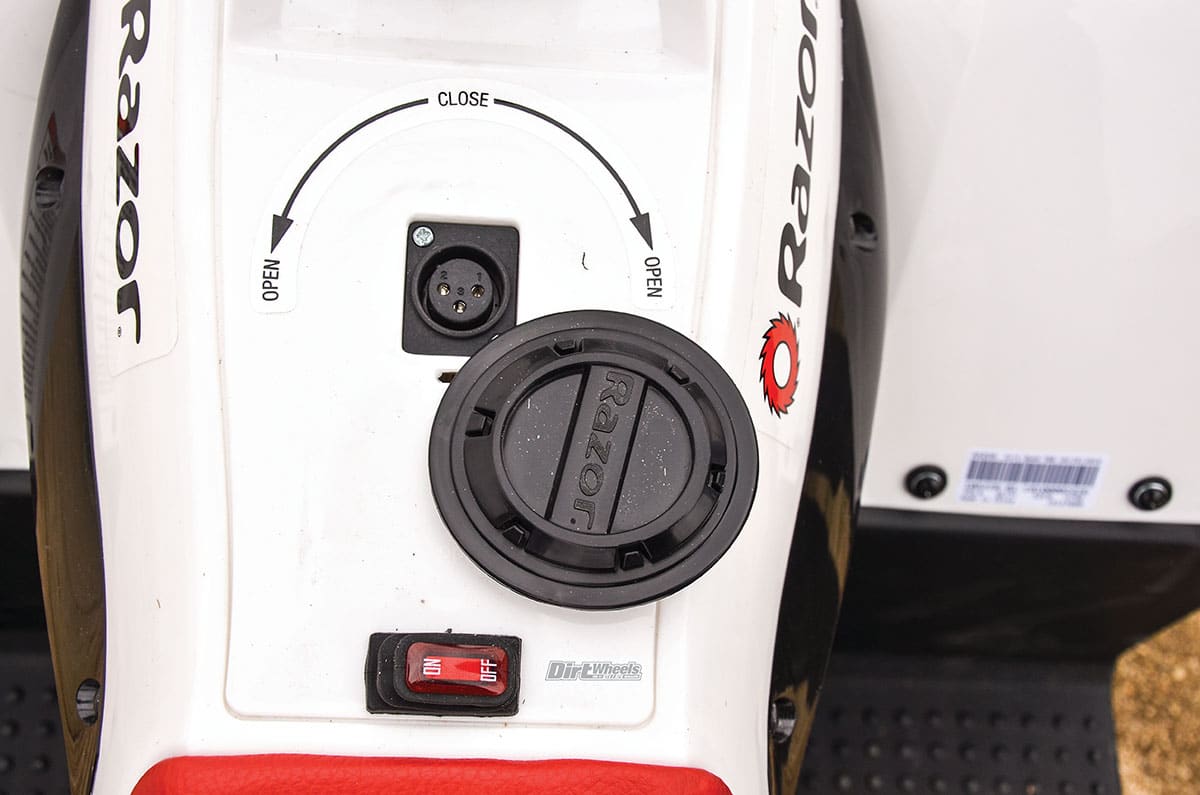 SIZED RIGHT
RAZOR DIRT QUAD 500 36V ELECTRIC ATV
This machine is sized for smaller kids. It weighs under 75 pounds and measures 28 inches wide, 45 inches long and 32 inches tall. That's small enough to fit in the back of a large SUV. Again, since it's electric, there's no gas smell to worry about.
Power is provided by a 500-watt electric motor.  Top speed is limited at around 15 mph. The smaller gas-powered quads are limited to about the same but weigh well over 200 pounds. Razor claims there is a 40-minute run-time out of the 36-volt battery pack. Charge time is about 4 hours.
At www.razor.com, you can buy spare batteries to have an extra on the charger. The small bank of batteries comes out of the quad without tools for a quick replacement. Spare parts can be bought on the website, too.
REAL QUAD
RAZOR DIRT QUAD 500 36V ELECTRIC ATV
This mini quad has a steel frame, padded seat, and plastic footwells. For suspension, there is one preload-adjustable shock in the rear moving about 3.5 inches. The tires are air-filled rubber; 14 inches tall in the back and 16 upfront. There is no suspension upfront. The steering is light, however.
Throttle action is controlled as you twist half of the grip on the right side. The only brake is controlled with a small lever similar to what you would find on a bicycle, so small hands can reach it. The brake itself is on the rear axle and is a mechanically operated disc.
SANDLOT
RAZOR DIRT QUAD 500 36V ELECTRIC ATV
We let our usual group of test riders try out the Dirt Quad. Its compact size and light overall weight were some favorite features. Not only would the kids do normal track riding, but they also figured out how to ride it on two side wheels.
The power is fun, and the brakes work well enough to lock up and slide the quad in the corners or when coming to a stop. Torque out of the 500-watt electric motor is amazing. It's way better than any gas-powered 50cc mini sold today. There's more than enough power to even tote an adult around.
The ride is a little rough since there are no front shocks, but we didn't hear a single kid complain about it. The more skilled riders would wheelie over the bumps and keep the front end light.
The ride quality of most small ATVs could always use improvement, but not enough for us not to want to ride. For the most part, we choose to ride smoother trails, and the kids had a blast.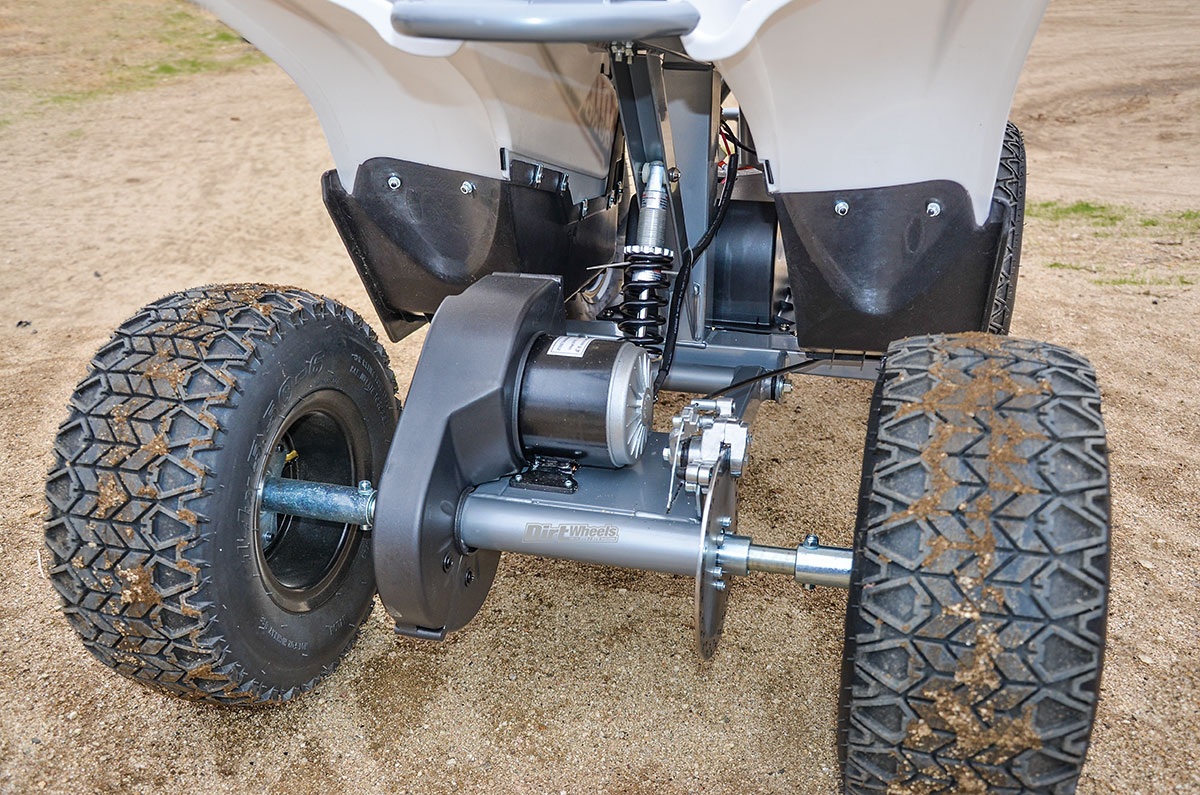 REPORT CARD
RAZOR DIRT QUAD 500 36V ELECTRIC ATV
 The Dirt Quad 500 is a blast for new or seasoned small riders. Smaller tykes would enjoy the standard Dirt Quad that starts at $399. No matter which quad you choose, getting your kid out and doing something other than sitting on the couch is a winner.
The Dirt Quad can do that in more places than a typical gas quad and for a lot less money and hassle. So, for smaller kids who want to do smaller rides in places like neighborhoods, backyards, or your local ride area, you won't go wrong with the Dirt Quad lineup. We give the Razor Dirt Quad a well-earned B+.
RAZOR DIRT QUAD 500 SPECS
Motor 500-watt electric
Battery 36 volts
Front tires 16×6
Rear tires 14×6
Front suspension Solid
Rear suspension Swingarm
Overall length/width/height 25"/45"/32"
Approximate weight 75 lb.
Price $1,199
Contact www.razor.com