Magellan Explorist TRX7 GPS review
GPS units come in all shapes and sizes. There are small pocket-sized systems all the way up to huge screens as big as a TV. However, to use one practically while riding, it has to be a decent size and not too big. The size of Magellan's new $649 eXplorist TRX7 is what attracted us to it, but what's inside is worth talking about.
Magellan has been in the GPS game a long time, but this is their first large-screen product directed totally at off-roaders. For ATVers, you can use the Ram mount adjustable system and attach the TRX7 to the handlebars or to the front rack for easy viewing. UTV drivers can use the Ram mount and attach it to the passenger grab handle, a cage mount or incorporate it into an empty spot on the dash. Power is provided by the machine's 12-volt system through a plug, or you can directly wire it to the battery. Either way, the unit is removable from the vehicle and will self-power using a rechargeable battery pack. The unit looks like a small tablet and measure 8.7 inches wide by 5.2 inches tall. The usable screen size is 7 inches measured at a diagonal. The TRX7 weighs 21 ounces.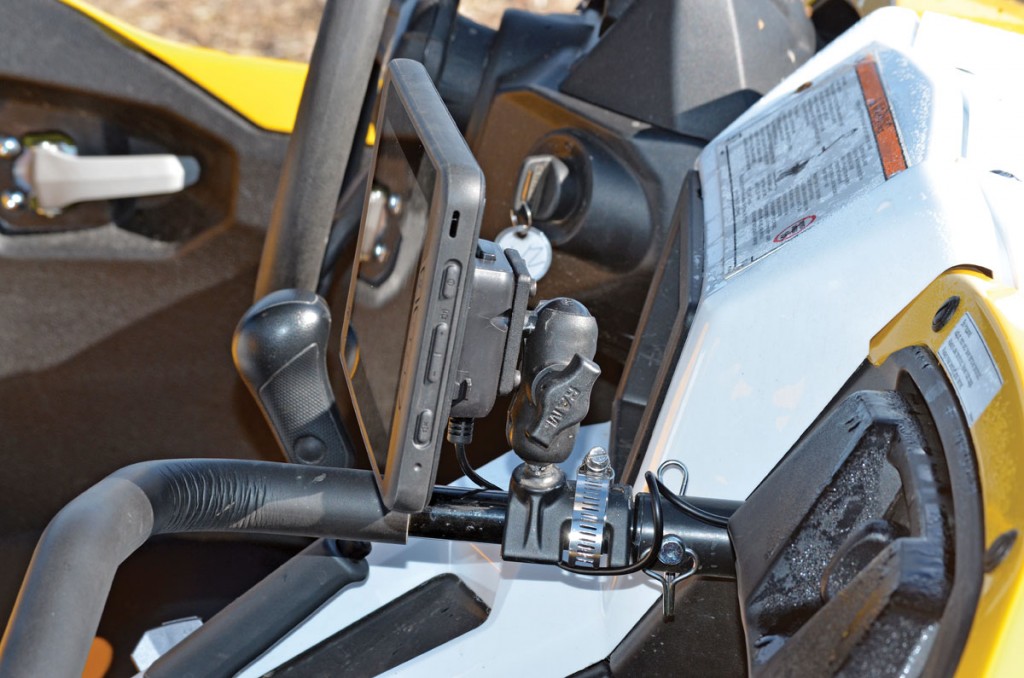 FULL OF FEATURES
Magellan equips the TRX7 with over 40,000 OHV trails in the U.S. and Canada from the start. You can immediately turn the device on to see trails close to you. Additionally, the unit links to an online database that allows the public to share their own trails with other eXplorist users nationwide. Each trail shows up on the map first as a named listing with mileage, and then can be blown up to view as you ride. You can view the trail both in 2- or 3-D imagery. While out on the trail the TRX7 can send a note to a Twitter feed with your exact location. You do have to press a button manually to make this happen. If you have an Instagram account, you can link the TRX7 and share photos from the trail, which will be saved for others to view online if you chose to make them public.
THOUGHTS
We tried the Magellan on several ATVs using the Ram mount connected to the front rack. At moderate speeds, the GPS was easily visible and clear to read. The on-screen track moves as you go, and there is no delay whatsoever. Magellan claims its accuracy is 3 to 5 meters, and we found it to be better than that. In the coming months we will upload some trail photos and even some of our testing routes, so if you ride where we do, you can join us. If you would like to pick up a Magellan eXplorist TRX7 to help you find the way, do so by calling (800) 707-9971 or log on to www.magellangps.com.