MINI TEST: 2009 Polaris Outlaw 90; An Outlaw for the junior set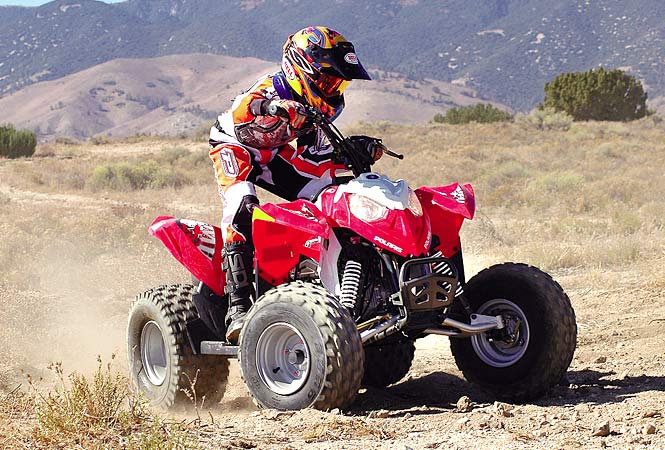 With the success of the Outlaw nameplate, Polaris decided to trickle the name down to its youth ATVs. The result is an Outlaw 90cc sport quad for riders 12 and up. For ease of shifting, the Outlaw 90 features a CVT with forward, neutral and reverse gears. Like the Sportsman 90, the Outlaw comes with a new four-stroke powerplant that dishes out 89cc of displacement. Length is 61 inches and the seat height measures 26.5 inches. A monoshock swingarm rear design allows for six inches of travel. The Outlaw 90 wears red and white plastic.
WHAT YOU GET
The newest Outlaw 90 looks good. From its sleek lines and bigger brother Outlaw look, this is one mini that will be popular with the younger set. Sitting next to a full size Outlaw 450 MX, it puts out a strong impression of its bigger brother, with clean lines, sharp styling and a distinctive appearance about it.
The air-cooled, 89cc four-stroke engine uses a Keihin 16mm carb, with chain drive and a fully automatic CVT-style transmission. Since a youngster does not have to worry about shifting, they can concentrate on their riding technique. Our kid test riders liked having a reverse, but commented on the engine's low power output.
The electric starter fired our machine up easily, and there is backup kick starter if the battery goes dead. We have heard of some earlier Outlaw 90s having issues with weak batteries, but we had no problems with ours.
SUSPENSION AND MORE
On the front of the Outlaw, a single A-arm resides with a set of long travel (five inch) shocks. On the back end, a single shock swingarm offers up six inches of travel. We still prefer double A-arm front suspension, but the Outlaw 90 has a good feel on most terrain conditions.
Another good feature of the Outlaw 90 is its wide stance. With a width of 38.5 inches, it is stable and predictable when cornering. On the downside, it tends to push in the corners and requires a fairly wide turning radius.
Drum brakes are shod on the front and back of the Outlaw 90 and offer decent stopping power. We would still prefer to see some sort of disc brakes on this unit, though. The separate hand brakes on the handlebars for the front and rear brakes were welcome by our test crew.
Wheels and tires were up to the job on the newest Outlaw 90. The 19×7-8 fronts and 18×9.5-8 rears offer good wear and traction characteristics for a wide variety of riding conditions.
SPECIAL FEATURES
Polaris includes a DOT-approved helmet, whip flag, and DVD safety training video with each Outlaw mini they sell. This is a great idea, and should be mandatory for all mini ATVs.
The Outlaw 90 also comes with a tether engine kill switch, should your young charge and the machine sperate company. Daytime running lights are a plus, and help with the visibility of the machine in day and late evening rides.
Even the footwells on the machine are well thought out. They're wide and sturdy and offer your junior ATVer a safe place for their feet and legs. We would have liked it more if they had included a foot brake control as well as the hand brake controls on the machine.
BUY IT?
The Polaris Outlaw 90 mini is priced at $2499. That puts it in the same price category as the Suzuki Z90. It is $200 less than Yamaha's Raptor 90 at $2299 and $300 more than the Kawasaki KFX90 at $2199. The Outlaw 90 looks great, has long-travel suspension in the front and back, and comes with a dependable, strong running four-stroke engine.
PROS
• It looks really good.
• Purchase price includes Polaris Safety Gear, which consists of a safety whip flag, DOT-approved youth helmet, and rider-training DVD.
• Long travel rear suspension. Easier to jump and ride in rough.
• Automatic transmission. No shifting.
• Four-stroke engine. Dependable, long term performance.
• Daytime running lights. Can always see your rider.
• Electric start and safety tether. No kicking (unless battery goes dead), safety engine switch cutoff.
• Wide stance. Stable, predictable handling.
• Reverse. Especially important when going with dad on canyon rides. Easy to go back and forth.
• Good footwells. Extra protection for kids' feet and legs.
CONS
• No foot brake. We want the added control.
• Wide turning radius. Pushes in corners.
• Drum instead of disc brakes.

2009 OUTLAW 90 MINI