Mtn. Dew ATV Motocross Championship Marches into Georgia with First Round Action from Echeconnee MX

AMA Pro ATV Points Leader John Natalie Brings in Momentum
MORGANTOWN, W. Va. (March 18, 2015) – The 2015 racing season for the Mtn. Dew ATV Motocross National Championship, sanctioned by AMA (ATVMX), officially got underway last week with the historic ATV Supercross (ATVSX) from Daytona. The race served as a landmark moment for the 30th anniversary of ATVMX, but more importantly provided a first look into what the championship battle will hold this spring and summer. The entire AMA Pro ATV field will travel to Middle Georgia this weekend for Round 1 action from Lizella's Echeconnee MX and the Georgia National, presented by Kinsley Powersports, on Saturday, March 21.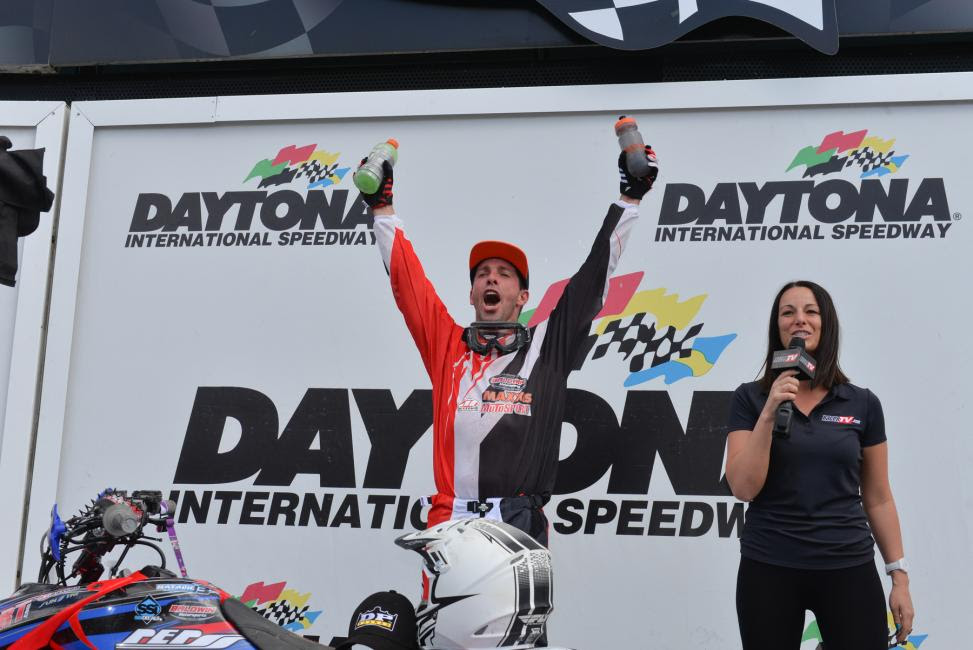 Natalie is the points leader coming into Echeconnee MX.
Photo: Ken Hill
Fresh off his huge win at the inaugural ATVSX, Baldwin Motorsports Honda's John Natalie not only enters this weekend's opening motocross round of the championship as the points leader, but also the rider to beat early in the season-long battle for the title. Natalie made the big switch from running his own team to joining forces with one of the most successful and well-respected efforts in the sport, and so far the new relationship is thriving. Natalie essentially went unchallenged in Daytona, grabbing the holeshot and leading all 15 laps of the Main Event.
The two riders who joined Natalie on the Daytona podium were arguably the two leading contenders for the AMA Pro ATV Class crown – Joel Hetrick and reigning champion Chad Wienen. Hetrick has made the foray into team ownership in 2015 and based off the impressive speed he showed at Daytona, the new Corrosion Specialties/Hetrick Racing Honda effort is ready to contend right out of the box. Despite a third-place effort, Wienen might argue that Daytona was a bad start to the season as he searches for his fourth straight title aboard the Wienen Motorsports Yamaha entry. He was forced to qualify for the Main Event through the LCQ and was never able to make himself a factor in the battle for the win. With the return to the traditional motocross format this weekend, it wouldn't surprise anyone to see the champ put the No. 1 bike back up front.
Natalie (front) got his season off to a very stong start at Daytona.
Photo: Ken Hill
Daytona proved to be a mixed bag of results for many of the top riders in the premier class. Thomas Brown had hoped to begin his first season as a team owner with a strong ride, but a crash on the opening lap forced him to come from behind aboard his Maxxis Yamaha, powered by Moto-Xperts machine. Despite the adversity, Brown showed his resilience and fought his way up to a sixth-place effort.
Hetrick is looking comfortable on his new Honda.
Photo: Ken Hill
Up-and-comer Jeffrey Rastrelli has the talent to enjoy a breakout season in 2015, especially considering he is the lead Can-Am rider this season with JB Racing. He put himself at the front of the field early in Daytona, pressuring Natalie, but crashed out of competition and recorded a 16th-place finish.
In his first race with Root River Racing, veteran Josh Upperman displayed some of his tenacity as well, overcoming a start outside the top 10 to finish seventh. Upperman is more motivated than ever to capture that elusive first championship and seeing his former team at Baldwin Racing walk away with the win at Daytona is sure to add fuel to his fire coming into Echeconnee.
Although he didn't begin the season how he wanted, Wienen's title defense is still off to a strong start.
Photo: Ken Hill
The first two motos of the 2015 season are sure to be intense and loaded with excitement as the sand track at Echeconnee provides a truly unique racing surface for the riders to tackle. It's impressive length will push lap times over two minutes and the ever-changing sand will emphasize the importance of line choice. With more space and a wide open layout to let their ATV's hang out, there's really no telling which rider will ultimately emerge as a frontrunner on Saturday afternoon. All the more reason to keep a close eye on who seizes the momentum at this round of the championship and carries it into the heart of the 2015 campaign.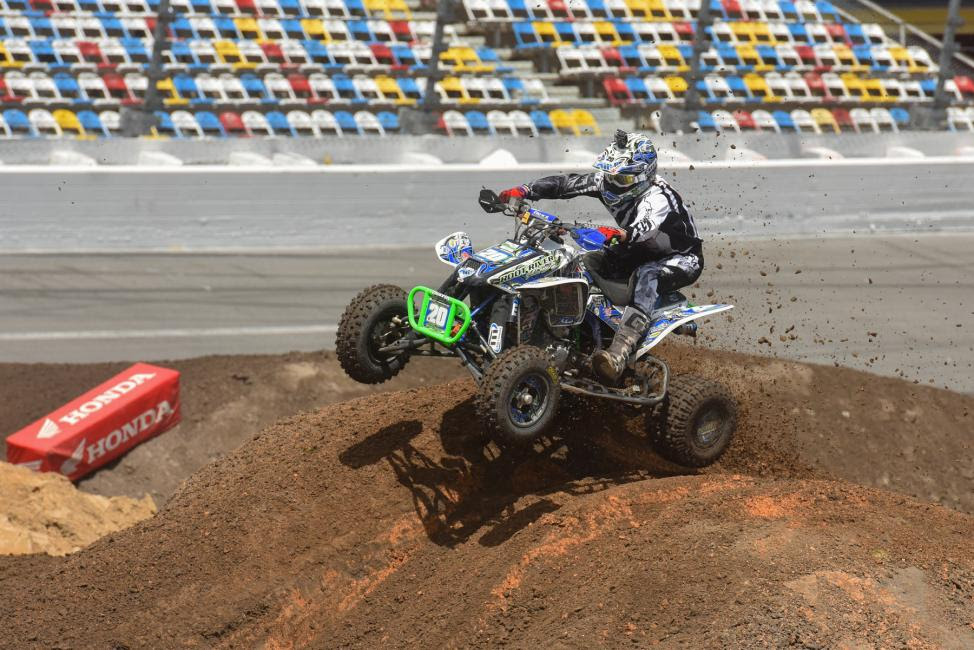 Josh Upperman hopes to put Root River Racing on the podium.
Photo: Ken Hill
Previous Round Results:
Daytona International Speedway – Daytona Beach, Florida
March 10, 2015
AMA Pro ATV Results
John Natalie, Houtzdale, Pa., Honda
Joel Hetrick, Seneca, Pa., Honda
Chad Wienen, Galena, Ill., Yamaha
Joe Byrd, Union City, Tenn., Honda
Nick Gennusa, Wall, N.J., Yamaha
Thomas Brown, Sanger, Texas, Yamaha
Josh Upperman, Louisville, Ohio, Honda
Adam Clark, New London, Ohio, Yamaha
Vital Cazenave, Union City, Tenn., Honda
Tyler Hamrick, Cortland, Ohio, Honda
AMA Pro ATV Championship Standings
John Natalie, Houtzdale, Pa., Honda – 25
Joel Hetrick, Seneca, Pa., Honda – 22
Chad Wienen, Galena, Ill., Yamaha – 20
Joe Byrd, Union City, Tenn., Honda – 18
Nick Gennusa, Wall, N.J., Yamaha – 16
Thomas Brown, Sanger, Texas, Yamaha – 15
Josh Upperman, Louisville, Ohio, Honda – 14
Adam Clark, New London, Ohio, Yamaha – 13
Vital Cazenave, Union City, Tenn., Honda – 12
Tyler Hamrick, Cortland, Ohio, Honda – 11
On-track AMA Pro ATV Class action at Echeconnee begins at 11 a.m. EDT with practice and qualifying. Opening Ceremonies, followed by AMA Pro ATV motos, kick off at around 3 p.m. EDT.
For more information on the 2015 Mtn. Dew ATV Motocross National Championship, visit www.atvmotocross.com. Join the conversation on the series Facebook page, follow on Twitter @ATVMXdotcom and Instagram @ATVMotocross, and be sure to always hashtag #ATVMX.
About the AMA ATV Motocross Championship
The AMA ATV Motocross Championship is the nation's premier amateur and professional ATV motocross series, hosted at top motocross facilities nationwide. The 10-round series features the Nation's best racers, teams and sponsors, and is America's largest and longest-running ATV national motocross program. Since 1985, the series continues to expand and produce top talent from the amateur ranks, while premiering the professional class. For more information, please visit www.atvmotocross.com.
About Mountain Dew
Mountain Dew, a product of PepsiCo Americas Beverages, is the No. 1 flavored carbonated soft drink in the U.S. With its one-of-a-kind citrus taste, Mountain Dew exhilarates and quenches with every sip. In addition to original Mountain Dew® and Diet Mountain Dew®, the permanent DEW product line includes Mountain Dew Code Red®, Mountain Dew LiveWire®, Mountain Dew Throwback®, Mountain Dew Voltage® and Mountain Dew White Out®. For more information, check out www.mountaindew.com, www.facebook.com/mountaindew or follow on twitter @mtn_dew.