NEW 6-PASSENGER HONDA PIONEER MODEL
Honda Introduces New Six-Passenger Pioneer 1000-6 Deluxe Crew
Pioneer 1000 family expands with all-new Crew model
Six-person cab features class-leading space and comfort
Honda today announced its all-new multipurpose side-by-side, the Pioneer 1000-6 Deluxe Crew—a highly anticipated addition to the Pioneer family, featuring a full-size, six-person cab. The Crew benefits from all the updates applied to the 2022 Pioneer 1000 (announced in March), in addition to model-specific features that make it the hardest-working side-by-side in Honda's lineup.
The Crew's six-person cab is designed with a spacious second row, boasting a best-in-class 28 inches of leg room for a comfortable ride and easy vehicle entry and exit. A full-size cargo bed and front and rear under-seat storage provide substantial capacity for additional items. When the bed is loaded with tools and supplies, the selectable tow/haul mode and self-leveling rear suspension ensure a smooth and controlled ride. As with the rest of the Pioneer 1000 family, the Crew features a powerful 999cc parallel-twin engine and tough Dual Clutch Transmission, and it's built with unmatched durability, quality and reliability.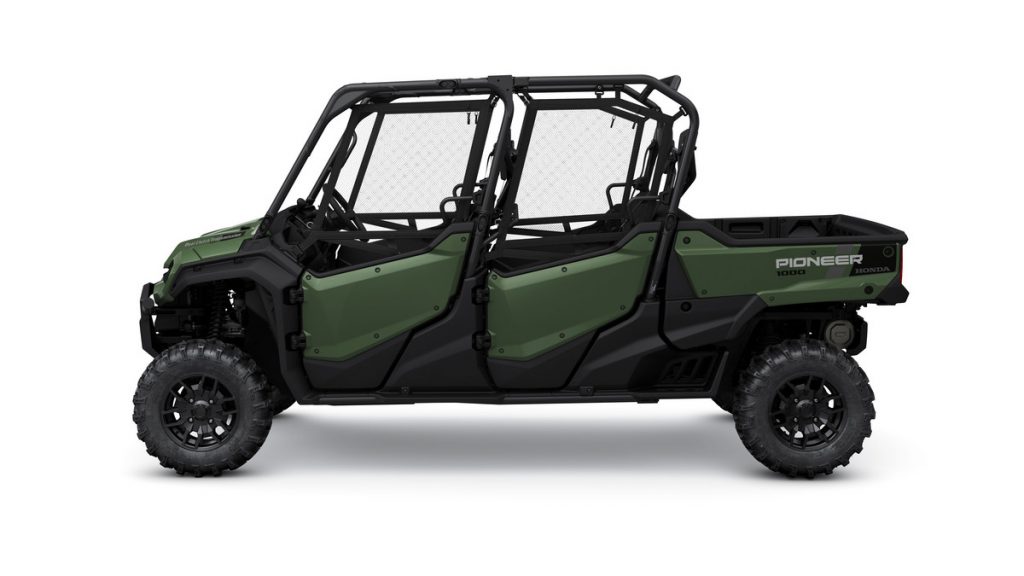 "We're excited to add the Pioneer 1000-6 Deluxe Crew to our lineup of multipurpose side-by-sides," said Brandon Wilson, American Honda Manager of Sports & Experiential. "Since 2016, the Pioneer 1000 platform has set the standard for flagship rec-utility side-by-sides, and the all-new Crew continues to raise the bar with additional capability and performance. With Honda's renowned reliability and a long list of functional, innovative features, the Crew is a versatile workhorse that doesn't compromise performance on the trail."
The Pioneer 1000-6 Crew will be available in September.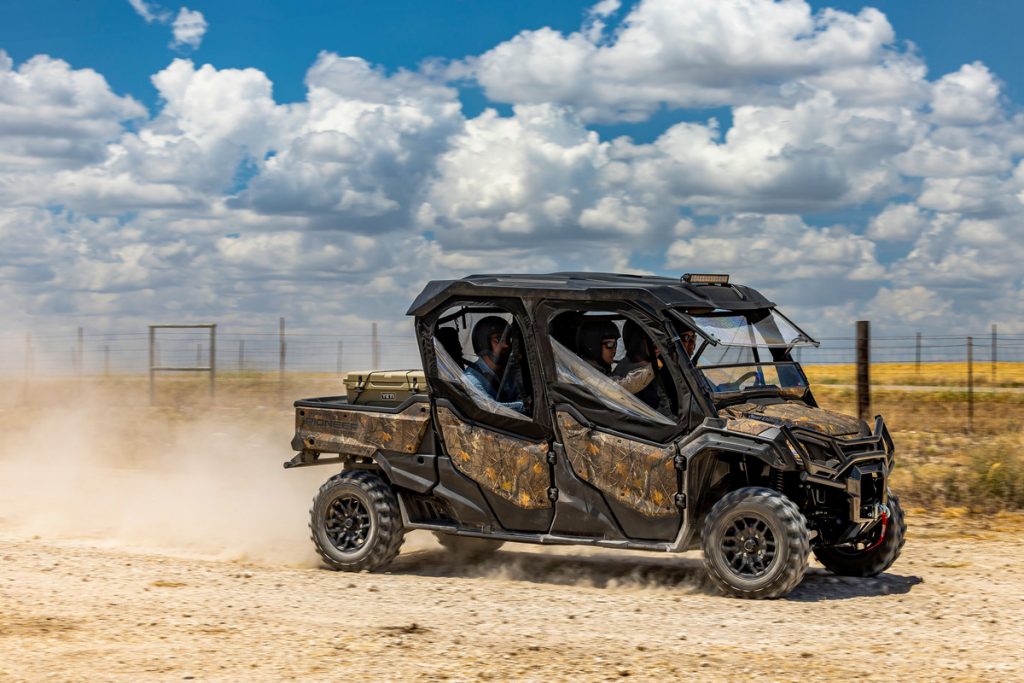 Pioneer 1000-6 Deluxe Crew
For the 2023 model year, Honda makes the Pioneer 1000 platform even more versatile, expanding the family with the introduction of the Pioneer 1000-6 Deluxe Crew—a highly anticipated longer, roomier version that is ready to get the job done at worksites and ranches, and to help outdoors enthusiasts pursue pastimes like hunting and fishing.
The Crew is designed to leave nothing behind, with more space for passengers and cargo than ever before. The six-person cab features best-in-class second-row space for a comfortable ride, while a full-size cargo bed and numerous storage compartments are designed to transport tools and supplies with ease. Powered by a proven 999cc Unicam engine and equipped with Honda's tough Dual Clutch Transmission, the Crew is capable of handling tough jobs with unparalleled efficiency. It delivers reliable performance thanks to Honda's renowned durability. Whether it's working long hours or helping owners enjoy the weekend, the Crew delivers with ample passenger and cargo space.
Colors (MSRP):

Red ($21,899)
Olive ($21,899)
Honda Phantom Camo® ($22,699)
CLICK HERE for more information from Honda