NEW 2020 POLARIS ATVs & UTVs
Widest quads with the most travel ever
By the staff of Dirt Wheels
NEW 2020 POLARIS ATVs & UTVs
Polaris knocked the ball so far out of the park for 2020 that it must have burned up passing through the Earth's atmosphere into the deep void of space. For starters, we have been impatiently awaiting a company to add something exciting to a handlebar machine lineup, and Polaris delivered.
They introduced the 2020 Scrambler 1000 S and Sportsman XP 1000 S with an industry-first 55-inch-wide stance and the most suspension travel seen on a 4×4 quad (perhaps any production quad). Next, they included the new Ranger 1000 and Ranger Crew 1000 in their best-selling utility UTV line. New variations and color schemes are seen throughout their 2020 lineup of UTVs.
They saved the best for last. An all-new, extremely powerful, and impressively suspended offering to their Sport Performance UTV lineup, the Polaris RZR Pro XP that we already tested here on our website.
NEW 2020 POLARIS ATVs & UTVs
LIFE BEHIND BARS
2020 Polaris brings many models of Sportsman ATVs from recreational utility rigs, 2-up Touring packages, enhanced sport offerings, and special-edition ATVs. The big news in the Sportsman rec/utility is the 55-inch-wide Sportsman XP 1000 S that gained improvements across the board.
Not only is this one of the widest ATVs to date from a manufacturer, but it also has the most suspension travel we have seen out of a handlebar-controlled four-wheeled machine. Polaris strengthened the frame, drivetrain, transmission and added long-travel suspension in the front and rear. Front travel has been increased to 11.6 inches and 14 inches in the rear. Electronic power steering has been re-tuned for the inch-larger tires and taller ground clearance at 14.5 inches in comparison to the Sportsman XP 1000's lesser specs. The starting price point is a hefty $14,999 in one color scheme of Orange Madness. 
Polaris kept the $12,099 Sportsman XP 1000 in the lineup for 2020, along with the 850 that shares the same aggressive styling at a much lower price of $8899. On the flip side, the utility-inspired Sportsman 450 H.O. and its variations start out at $6249. New color options can be seen throughout the lineup of those and the 570s as well.
An impressively decked-out Sportsman 570 Hunter Edition goes for $9999, dressed in Polaris Pursuit Camo with a 2500-pound HD winch standard. The Sportsman 570 Premium was once named the 570 SP, but it comes with the same features as last year's SP model in two new colors at a price of $8899. 
NEW 2020 POLARIS ATVs & UTVs
The Scrambler line is under the Sportsman name under sport in their extensive catalog. The Scrambler 850 makes its return for 2020 in Brilliant Orange. We still wish it would come with electronic power steering, but Polaris must want to cater to the sport ATV market with a somewhat inexpensive model at $10,299.
The big news for the Scrambler line is the XP 1000 S. Just like the Sportsman XP 1000 S, it has a 55-inch-wide footprint so you can ride faster with more stability than ever before out of a 4×4 ATV. The fuel injection system was mapped to give the rider two power options. The 89-horsepower engine will give you every pony or calm itself with a push of a switch. The price point is the same as the Sportsman version in a lighter-weight machine. We can't wait to get our hands on one!
SPECIAL EDITIONS & MORE
Polaris continues its renowned relationship with High Lifter to produce its two mud-hole monsters for 2020—the Sportsman XP 1000 High Lifter Edition and the similarly styled 850. Both boggers have radiators mounted to the top of their front cargo racks, 29.5-inch-tall Outlaw 2 tires wrapped around 14-inch wheels, and have high-clearance arched dual-A-arm suspension. The $14,199 XP 1000 has a more powerful engine and a heavy-duty front bumper with a 3500-pound winch.
If you simply need workhorse rigs, Polaris has you covered there as well. The 2020 Sportsman X2 570 will run you a cool $10,199, but it does come as a 2-up conversion with a rear cargo bed to carry around tools or anything you need to get the job done. That model can't beat the cargo capacity of Polaris' Sportsman 6×6 570 that has a six-wheel drive and a large tilting bed. You can also run this $11,399 model in a 2-up format or add more storage behind you. The front cargo rack will let you stack even more equipment on the quad for a hard day's work.
The 2-up Touring offerings didn't gain any major improvements for 2020 aside from a few color schemes. The Touring 570 starts off at $7799, with a tall backrest for a passenger and grab handles to hold onto. If you jump up to the EPS version, the color changes to Titanium Metallic and the Touring 570 Premium gains Polaris' Engine Braking System and Active Descent Control.
The next upgrade comes with a bigger ProStar powerplant with the Touring 850 line for $11,499. The final step in the Touring category is the Sportsman Touring XP 1000 in Pearl White with stylish 14-inch aluminum wheels.
Adults aren't the only ones who want to play with four-wheeled fun machines! Polaris keeps kiddos in mind and still offers the fun-sized Outlaw 50, sporty Outlaw 110, and the rec/utility-inspired Sportsman 110. When your youth won't stop growing, the Phoenix 200 is still in the mix with a fully automatic transmission, just like the rest of the bunch.
The little machines have kill-tethers for parents to pull, along with throttle limiters. Prices range from $2199 up to $4199 for the whole group, and the Outlaws come in colors to suit any new rider.
NEW 2020 POLARIS ATVs & UTVs
LIFE BEHIND THE SPORT WHEEL
There is no point in waiting to get to the good stuff, so let's dive into the all-new Polaris RZR Pro XP line! Polaris dropped a fresh ride for the 64-inch-wide market. The frame, exterior, interior, suspension, and absolutely everything else is new on this UTV, except some of the ProStar 925cc parallel-twin cylinder engine. The turbo is bigger and now water-cooled to help pump out 181-horsepower.
The CVT has been completely redesigned to run much cooler, last far longer, and hopefully save you money replacing belts. The interior is more immersive with versions that have a tilt and telescoping steering wheel. The seat height is lower to the ground, and the whole machine feels far more stable than any of Polaris' previous 64-inch-wide offerings.
There are three models for the Pro XP line, including $22,999 RZR Pro XP, $24,499 Pro XP Premium, and the Dynamix electronic suspension version, the Pro XP Ultimate for $28,499. We could go on, but go to page 24 for a first test of the Pro XP Ultimate!
The rest of the Sport Performance lineup for 2020 looks awesome with new color schemes! The 72-inch-wide RZR XP Turbo S and its four-seater counterpart come in a new Matte Navy scheme or a choice of Ghost Gray with red accents. The less-expensive $22,499 RZR XP Turbo S Velocity is sporting Walker Evans Racing shocks with a much brighter Matte White color livery. These machines are still the most suspended versions in Polaris' UTV lineup, but their power output doesn't match the new RZR Pro XP.
The infamous RZR XP 1000 and it's many two- and four-seat renditions are sitting pretty for 2020 with new colors. The XP 4 1000 High Lifter edition is ready to dive deep into the mud for $25,399, while its two-seat sibling runs over $2000 cheaper.
The standard XP 1000 four-seaters come in a base model, Limited Edition, and Premium version with Ride Command all starting at $21,499. The RZR XP 4 Turbo version goes for $23,699. Polaris' 2020 64-inch-wide two-seat options include an XP Turbo, XP 1000 Trail & Rocks edition, Premium, Limited Edition, and base model ranging in price from $18,599–$20,999.
Polaris didn't leave the trail-ready 50-inch- and 60-inch-wide models out of the fold. If you are wanting to weave through really tight terrain, the RZR 570 and its Premium counterpart are a great start. However, we know a lot of you are fanatics for more power, and the $13,399 RZR 900 has you covered. Add EPS with the Premium model.
You can always step up to 60-inches wide if you want more stability and wheel travel to shred some trails with more room! Start with the RZR S 900, S 900 Premium, and the 900 Fox edition gets the wheels rolling. Once again, Polaris gives you more power with the RZR S 1000 for $17,999, but if you want two more seats for your family and friends, we suggest the RZR S4 1000 for $19,599.
NEW 2020 POLARIS ATVs & UTVs
SUCCESSFULLY SINGLE
If you are tired of listening to your passenger screaming, may we suggest the radical RZR RS1! This single-seater comes with Polaris' ProStar parallel twin-cylinder 999cc powerplant. Suspension travel is a healthy 16 inches up front and 18 inches in the rear to soak up the chop and settle you down smoothly on landings.
It is sad to see that our favorite single-seater, the insanely fun Ace 900 XC and the rest of the Ace line, has departed the 2020 Polaris lineup so far. Sales must not have been healthy enough to send them out to the public past the 2019 line, but we hope that they return! The RZR RS1 is plenty-enough single-seat shredding action for anyone, though.
Finalizing the RZR lineup is the 170. It is perfect for young ones that want to be protected with a roll cage. It comes with seating for two and a potent little engine. The Ace 150 didn't make its return to the Polaris outfit, but that's all right, kids want to play together!
NEW 2020 POLARIS ATVs & UTVs
GENERALLY SPEAKING
Bridging the gap between sport performance and utility is the incredibly capable General line. Polaris presents us with vehicles that can tackle heavy loads via a tilting 600-pound-capacity cargo bed, tow-ability at 1500 pounds, and sporty suspension.
The base General 1000 starts out at $16,799 with steel wheels and EPS as a standard option. A step up to the five-star-rated 1000 Premium gains you a winch, 14-inch aluminum wheels, VersaTrac Turf mode, and a heavy-duty front bumper. Tack on a roof, a Rockford Fosgate audio system, and adjustable Fox 2.0 Podium QS3 shocks at a price of $20,799 and you have the General 1000 Deluxe.
Polaris offers two different four-seater renditions of the General 1000. The General 4 1000 comes standard with electronic power steering, Fox 2.0 Podium QS3 shocks, a Polaris HD 4,500-pound winch, and a sport low-profile front bumper.
The cargo bed capacity and tow rating remain the same from two- to four-seaters. The 4 Deluxe is $1000 more expensive at $22,799. With that, you gain a roof, a rear-view mirror, and a Rockford Fosgate Stage 1 audio system with Bluetooth capability. The entire General line pumps out 100 horsepower to get around and has over 12 inches of wheel travel out of independent suspension in the front and rear. The whole line sees some cool new color changes, too!
NEW 2020 POLARIS ATVs & UTVs
HOME ON THE RANGER
Starting with the newest models on the Ranger lineup for 2020 are the Ranger 1000 and Ranger Crew 1000. Polaris saw quite a lot of success with the high-value Ranger 900, and we can only assume they wanted to share the capabilities of that machine, but add a little more gusto to tow more, haul more and stand the test of time.
The price starts at a cushy $12,999, and a new ProStar 1000 SOHC engine has been nestled neatly in its frame. Horsepower lands at a casual 61 ponies with 55 pound-feet of low-end torque. Polaris claims that the seating is more comfortable for those long days on the job. The in-cab storage is an impressive 18.6 gallons with under-seat and dash cargo options.
The ranch isn't the only place you can play with these Rangers. Ten inches of independent front and rear suspension travel offer a supple ride, and 12 inches of ground clearance will help you get over obstacles in the trail with ease. Three models of the two-seater are available: the Ranger 1000, $13,999 1000 EPS, and the $14,999 Premium that gains you some extra features. The Ranger Crew 1000 also has three flavors with similar outfits of the two-seat versions. You can pick up the base, EPS, and Premium starting at $14,399 to $16,499.
Continuing the workload for 2020 is the Polaris Ranger XP 1000. Four models are hitting dealers with differing variations. The High Lifter Edition sports mud-style tires, a heavy-duty front bumper, raised snorkel kits (like every Polaris High Lifter model from ATVs to UTVs), a winch, and arched high-clearance A-arms front and rear for $20,599.
If you live in or are simply a big fan of the biggest state in the U.S., the Texas Edition sports Nivomat suspension and Texas Embroidered seats and box badging. Enter cold and toasty climates with the Northstar model that has a fully enclosed Premium ProShield Cab with heating and A/C for a somewhat staggering price of $25,199. And last, you can simply stick with the Premium version that still has some worthy features like seating for three and a powerful engine.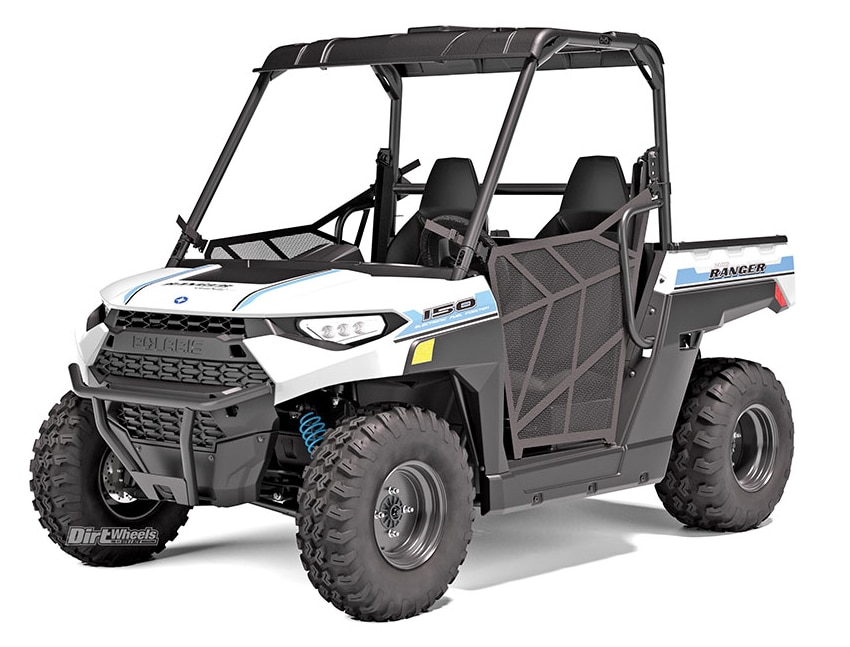 NEW 2020 POLARIS ATVs & UTVs
If you don't quite need an impressive towing capacity of 2500 pounds, and you want a purchase that is far easier on the pocketbook, the Ranger 570 Full Size will work fine. It can tow up to 1500 pounds, has seating for three, and a gas-assist dump bed with an 800-pound capacity.
All of these features go for $10,499. Stepping into the two-seat territory, Polaris has a few Ranger models for 2020. The Ranger 570 will tackle tough tasks and take you over trails with a 44-horsepower engine and a worthy On-Demand all-wheel-drive system.
We always suggest pulling a few more crisp bills out of your wallet to upgrade to the $11,899 EPS version. The Ranger 500 is even easier on the pocketbook if you have land without a bunch of tough obstacles that require extra performance. This Ranger still tows up to 1500 pounds, but the cargo capacity drops down to 500 pounds in the rear bed. A 2-inch hitch receiver is standard, but power steering is not.
Don't wake up the rooster if you need to start your day too early and look into the fully electric Ranger EV. You will also have the advantage of a silent ride when you go out hunting with your buddy. The towing and hauling specs are the same as the Ranger 500 but the price starts out at $11,899.
CREWS & THE KIDS
Polaris has one of the most expansive lineups of any manufacturer of utility UTVs. The top dogs are the Ranger Crew XP 1000s. Six riders can enjoy a supple ride with 10 inches of suspension travel, and power around with 82 ponies out of a ProStar engine that pumps out 62 pound-feet of torque with the aid of a CV transmission.
In fact, the entire Ranger line utilizes automatic transmissions to stay mobile. The Ranger Crew XP 1000 comes in the same four flavors as its three-seat sibling with pricing ranging from $18,099 to $27,299.
NEW 2020 POLARIS ATVs & UTVs
Moving down to Ranger Crew models with 570 ProStar engines is the six-seater Polaris Ranger 570-6. The towing capacity is 1500 pounds. An 800-pound gas-assist dump box is another welcome feature for a price of $12,199. A four-seat Ranger Crew 570-4 is just as capable to get the job done! It rides on 9 inches of front-wheel travel and 10 inches outback. The towing capacity is the same as the six-passenger version, but the cargo bed holds 500 pounds. A starting price of $11,399 may make leaving two passengers behind worth it.
NEW 2020 POLARIS ATVs & UTVs
Finally, it is once again time for the kids to get out and play! Our youth look up to us, and that means they may want a UTV that looks just like dad and mom's sweet ride. The Ranger 150 has an EFI four-stroke single-cylinder powerplant. Seating for two gets the other kiddo out onto the trail, too. The rear cargo bed can hold up to 50 pounds of whatever makes the occupants more excited to ride. An adjustable steering wheel lets them grow taller and still fit into the Ranger 150 EFI. All they ask is $5499 for one!
THAT'S IT, FOLKS! 
We are giving Polaris a standing ovation for a few things this year, mainly for giving the ATV industry new toys to be excited about! The Scrambler XP 1000 S and Sportsman XP 1000 S (test on page 32) should be epically smooth and stable, and all of that translates to more speed. Then, Polaris released the incredible new RZR Pro XP with 181 horsepower to punish your favorite trails. Rounding it out with the Ranger line, 2020 saw an all-new Ranger 1000 and Ranger Crew 1000. Well done, Polaris! Now, do us a favor and at least bring back the 59-inch-wide Ace 900 XC, and we couldn't be happier with your 2020 lineup. Go to www.polaris.com to see all of their machines or find your closest local Polaris dealer to see them in person!
To subscribe to Dirt Wheels Magazine in print or digital form click here https://hi-torque.com/product/dirtwheels.
.
.