NEW POLARIS XPEDITION ADV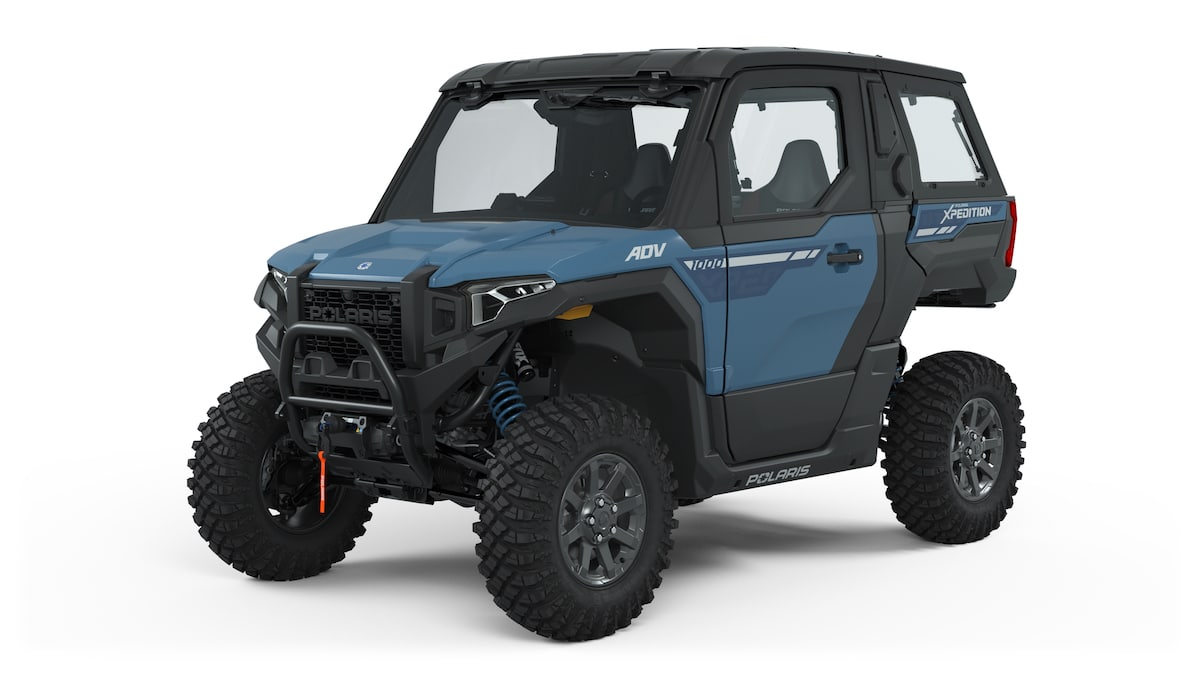 Yet again, Polaris is launching a ground breaking side by side platform that may possibly change the industry. The new platform will go by the name XPEDITION XP and XPEDITION ADV. both models will be available in a 2-door, 2 seat or a 4-door, 5 seat configuration. Trim levels will include Premium, Ultimate and the NorthStar package with power windows, insulated cab, heat and A/C.
 The XPEDITION gets its power using the 1000cc, Gen 2, Pro Star engine mated to a CVT. That power gets to the ground using shaft drive, an independent A-arm suspension system similar to the General with 14 inches of wheel travel up front and 15 out back. However Polaris tells us this is an all new chassis different than the General or Ranger. What sets it apart is the frame, cockpit, body and roof.
From the outside, the ADV model has a roof that completely shades the cargo area. On the Northstar HVAC model the area is enclosed as well. All four door, ADV models feature a lay flat 60/40 seating area create a pass through cargo area unique to any other side by side. So keeping with that Adventure or Overlanding theme, conceivably, you could lay the seats flat and make a sleeping area that shares part of the cockpit and all of the cargo area. Furthermore, Polaris has over 100 accessories ready for this machine including a roof top tent. To make the tent practical to haul, Polaris constructed an all new ROPS (roll over protection system) that has a static load rating of 500 pounds and 150 pounds while the vehicle is in motion. Speaking of motion, Polaris claims, you will be able to travel 200-miles between fill ups thanks to a new 12.5 gallon fuel tank.
   Other features to note, is the ADV model does not have a dumping bed but the XP models do. The Northstar trims will have glass, power windows, heat and air conditioning, and locking doors as well. No, these machines are not street legal.
The new Polaris XPEDITION not only looks very reminiscent of the Ford Bronco, it's priced about the same as some of Ford's Base model units starting at $28,999. On the positive side, the much lighter XPEDITION is also narrower than the Bronco, has more ground clearance with more suspension travel and is way more nimble on any trail. The 2024 Polaris XPEDITION XP and ADV are both available in two and five-seat configurations in three trims: Premium, Ultimate and NorthStar. The Ultimate and NorthStar trims will begin shipping to dealers in Summer of 2023, while the Premium trim will be made available in 2024.
POLARIS XPEDITION ADV SPECS
Engine…1000cc, Gen 2 ProStar, 2 Cylinder
Transmission…CVT Auto
Final Drive… 4WD, 2WD, Turf mode
Fuel Capacity…12.5 gal
Suspension/ Wheel travel
Front…Dual A-arms w/ 2", Fox QS3's/ 14"
Rear…Dual A-arms w/2.5", Fox QS3's/ 15"
Brakes…Hydraulic disc f/r
Tires…30×10-15 Pro Armor Crawler XP
Overall Dimensions
Length/ Width / Height…2 door;122.5"X 64"x74.9" , 4-door;152.5"x64"x74.9"
Wheelbase…2 door 87.5"/ 4-door 117" 
Ground clearance…14"
Curb Weight…Base XP; 2041lb, Northstar ADV 5; 2790lb
Colors…Green, blue, orange
Contact…www.Polaris.com
Models and prices
XPEDITION 1000 XP Premium…$28,999
XPEDITION 1000 XP Ultimate…$31,999
XPEDITION 1000 XP Northstar…$38,999
XPEDITION 1000 XP 5 Premium…$TBA
XPEDITION 1000 XP 5 Ultimate…$TBA
XPEDITION 1000 XP 5 Northstar…$TBA
XPEDITION 1000 ADV Premium…$29,999
XPEDITION 1000 ADV Ultimate…$32,999
XPEDITION 1000 ADV Northstar…$39,999
XPEDITION 1000 ADV 5 Premium…$TBA
XPEDITION 1000 ADV 5 Ultimate…$TBA
XPEDITION 1000 ADV 5 Northstar…$44,999
2024 POLARIS XPEDITION XP & ADV
ONE OF A KIND FEATURES
4 door model has 5 seats
12.5 gallon gas tank w/ 200-mile range
Fully sealed cab and cargo area (Northstar Model)
Pass through cargo to passenger area (ADV Model)
150-pound roof capacity
500-pound static roof capacity
Covered cargo area
140a Alternator (NorthStar)
900W Stator (Ultimate)
New Lock&Ride Max
Front & rear wiper (ADV)
JBL Audio
Flat Roof
60/40 flip up rear seats
High snorkels 
5-Lug wheels/hubs
Intelligent throttle control
Vehicle health info via smartphone app
AVAILABLE ACCESSORIES
Roof top tent
50" curved LED light bar
Rigid Industries scene lights
Awning
Cargo racks
MOLLE Panels
Roof Rack
Tackle carriers
Bike carriers
Kayak mounts
Bed Extender
Cargo boxes
High mount winch
Snow track kit
+ Over 90 more