NEW TG TYRE GUIDER LINE BY CHAPARRAL
Already recognized as one of the largest ATV, UTV, and motorcycle tire dealers in the country, Chaparral Motorsports has once again increased its massive selection by securing the rights to be the exclusive US importer of TG Tyre Guider offroad tires.
The TG Tire Guider line available from Chaparral Motorsports is currently comprised of nine different styles to conquer a variety of terrains while fitting all popular ATV and UTV applications. Chaparral Motorsports chose to become the US importer of TG Tire Guider because the line offers tires that have similar tread designs and characteristics as some of the most popular ATV /UTV tires on the market and Chaparral can offer the tires at extremely affordable prices. Chaparral's exclusive TG Tyre Guider line consists of the Eos, Knight, Atlas, Mars A, Mars B, Mars X, Maxx Plus, Victory, and Venus tires.
TG Tyre Guider EOS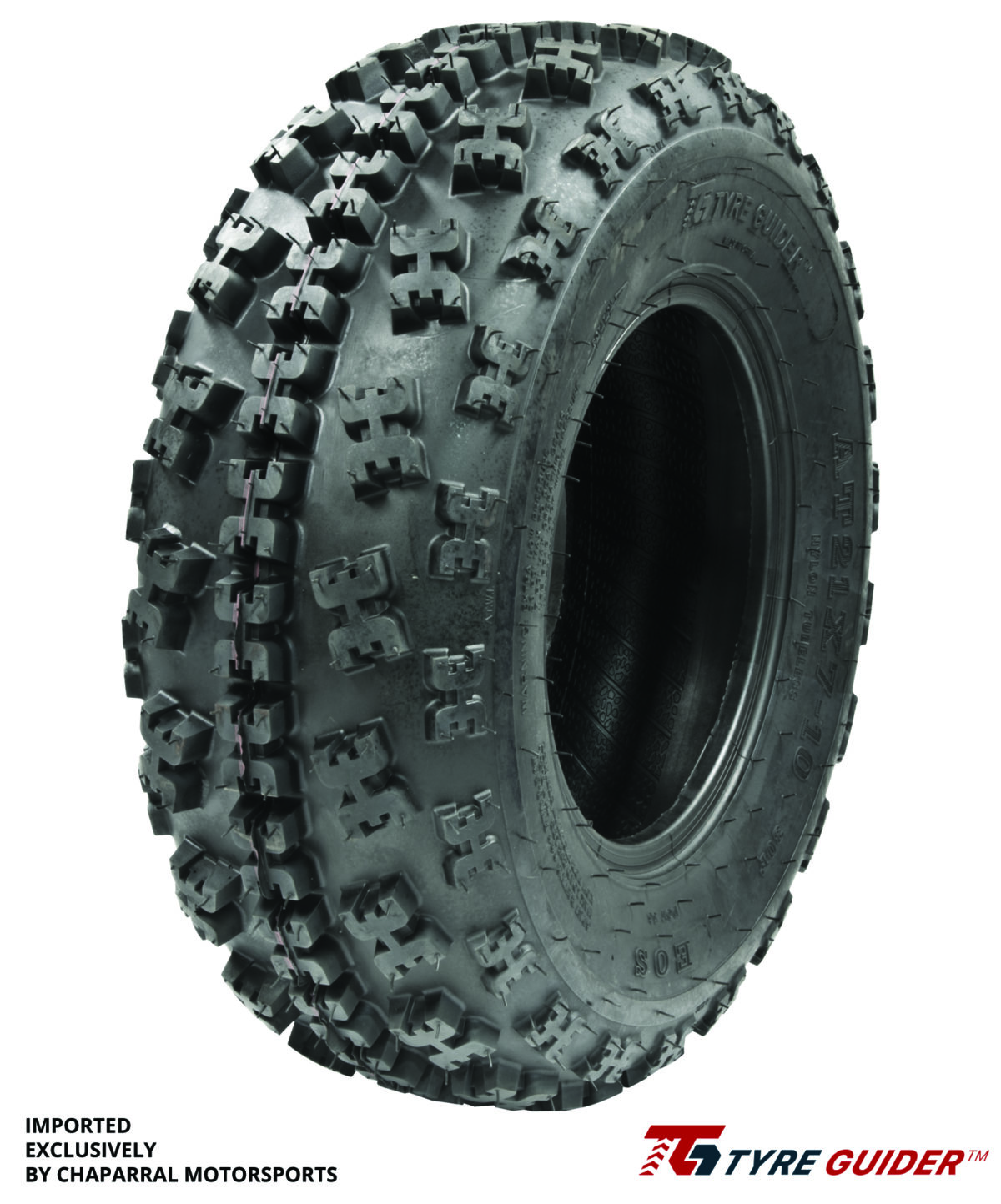 This tire is comparable to the GBC XC-Master and has been redesigned to perform at or above the GBC level of performance. It features a modified X-style knob tread pattern for superior handling while the unique rubber compound and carcass have created a puncture-resistant design formulated with endurance in mind. This tire has all the necessary components to effectively handle cross country rides and races and is available in both front and rear tire designs.
TG Tyre Guider Knight
For those that are partial to the highly popular Maxxis Bighorn, the Knight ensures the same performance and handling with a tread design that resembles the Bighorn, but with a lighter bias ply construction. With its six ply rated construction the Knight is a durable tire that can withstand harsh elements while its wide footprint and thick lugs near the shoulders help with exceptional side bite and traction.
TG Tyre Guider Atlas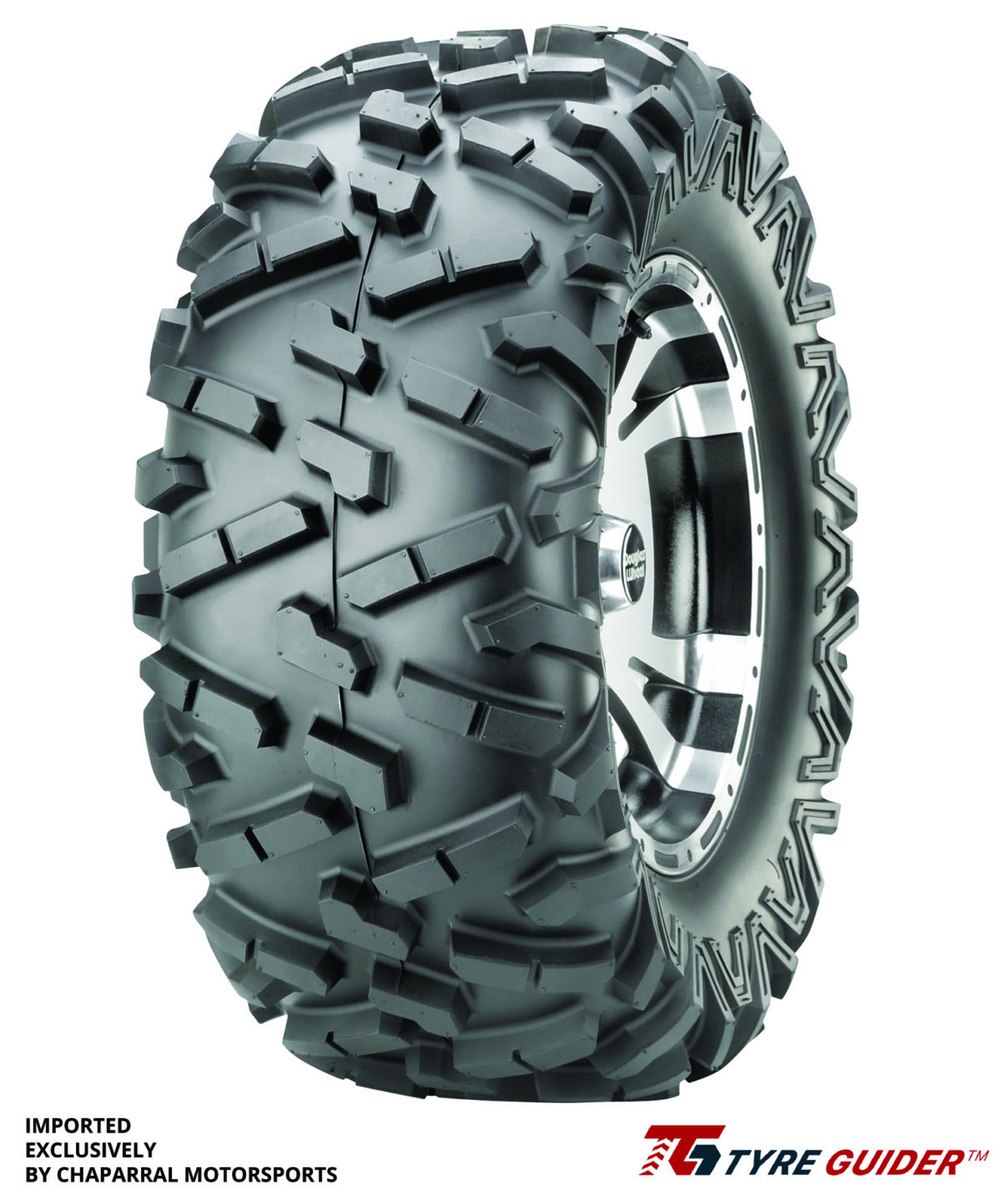 The Atlas tire was developed with fans of the Maxxis Bighorn 2.0 in mind. Light and agile with a sturdy 6 ply rated bias construction, this tire features a wide tread pattern like that found on the Bighorn 2.0. The Atlas tires differ in the fact that the tread blocks are slimmer and slightly more spread out to provide amazing traction without the added weight of thicker lugs. This tire is a great choice for those that hit a lot of hard-pack, intermediate terrain, soft terrain, and sand.
TG Tyre Guider Mars A
Designed to be a great all around tire, the Mars A utility tire is outfitted with an
aggressive tread pattern and moderately spaced lugs that can pull vehicles through mucky mud and bite
its way over fallen brush and logs. The thick, claw-like lugs grip and grind across treacherous terrain
while still delivering a smooth ride across harder surfaces. The unique tread that's found out on the shoulder makes for additional traction points when dipping into ruts and loamy terrain.
TG Tyre Guider Mars B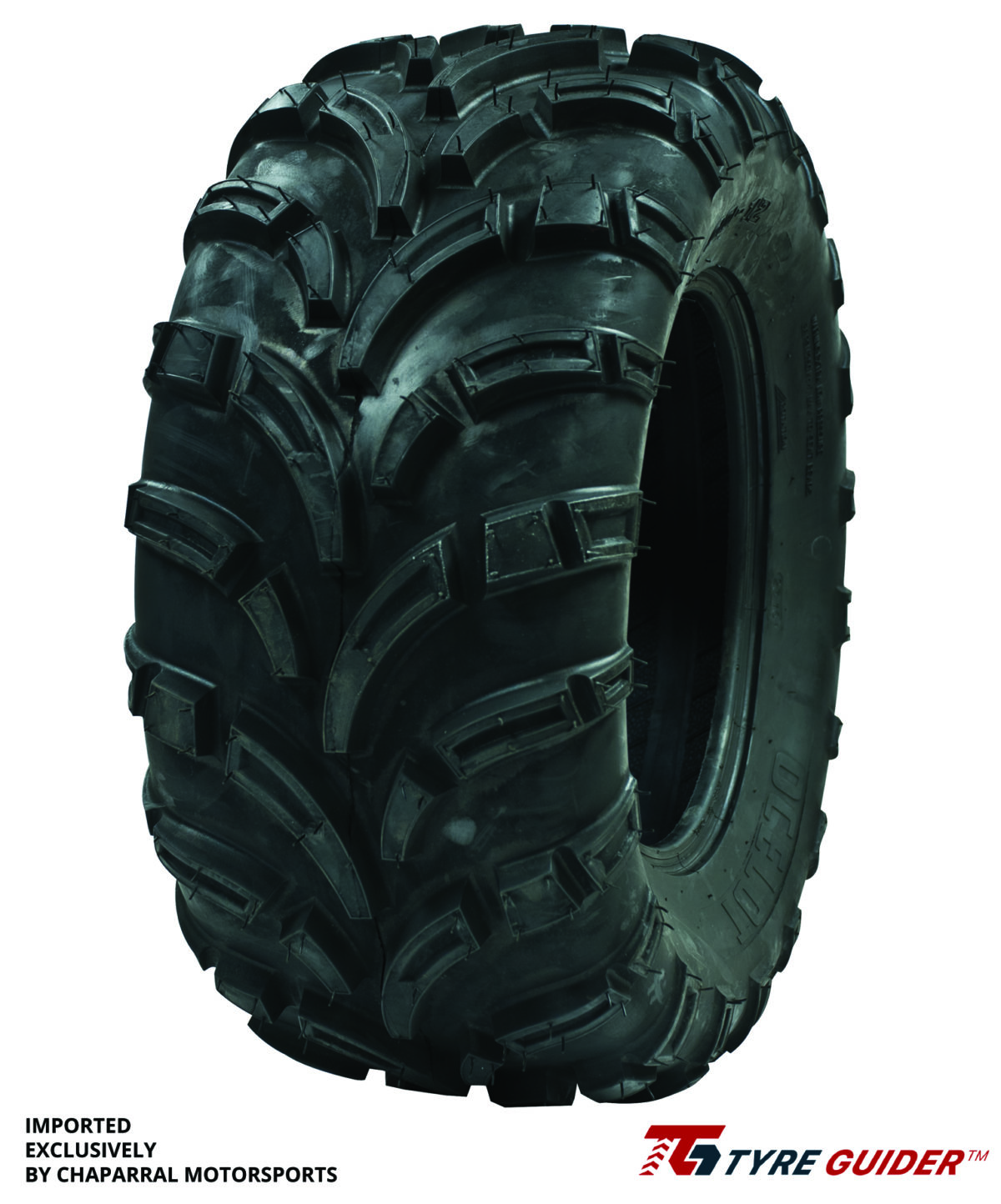 Deep lugs and an aggressive tread pattern are key characteristics of the Mars B tire. These two features along with its spaced tread design and cutaway lugs keep the weight down and enables easy self-cleaning when running through mud and rocks. Besides exceptional grip in various types of rough terrain, the crossover center pattern helps deliver a smoother and quieter ride.
TG Tyre Guider Mars X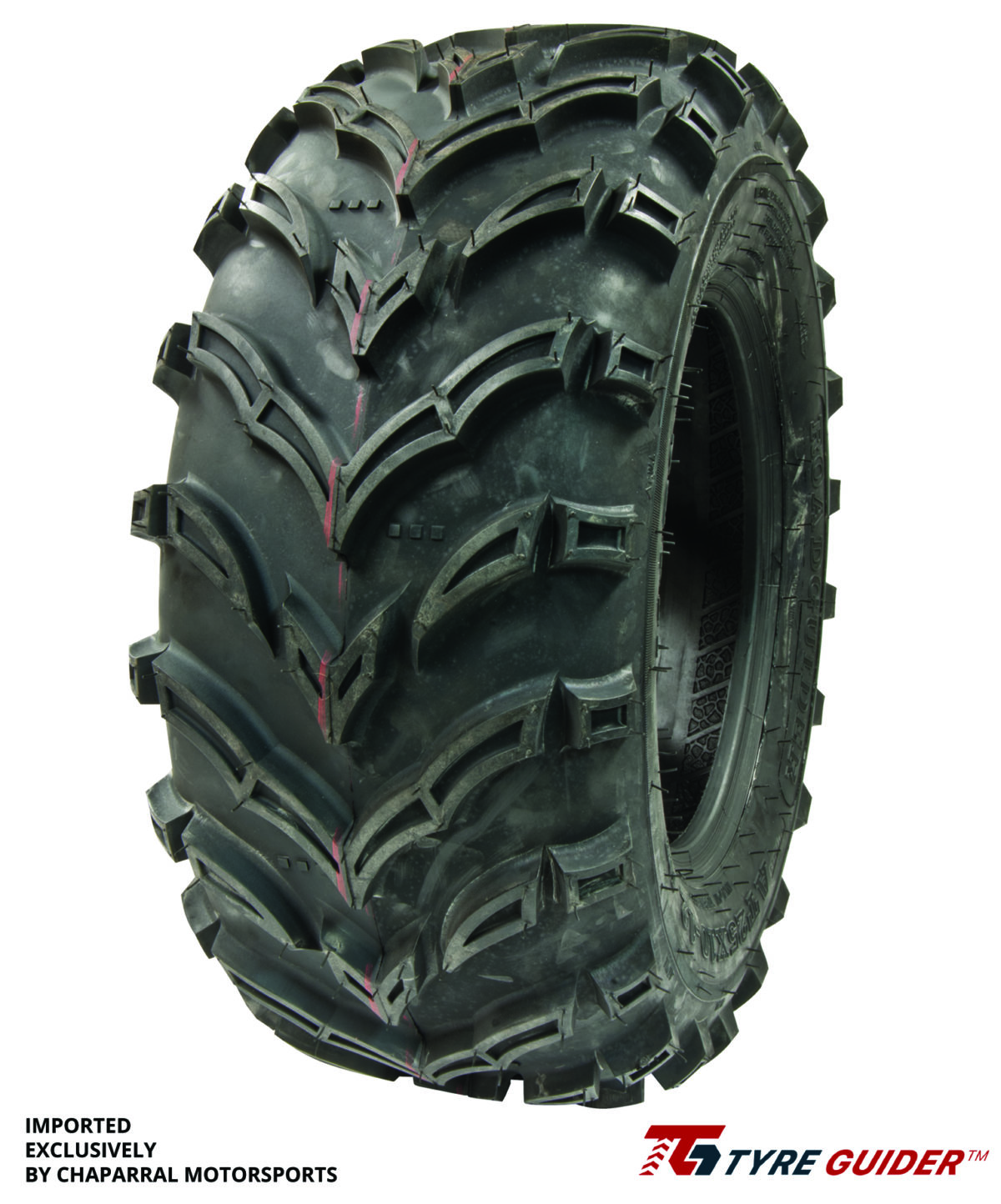 With its aggressive tread pattern and moderately spaced lugs, the Mars utility tire is a great all around tire that can pull you through mucky mud and bite its way over fallen brush and logs. Sporting thick and claw like lugs, these tires grip and grind across treacherous terrain while still delivering a smooth ride across harder surfaces. The unique tread that's found out on the shoulder gives you additional traction points when driving in ruts or loamy terrain.
TG Tyre Guider Maxx Plus
Ready to dig, climb, pull or sling some serious mud the TG Maxx Plus tire was developed as a comparable tire to the award winning AMS Slingshot XT tire which took first place in the Chaparral Motorsports ATV Tire Shootout in 2018. Although the Maxx Plus tire was designed as an aggressive mud tire, its lugs are sipped and stepped so the bite on any terrain is always as sharp as it can be. While it looks extremely aggressive, this tire offers an exceptionally smooth ride even on hard-pack dirt or roads. Mud, snow, sand, or trail riding, the Maxx plus is a great all-around performance tire.
TG Tyre Guider Victory
A purpose-built, lightweight tire, the Victory tire guarantees absolute dependability in both durability and performance. Made with a heavy duty 6 ply bias carcass with a truck style tread pattern, the Victory will handle just about anything you throw at it. Thoroughly tested in the Southern California high desert as well as on the slick rocks and red dirt of Utah, this tire performed exceedingly well in numerous offroad scenarios.
TG Tyre Guider Venus
The Venus tire was specifically designed to be an ideal direct replacement for the stock tires found on the highly popular Kawasaki Mule and has also been found to be a perfectly suitable tire for use on Dixie Chopper mowers. These tires have a multi-directional tread pattern which grips and holds onto the ground without tearing up turf while at the same time reducing skidding on wet ground. These Venus tires provide all-purpose functionality with un-compromised drive through all types of terrain.
For ATV and UTV owners who are looking to outfit their vehicles with tires that exceed the capabilities of their stock tires, or those who are looking to get better traction, cornering, and braking than their current tire setup, the TG Tyre Guider line available only at Chaparral Motorsports is an excellent choice. With their extremely budget friendly price points, choosing TG Tyre Guider tires mean you no longer have to sacrifice performance because of price.
You can see Chaparral Motorsports' exclusive line of TG Tyre Guider tires by visiting: www.chaparral-racing.com/dept/tg-tyre- guider and to check out all the ATV and UTV tires that Chaparral has to offer please visit: www.chaparral-racing.com.