NEW UTV TEST: 2021 CAN-AM COMMANDER XT-P 1000
Not your dad's old CommanderBy the staff of Dirt Wheels
Shortly after the announcement of the Can-Am's revamped Commander, we had a truck and trailer show up at the shop and drop one off. We were given a week with it, so we quickly cleared our schedules to put as much time in the new machine as possible.
WHAT'S NEW?
Basically, Can-Am took the Maverick Sport chassis, drivetrain and cockpit, and designed new bodywork for it bumper to bumper, or, in this case,  the tailgate. The Commander is not available in a 50-inch option like you can get with the Maverick "Trail." The choices you do get are the base model at 62 inches wide, the XT or XT-P that we tested at 64 inches wide. There is also a four-seat Max Commander available in both widths. 
The different widths also dictate wheel travel, and they have different tire sizes as well. Our test model has the largest tire setup with 30×10-15 XPS Hammer Force tires mounted on a durable set of high-positive-offset beadlock wheels. Fourteen inches of fully adjustable travel is found out of 2.5-inch Fox podium shocks. The base-model Commander has 27×14-inch XPS Trail Force tires and 12.5-inch front- and 13-inch rear-wheel travel. 
Finally, the XT version has 15 inches of travel all the way around and 28×14 XPS Trail King tires. The XPS tire is a new BRP brand, but the tires are made by Wanda Tire who private-labels tires for other vendors. What they all have in common is the same 1000-class engine. This is the same 976cc, 100-horsepower, V-twin powerplant that is found in the Maverick Sport line, and there is no 800cc option that can be found in the Maverick lines. 
Power transfer to the wheels on the Commander is also improved. On the model we tested—the XT-P—the rear had Turf-mode capabilities, as well as Trail Active, Smart-Lok technology out of the front differential.
 Last but certainly not least, the rear end features a dumping cargo bed. Unlike the old Commander, which had two sections of bed space, this box is a typical one-layer dump bed with a tailgate. With this bed raised, it's easy to access the engine and maintenance items like oil and air-filter checks.
COCKPIT 
 Like the Maverick, Can-Am gave this machine full doors. There are handles inside and out to open them. The doors are about shoulder height, so you feel like you are sitting low in the cockpit. The driver's seat is adjustable, and the view out the front is great over the hood, but out the back it's not. Thankfully our test unit comes stock with a rear view mirror. However, that rear dump bed is positioned higher than any other bed-equipped machine we've tested. It doesn't totally block your view around the back of your car, and the view is not good, either. If there was ever a candidate for a backup camera, this car would be it. Garmin's new Tread GPS unit has the ability to link up a wireless camera that's worth looking into if you buy this car.
When driving the car alone, the cockpit seems fine, but with two people buckled up, it feels pretty cramped. Even skinny people ride shoulder to shoulder and rub up against the doors. A couple might not mind, but a couple of big guys might.
We do like the deep glove box in front of the passenger seat and the smaller storage box in front of the driver. Both are very handy. Other than those boxes, there's no additional storage. Some sort of overhead storage bag would come in handy or a storage boxes in the bed, which our test unit came with. Speaking of storage, the Commander is the only UTV that has a specific spot to hold a spare CVT belt. It's located behind the left bed side. Simply lower the tailgate, remove a couple of quarter-turn fasteners and the cover pops right off. The right bedside has a storage compartment as well, which is large enough for a tow rope and possibly a small air compressor or tool bag.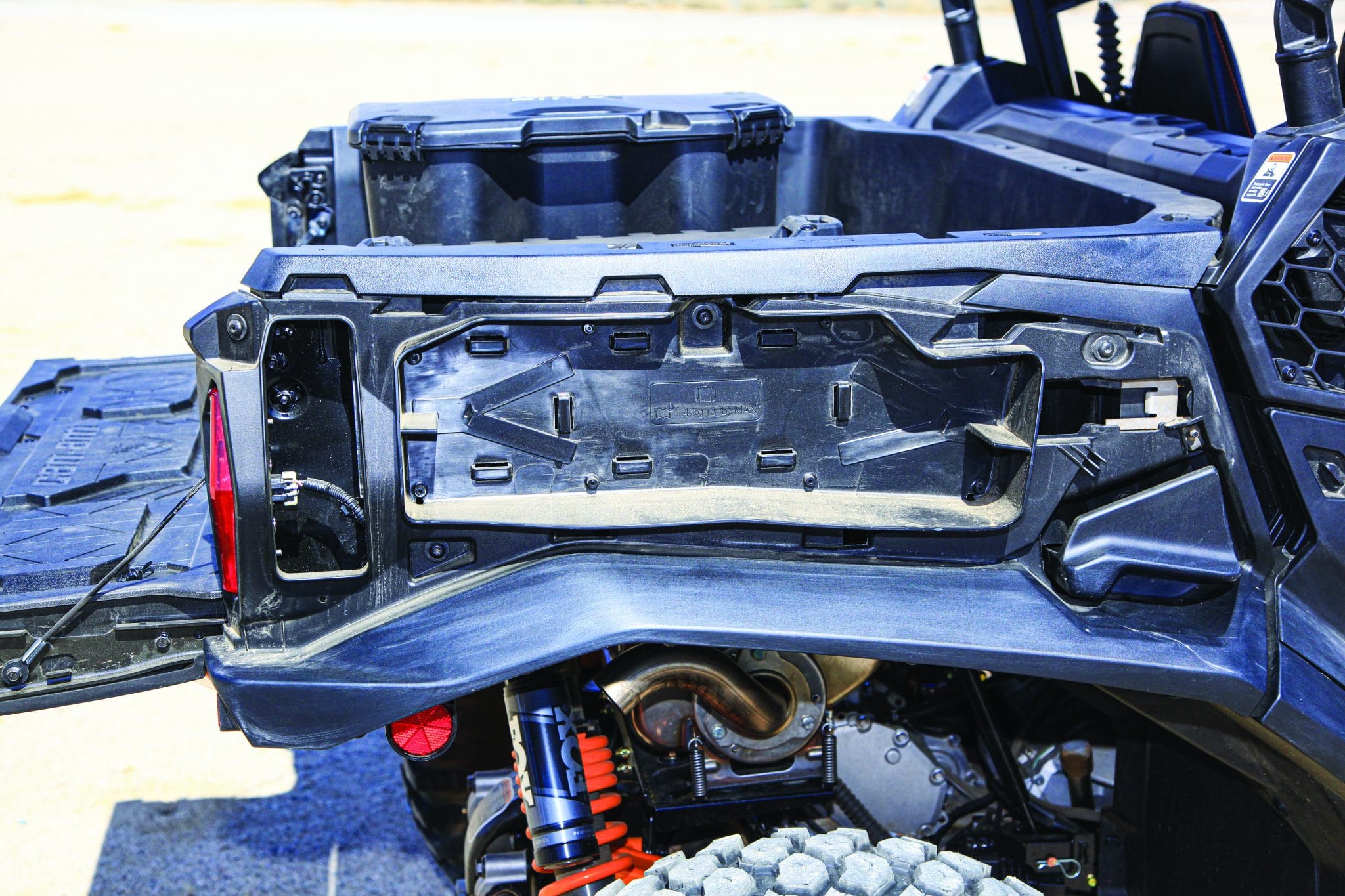 HANDLING
There are many factors that contribute to a good-handling car, such as tires, wheelbase, width and wheel travel. We thought the high bed height might elevate the center of gravity and hurt handling, but it did not. The car slides predictably at high speed and corners precise at slower speeds. The combination of a 90.6-inch wheelbase (longer than a RZR XP 1000), 30-inch tires and 14 inches of wheel travel helps this car soak up the bumps really well. It's no Maverick X3, but it will skip across the rollers better any other A-arm-equipped UTV. 
Another feature the Commander shares with the Maverick Sport is an angled skid plate. This gives the car a little extra ground clearance in the very center of the car and keeps it from scraping in instances when we thought it would.
The Smart-Lok front differential helped it crawl over anything. At the push of a button, you now know the front tires will claw forward instantly. It certainly gives our drivers more peace of mind when crawling difficult sections of the trail.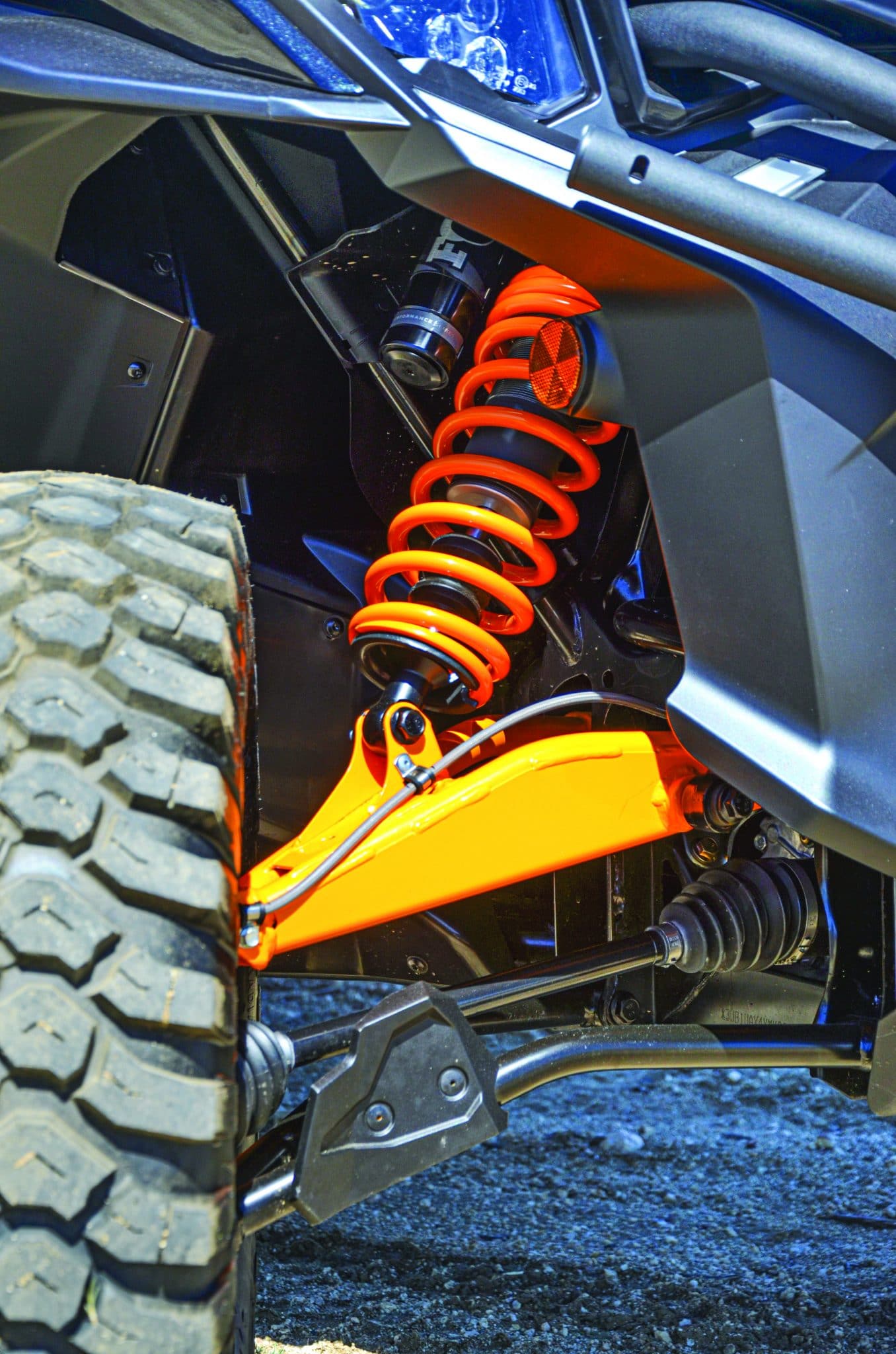 POWER
The throttle pedal has a very short throw. That means you step on the gas and it goes quick. It's not jerky; you just find full throttle quick. The Commander has a top speed of 70 mph give or take, depending on the elevation of the trail you are racing on. Hook-up out of the XPS tires is great in most conditions. In the rocks, however, the tires should be aired down to about 12 psi for maximum performance. After 100 miles, tire wear was minimal. Low-, mid- and top-end power were all strong, smooth and linear. This V-twin engine has proven to be super reliable. We like the exhaust sound, and Can-Am did a good job insulating the cab from the hot water lines running from the radiator up front back to the engine.
FINAL THOUGHTS 
Our list of positives is big, and the list of negatives is small like the cockpit. If you are a bigger guy, you might feel cramped a bit. While legroom is plentiful, shoulder room is not. The only other downside of this car is the view out the back even when the bed is empty. However, a good set of side-view mirrors and a backup camera can fix most of it.
As for what we liked, the power and suspension are perfect for this sized machine. It goes plenty fast for any trail and goes well in the rough stuff and much better than the old Commander did. The 2.5-inch Fox shocks outperform anything its competition has, especially if you compare it to other A-arm cars. It can squeeze through tight trails or climb through treacherous rock trails, thanks to the Smart-Lok and 30-inch tires. Is this the sportiest dump-bed-equipped UTV? We can't say for sure. But, when we round it up alongside a Polaris General and the Yamaha RMAX, we will let you know.
2021 CAN-AM COMMANDER XT-P 1000
Engine Liquid-cooled, V-twin, 4-stroke
Displacement 976cc
Lubrication system Wet sump
Additional cooling Auto fan
Induction EFI 
Starting/back-up Electric/none
Starting procedure Turn ignition switch w/ brake on
Transmission Dual range w/ reverse
Drive system Selectable 2WD/4WD w/ auto diff-lock
Final drives Shafts
Fuel capacity 10 gal.
Wheelbase 90.6"
Length/width/height 130"/64"/75.3"
Ground clearance 13.5"
Claimed dry weight 1725 lb.
Bed weight limit 600 lb.
Hitch 2" receiver
Towing limit 2000 lb.
Suspension/wheel travel:
Front Dual A-arm w/ prel./comp.-adj. 2.5" Fox shocks/14"
Rear Dual arm w/ prel./comp.-adj. 2.5" Fox shocks/14"
Brakes/actuation:
Front Hydraulic discs/left-side pedal
Rear Hydraulic 
Tires:
Front 30×10-15 XPS Hammer Force
Rear 30×10-15 XPS Hammer Force
Lighting:
Rear Dual LED brake/taillights Instrumentation Digital or analog/speed/odo/trip/hour/rpm/fuel/gear/clock/2WD-4WD
Colors Black/orange
Suggested retail price $22,199
Contact www.can-am.brp.com