NITRO CIRCUS COMES TO CAMP RZR 2019!
Renowned Action Sports Tour Scheduled for Three Live Events During Camp RZR Event
By the staff of Dirt Wheels
NITRO CIRCUS COMES TO CAMP RZR 2019!
Polaris RZR®, the world's No.1-selling sport performance side-by-side, and Nitro Circus, the worldwide leader in action sports entertainment, have partnered to deliver the ultimate adrenaline rush to the Camp RZR 2019 event.
As the biggest four-wheeled party of the year, Camp RZR will feature more energy, excitement, and experiences than ever before. Boundaries are limitless on October 25 and 26 at the Glamis Imperial Sand Dunes, as Nitro Circus is set to deliver a weekend full of action with three exclusive shows. Consumers can now register for the free event at CampRZR.com.
NITRO CIRCUS COMES TO CAMP RZR 2019!
"We are excited to host Nitro Circus and continue our tradition of connecting family and friends with unforgettable experiences," said Chris Musso, president of Off-Road for Polaris. "With incredible riding, access to premier athletes, and renowned entertainment –2019 will be our biggest, most action-packed Camp RZR ever."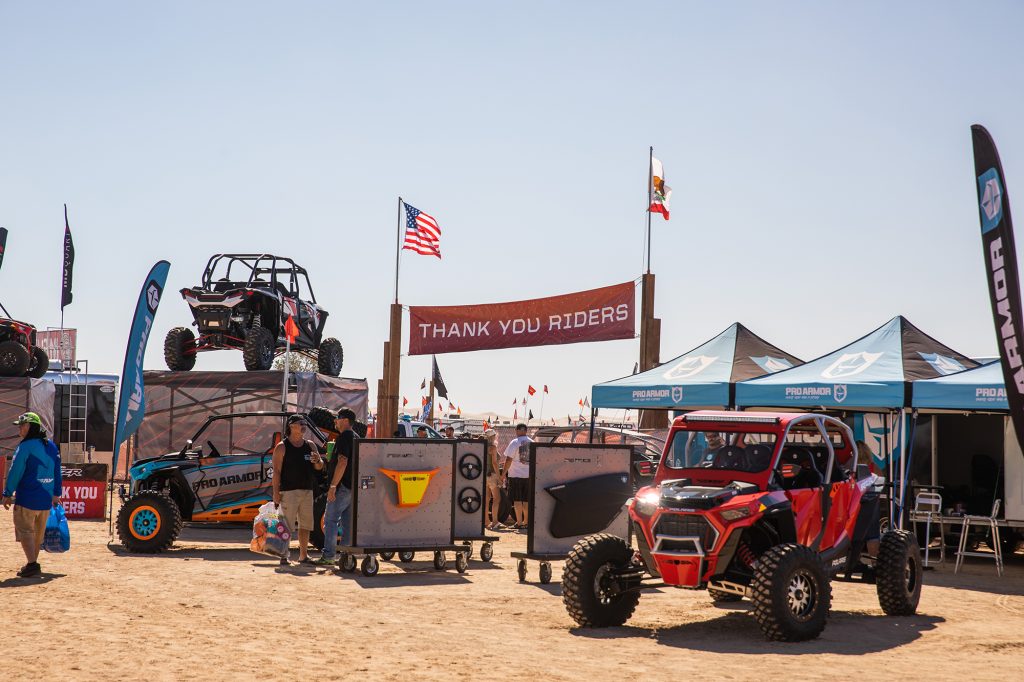 NITRO CIRCUS COMES TO CAMP RZR 2019!
This year, Nitro Circus will perform three exclusive shows, a 40-minute show on Friday and Saturday, and an hour-long finale on Saturday night. Nitro Circus features some of the best action sports athletes in the world including top FMX athletes such as 15-time X Games medalist Jarryd McNeil, 6-time X Games medalist Adam Jones, top female FMX athlete Vicki Golden, and paralyzed FMX star, Bruce Cook.
The cast of FMX athletes will be joined by Nitro's Giganta stars including Aaron "Wheelz" Fotheringham, contraption king Dusty Wygle, and more.
In addition to a weekend filled with epic stunts, courtesy of Nitro Circus, Camp RZR attendees will also be able to meet top Polaris RZR® Factory Race athletes for autograph signings, including Mitch Guthrie Jr., Seth Quintero, Kristen Matlock, Wayne Matlock, Branden Sims, Cody Bradbury, and more.
NITRO CIRCUS COMES TO CAMP RZR 2019!
Camp RZR guests will have access to a variety of RZR machines to test and experience, including the all-new RZR Pro XP. Additionally, the first 100 people to check-in at Camp RZR on Friday, October 25, will receive premium access to Saturday night's Nitro Circus hour-long finale. To keep the action running, Polaris will continue to service machines all weekend to allow attendees to ride safely and enjoy the incredible dunes day and night.
Camp RZR is a celebratory event, designed to help Polaris RZR and other off-road riders kick off the riding season in the Southwest. Polaris aims to celebrate the lifestyle that its riders live and honor the comradery that the riding experience creates while showing its appreciation for its customers and those who love to ride. Polaris held its first Camp RZR in Glamis in 2012. Today, the event draws thousands of off-road vehicle riders and fans of the Polaris brand.
NITRO CIRCUS COMES TO CAMP RZR 2019!
To register for Camp RZR, visit CampRZR.com. More information about Polaris Off-Road Vehicles and Polaris Engineered Accessories can be found at RZR.Polaris.com. Also, join the conversation and follow RZR on Facebook, Instagram, and Twitter.
To subscribe to Dirt Wheels Magazine in print or digital form click here https://hi-torque.com/product/dirtwheels.