Use nitrogen for your UTV springs By the staff of Dirt Wheels
Mark and Marie Jensen used their passion for design and off-road racing and Mark's nearly 40 years of machining, engineering and ISO 9000 global-standard quality-control experience to fabricate their first suspension systems. They later incorporated ORI Struts as a company in 2002. Mark gained his appreciation for precision engineering as a Honda motorcycle mechanic, and later as a machinist before completing formal studies in manufacturing engineering. He put his training to use building technically advanced 4×4 sand rails,
including an 830-pound model with full independent suspension and enough horsepower to hurl a driver to speeds in excess of 100 miles per hour. At those speeds and on steep sidehills the problem was the need for improved stability. His solution? The ORI strut with its innovative design that features dual-pressurized chambers as the "spring" and internal bypass design damping. And now, having seen the inside of the strut (ORI doesn't like to refer to it as a "shock"), it is indeed quite different than anything we have seen.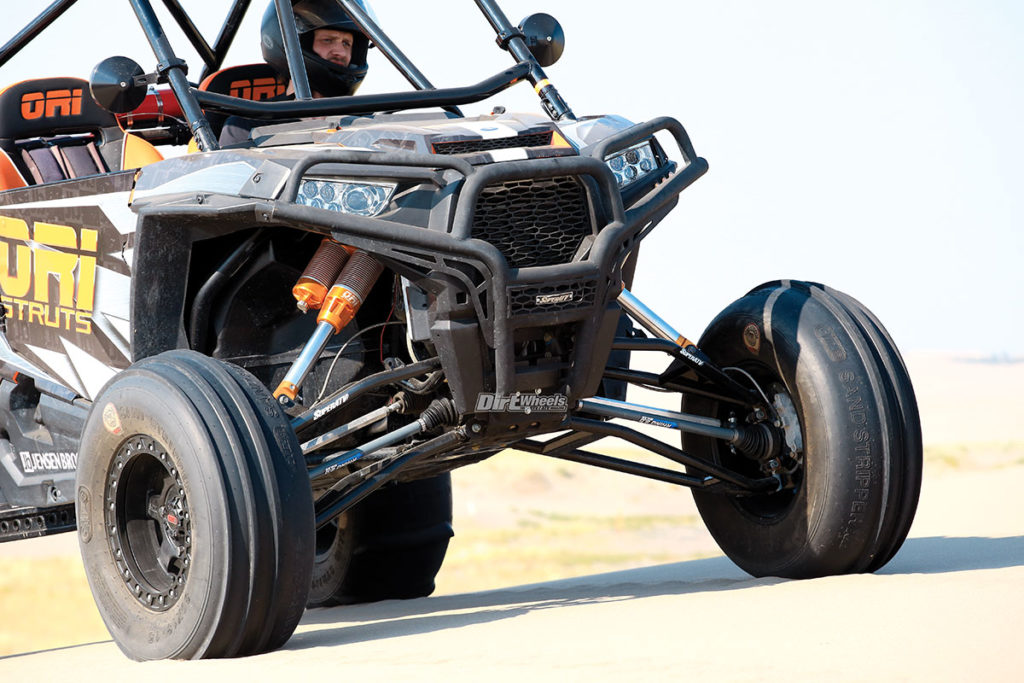 THE OFF-ROAD STRUT
ORI struts look like beautifully machined, massive, externally finned gas shocks. Despite the Jensen's off-road history in the West, ORI Struts has made the largest inroads in the Southern U.S. for extreme 4x4s, mud racers and rock-bouncing machines. The company has only recently entered the UTV market.
Adjustable nitrogen gas pressures make the struts almost infinitely spring tunable, so you can choose a firm ride or loose articulation. Most single-chamber gas-pressurized shocks have to be set too stiff initially to hold the car up, and then are not stiff enough on big impacts. ORI uses two pressurized chambers to get the correct ride height and bottoming resistance. The gas-spring function works in concert with three-stage, velocity-sensitive compression damping that changes your soft ride to firm compression damping as the speed of the piston shaft increases. The damping piston is a full two inches, and the strut shaft is a massive 1.75 inches. Other features are velocity-sensitive, seven-position, externally adjustable rebound damping; internal hydraulic bump stop; and a hydraulic internal top-out prevention system. The svelte, compact profile of the shock/strut that has no need for a bulky coil spring fits easily into compact spaces. ORI struts have recently added piggyback reservoirs to high-demand applications. The relatively light struts nevertheless feature high-strength construction, featuring billet 6061 aluminum, stainless and carbon steel. Wear surfaces are hard-chromed, and the mounting points at both ends feature Teflon-lined spherical bearings.
WHERE'S THE BEEF?
In addition with no springs to worry about, ORI also claims that you can eliminate external bump stops and limit straps, and, in some cases, do away with the sway bars. Each strut has a maximum weight capacity of 1900 pounds, so four struts have a combined weight capacity of 7600 pounds. Obviously, that far exceeds the weight of a UTV. The maximum pressure inside the strut should not exceed 5000 psi, and no UTV should get close to that limit. Non-piggyback ORI struts are a bit under $700 each, but the struts with integrated piggyback reservoirs are $1,107.95 for a RZR, and the fronts are $ 1,053.95 from Jensen Brothers Off-Road in Salt Lake City, Utah. The car we drove was the Jensen Brothers' RZR Turbo with SuperATV suspension arms.
We drove the ORI-equipped RZR in the Saint Anthony, Idaho, dunes. The car was super controlled in the whoops and smooth in the chop. Right as we entered the dunes, we hit a large G-out that bottomed the front end a bit. We stopped, added one click of compression damping and had no further bottoming issues. With the dual-nitrogen fill valves and dual chambers, you should be able to instantly adjust the "spring" rate for any driving situation. We experienced how effective the damping adjustments are, and the struts have both external compression and rebound adjustability.
FINAL THOUGHTS
We hate to be shallow, but these ORI struts look so cool and exotic on the machine. We like the idea that there are no springs to sack out, and that we can make changes for different loads and conditions so easily. Of course, that means you'll need a nitrogen bottle and a fill system with a gauge, as well as the shocks, if you want the most tuning options. We were impressed with the smooth action and control of the struts for everything that we did. For more information, contact www.jensenbrosoffroad.com or www.oristruts.com. We found that the Jensen Brothers site was more easily understood for UTVs.