PHOTO FEATURE: READERS' RIDES
Taking a look at some interesting dirt wheelers
By the staff of Dirt Wheels
PHOTO FEATURE: READERS' RIDES
As the world's largest ATV/UTV magazine, we have many readers outside the USA. Take for example Stephen Fletcher, who lives in Ireland. He was proud to send us this photo of his three quads here. The one on the left was built by Mark Leager using a Husaberg 650 engine. The middle one is a Laeger YFZ450, and on the far right is a W-Tec using a CRF250R engine. It has an unusual, forward-facing, separate swingarm-style suspension. 
This 2005 Yamaha YFZ450 was built by James Masephol, and you'll notice that the engine looks a little different. Actually, a lot different since it's a four-cylinder instead of a single. This 1000cc bad boy came from a Yamaha R1 street bike, which puts out around 180 horsepower stock. James says his produces closer to 200. In other words, his YFZ-R1 will get you down the trail in a hurry.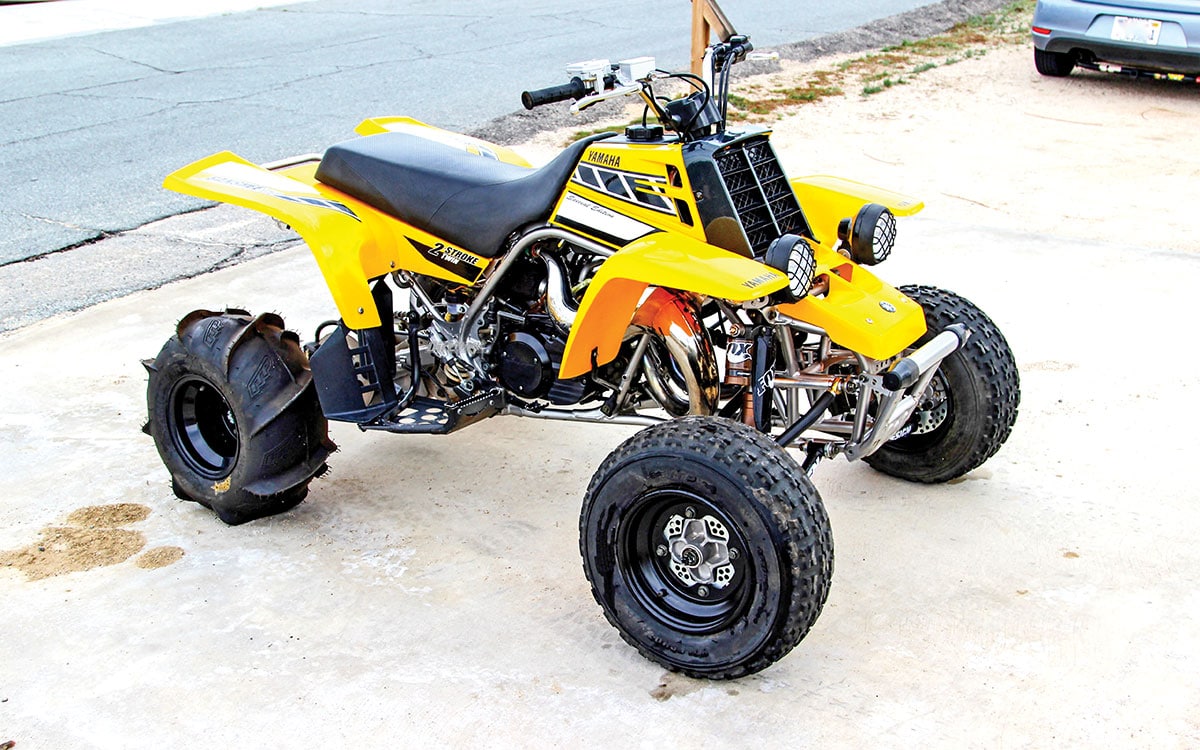 PHOTO FEATURE: READERS' RIDES
Here is a 2006 Yamaha Banshee 50th Anniversary Special Edition owned by Nolan Cummings in Southern California. It has Toomey TR6 pipes, Fox Float Evol shocks, Roll Design +2+1 A-arms, and Durablue +2 axle.
PHOTO FEATURE: READERS' RIDES
The second half of the 1980s was an epic period of ATV history. This is when 250cc two-stroke quads ruled the world. Adam Cox in Alabama has a collection of quads here that pays respect to that awesome era. Let's hear a round of applause for his 1987 Kawasaki KXF250 Tecate-4, 1988 Honda TRX250R and 1988 Suzuki LT250R Quadracer.
PHOTO FEATURE: READERS' RIDES
Karley Davidson did a good job of restoring this 1986 Honda ATC350X. Even to this day, there are still many riders who have a strong passion for three-wheelers.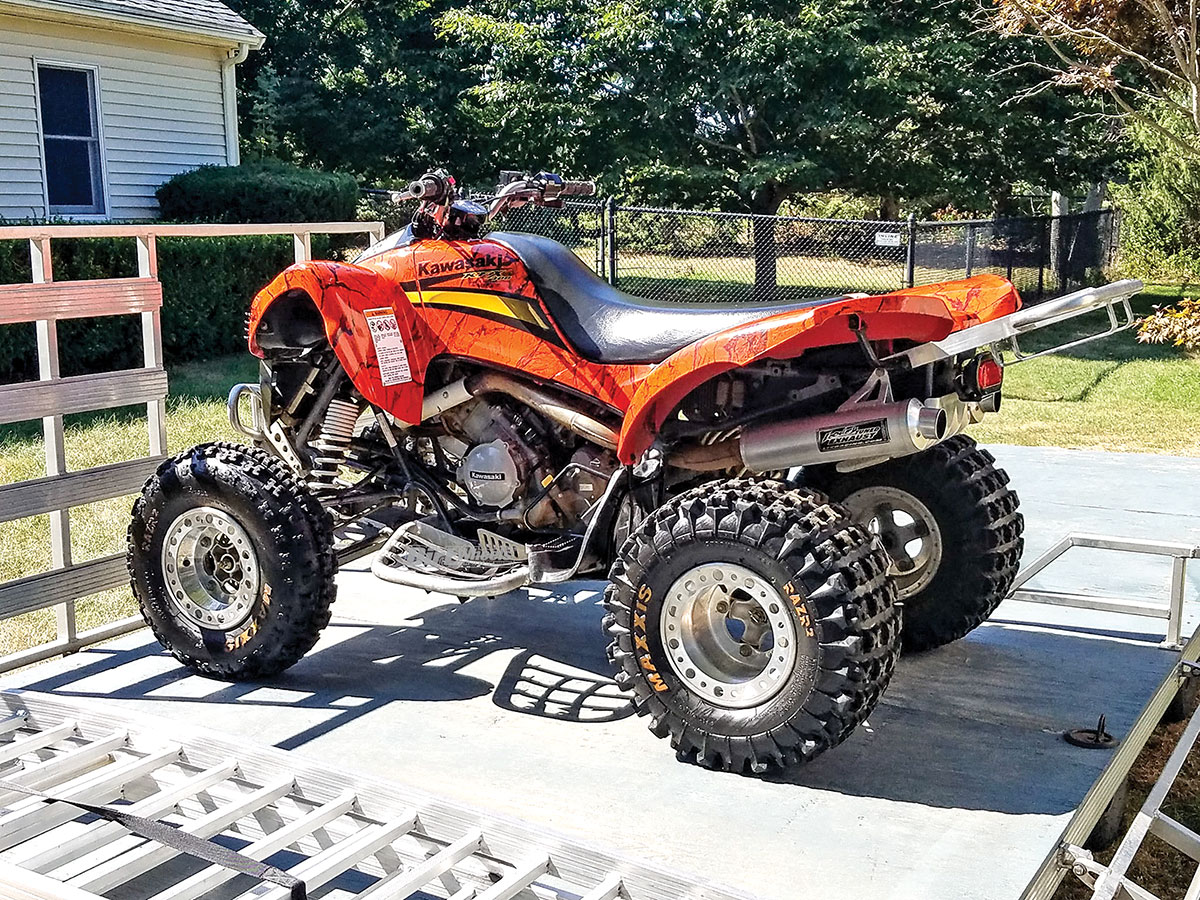 PHOTO FEATURE: READERS' RIDES
This 2005 Kawasaki KFX700 belongs to Dave Moniz. The big V-twin is a lighter, sportier version of the Brute Force, with drive going to the rear wheels only.
There was a time when Polaris had 500cc sport quads in its lineup. This one here is a 2003 Predator 500 owned by Jeff Johnson. He has it outfitted with a few aftermarket go-fast parts.
PHOTO FEATURE: READERS' RIDES
Back in the glory days of high-performance, two-stroke three-wheelers Yamaha had one called the Tri-Z 250. It's been gone for 30 years, but here's what a modern version would look like. Chris Barrow built this by converting a Yamaha YZ dirt bike into a trike. He did a great job because it fools most people into thinking it's a 2019 production model.
PHOTO FEATURE: READERS' RIDES
Jeremy Othelet is a Dirt Wheels reader who lives in France, and here is his 2013 Yamaha Raptor 700. He says his quad is street-legal in France, and he improved its performance with an exhaust and intake system, camshaft, fuel controller, wider A-arms, and axle.
Paul Daniel is the proud owner of this 2007 Yamaha Raptor 700. He says it gets a lot of hard miles between New York and West Virginia.
Thanks to guys like Randy Black, we have pristine versions of three-wheelers looking as good as they did on a dealer's showroom floor. Here is his 1984 Honda ATC200S that he restored back to its original condition.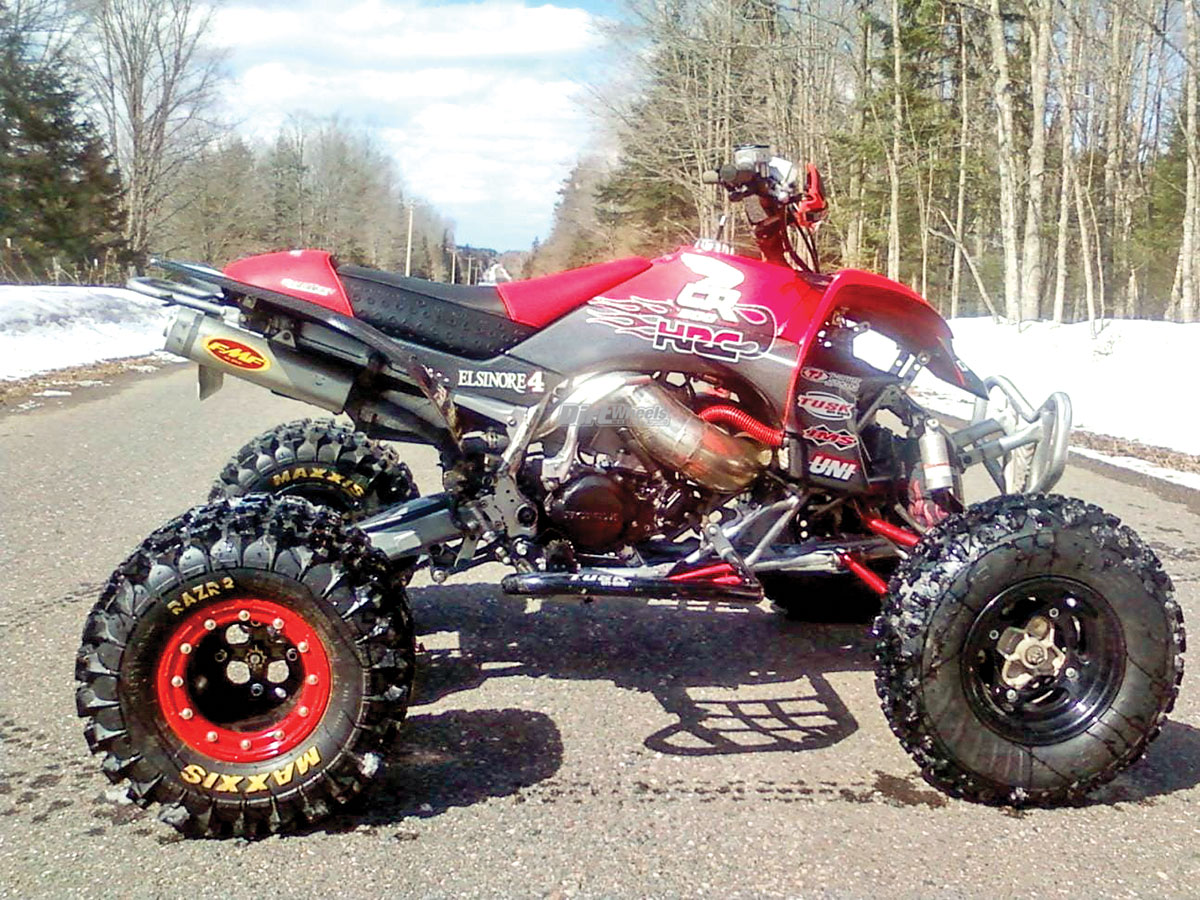 PHOTO FEATURE: READERS' RIDES
Back in the late '80s, ATV riders were waiting for Honda to make a 500cc version of the TRX250R. It never happened, so some guys built their own. Randy Peterson owns this one. It has a Honda CR500 two-stroke engine fitted into a Yamaha YFZ450 chassis. Yes, it is indeed very fast.
Remember when Kawasaki sold a version of Suzuki's Z400? Well, Arctic Cat had one, too, known as the DVX 400. The red one here belongs to Curtis Thornton in Michigan. The blue quad is a Yamaha Raptor 350 that he bought for his girlfriend. They go riding together on a regular basis.
Honda stopped making the TRX250R after the 1989 model. It took them 10 years to replace it with something of similar performance, and that was the TRX400EX. Instead of a two-stroke, though, the engine was an air-cooled four-stroke from an XR400 dirt bike. This 1999 400EX belongs to Kevin Lesser.
Back in the early and mid-'80s, Kawasaki had a factory race team that went up against Honda's factory race team in the three-wheeler class. Its KXF250 Tecate was a fast 250cc two-stroke machine that beat the red trikes on a regular basis. This one here was restored by Chris Pace. 
We should feature your machine in the magazine, too. So, please send us good photos and info on your ATV or UTV. Include your name, city and state, and e-mail it to [email protected]
PHOTO FEATURE: READERS' RIDES
Boucher Julian is a Dirt Wheels reader who lives in Belgium, and here is his 1993 Yamaha Blaster 200 two-stroke. It looks like his Blaster is set up for carving pavement turns at speed, so it must be street-legal in that country.
Even though the Honda 250R is 30 years old, it can still run with the top 450s today. That's especially true if the suspension and two-stroke engine get some modern tech improvements. For example, Kelly Campbell's R here has a 363cc cylinder.
To subscribe to Dirt Wheels Magazine in print or digital form click here https://hi-torque.com/product/dirtwheels.