POLARIS RS1 UPGRADES
Houser Racing improves the fast single-seater UTV
By the staff of Dirt Wheels
POLARIS RS1 UPGRADES
Houser Racing has been around for many years as a builder of go-fast parts for quads. They're a favorite company that 450 riders go to for A-arms, steering stems, nerf bars, and such. Houser Racing has also become a top aftermarket supplier of UTV parts and accessories too. They have come up with some good items for the Polaris RS1 we'll take a look at here.
RS1 ROLL CAGE — $1,299
Race cars don't have extra seats for passengers and perhaps that does cause one to drive the single-seater RS1 more swiftly. That means you're more likely to take a tumble every now and then. When that happens it's nice to have a stronger roll cage that'll protect you and not get bent up. Houser has a good one here at a good price. It was $1,999, but they recently knocked $700 off the price.
POLARIS RS1 UPGRADES
RS1 TREE BARS — $389
What's a tree bar you ask? It's the same thing as a nerf bar. It keeps another racer's wheel from getting caught up with yours. However, most UTVs sold are not racing. They're more likely to have their rear tire hit a tree while cutting sharply around it. The tree bar kind of moves the UTV over a bit so the tire doesn't hit the tree and cause you to come to a sudden stop.
RS1 MAX CLEARANCE A-ARMS — $349
When riding over rocks, roots, ruts, and such your UTVs lower front A-arms can take a beating.  That's why high-clearance A-arms make sense. They're further off the ground because of the special bends and shape. The ones here from Houser are made from high-strength steel with special bushings and stronger ball joints that are externally greasable.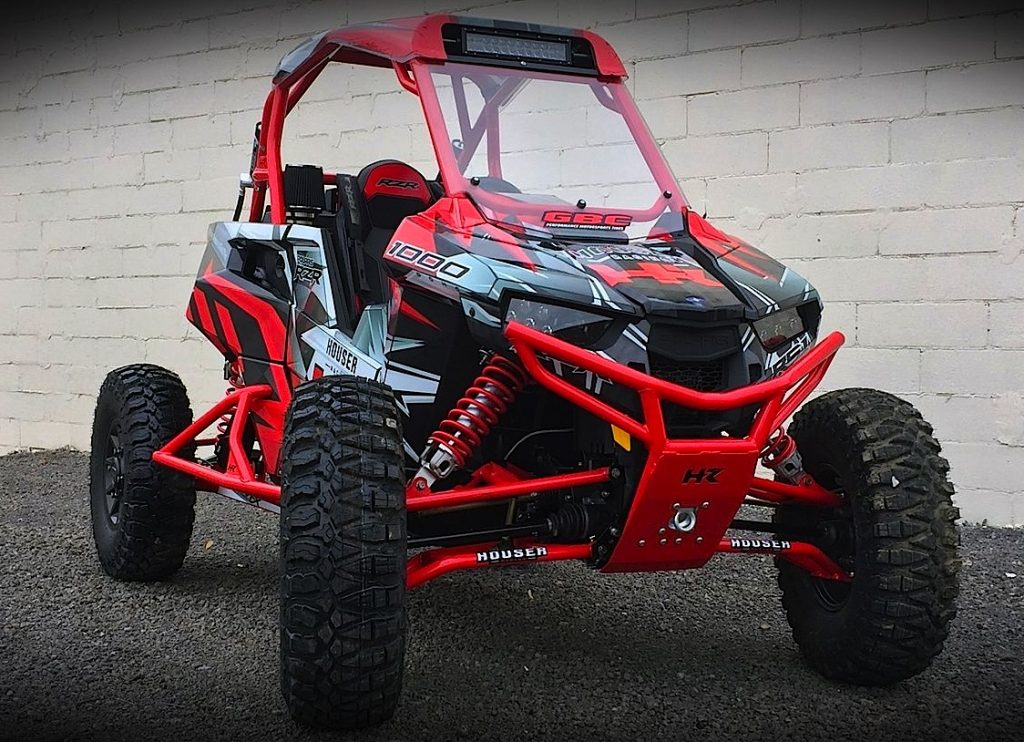 RS1 FRONT BUMPER — $449
When smacking through heavy brush it's smart to have a good front bumper to protect your RS1. This one from Houser also incorporates a skid plate, as well as an opening for the D-ring, provided for towing.
POLARIS RS1 UPGRADES
MORE RS1 ACCESSORIES — To get more info on all of Houser's parts for the RS1 click here > https://www.houser-racing.com/
To subscribe to Dirt Wheels Magazine in print or digital form click here https://hi-torque.com/product/dirtwheels.
.