AMS M4 EVIL TIRE & ROLL'N 106 BEADLOCK WHEELS
PRODUCT EVALUATION: Better Evil locked on 
By the staff of Dirt Wheels
AMS M4 EVIL TIRE & ROLL'N 106 BEADLOCK WHEELS
It has been almost three years since we tested the aggressive M1 Evil tire. It utilized long tread blocks that are angled across the center of the tire for a sinister bite for traction. Now, AMS has introduced the new M4 Evil tires with a tread design that resembles an off-road truck tire. These pieces of rolling rubber should be pretty popular everywhere, but particularly west of the Mississippi. AMS sent them wrapped around their impressive all-new Roll'n 106 Beadlock wheels.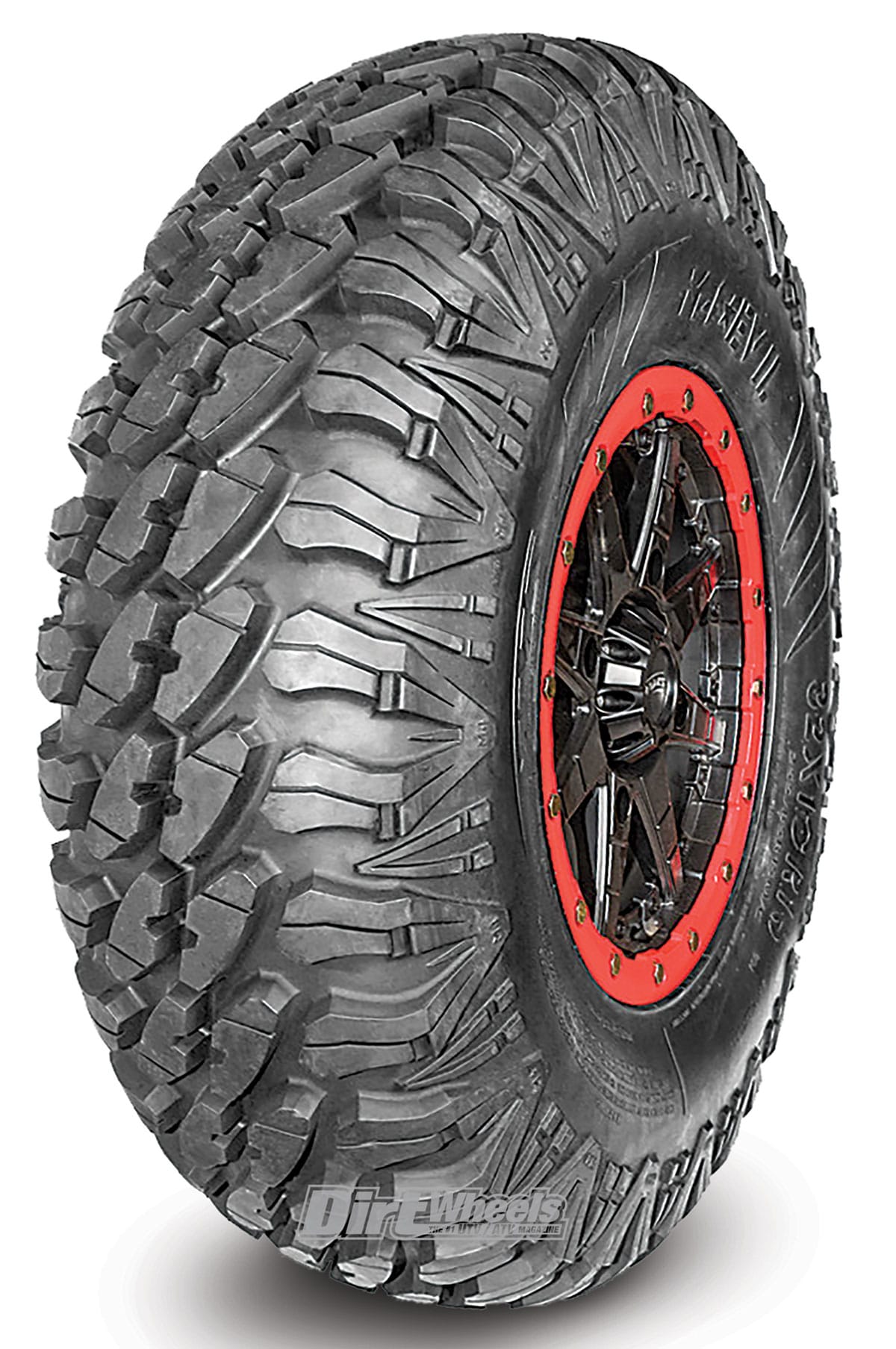 BUILT STRONG
AMS M4 EVIL TIRE & ROLL'N 106 BEADLOCK WHEELS
AMS started by designing the side tread blocks to run sideways for digging traction in soft or loose soil, but the two center rows are angled and overlapping to allow the tire to roll very nicely on hard terrain. It is designed to work successfully on any surface, and since it is DOT-rated, that includes asphalt. Like the original M1 Evil, the M4 tread is made from a long-wearing compound. This is a non-directional tire. An 8-ply carcass, a deep rim guard, and strong shoulder and sidewall tread make this a tough tire for sand, dirt, and rocks. The tread blocks are close to 3/4 inches in depth. 
AMS advertises the M4 for ATVs and UTVs, but with a 28-inch tire being the smallest, it is suited for large and powerful 4×4 quads and sport/rec or sport UTVs. It also comes in 30- and 32-inch sizes for 14- and 15-inch wheels. Suggested retail for the 28x10R14 is $186.95, which is about $30 more than the M1 Evil in 2017. The beefy 32x10R15s that we needed for our Polaris RZR Turbo S run $223.95 each.  
We wanted to add Beadlock rims, so we mounted the M4s on AMS' brand-new Roll'n 106 Beadlock wheels. The Roll'n 106 is manufactured with a true 5+2 offset, and it is a true Beadlock wheel. It is Satin Black with inset accent rivets and comes standard with a matching Satin Black Beadlock ring and bronze bolts. Optional Beadlock ring colors are orange, blue, and red. The wheels are available in sizes 14×7 for $137.95, and our 15×7 wheels run for $149.95. The colored Beadlock rings are $33.95 each.
GETTING THEM ON THE TRAIL
AMS M4 EVIL TIRE & ROLL'N 106 BEADLOCK WHEELS
As always with Beadlock wheels, the tires mount up easily. We didn't change the tire size compared to stock, so we didn't notice any change in actual engine performance or clutching. Because of the offset, the car is wider than stock with the Roll'n 106 wheels. We ran the recommended 15 psi and that felt fine. The ride is nice and smooth with a feel of sidewall flex that aids the ride.
We tested in an area that has a wide variety of surfaces with rocky, packed dirt and soft sand-wash areas. Many tough, multi-terrain tires are biased heavily to rocky, hard surfaces, and they just spin in the sand.
As expected, the traction and control on loose rock and solid sheets of rock were excellent. The same was true of the firm, packed dirt. Our area has abrupt transitions from packed dirt to deep sand. This is riverbed sand, not dune sand, but we were impressed with the straight-line traction and the control in turns.
There are also twisty trails with water-bar jumps, and the control we felt was solid and allowed a great trail pace. On fast road sections, the M4 Evil allowed the car to slide around turns very well, but it could gain forward traction easily and exit corners with strong acceleration. Braking is also great, with the stopping traction at least equal to the acceleration traction. Treadwear was minimal, and we had zero flats.
CONCLUSION
AMS M4 EVIL TIRE & ROLL'N 106 BEADLOCK WHEELS
The combination AMS M4 Evil and Roll'n 106 Beadlock wheels gave us a lot of confidence. Not just confidence in the handling and ability to grab traction; confidence to hammer rough and rocky ground without stress over flats. The prices are reasonable, and the longevity of the tires appears to be excellent. The tread blocks on the M4 are not quite as tall as the M1 tread, but the traction is every bit as good. We would be happy to run this tire and wheel combination any time on any machine. For more information visit www.amstires.com.