FMF POWERCORE SYSTEM
Testing a fast exhaust system at a good price
By the staff of Dirt Wheels, Photos by Kyle Duffy
FMF POWERCORE SYSTEM
The throaty rumble of a four-stroke 450 engine sporting an aftermarket exhaust is addicting. It doesn't need to be loud to sound good, and the sound alone doesn't complete the equation. More power and more torque are what we are after, and FMF is a worthy provider of ponies. We picked up the proven PowerCore4 muffler and MegaBomb header for our 2019 Yamaha YFZ450R SE for a test day at the motocross track.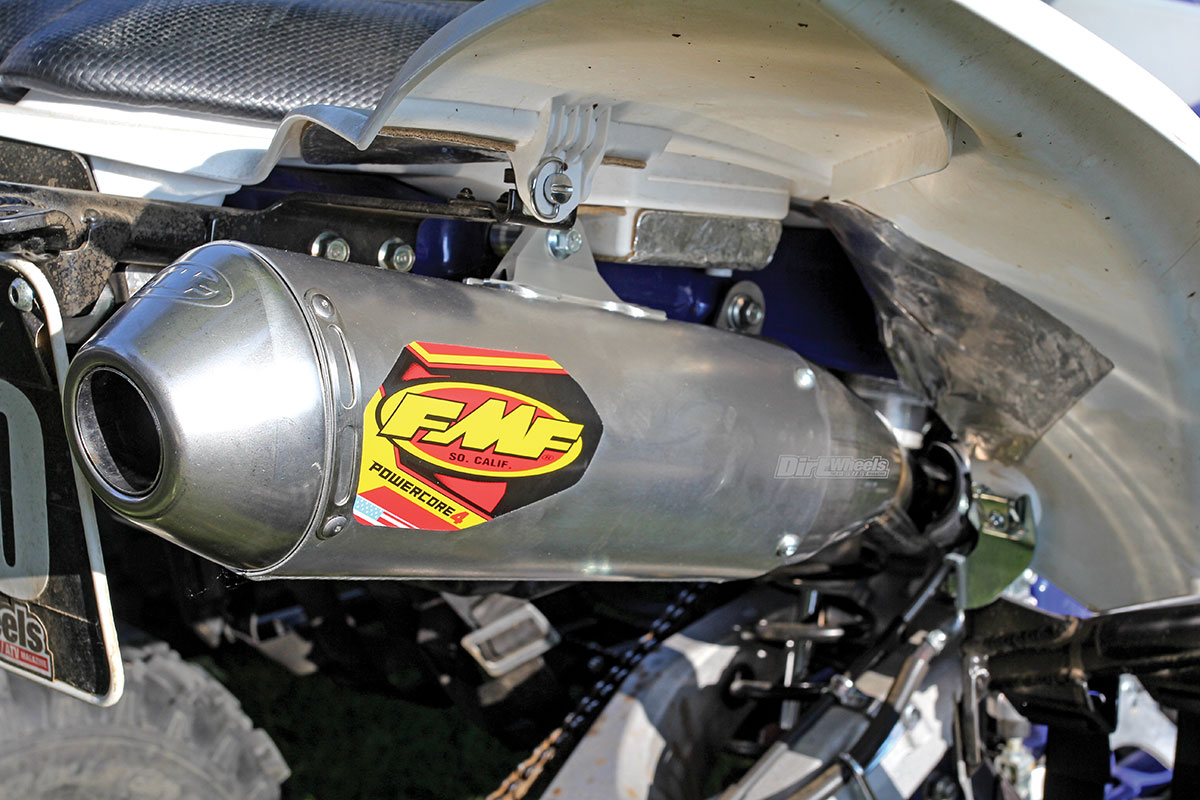 FMF POWERCORE SYSTEM
THE PIPES
FMF's PowerCore4 has aluminum and stainless steel construction with a weight of 5.7 pounds for the YFZ. It comes with mounting points for the stock heat shield to be swapped onto it. FMF claims it will provide your ride with more horsepower and torque. A removable spark arrestor comes with the PowerCore4, and if you want to utilize this system with your stock header, it can be used as a slip-on muffler with their coupler installed. The quieter Q4 version of this muffler is also available for those of you who like performance increases with a stealthy sound level. Pricing ranges from $299.99 to $379.99 depending on your four-stroke ATV model. The YFZ450R version runs for $339.99. 
We decided to pair the PowerCore4 muffler with a stainless steel MegaBomb header for $274.99. FMF claims this header can provide as much as a 3-horsepower boost from a stock engine and a noise reduction of 1.5 decibels. We have found that in order to gain maximum power from aftermarket exhaust systems, you will need to install a fuel-injection system power programmer (like a Power Commander from DynoJet) or jet your machine if it is carbureted.
This may also mean you need to remove your stock airbox lid or provide more airflow to the engine. A high-flowing exhaust requires more air and fuel to be added. If you simply install an aftermarket exhaust, it may slow your machine. Also, note that these systems are sold for closed-course competition only.
Installing this system was straightforward. We removed the stock muffler and then the stock header. The instructions call for use of RTF to seal the new header and muffler together so you don't get exhaust leaks. We mounted the header loosely and then the muffler loosely. We tightened up the PowerCore4, followed by the MegaBomb. After running the engine for a bit, we let it cool down and then re-tightened the components. 
FMF POWERCORE SYSTEM
TESTING TIME
Upon firing up the Yamaha YFZ450R with the new system installed, it gained a throaty and deep aggressive tone. The stock system is plugged up in comparison to meet strict EPA standards, so the tone is quiet. The FMF system isn't that loud at idle or from quarter to half throttle, but it is once you open it up. We hopped on the quad and motored out onto the motocross track without a power programmer installed. 
Our YFZ felt pretty similar with the new system installed, except it had more grunt than in-stock trim. After a few laps, we returned and installed a Power Commander PC5 onto the Yamaha and opened up the airbox. A YFZ is lean in stock form and gets leaner with the exhaust system installed.
The difference in power was night and day! The FMF system provided more bottom-end torque and kept pulling strong through the top of the rpm range. We couldn't notice the decibel decrease from the MegaBomb header, since the PowerCore4 muffler was quite a bit louder than the stock setup.
The added torque helped us pull out of corners quicker and get over jumps easier. We tested this system at Los Angeles County Raceway in California, where they have a few hill-climbs in the track layout. At full throttle, the quad pulled a lot harder up the hills than before.
Go to www.fmfracing.com or call (310) 631-4363 to find out more about the exhaust systems FMF offers for your ATV. They have their premier titanium headers and Factory 4.1 systems if you want to offer up more coin for less weight.
To subscribe to Dirt Wheels Magazine in print or digital form click here https://hi-torque.com/product/dirtwheels.