OGIO RIG 9800 ROLLING GEAR BAG
PRODUCT EVALUATION: It lasts for decades 
By the staff of Dirt Wheels
OGIO RIG 9800 ROLLING GEAR BAG
Who buys a $329.99 rolling gear bag? We suggest that in the case of the Ogio Rig 9800 bag, smart people want many years of having fun. Then we looked at the reviews for the bag.
People use it for carrying paintball rigs, scuba equipment, construction gear and RC cars among other things. They transport that equipment and gear in cars, on planes, and on trains.
Every review mentioned how well the Rig 9800 deals with incredible amounts of abuse. We only use the bag to handle clean (and later dirty) riding gear in the truck, trailer deck, or on planes. This is actually our second Rig 9800 bag, and the first is well over 10 years old with multitudes of truck bed rides and trips around baggage carousels.
That bag looks like it has done some miles, but it still performs well, including the wheels and zippers. It has been the finest gear bag we have ever owned. We think that is well worth the admittedly significant price.
WHAT YOU NEED
OGIO RIG 9800 ROLLING GEAR BAG
One of the reasons that we use this bag so often is the size. It is massive—a full 7,500 cubic inches of capacity. It is 34 inches high, 16.5 inches wide, and 15.25 inches deep. One of the few drawbacks we find with the Rig 9800 is the 14.2-pound weight. When we got our first bag that wasn't a problem, but since then airlines have cracked down on baggage weight.
Take a 15ish-pound bag, add boots, protective gear, and riding clothes, and the weight adds up. Throw some street clothes in as well and you are soon over the 50-pound maximum. Over that weight, the fees ramp up quickly. If we are just putting it in the truck, the weight is not an issue. It has double soft handles on top, so it is easy to get into a tall truck bed.
The weight is understandable. The bag has oversize wheels captured in cast-aluminum supports that are mounted to the Structural Load Equalizing Deck (SLED). SLED is a fairly rigid base for the bag that supports the wheel system and encloses the telescoping handle. A plastic deck like this one shrugs off being dragged across stair edges or over curbs. It makes the bag sturdy enough that we have often stacked our carry-on and cameras on top of the fully-loaded Ogio. It never protested the added abuse.
Our older bag had a fully separate helmet compartment and two main zippers. Now, the main compartment has a single zipper and a pop-up divider to separate the padded helmet area. The main compartment is just that—a large compartment. The lid is a different story. It is loaded with interior and exterior pockets that we generally use for gloves and goggles. To prevent unnecessary strain on that main zipper, there are compression straps with industrial buckles to doubly secure the bag opening. If we use the bag on an open trailer, we use those compression straps to secure it to the side rails.
Much of the material of the bag has iFOM (integrated foam) construction—two layers of material with foam in between for strength and padding and gear protection. In theory, the Rig 9800 comes in seven colorways. One of the few consistent critiques in the reviews concerned most of the available colors being sold out. As we write this, the Ogio site says only two colorways are in stock.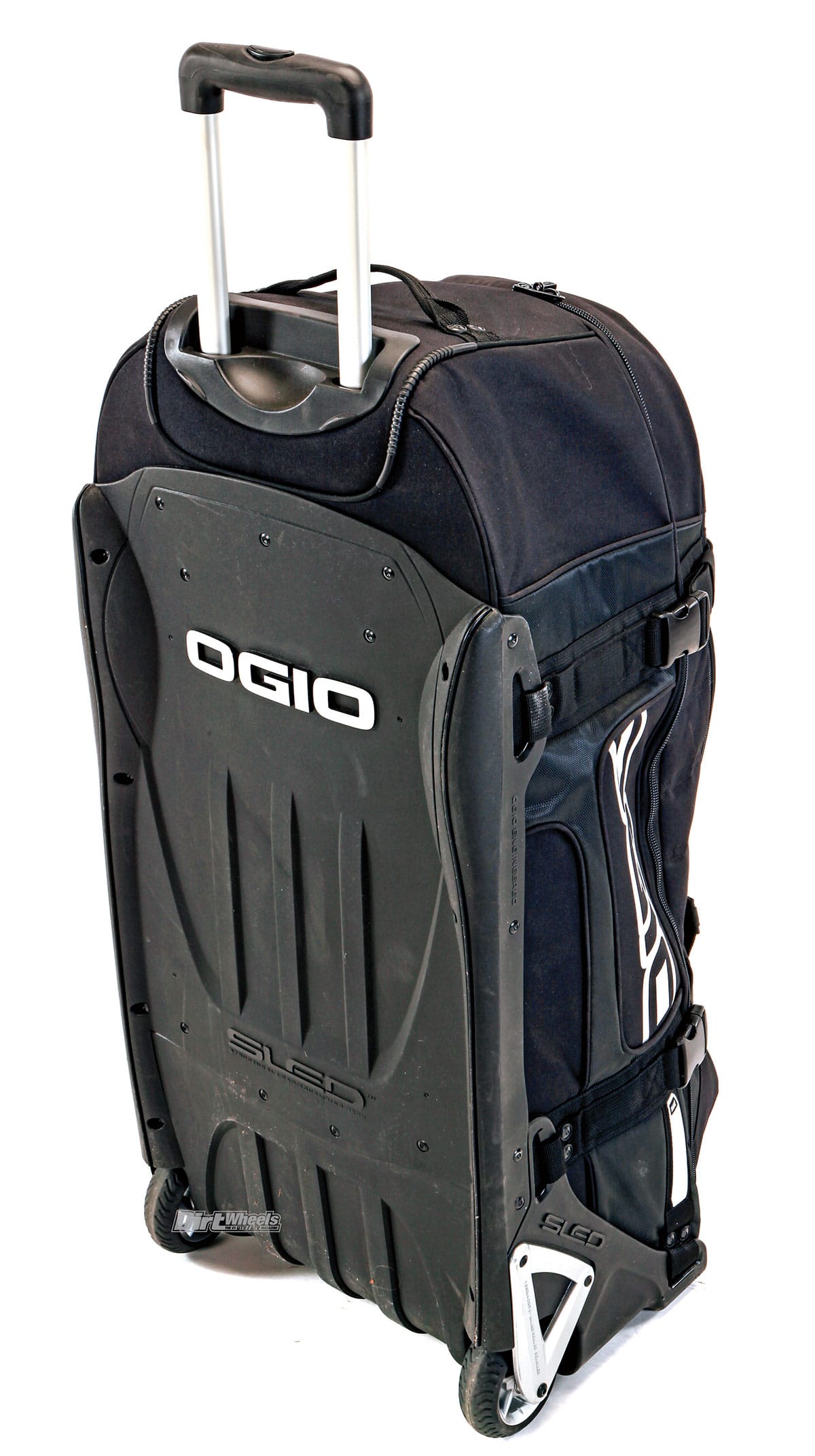 WORTH IT
It seems that many bags and packs are so inexpensive these days, but we have no trouble justifying the expense of the Ogio 9800. We know for a certain fact that it will protect gear through many years of abuse. It doesn't matter if you never take it on an airplane, the quality and utility of this bag make it worth the money.
Ours has been overstuffed, over-traveled, and abused bouncing in truck beds or being tossed by baggage handlers. Our newish one looks brand new, and our "experienced" one doesn't look bad, either—and it has every excuse to look bad. The $329.99 price seems more than reasonable for a pack with exceptional performance and features! Go to www.ogio.com to check out their full lineup of packs and cargo systems.
To subscribe to Dirt Wheels Magazine in print or digital form click here https://hi-torque.com/product/dirtwheels.