PART 2: BUILDING ULTIMATE OFF-ROADER
Our Project Honda TRX600 gets busy...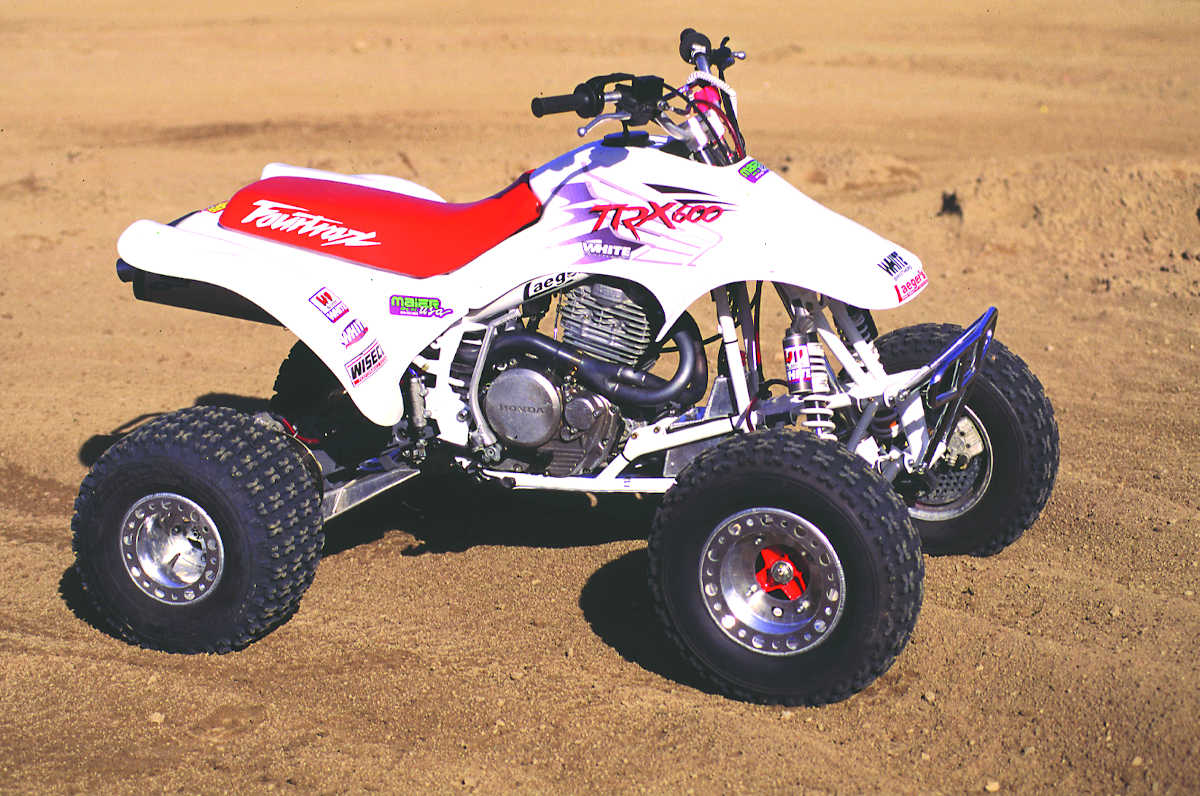 From our March 1998 issue of Dirt Wheels. MORE INFO:  https://dirtwheelsmag.com/ultimate-off-roader-honda-trx600/ 
PROJECT HONDA FOURTRAX TRX 600:
BUILDING ULTIMATE OFF-ROADER
"Honda should have made this years ago," said reigning Grand Na­tion­al Champ Shane Hitt after his first ride aboard Dirt Wheels' Project TRX600 sport quad.  had just put the machine through a grueling test ride at DW's exclusive Club Moto torture track—a track, mind you, that few "race" quads would feel comfortable on, much less a mild-mannered "sport" machine.
"We would all be racing four-strokes if they had, " chimed in newly crowned Pro/Am Four-stroke champ Jeremy Schell. "I'd love to race something like this in the Open class. On the right track, it would be competitive against the Banshees and the big-bore-kitted 250Rs that race out there now. Imagine how fast it would be if the motor was hopped up?"
"I'd race it against 250Rs; it's got so much torque," added 250 pro racer Ko­ry Ellis. "The suspension is good, the brakes are great and it is one of the most predictable quads I've ever rid­den. Are you sure Honda isn't re­leas­ing one this year?"
PROJECT HONDA TRX 600
Honda will not be re­leasing the mighty TRX600 this year, or any other year that we know of. It took the madmen here at Dirt Wheels to come up with a natural sport quad combination like this.
Like peanut butter and jelly, mating the proven performance of the 250R-style chassis with the chug-a-lug torque of the mighty XR600 four-stroke engine is such a logical thing we are surprised that Honda has not done it!
THEIR LOSS, OUR GAIN
This machine was a hybrid vehicle that we had put together using miscellaneous parts and products from a 300EX sport quad and an XR600 dirt bike. Combined with an aftermarket ATV chassis and various components from other ATV companies, we came up with our own version of what a '98 TRX600 might look like if the factory had chosen to make one.
This amalgamation of parts had formed a sum that exceeded its total. We had a quad that, on the first try, was better than anything that came before it.
IT AIN'T BRAGGING IF YOU CAN DO IT
As Walter Brennen was so fond of say­ing, "It ain't braggin' if you can do it." Once we had completed the first part of our project (see the Feb. '98 is­sue), which involved assembling the frame, engine, tires, and miscellaneous pieces into a working vehicle, we were left with the fun part: testing it out. This month we finally got to take out our TRX600 for the second in­stall­ment of the story, or its maiden voy­age, as it were.
Having no less than two GNC champs and a top 250R pro tell us we had a great machine didn't hurt our confidence, either.
PROJECT HONDA TRX 600
Now, a bit of backtracking, though. For those of you who didn't get last month's issue, shame on you. Those of you who did, reward yourself with a cookie. You already knew that we were determined to make a true sport quad that would pick up where the TRX250R left off some ten years ago!
To do that we needed a massive-dis­placement four-stroke engine. With all the attention to cleaner-burning motors, especially here in Cal­i­for­nia, a four-stroke motor seemed the logical choice. The bigger the better. Honda's XR600 fit the bill perfectly. It was big, torquey, relatively compact (weighing in at 100 pounds) and reliable. Lucky for us, we happened to have one on hand for this project.
Because it gets increasingly harder to find TRX250R replacement parts, we needed a source for miscellane­ous parts for our project quad. Buy­ing off-the-shelf 250R parts would make it a cost-prohibitive project, as you pay several times what a ma­chine costs if you buy it a piece at a time. We needed a quad that was still in production but which had been around long enough that it had a prov­en reliability record. Honda's mild but reliable 300EX is still a current machine in its lineup. We had last year's test unit and used it as a source of parts to help make our proj­ect easier to duplicate.
PROJECT HONDA TRX 600
We wanted a project that anyone with the resources could make into his own. All you would need would be an XR600 engine out of a dirt bike, a 250X or 300EX for miscellaneous parts and lots of spare cash to purchase a Laeger chassis, swingarm, front end, and WP suspension package.
HOW PRACTICAL IS IT?
The amount of time, effort and ex­pense involved in a project such as this makes it unique. We were able to build our prototype in a matter of days. Someone else would need to spend considerably more time and mon­ey than we did to make something similar. A ballpark figure for the cost of this project would be in the $6000–$7000 price range—assuming you already had a 250X or 300EX to start with.
Some quick figures. The Laeger chas­sis will set you back $2300, the Lae­ger swingarm $520. Laeger's +2" A-arms, ball-joints, bushings, bolts, and tie-rod ends would set you back an additional $525.
Figure anywhere from $500–$1000 for a good used XR600 engine and transmission. The '91 Honda CR linkage you need for the Laeger chassis will set you back another $400 at your friendly local Honda dealer.
PROJECT HONDA TRX 600
Then we opted to install Maier plas­tic and lots of aftermarket products such as wheels and tires, you could save money by using the stock 250X or EX gas tank, the stock EX plas­tic, wheels, tires, axles, brakes, bumpers, grab bars, airbox, spindles, and miscellaneous parts.
We installed WP shocks from White Bros. to handle the suspension duties on our Project TRX600. The dual front shocks retail for $760 for the set, while the single rear shock sells for $645.
The prices climb even steeper once you factor in specialty items such as the handmade exhaust, the custom oil tank and skid plates. You could ex­pect these goodies to add several hundred dollars to the final price tag.
Let's see, the Dirt Wheels calculator shows our project quad parts list coming in at just around $6370—as­suming you have a stock 250X or 300 EX as a source for wheels, tires, brakes, plastic, gas tank, and various oth­er essentials. Surprisingly, that is not that bad a price to pay for the performance this machine offers.
HOW IT WORKS
After we had put the rolling chassis to­gether last month, White Bros.' chief R&D specialist, Gary Jones, lent his expertise to the project. Gary in­stalled a set of WP suspension on our quad and hand-crafted various parts such as the custom oil tank and hand­made skidplate. Gary also spent many long hours detailing and ironing out the myriad details in­volved in a project such as this. Gary al­so tagged along on our first riding outing to see how well his efforts would pay off.
"It started right up the first time I kicked it," exclaimed Gary, "but it sput­tered and popped on the top-end so I knew the carb jetting was too lean. Because we were using the 300EX airbox and the XR600 engine needs a lot more air, I knew we had to richen the mixture up.
PROJECT HONDA TRX 600
"I richened the jetting on the stock XR600 main jet and put a K&N gauze filter with a PC-1 pre-filter over it. We then in­stalled a trick, see-through, vent­ed Mo­to Force [(541) 923-5467] air­box lid [$29.95] for the EX airbox. It helped make the en­gine run much bet­ter. These things are really trick. You can see inside and tell if the fi­lter needs ser­vicing with­out removing the top. Neat."
The next step was to come up with an exhaust system. Gary took one of White Bros.' Eclipse series mufflers and adapted it to fit with the stock XR600 head pipes. "We ran ten discs in the unit, but you can run anywhere from eight to 15. You add more discs for horsepower and less to make it quieter," says Jones.
For suspension we put on a pair of compression- and rebound-ad­just­able WP shocks up front. WPs are made in Holland and marketed through White Bros. They are a good all-around shock that can be rebuilt and dialed in to suit a wide variety of conditions. They gave us a good ten inches of wheel travel and overall tunability.
On the back end, a WP single rear shock with dual rate spring and ad­just­able compression, rebound and pre­load settings gave our TRX another ten inches of wheel travel on the back end. We probably could have gone for even more travel with long­er shocks—we ran standard 250R-length shocks. Because we wanted to keep the center of gravity as low as pos­s­ible on the TXR600, we opted for the standard-length 250 shocks travel of ten inches."
GRAPHIC SCENE
"Our computer graphics man at White Bros., Peter Kozlowski, came up with a trick-looking TRX600 logo for our quad. We plastered it on both sides of the Maier plastic. We covered it with a clear acetate background, then added a clear number plate back­ground over that. Voi­la! We had a production-looking machine."
TEST RIDER ROUNDUP
Gary Jones, Kory Ellis, Jeremy Schell, Shane Hitt and the usual gang of Dirt Wheels testers each got his chance to put the TRX through its paces in the days to come. Ev­ery one of them had a positive first im­pres­sion. They talked about how easy it was to ride and how comfortable, torquey and fun it was.
PROJECT HONDA TRX 600
The mighty XR600 engine, even in stock trim, pumps out very controllable and broad torque. It made riding the beast almost effortless. You could leave it several gears high and let the torque pull you out of the corner faster than you thought possible.
"It was hard to tell that you were on a four-stroke," remarked 250 Pro Kory Ellis after his test session. "The XR600 en­gine hooks up in a big way. It is much smoother and faster than a standard 250R, but not tippy like a 300EX in the turns. The Laeger chassis allows it to handle like a 250R when jumping, sliding and going through the whoops.
"This thing would be great on a flat or TT track. If Honda made one, I'd buy it and race it," said Kory.
After Jones took the machine out, his ear-to-ear grin revealed what he felt about the 600. "This thing is awesome," he remarked. "The chassis is outrageous. It is very predictable and easy to ride. You can slide it, rail it or do whatever you want with it in a corner. It is very confidence-inspiring. I couldn't feel it flex anywhere. You don't feel any vibration through the frame from the motor. I'm impressed. Laeger has done his homework with this chassis. The brakes work really well, too. I think the rear works even better than a stock EX because we're running the longer XR600 brake ped­al that gives you even more leverage. It's neat. No oil leaks, either, I'm glad to see my work held up."
STUFF TO FIX
Our first few rides also revealed that we can still improve in a couple of areas. We will be lengthening and widening the right side footpeg (borrowed from an XR600 dirt bike) to make a more secure perch for the rid­er's right foot.
We also plan on going a bit stiffer on the shock damping in the front and back end to make it work better off big jumps and softer on the low-speed damping to make it plusher in the slow speed braking bumps.
PROJECT HONDA TRX 600
Gearing might be a bit on the high side. Depending on what type of event we will be racing it in, we might try lowering the overall gearing a bit. With the gearing and tires we are running now, we figure it will probably top out at around 70 to 80 mph.
An average horsepower reading for a stock XR600 engine is around 35. We are pretty sure we can get close to double that amount with a few modifications. Gary Jones tells us he can ex­tract close to 60 horses from a modified XR600.
We plan to add a thicker pad­ded seat in the future for a cushier long-dis­tance ride. We will try some different tire and wheel combinations. This to see what type of tire and size might be more appropriate for the va­rious events we plan on attending. The first thing Gary Jones told us after his test session was, "Hey, when are we going to a Grand Prix so we can kick some booty with this thing? " Gary, it's on­ly a matter of time.
To subscribe to Dirt Wheels Magazine in print or digital form click here https://hi-torque.com/product/dirt-wheels.