PROJECT CAN-AM MAVERICK X3 X RS
— LONE STAR RACING'S DREAM BUILD —
You may recall we featured Lonestar Racing owner Dan Fisher's Can-Am Maverick X ds in a previous issue of Dirt Wheels'. Fisher built his X3 to compete in the Pro Turbo class for the Best in the Desert series. His car featured some very trick parts, including LSR's MTS long-travel suspension kit and a stronger cage. There are many other trick parts from LSR installed on Fisher's Can-Am, and the man behind most of the R&D, lead fabricator, race department manager and tech specialist, is Garrick Lastra.
Garrick is a former professional ATV racer who has been working for LSR for years. When Garrick started to see the progression of UTVs, he decided it was time for him to throw down some serious cash and purchase a 2017 Can-Am Maverick X3 X rs. Garrick built his car for serious sand dune play and to get back to racing professionally. Luckily, Garrick has put in the time to find the best combination for what he was looking to do with the X3.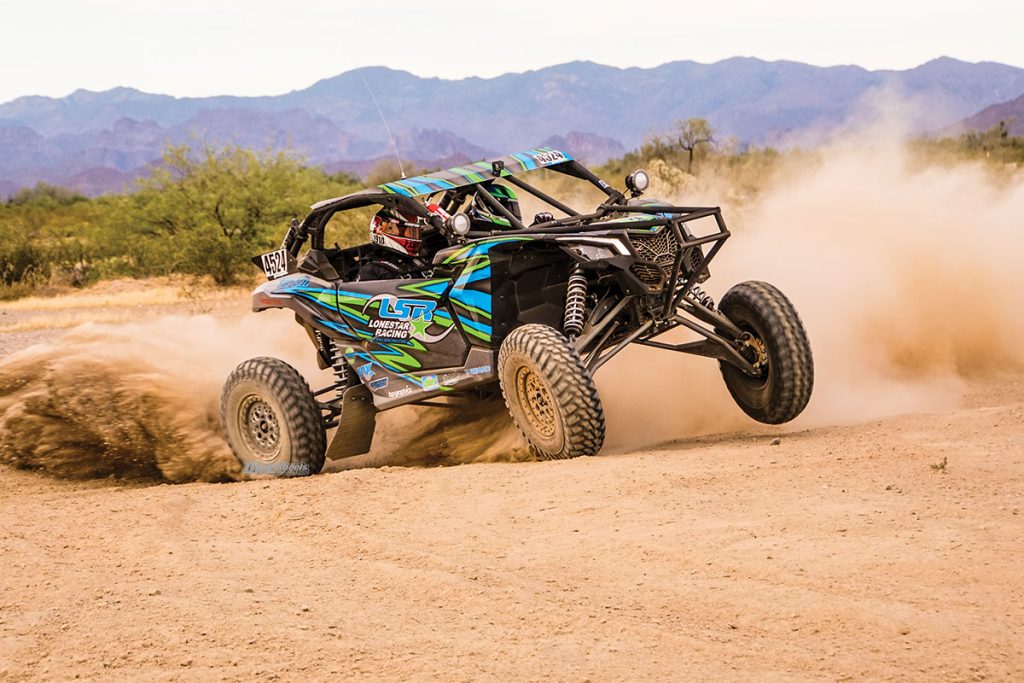 MASTERFUL SUSPENSION
Garrick didn't want to go full tilt like his boss' BITD-built X3, but he didn't skimp on the parts he installed, either. The best part is that Garrick built all the LSR parts himself! The X rs model came stock with 22 inches of front suspension travel and 24 inches of rear suspension travel. The front Fox shocks are fully adjustable with internal bypass and are 2.5 inches. The rear Fox shocks have the same features as the front, but they're larger 3-inch shocks. Garrick kept these shocks and re-valved them for more aggressive driving and to work better with the LSR suspension components. Like Dan's X3, Garrick also went with the Lonestar Racing MTS long-travel suspension kit.
The stock width on the X rs model is a whopping 72 inches wide, but that's weak compared to the 77-inch width of the LSR MTS long-travel suspension kit. The wheelbase does not change. The suspension kit comes with heavy-duty chromoly radius rods that are much stronger than OEM units. Along with that, the MTS kit makes 24 inches of suspension travel front and rear, along with a whopping 18 inches of ground clearance.
TRICK AND TREATS
Building a play machine and racing machine all in one means that the aftermarket parts don't stop at suspension. Larger 15-inch DWT Sector Zero beadlock wheels add strength, and the larger wheel combined with 32-inch 10-ply Kanati Mongrel radial tires helps the car roll over large obstacles easier. The Mongrels have more puncture resistance than most and offer a great tread design for desert racing applications. Can-Am-specific Beard suspension seats and Beard five-point racing harnesses keep Garrick and his co-pilot "Patches" securely in the car. LSR stripped the wiring harness to rid the car of unnecessary wires and to cut weight from the X3.
Rules for short-course racing are a bit different than Best in the Desert rules. Garrick didn't have to add many additional safety products to his X3. He retained his stock cage, gas tank and doors. He did add a Can-Am by LSR roof, Can-Am by LSR lower door panels, custom LSR window nets and Can-Am by LSR front intrusion bars. All are safety requirements for the UTV World Championship series and AZOP series in Arizona. Bumping your opponents is allowed in almost every race series. So, to let his UTV foes know that he is there, he designed a LSR race bumper that sticks out from the car to help give "love taps."
For creature comforts, a SDHQ Parker Pumper helmet fresh-air system, Rugged Radios RRP com and their 50-watt race radio, and Hostyle custom door bags were added. The bags not only look great, but they also provide storage for tools, drive belts and small spare parts.
BP Graphics made the custom wrap that Garrick came up with. It's one of the best-looking and cleanest wraps we've seen.
POWER DOWN SOUTH
The Can-Am X3 models are no chumps when it comes to power. From factory, the 2017 models offer 154 horsepower. Whether it's short course or racing something like the Baja 1000, finishing the race is the most important task. You might not be able to do that if you have a race engine that rivals a Formula One race car. That's why Garrick went light on the engine modifications.
He designed a custom-built LSR exhaust that allows the engine to flow more freely. Since any ATV or UTV is programmed to run lean on the fuel with stock exhausts, Garrick installed an Evolution Powersports Maptuner. When he is racing a closed course, he runs their 4RI fuel map to create big horsepower and remove any limiter the X3 would have in stock trim. The Maptuner also allows him to change engine tune on the fly from inside the cab.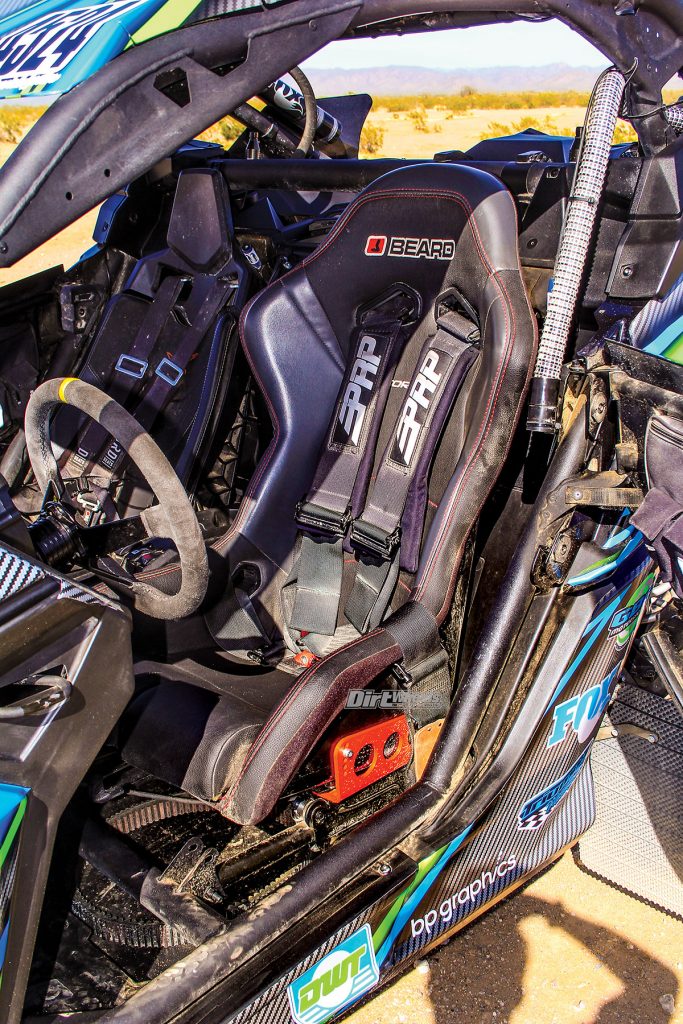 SHORT COURSE OR DESERT, THIS CAR DOES IT ALL
We tested this car on the same days as Dan Fisher's LSR car, and they quickly became two of our favorite cars. We did enjoy that Garrick's doors still have the ability to open and close, and the interior is inviting and comfortable. While hitting large G-outs and savage whoops, the Beard suspension seats helped soak up the abuse. The suspension had a stiffer feel than Dan's car, but it still felt like we were floating over the top of the rough chop. The stiffer suspension did help it corner better and turn with precision. We can see why this car does so well in short-course racing and in the dunes. The extra width made the X3 more stable, and along with extra wheel travel, it made us feel better about pushing it to its limits. While braking, we did have to apply more pedal pressure because of the weight and different wheel/tire size. The OEM brakes still got the job done.
With such little engine work, this car flat out moves. Over a very whooped-out and rutted road, we quickly reached 70 miles an hour. The Fox shocks were working overtime, but we felt like we could have been sipping some tea inside the cab. We were gripping the steering wheel tightly compared to what we were on Dan's car. Garrick's X3 still had the stock DPS (Dynamic Power Steering) installed, and with 32-inch tires, it tries to correct itself. At times it feels like it was going to rip the wheel out of our hands, but over time we felt a bit more comfortable with it. Garrick doesn't notice it much anymore and doesn't feel he needs new power steering.
Even with the stock cage, we felt very safe in this rig. The Beard five-point harnesses kept us sucked into the seat comfortably, and the bumper was a nice add-on for protecting the stock radiator location. We didn't get to test out the bumper, but it did have some blue paint on the front of it. It seems like Garrick might have already  tested it on another brand of UTV while racing.
WHAT A MACHINE
This LSR machine is a heck of a good time to drive. The suspension alone can make you grin, giggle and maybe even wet yourself a little. The LSR boys have really found an amazing combination of suspension, reliable/exciting power and safely driving at close to 100 mph. The UTV game is ever-changing, and LSR is one of the top companies pushing it forward. For more information on LSR's parts or what they're about, feel free to check out their website at www.lsracing.com or call (480) 834-2990.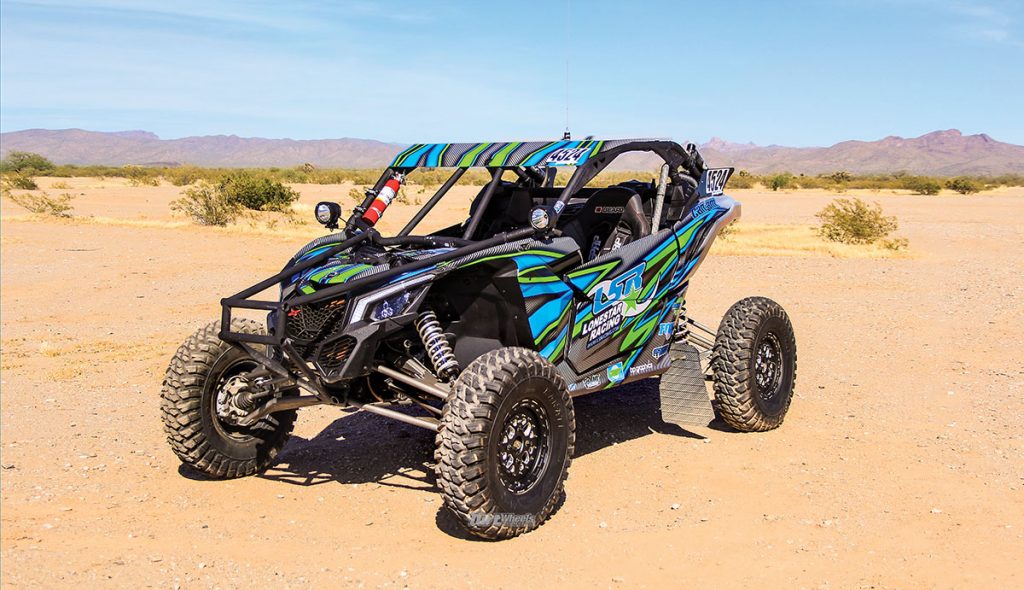 PARTS AND SERVICES
Lonestar Racing: www.lsracing.com, 480-834-2990
Custom exhaust $750
Custom built front differential $250
Fox/LSR-spec tuned shocks $2,500
Wiring harness $4,000
MTS long-travel suspension kit $6,500
Custom front race bumper $550
Can-Am: www.can-am.brp.com
Lower door panel TBD
LSR aluminum roof TBD
LSR front intrusion bars TBD
Beard Seats: www.beardseats.com, 951-729-3321
X3 seat $849.99 per seat
Five-point 3×3 harness $129.99 each
GBC Motorsports: www.gbcmotorsports.com 
Kanati Mongrel 32x10x15 $259.67 per tire
DWT Racing: www.dwtracing.com, 800-RACE-RIM
DWT Sector Zero Baja H-D beadlock wheel $393 each
Rugged Radios: www.ruggedradios.com, 888-541-7223
M3 two-person air pumper system with two hoses $369
Radio system with race communication $1,500
BP Graphics: www.bpgraphics.com, 800-587-1464
Custom LSR graphics $1,200
Hostyle Racing: www.facebook.com/hostyle-racing-63127007048929/
Custom door bags $675
Sparco USA: www.sparcousa.com, 800-224-RACE
Steering wheel $250
Evo Powersports: www.evopowersports.com
Maptuner X and ECU programming $1,599