PROJECT MACHINE: THE TOMB RZR
One man's dream named after a nightmare
By the staff of Dirt Wheels
PROJECT MACHINE: THE TOMB RZR
Robert Loomis has long been involved in the street car and hot-rod scene. "It has always been a dream of mine to have a machine that was different from what everyone else has," Loomis explained. "Plus, I had a dream of my car being in a magazine that dates back to my time in the car scene. I'm a big motor-head and have always enjoyed fast cars and off-road machines.
So, when I bought my 2016 Polaris RZR Turbo, I started off with a few mods here and there, like tires and wheels, charge tube, blow-off valve, intake tube, lower doors, windshield, etc. I couldn't leave it stock!"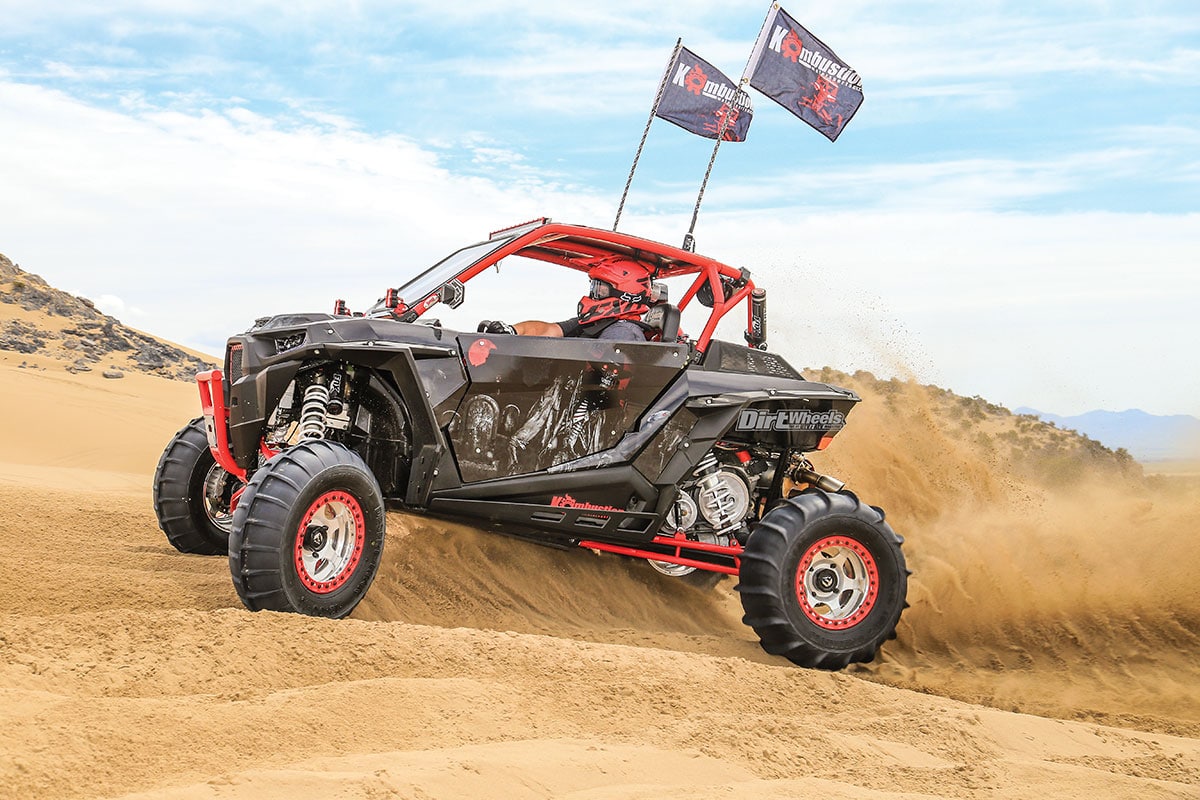 PROJECT MACHINE: THE TOMB RZR
BECOMING THE TOMB RZR
"I'm a show-off as well, so I like to have something that people look at and say, man, what a nice machine. I had excellent service from Kombustion Motorsports out of Murray, Utah, when I ordered parts from them. Then I started looking into their personal machines and saw the quality of workmanship, and I became good friends with owners Travis Gardner and Ryan Flanders.
Later, I talked with their mechanics and found they had a bunch of knowledge, and my faith in the entire Kombustion Motorsports crew expanded. I trusted these guys with my machine by this time, so they did most of the current build. I had very little time to perform the work myself due to workload and working outside of my home state."
You can see from the price list that neither Loomis nor Kombustion were slaves to any one company. Rather, they picked and chose from available products to make a compelling package. The areas of concern were chassis, engine performance, passenger comfort, safety and style.
PROJECT MACHINE: THE TOMB RZR
CHASSIS
Chassis mods started with a Fireball Racing long-travel kit. The Fireball parts were coordinated with Rhino heavy-duty axles, Assault heavy-duty sway bar end links and barrel-style +4-inch long-travel HD tie-rods. It also uses an Assault chassis plate to strengthen things. The undersides get help from a Trail Armor skid plate with sliders.
Falling under chassis and safety is an SDR Motorsports XPR-2 Shorty cage with a built-on roof with an integrated front light pocket and windshield. It is matched with SDR RZR Hi-bred doors with door bags. The shocks only required a ZBroz Racing RZR XP Turbo Fox Edition spring kit with spring retainers to handle the long-travel suspension. Fuel Off-Road forged Gatling wheels with red bead-lock rings are wrapped with Sand Tires Unlimited 1300/1200 non-comp-cut sand paddles finish up the chassis mods.
POWERMONGER
Loomis is a hot-rodder after all, and the 2016 RZR Turbo is not as powerful as later models, so mods were in order. He opted for Evolution Powersports' RZR XP Turbo Stage 6 Sandblaster big turbo kit with a flashed ECU. The base kit was boosted with a silicone charge tube, turbo V-flow intake boot and a billet-aluminum blow-off valve. He also runs the Captain's Choice cut-out exhaust. It allows the driver to bypass the muffler for more power. Turbos muffle the exhaust pretty well, so the machine isn't that loud. He chose a serviceable air filter fitted with a pre-filter. Other related accessories are a Maptuner to adjust the ECU and heavy-duty STM clutches run without a cover in the dunes. They look cool and work great. For reliability, Loomis added an Empire Industries XPT billet fuel rail.
The 2016 RZR Turbos had some cooling issues when run hard, but Loomis and Kombustion took care of that with a TCP Performance radiator kit to increase cooling for the engine and to make it more comfortable in the cab.
PROJECT MACHINE: THE TOMB RZR
CREATURE COMFORTS
You can tell that Loomis likes to drive this machine. It is set up nicely to spend time in. Settle into the car and you feel the Assault Ballistic D steering wheel, and you settle easily into Pro-Armor G-Force suspension seats. You then tie yourself down with Pro-Armor four-point, 2-inch, harness-type seat belts with sewn-in comfort pads. Even with the roof, visibility-front is good, and in-cab mirrors from Axia Alloys and outside B2 Bomber mirrors from Assault take care of the rear view.
There is a grip-style shift knob from Modquad, and they make the passenger grab handle as well. The speakers take up a little room, but you forget that fact when you crank up the Rockford Fosgate Stage 4 600-watt PMX-2 stereo mated to front speakers, a sub and rear speaker kit. You won't have trouble hearing this one.
PROJECT MACHINE: THE TOMB RZR
There are other additions that add style, but some, like the powerful lighting, even add safety as well. Baja Designs' rock lights are an example. They light up under the wheel wells, so they look cool, but they also help with wheel placement in technical driving. The rest of the lighting is from Heretic Studios.
They replace the stock headlights, and there is a roof and front shock-mount light bar. There are also 5150 lighted whips. Current Turbos have a wider grill opening, so Kombustion upgraded the front end to 2017 parts with a red billet grill. Then a Kombustion wrap gave Loomis the unique look he was after.
BEHIND THE WHEEL
We drove the Tomb RZR at Utah's Little Sahara dunes. There are some steep climbs and large bowls where plenty of power is very handy. The same is true of the wide stance and long travel. We found this machine to be quite comfortable with good visibility from inside the cab. Stab the throttle and it rips the climbs.
The tires bite hard, so acceleration is brisk and doesn't really taper off. We tried some steep sand trails, and it is plenty nimble (unlike some wide, long-travel cars) and fun to drive. We stepped into this machine from the new RZR Turbo S, and the Tomb RZR pulls stronger and had suspension that was obviously dialed in for the dunes.
We don't normally like black machines, but this one has enough red accents to make it really stand out. It works like it is supposed to, runs hard, is comfortable in the rough and handles well. Lara Croft would approve, and so do we.
PROJECT MACHINE: THE TOMB RZR
PARTS AND SUPPLIES
5150 Whips: www.5150whips.com, (866) 511-8853
Pair of 4-foot LED whip w/ remote control and quick release base $279
AEM Electronics:(310) 484-2322, www.aemelectronics.com
Failsafe gauge $379
Assault Industries: www.assaultind.com, (714) 799-6711
Fire extinguisher quick release $169.99
B2 Bomber side mirrors $299.99
Heavy duty sway bar end links $129.95
Barrel style +4" long-travel HD tie-rods $319.99
Polaris RZR billet aluminum speedometer bezel $59.95
XP 1000 chassis plate $124.95
Ballistic D steering wheel with adapter hub $180
Axia Alloys: www.axiaalloys.com, (480) 216-6266
9" wide panoramic rear-view mirror $114.95
Baja Designs: www.bajadesigns.com, (800) 422-5292
Rock lights $259.80
Empire Industries: www.empireindustriesinc.com, (928) 505-6443
XPT billet fuel rail $169
Evolution Powersports: (715) 247-3862, www.evopowersports.com
RZR XP Turbo Stage 6 Sandblaster big turbo w/ flashed ECU $3800
2016 RZR XP Turbo silicone charge tube $180
2016 RZR XP Turbo V-flow intake boot $170
Billet aluminum blow-off valve $209
Polaris RZR XP Turbo Captain's Choice cut-out exhaust $1304
Air filter w/pre-filter $129.99
RZR XP Turbo maptuner $899
RZR XP-Turbo STM tuner secondary $750
RZR XP Turbo STM Rage 8 dual-stage primary clutch $1990
Fireball Racing: (559) 324-9533,www.shopfireballracing.com
RZR 1000/Turbo long-travel kit $4199
Fuel Off-Road:www.fueloffroadutv.com
Forged Gatling wheels w/red bead-lock rings $3200
Heretic Studios: www.hereticstudio.com, (801) 725-4824
RZR XP 1000 headlights $549
RZR XP 1000 taillights $482
Wraith USA-made billet LED light bar 30" w/red bezel and mounts $610.59
Wraith USA-made billet LED light bar 10" w/mounts $273.99
Pods w/brackets and harness $279.96
Kombustion Motorsports: www.kombustionmotorsports.com, (801) 674-2451
RZR gas cap $59.95
Two-seater custom wrap with windshield $1500
2017 XPT front end upgrade kit w/red grill $529
ModQuad Racing: www.modquad.com
Grip-style shift knob $69.95
Grab handle passenger $149.95
Pro Armor: www.proarmor.com
G-Force suspension seat (black/red) $1140
4-point 2" harness w/sewn-in pads (pair) $219.90
Rockford Fosgate: (800) 669-9899, www.rockfordfosgate.com
RZR Stage 4 600W PMX-2, front speaker, sub & rear speaker kit $2199.99
Rokblokz: www.rokblokz.com
Fender washers, 2 sets $99.90
Sand Tires Unlimited: www.sandtiresunlimited.com
1300/1200 Sand paddles (non-comp cut) $1417.90
SDR Motorsports: (800) 277-2280, www.sdrmotorsports.com
XPR-2 Shorty cage w/front light pocket and windshield $3056.97
RZR Hi-Bred doors 2-seat $799
RZR Hi-Bed door bags $199
SuperATV: www.superatv.com
Rhino 2.0 RZR XP Turbo +3" axles front and rear $899.80
TCP Performance: (208) 356-6483, www.tcpperformance.com
Radiator kit $1179.99
Trail Armor: www.trailarmor.com, (662) 233-5700
Skid plate w/sliders $750
XTC Power Products: (480) 558-8588, www.xtcpowerproducts.com
Six-switch kit $299
ZBroz Racing: www.zbrozracing.com, (435) 753-7774
RZR XP Turbo Fox Edition spring kit w/retainer $655
MORE PROJECT UTV BUILDS BELOW:
https://dirtwheelsmag.com/project-utv-xtc-racing-rzr/
https://dirtwheelsmag.com/project-utv-lady-venom-can-am-x3/
https://dirtwheelsmag.com/project-utv-racers-general-4/
https://dirtwheelsmag.com/utv-project-textron-wildcat-trail-700/
https://dirtwheelsmag.com/projectmachines/
.
.
.