PROJECT: Sara Sandusky's TRX450R Racer
While most racing scenes tend to be dominated by male competitors, there are also a vast amount of females that love racing just as much as the next person. One of them is Sara Sandusky who built this awesome 2007 Honda TRX450R to mix it up on the motocross or TT track and cross country courses. Sara put a lot of attention into turning her Honda into a competition level racer with high quality aftermarket parts from big name companies and even threw in some great styling into her machine.
HANDLING
Suspension and handling are the key components to help make any machine fast. You can up the horsepower on your rig, but if you don't improve your suspension performance you won't be able to go much faster around the track. To start, Sara installed DC Pro Long Travel +2 inch wider A-arms from Lonestar Racing. Widening a machine can improve stability in corners and at higher speeds in all different types terrain. A set of Fox Float Evol RC2 long travel air shocks provide a smooth ride for this Honda. You can adjust them by changing the air pressure to suit your riding style.
The rear end of this TRX gained a +4 inch Axcaliber axle that rests in the stock swingarm. A 2006 and above Honda swingarm is a half inch longer than a 2004-5 TRX450R swingarm, which improves handling at higher speeds. The LSR axle resides in a LSR billet carrier and utilizes an Anti fade lock nut. The rear shock is a Fox 2.0 Podium RC2 that is fully adjustable like the front shocks.
While the steering stem is stock on Sara's TRX, she installed a MZM Performance Anti Vibe handlebar clamp. Works Racing Products handlebars rest in the bar clamps while a set of Galfer brake lines run up from the quads front brakes to the ASV F3 clutch lever. LSR brake line clamps hold the lines to the wider A-arms.
HONDA POWER
Honda's TRX450R is well known for having a strong power plant in its frame. It is still carbureted to this day and currently the only available new(ish) model of the quad you can buy is a 2014. The design is simple, which means the quad is easy to work on and since it has stayed the same for the past 10 years, there are tons of aftermarket parts to choose from.
Sara started changing the air to fuel ratio by installing a higher flowing UNI air filter. The carburetor is stock from the 07' Honda, but a rejeting was needed through a kit from Dynojet. A higher rate of fuel flowing and air entering the engine requires using a better flowing exhaust system. A full exhaust system from Lonestar Racing was mounted on the machine. Now, Sandusky's Honda engine puts out a more a lot more power than stock.
A new set of sprockets from Rental and an RK X Ring chain help put the power to the rear wheels of this machine. The gearing is 13 teeth on the front sprocket and 39 on the rear sprocket. Depending on what type of racing or riding you do, you can manipulate the gearing on your quad to have a stronger bottom end hit or give you more of a top end range. GMZ Sportech tires are mounted on Goldspeed beadlock rear wheels and non beadlock fronts. Incase of a dismount during riding, Sara installed a kill switch onto her handlebars to turn the engine off if she takes a tumble off her quad.
THE TEST RIDE
Sara Sandusky built her Honda TRX450R with mainly motocross and TT racing in mind, however she also races cross country in the woods of Florida. She constantly has to change her suspension setting to be dialed in for different types of riding and her Fox Floats do so with ease. They suck up chop and breaking bumps very well, yet can tackle hard landings and whoops smoothly. If Sara goes to race in the woods, she simply lets air out of the shocks to make the ride more comfortable. The down side to the Fox Floats is that you have to constantly maintain the air pressure in them and put the quad on a stand when it will be sitting for a while. The rear shock on Sara's Honda bounces a bit over chop and can get a little rough if you are a light weight rider. It is a good idea to get a revalve done on it so it is set up for you specific weight.
In the handling department, Sandusky's TRX has a MZM Performance Anti Vibe bar clamp that is comparable to an anti vibe steering stem. It helps reduce arm pump when riding in all different terrains. Her Precision Racing Products steering stabilizer is a major help with keeping the quad pointed in the right direction. When hitting rocks or tapping trees, the bars don't jerk on you too easily. Power Madd hand guards protect you hands from trail debris which is great for cross country racing. Her Mototrim seat cover is grippy enough to keep you on the seat yet still allows you to move around easily on the quad for cornering. DC Pro MX nerf bars from LSR provide foot traction on this 450. The pegs are grippy and give a solid foot placement to tackle any terrain in the Honda's way.
FINAL THOUGHTS
Sara Sandusky is one of many female racers in all aspects of racing, whether it be on ATVs or UTVs. Her Honda was built with great attention to detail and care. When riding it, you can feel all the aftermarket parts working together to help her 07' Honda TRX450R rip around the motocross or TT track, soaking up big jumps and breaking bumps, all while having the ability to shred cross country courses. We can't wait to see how the rest of 2016 rounds out for all the female racers aboard their four wheel masterpieces!
PARTS/SPONSOR LIST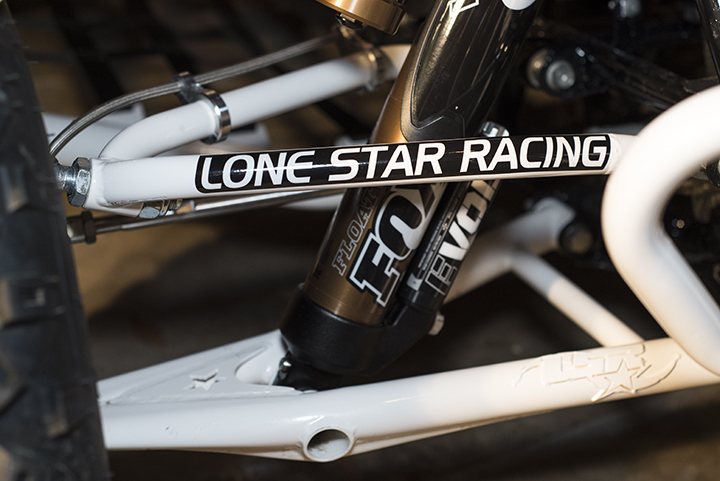 HANDLING
A Arms: Lonestar Racing DC Pro Long Travel – $1,199
Swingarm: Stock
Steering Stem: Stock
Bar Clamps: MZM Performance Anti Vibe Clamp 1 1/8″ – $165
Stabilizer: Precision – $485
Axle: Axcalibar Racing +4 Axle – $449
Carrier: Lonestar Racing BilletCarrier – $185
Locknut: Lonestar Racing AntiFade – $199
Hubs F/R: Stock
Bars: Works Racing Parts – $49.50
Brake/Clutch Lever: ASV F3 Pro Kit – $130
Grips: ODI – $20
Nerfs: Lonestar Racing DC Pro MX – $485
Bumper: AC Racing -$120
Grab Bar:  Rath Racing – $120.00
Front Shocks: Fox Float Evol RC2 – $1595
Rear Shock: Fox 2.0 Podium RC2 –  $1095
Brake Lines: Galfer +2 – $53.99
Brake Line Clamps: Lonestar Racing – $30
Rotors F/R: Stock
Rims F/R: Goldspeed Victory Box Kit – $495
Tires F/R: GMZ Race Products – Sportech Tires – $71.95 & $86.95 Rear
ENGINE
Carburetor: 43.5mm FCR
Air Filter|Box: Uni Foam – $34.95
Pipe|Silencer: Lonestar – $525
Gearing F/R: 13/39 – Renthal Sprockets – $23.50 & $58.50
Chain: RK 520 X ring – $120
Killswitch: Pro Armor – $34.99
Cooling: Stock, Fan Hard-wired
PLASTICS AND GRAPHICS
Plastic: 07′ Stock Honda
Hood: TRP Hetrick Sparkle – $125
Graphics/Seat Cover: MotoTrim – $150
Number Backgrounds: Graphic Worx – $230
Skid Plate: Polyskid – $150
Handguards: PowerMadd Star Series – $67.50
Bar Pad: Graphic Worx
Fuel Tank: Stock
Sara would like to thank a few sponsors and people who made this build possible:
Lonestar Racing, Fox Shox, Blommel Motorsports, Goldspeed Wheels, GMZ Race Products, MZM Performance, Graphic Worx Indy, TAW Performance, Pro Fab, Tiger Racing, & Dan
CONTACT LIST
AC Racing…www.acracing.com…(951) 245-4040
ASV Inventions…www.asvinventions.com…(714) 861-1408
Fox Suspension…www.ridefox.com…(831) 274-6500
Galpher USA…www.galferusa.com
GMZ Race Products…www.gmzraceproducts.com…(619) 244-5811
Goldspeed…www.goldspeedproducts.com…(702) 643-8473
Graphic Worx…www.worxindy.com…(317) 222-4862
Lonestar Racing…www.lsracing.com…(480) 834-2990
MZM Performance…www.mzmperformance-atv.com
ODI…www.odigrips.com
PowerMadd…www.powermadd.com…(651) 462-8465
Precision Racing Products…www.precision-rp.com…(209) 365-1850
Pro Armor…www.proarmor.com…(888) 312-7667
Rath Racing…www.rathracing.com…(320) 234-7223
Rental…www.renthal.com…(877) 736-8425
RK…www.rkexcelamerica.com…(760) 732-3161
TRP…www.dynamiteatv.com…(610) 505-6794
UNI…www.unifilter.com…(714) 535-6933
Works Racing Parts…www.tawperformance.com…(704) 648-0400