PROJECT UTV: Desert Turbo Maverick 1000
One of the most anticipated high-performance UTVs to be released for 2015 is the Can-Am Maverick X ds Turbo. The machine not only raises the bar in terms of horsepower, Can-Am claims it has improved suspension action to match. When we got our hands on a model late last year, we gave it a quick initial test, then immediately went to work adding some creature comforts to make it even better.
TRACTION
One of the first things we noticed about the added power on the Maverick was the lack of traction it caused. The Maxxis Big Horn tires that come stock on this and many other machines are good for general use, but are not strong enough for abusive technical trails, sharp rocks, sticks and other trail debris that we encounter.
Traction is an issue with them in some situations too.
So, we decided to go with the slightly heavier, taller and wider eight-ply 30×10-14 STI Roctane tire on all four corners. The Roctane is not only nearly bulletproof, the lugs have more surface area contacting the dirt, and since they are eight-ply, we can run them at 14 psi for tons of traction. The added width doesn't seem to hurt the handling any, and we did mount them on the narrowest offset (5+2) wheels we could find, STI's HD 5 Alloys. Like the tires, these wheels add strength to the underside of the Maverick. The wheel spokes are nearly twice as thick as the stockers and come with a 1000-pound load rating.
With this tire and wheel combo, we got rid of the floating sensation we had with the stockers. The Maverick hooks up and accelerates harder out of the corners and tracks much straighter even at full speed. The stockers were looking for traction and would wander even at a top speed of 82 mph, which was not a secure feeling. The HD5 wheels come in gunmetal gray and black options, and the rings can be color-matched in blue, red, green, yellow, orange, gray and black.
For safety, we added a $159.95 on-board air system called a Power Shot Trigger. This is a 20-ounce CO2 bottle that has a push-on air chuck and lever that can be quickly attached to fill a low tire. The Power Shot Trigger kit comes with a storage bag and 10 tire plugs, glue and tools to make the repairs, plus a tire gauge. To make things even quicker, we mounted the CO2 bottle on a $79.95 quick-release fire extinguisher mount attached to one of the downtubes at the rear of the roll cage.
On the other downtube, we also installed a quick-release mount and $28.50 fire extinguisher. That product and both of the mounts came from www.sxsperformance.com. You can call them at (855) 797-7373. You can see more Powertank products at www.powertank.com, or call them directly at (209) 366-2163.
DOORS AND MORE
Can-Am gave the Maverick a great interior cabin. It has nice comfortable seats, a killer high-tech dash and sturdy steering wheel. What it lacks is a pair of doors, a roof and rear-view mirrors. It's the same products many manufacturers leave off their base-model UTVs. It's mostly a cost issue, but we take it as an opportunity to personalize our machine. For the roof and mirrors, we went through Assault and ordered their latest products. The roof is a single aluminum piece that provides full coverage and a sun visor. The roof sells for $350 and mounts quickly with a few clamps and looks great. Assault also has an awesome combo pack of rear-view mirrors. For $279.95 you get a huge convex center mirror and two Stealth side mirrors in black, white, green, red, yellow or orange. Being able to see out the back is crucial in any SxS, and the Assault products help you do just that for any brand UTV. Contact them at www.assaultind.com or call (714) 799-6711. For doors, we commissioned TurnKey UTV to build us a pair that matched the Manta Green color featured on the X ds Turbo Maverick. TurnKey specializes in Can-Am products, and they build them strong too. The $614.95 doors complete the driver's compartment nicely and look like they were built by the factory. We also added a $185.95 Manta Green seatbelt harness bar that TurnKey whipped up for the new turbo car. It has bend in it, allowing it to go over the intercooler. The cool thing is that on the bend, TurnKey welded on a GoPro mount as standard equipment.
Along with these trick products, TurnKey UTV has a host of parts and accessories for all Can-Am models, including chassis braces and trim panels. Contact them at (775) 883-1568 or at www.turnkeyutv.com.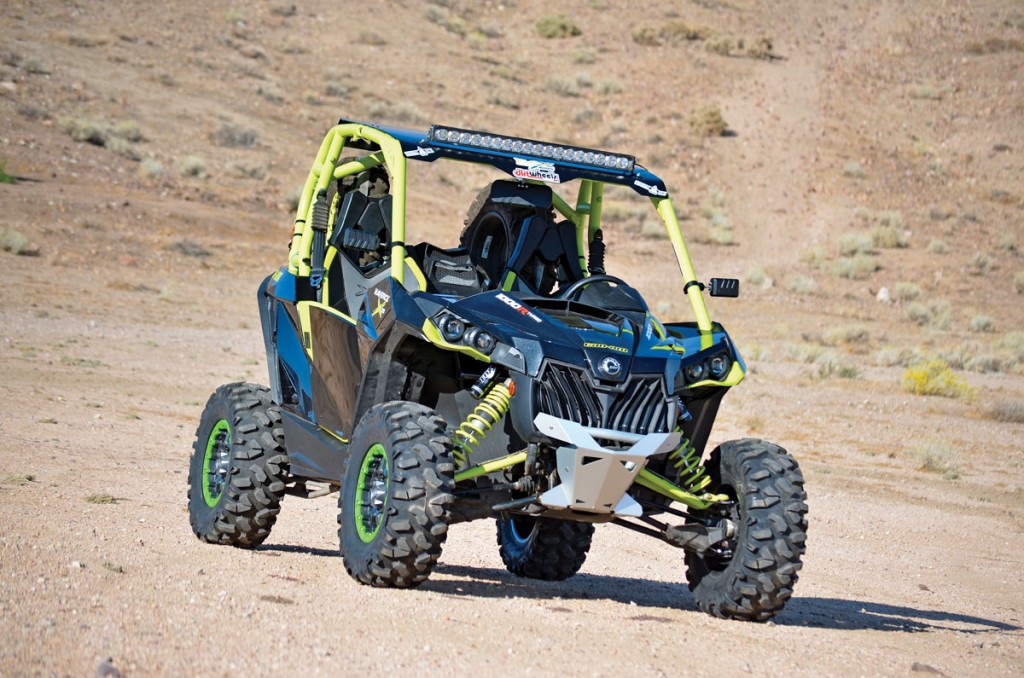 CAN-AM PRODUCTS
With most machines, shopping at the dealer can save you time and money. In some cases, you can add accessories from the manufacturer or even aftermarket into your loan if you are going that route. The dealer will sometimes include installation for free if you buy items such as an exhaust or tires and wheels the day you purchase
the machine. Talk to your dealer and see what kind of deals he will throw in if you buy the new machine from them. It's worth asking for sure. At our Can-Am dealer, Jet World Powersports in Castaic, California, we did just that. When we picked the Maverick up, we already had a host of BRP accessory products ordered up and included in the deal. Since we do all installations ourselves, we just had the boxed items strapped to the cargo platform and headed home.
From BRP, we did get a Baja-style spare-tire carrier and rear bumper. Since most of our rides take us far away from the truck and trailhead, we always carry a spare. And in this case, we can carry one of the stock front tires we took off when we installed the STI tire and wheel package.
The $359.99 spare-tire holder connects to the roll cage and to the $319 accessory rear bumper, and features a quick-disconnect ratchet strap attachment system so we can get to the spare before the dust even settles. The system will accept Pro Armor's Quick Shot jack system, too, but it is not included.
Inside the cockpit we installed a Garmin GPS system that was specifically developed with off-roaders in mind. For the Maverick, the GPS mounts in a small power cradle that got installed in an empty spot in the Maverick's dash. The GPS costs $649.99, and the dash trim plate and cradle will set you back another $70. The cool thing about this GPS unit is that you can actually pull it out of the car in case you want to go off trail on foot to do things like geocaching. Like other GPS units, you can plot courses, save waypoints and customize settings for whatever type of navigation you need to do. We like that more machines are coming with some version of a GPS system. When you know how to use them, they are a fun addition to off-roading. All of the Can-Am accessories we installed can be purchased at any Can-Am dealer. You can see their whole catalog at www.canamoffroad.com.
TRICKS AND TOOLS
Our upgrades were all great additions to the machine and make life on the trail a blast. To take care of any unforeseen issues that might arise, we put together a small toolkit and took some preemptive measures to make changing a drive belt painless. With any new UTV, you should always figure out how and practice changing a drive belt at home before your first ride. An unrepairable broken belt can turn any fun weekend into one you and your family will want to forget.
So, what we did was practice changing a belt. The car comes with a belt removal tool, but the process is still a big-time hassle if you are doing it for the first time. What we learned is, you can't change the belt if the engine is hot. Some of the lower CVT cover bolts are right behind one exhaust pipe. So, our first suggestion is to carry thick gloves in your tool bag. For our drier climate and riding conditions, we left a few of the lower cover bolts out of the cover for a quicker removal. We wouldn't suggest this if you ride in the mud, though.
Also, we picked up a push-pin removal tool at the hardware store, which makes removing all those black plastic fasteners easy to remove. Believe us, there is a lot of them on all Can-Ams. And, we always carry a small cordless impact driver and the correct socket to remove the CVT cover. You can pick up one of these for under $20 at any home improvement center, and they will both easily fit in the glovebox or can be stored under the seat.
CONCLUSION
The added power of the turbo-charged Maverick will surely help it attract buyers to the brand. The Maverick is faster off the line than a Polaris RZR XP 1000, has a nicer cockpit and features a much more aggressive look. The products we added from Assault Industries, STI, TurnKey UTV, SXS Performance and BRP actually make it fit the style of driving the Dirt Wheels staff does. We think you will agree. Stay tuned as we compare this unit to the Polaris RZR Desert Edition in the months to come. It's going to be a blast.