PROJECT UTV: CT Racing RZR 900, As fast as a 1000!
When Polaris introduced the RZR XP 900, it was the best UTV to ever hit the market. Five years later it's still a great car, and many prefer it over everything else out on the market because of its slightly smaller size and durability over current top-ofthe-line offerings from Polaris, Arctic Cat, Can-Am and Yamaha. Many have installed lots of upgrades in their 900, so they don't want to dump their car to grab up a 1000 then still need to shell out more cash to add personal touches. So to help the loyal XP 900 owners out there, CT Racing developed a high-output motor kit for the XP 900 and made it run right up against a RZR 1000.
HIGH OUTPUT
Their first order of business was dialing up some horsepower while still keeping it reliable. They wanted it faster, with more torque, while keeping the 900's bulletproof reliability. CT Racing gave the engine an overhaul as well as a tune-up. This particular car had about 2000 miles on it at the start of the project. We've seen motors with less than 2000 miles that needed rebuilding, and we've seen motors with 5000 miles and were still solid. This particular car was meticulously maintained, with service intervals done significantly more often than factory recommendations. The rod bearings and counter balancer bearings were in near-perfect shape, but they installed new ones anyway because they are inexpensive and they were in there and wanted to point out that if you've been changing your oil on a very regular basis, you should be good to go as well. We all run our machines hard in a very hostile environment for a motor to live in, so keep your internals clean with fresh oil and clean air filters. For this project the bottom end was just freshened up using the stock rods and so forth. For this type of build they are fine, but if you're building a fire breather with turbo or nitrous, you do have to upgrade the bottom end.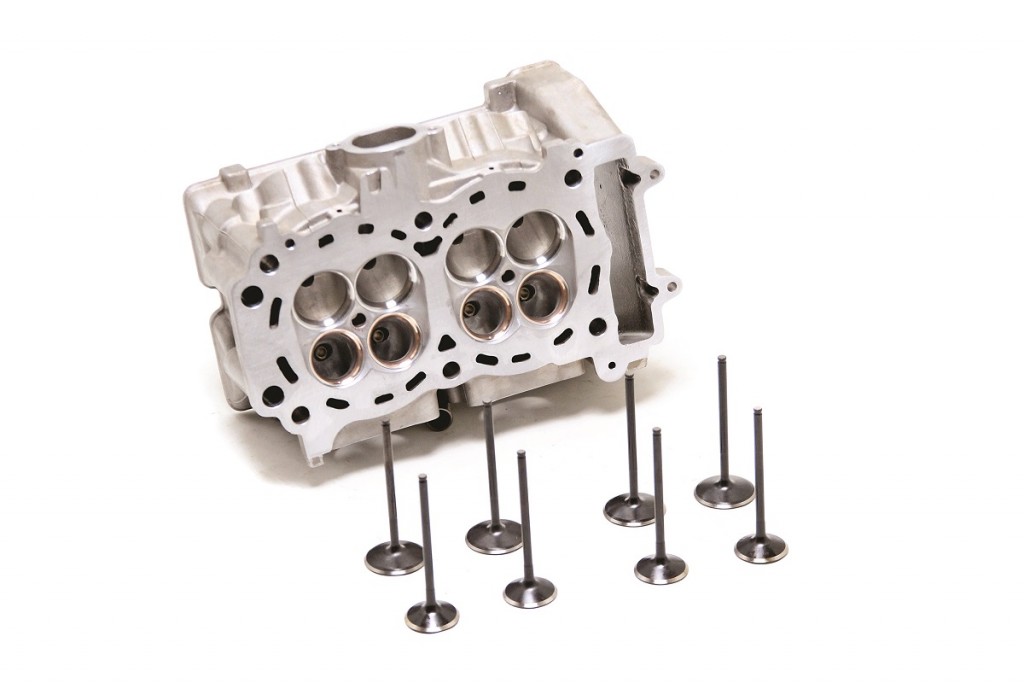 HEAD WORK
The head was where the bulk of the power comes from, so this is where CT Racing went to town. CT Racing CNC-ported the head to maximize flow in and out. Then they do their CNC five-angle radius valve job to fit the +1mm oversized exhaust valves. The five-angle valve job has no effect on durability; it just picks up the flow numbers. According to CT, durability comes from a concentric valve job (the CNC machine ensures that) and the width of the 45-degree angle that the valve contacts the seat. Reshaping the seat and port throat with the five-angle valve job increases flow with better angles that is far past what a factory head would have or most heads cut with non-CNC valve equipment. CT Racing bumped up the valve size 1mm at the intake, as well as increasing flow. To get all of these components working, CT Racing worked with Web Camshafts to develop a camshaft to work well within the power curve needed for this project. With the added lift, and to control the valves, CT used R&D Beehive valve springs. The Beehives put less pressure on the head of the valve and the seat at closing, and have the pressure to control the valve at high lift. Before installing a set of 11:1 JE Racing pistons, CT Racing diamond-honed the cylinder for a fresh-sealing surface. The engine will still run on 91-octane pump gas.
CLUTCH ISSUES
With the motor program in hand, clutching is the next issue. When you kick the power up, change the tire size or both, it changes the need for clutch weight. There are a lot of options for clutching; some companies like EPI can take your engine spec and tire and ship you a clutch package. CT went with the Alba adjustable clutch weight system. The upside to it is, you can dial in the rpm shifting exactly where you need it; the downside is, you may have to pop it apart and make a change. CT and Alba both have a pretty good database, so they should be able to offer a plug-andplay setup for anyone.
MORE FIXES
CT went with the Fuel Customs airbox for power gains over the stock box, and this was a large issue when they started running the horsepower up and it would tell us. The stock box was like running a restrictor plate at a non-restrictor track! Fuel Customs utilizes the stock front half of the airbox, but their back half has a much larger opening and adds a filter that pops up in the bed. It does come with a solid guard so you can still pack stuff around and in front of it without risking damaging the filter. Another secret to getting power from any EFI-equipped machine is fuel management, and CT uses a Vortex ECU. For sport quads or UTVs, the Vortex is arguably one of the best on the market. It lets the engine tuner have control over so many variables that they can really get what they want out of the package, including added rpm for more top speed, ignition timing and fuel curve to develop more horsepower and keep the motor cool. Even the radiator fan control can be manipulated. CT was able to develop fuel curves not just at full throttle, but at partial throttle settings all throughout the rpm settings, keeping control of heat and offering more horsepower.
HEAD-TO-HEAD TEST
We tested the CT Racing XP 900 on the flats of El Mirage dry lake against our stock Fox Edition RZR XP 1000 (this is the same car that outperformed the Yamaha YXZ1000R in last month's issue) to see how they stacked up against each other. On the flat, dry lake bed they were extremely close; the 900 was just slightly faster on the big end, but that's a big jump from most 900s. What the 900 had was more torque, and when we raced uphill in a sand wash, the 900 smoked the 1000 repeatedly by several car lengths. Sitting in the 900 and stabbing the throttle was a blast. You felt as if you were accelerating like a 1000 without the body roll of the bigger car. The CT high-output package is a great option for the tens of thousands of XP 900 owners out there who love their cars but want to keep beating their buddies who have upgraded to the XP1K. The complete motor package from CT Racing sells for less than $2200, so if you want to salvage what you have in your already-customized 900, this is the way to go. Give CT Racing a call at (562) 945-2453, or check them out at www.ctracing.com.