PROJECT UTV: FMX LEGEND RONNIE RENNER'S 200-HP RZR
A turbocharged thrill ride in the dunes By the staff of Dirt Wheels Photos by Pat Carrigan
If you're even somewhat familiar with the world of freestyle motocross, then we're certain you've heard the name Ronnie Renner before. If you haven't, then that's okay, we forgive you. Ronnie Renner, or "Ren Dawg" as he also goes by, is a legend in FMX, performing some of the most insane tricks and displaying some of the most radical skills we've ever seen—knocking down milestones like MX quarter-pipe world records and being the most dominant athlete in X Games step-up history. Renner is mainly known for his huge whips on his dirt bike, and his motto has been "I'd rather be in them all than win them all."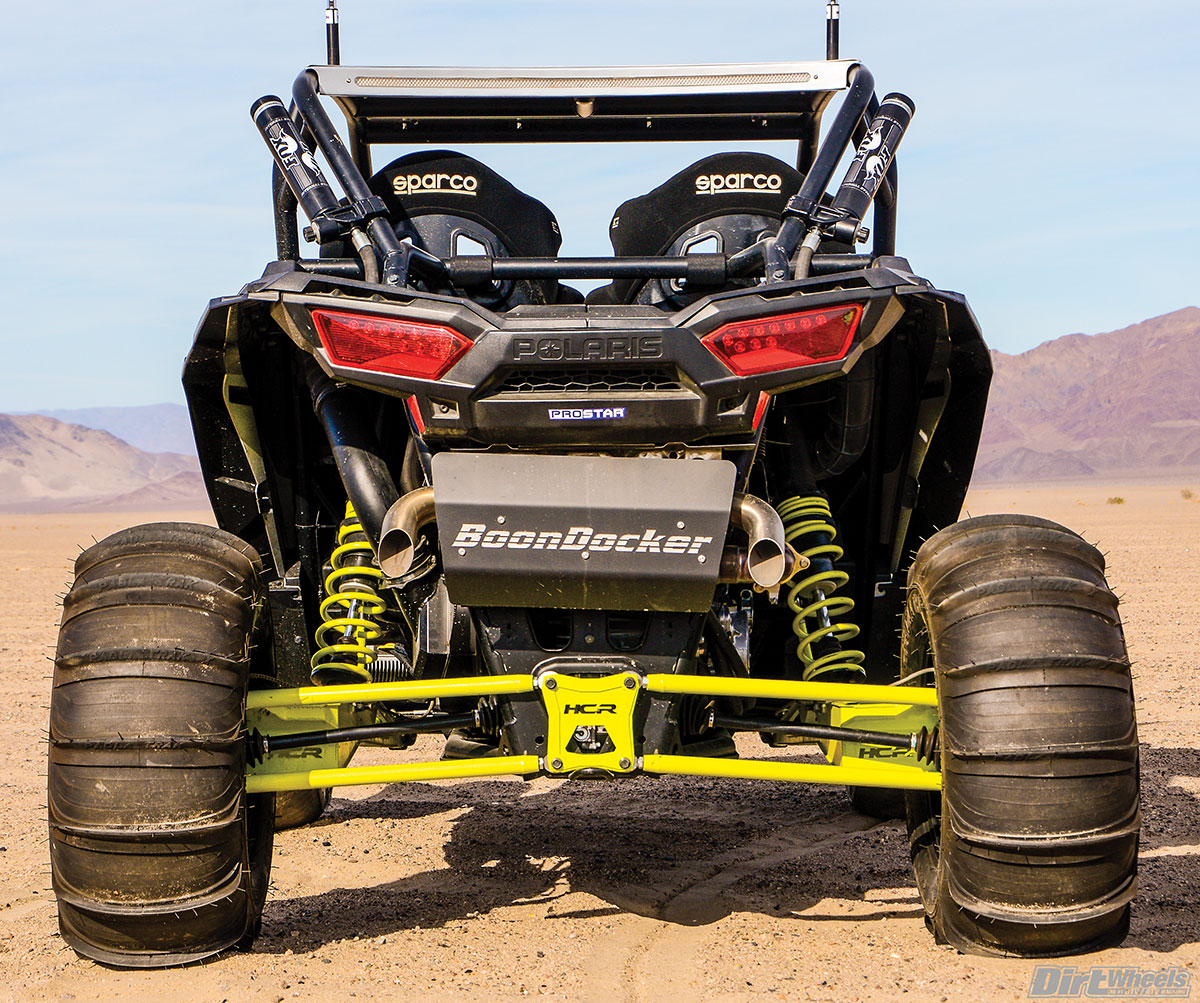 Renner is now going through somewhat of a transition phase, making his way into the driver's seat of some awesome UTVs. At 39 years young, most people use the phrase "with age comes a cage," but trust us, Renner is not afraid to push these cars to the same limits that he does his dirt bike. He's taking a full plunge into the world of UTVs. Whether it's racing short-course, running one hard in the dunes or going big on some jumps, Renner is fully committed. Polaris and a slew of other UTV companies came on board to help him with that pursuit of four-wheel happiness. We had the chance to test out his monster RZR in the dunes, and here's our takeaway of the machine.
THE GOODS
Renner's RZR is a very clean-looking masterpiece. Proline made a sick-looking wrap that completely brings the color scheme together. It might have some looks of a stock UTV, but once you get a wee bit closer, you'll start to see the trick aftermarket parts. HCR alloy A-arms and trailing arms caught our eye quickly. They're strong, and holes were added to reduce weight. Over an inch of ground clearance was also added. The Fox 2.5 shocks are stock from factory, and the springs were powdercoated to match the rest of the UTV. What gives this pony the power, you may ask? BoonDocker took control of the engine build for Renner by adding their turbo system. It features a large Garret turbo, BoonDocker in-cab turbo controller and intercooler. They also included a larger radiator to help keep the RZR cool. JE pistons were used to add better performance, and on top of that they help to create less heat. All of this together brings this RZR XP 1000 to 200 horsepower at 16 pounds of boost. To get the power to the ground, a Team Industries clutch was added. Since Renner likes to get a little rowdy while driving, SDR added a beefy front bumper, bolt-on doors and their strong cage. Also on the safety side, Ronnie added the Pro-ADV seats and harness from Sparco.
TIRED OUT
Fullerton Sand Sports helped Renner with the Sand Tires Unlimited front tires and rear paddles for carving the dunes. Method beadlocks were installed with the STU tires for looks and strength. Since the sun goes down too early in the winter, having a good set of lights to continue the fun after dark is a good idea. A Rigid Industries curved light bar sits on top with smaller Rigid Industries amber pod lights on the bumper. Whiptech made some great screw-on LED whip flags on top of the roof. Assault Bomber side-view mirrors are on either side of the RZR.
HAMMER DOWN
After filming Ren Dawg doing his thing in the RZR, it was our turn to test it! The SDR doors open extremely well, and getting into the cockpit can be a challenge for a bigger guy with the design of the Sparco seats. However, once you're securely in the seat, they give you a lower center of gravity. The Sparco felt secure, comfortable and had zero flex when hitting obstacles. The power on tap was absolutely addicting! By adding the BoonDocker Turbo and engine package, this RZR would pick the front end up off the ground as easily as a built sand rail. With the BD Turbo controller in your hand, it made it easy for us to change the turbo boost and check the gauges on the fly. The power was really apparent in the top end, but it pulled through the full-rpm range well. We did have to be a little cautious at first since the RZR had a new belt installed, but after some time on it, we felt comfortable to stomp on that loud pedal everywhere.
Compared to a stock RZR, Renner's car was a Cadillac in the dunes. The stock Fox shocks were plush—sometimes a bit too plush when landing off a jump. They were stellar in the whoops and fast flat sections. The HCR arms helped in the handling of the UTV. Pitching it hard into a corner is usually unnerving in a stock UTV, but we could do this at any speed we wanted. We drove Renner's RZR exclusively in four-wheel drive—that's a big advantage in the dunes, even with less lugs on the front tires. The STU rear paddles created immense traction, and the fronts split the sand down the middle for great turning. The Method wheels have a wider offset, which gave the car a more stable feel in the corners. Luckily, we didn't test out the strength of the SDR cage, and that's never a thing we want to do, but it is reassuring to know that it's made from strong material.
CONCLUSION
Renner's RZR is a rad dune-slaying machine. It complements him well, as Ronnie always pushes his own personal limits. It's built with precision, and every part has a purpose. It's hands down the most powerful UTV we've driven thus far and one of the most fun we've had in the dunes. Ronnie and Polaris have solidified a great relationship together, and it shows with this build. He is already racing UTVs in short-course races and is placing high in the field of pros already. With his grit, determination, positive outlook on life and these great companies behind him, we're certain that you'll be seeing Mr. Ren Dawg making a big splash in UTVs very soon!
RENNER RZR PARTS LIST
Assault: www.assaultind.com, 714-799-6711
• Bomber series side mirrors: $239.95 per mirror
BoonDockers: www.boondockers.com, 877-522-7805
• GTX 2680 turbo system: $6,274
• Complete engine build with Carrillo rods,
• JE 9.5:1 pistons: $3,289.55
• Big radiator kit: $450
• Billet throttle adapter kit: $239.95 Labor: $600
Fullerton Sand Sports: www.fullertonsandsports.com, 714-484-5996
• STU Desert Trak front tire 12-15: $265.99 per tire
• STU Padla Trak rear tire 13-15: $375.99 per tire
HCR Racing: www.hcrracing.com, 888-928-7223
• Elite OEM stock A-arm/trailing arm replacement kit: $3,499
Method: www.methodracewheels.com, 866-779-8604
• 406 UTV beadlock aluminum front 15×8 wheel: $255.50 per wheel
• 406 UTV beadlock aluminum rear 15×10 wheel: $262.50 per wheel
Proline Wraps: www.prolinewraps.com, 818-348-3120
• Graphics wrap: Price varies
Rigid Industries: www.rigidindustries.com, 855-760-5337
• RDS Series light bar: $1,649.99
• D-Series pod lights: $139.99
SDR Motorsports: www.sdrmotorsports.com, 800-277-2280
• XPR-2 Sport Shorty cage: $1626.99
• Rear five-light panel: $649.99
• Top light pocket: $229.99
• Hi-Bred bolt-on door set: $749.99
• Duner front bumper: $394.99
• Front bolt-in grille: $139.99
Sparco: www.sparcousa.com
• Pro-ADV racing seat: $995 per seat
• Six-point harness belt: $375 per side
Whiptech: www.whiptechled.com, 760-717-4112
• 6-foot multicolor LED whip flag: $125 per whip flag