QUADZILLA vs. LT-R450: DUNCAN RACING SHOOTOUT
2-stroke vs. 4-stroke blast from the past
QUADZILLA vs. LT-R450: DUNCAN RACING SHOOTOUT
Dune season is right around the corner. We know you're itching for cooler weather so you can migrate back into the desert. Now is the time to polish that chrome, freshen that engine, and get out your flags. To go along with this theme, we thought we would take our next old-versus-new quads out to the sand to see how they work.
As with our last two-stroke versus four-stroke feature in the April 2011 issue, Duncan Racing prepared two beautiful samples of Suzuki's finest ATV offerings. A totally customized LT-R450 was our four-stroke contender, while the all-time king of the dunes, the Suzuki Quadzilla 500, was our two-stroke contestant.
Suzuki first built the Quadzilla 500 in 1987, the same year Yamaha introduced the Banshee 350. For its time, it was a monster of a machine. In stock trim, it not only had a bigger engine, it had a bigger chassis than any other ATV. At 75.6 inches long and 47.4 inches wide with a 53-inch wheelbase, there was no need to install wider A-arms, so most Quadzillas remained in stock trim. Although this machine was only around until 1990, there are still tons of them for sale around the country in immaculate condition.
DUNCAN TWO-STROKE
The Duncan machine we tested was a 1990 model and modified over the years. Of course, Duncan did pay particular attention to the engine. It has one of their national kits ($1500) installed, which includes a Paul Turner Racing pipe, Fat Boy 2 silencer, Duncan porting, Powerhead, Pyramid reed valve, 39mm Keihin PWK carburetor, and K&N filter.
That filter gets clamped onto a $110 Duncan Racing clamp-on filter housing inside the stock airbox. Suzuki's stock filter setup was the weak link of this whole quad. It sandwiched the filter on and never sealed properly, so when people took their quads to the dunes, blown motors were very common.
Duncan Racing made a good portion of business fixing those blown motors and developing the proper fix to prevent any failures. Thanks to Duncan's clamp-on filter, many of these 499cc two-stroke powerplants still run great today. Duncan also found the D-shaped slide of the Keihin worked much more efficiently than the stock flat-side Mikuni carb.
Plus, the Keihins are easy to tune—so easy that Duncan pre-tunes all of the carbs they sell depending on a customer's particular setup and riding environment. Duncan Racing also offers unlimited tech support at no charge to customers that buy a carb from them. Try getting that from a discount store on the Internet.
QUADZILLA vs. LT-R450: DUNCAN RACING SHOOTOUT
MONSTER CHASSIS
To keep all of the two-stroke power under control, Duncan installed a two-inch-plus Leagers swingarm on this monster. From our experience with this machine, without it you would wheelie over backward with every stab of the throttle—it has that much power.
Especially since this machine was meant for the dunes and climbing hills, that extra stability was a must. Plus, the stock Suzuki swingarms were notorious for breaking chain-adjustment bolts and cracking the aluminum welds. This Leagers unit has a simple Honda-style bearing carrier and chain adjustment and was fully chromed, as were the stock front A-arms. Elka Stage 4 shocks were mounted at both ends, replacing the outdated standard Suzuki equipment.
The saddle is a huge T-shaped design with a One Industries cover. The vibration was a big problem with these motors. To combat this, Duncan installed an anti-vibe GPR steering mount and a set of Fasst Co Flexx handlebars. It worked. Vibration levels in the hands were nonexistent. The footpegs were left stock. Unfortunately, on this kickstart machine, the throw of the starter prevents you from having any type of heel guard. We wish the big machine at least had a fatter set of footpegs, like the Roll Design units found on the four-stroke machine in this test.
Duncan had the stock rear grab bar chromed and installed a chrome DR front bumper on this machine. All of the chroming on this project was done by Pacific Plating. To bring this Suzuki into this century, DR installed Crown Series brake lines, Works Connection levers and perches, and a Motion Pro twist throttle with Spider grips. Skat Trak Extremes (rear) and Mohawk front tires mounted on DWT wheels provided the footprint on both machines.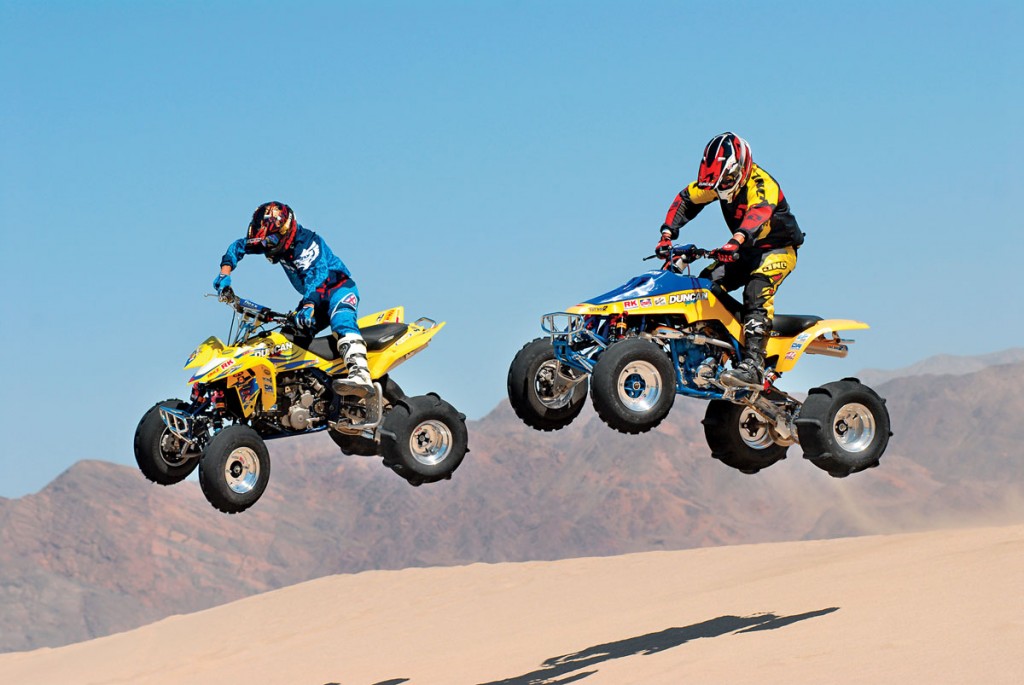 QUADZILLA vs. LT-R450: DUNCAN RACING SHOOTOUT
DUNCAN FOUR-STROKE
The thumper in this test is a 2010 Suzuki LT-R450. It wasn't stock; it would have gotten smoked if we left it stock. While this current-generation Quadracer is good on the tracks, it needs help elsewhere. In the dunes, it's mandatory to change tires. The stock 18-inches on this yellow machine were swapped out with 22-inch Skat Trak Extremes in the rear. Also in the back, the stock shock was replaced by an Elka. The front end featured two more Elkas mounted to a set of Roll Design A-arms.
Like the Quadzilla, the front end of this Suzuki was equipped with Crown Series brake lines, a GPR mount, stabilizer, and Fasst Co Flexx bars. A Works Connection lever and clutch perch are mounted on the left side of the Flexx bars, while another Motion Pro twist throttle is attached to the right. A DRI graphics kit and front bumper were used. For rider comfort, Roll Design footpegs and heel guards were bolted to the Suzuki frame.
Duncan Racing increased the displacement on this four-stroke up to 500cc to help be competitive with the big two-stroke. To fit an extra 50cc in the top end, a stroker crank was dropped into the bottom half.
Duncan charges $969 for a cylinder bore, replating, big-bore piston, stroker crankshaft (with exchange), and gaskets. On the top end, their national porting package ($1650) includes porting, valve-seat cutting, 1mm-larger intake and exhaust valves, new valve guides, heavy-duty springs, and a pair of billet camshafts.
They also bore the throttle body slightly to 46mm. The ignition was also upgraded with a fully adjustable Vortex X10 ECU engine control unit for $699. All of the ignited and burnt fuel finds its way out of the engine through a full Fat Boy 4 stainless/aluminum exhaust system on the back end.
QUADZILLA vs. LT-R450: DUNCAN RACING SHOOTOUT
SIDE-BY-SIDE RIDE
After unloading these two 'Zukes, we headed to the drag strip. We were as curious as you are now to see which one of the quads was faster. We did run after run, and the older Quadzilla was always faster. In a short uphill section, we clocked the two-stroke Quadzilla doing 68 mph climbing the hill. Right next to it, the four-stroker could only muster a 64-mph reading.
They both got a good launch off the line; it was actually easier to shift the two-stroker. Both Suzukis had arm-jerking power down the drag strip. We could actually feel the newer four-stroke running out of gearing. Duncan tells us it could pull at least a two-teeth-larger gear in the front. We believe that would have had them running neck and neck. The LT-R450 was running a 13/36 Sunstar setup.
It was amazing how a machine developed over 25 years ago could run side by side with today's best technology. Imagine what kind of machines we would be riding if the manufacturers never abandoned two-stroke powerplants.
As far as the chassis goes, the four-stroke had one of the best setups you could get with the Elka/Roll combo, so we didn't think the Quadzilla would be any fun carving the bowls and hitting the dune jumps at Dumont. We were surprised. The two-inch-plus-longer Leagers swingarm was the perfect choice to replace the stocker.
It was long enough to hold the front end down under hard acceleration, but not too long as to hinder turning. Even with the straight-ribbed Skat Trak paddles on this beast, you could still throw a monstrous roost. Turning was not twitchy or slow like we had experienced on some of the older models we have tested lately, and we really liked the T-shaped seat for hanging off to one side or another.
The only thing we didn't like about the Quadzilla is that it had skinny footpegs and no heel guards. You could still outrun the Quadzilla in the dunes with the lighter four-stroke (368 pounds dry versus 410 pounds dry), but it wasn't an easy task. The bigger two-stroke just wasn't as light over the razorbacks or forgiving across the G-outs. But for the most part, the Elkas mounted to the stock front A-arms on this animal worked great.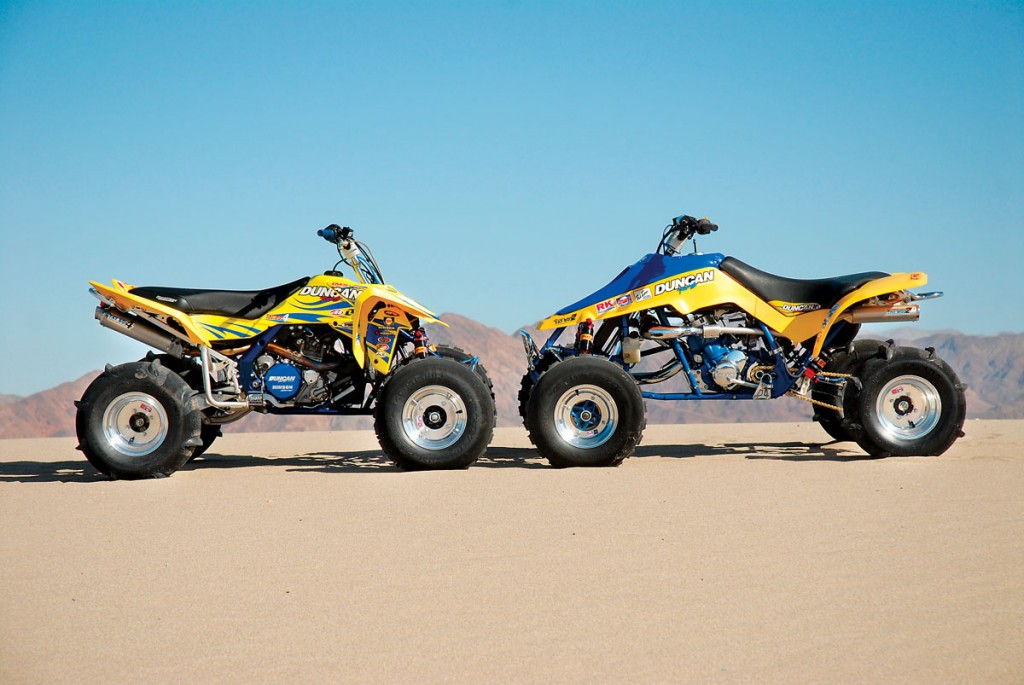 QUADZILLA vs. LT-R450: DUNCAN RACING SHOOTOUT
CONCLUSION
One thing you will notice if you add up the costs of certain modifications—especially in the engine compartment—is how little investment it takes to make the big two-stroke rideable. Even in the chassis department, with its already wide stance, the Quadzilla performs very well compared to the new four-stroke. We think this was the closest race yet in our old-versus-new series.
Although the LT-R450 worked nearly flawless in every way in the dunes, the older two-stroke Quadzilla was never far behind. And in some cases, we liked it better. If we saw a used Quadzilla for a good deal and we had a dune trip planned, we would buy it. But first, we would take it to Duncan Racing for a tune-up.
You could probably buy two Quadzillas for the price of one fully built Quadracer LT-R450, though that's not to say we wouldn't want to bring one of those with us too. To have Duncan Racing build your next retro or modern-day quad, give them a call at (619) 258-6306 or log onto www.duncanracing.com.
To subscribe to Dirt Wheels Magazine in print or digital form click here https://hi-torque.com/product/dirtwheels.