RACE EVENT: Bako Sand Drags
As an ATV sand-drag track racer from Oregon, I keep the last weekend of February permanently marked on my calendar. That's the weekend of the annual Bako Sand Drags in Bakersfield, California. It is the earliest opportunity of the new year for us drag racers to shake off winter and get back to the sport we love in weather that's usually around a sunny 70 degrees. This year was no exception. Over 200 ATV race enthusiasts of all ages and skill levels, hailing from California, Arizona, Nevada, Oregon and even Puerto Rico lined up in the Bako track's staging lanes at the Kern County Fairgrounds to enjoy four days of testing, racing and entertainment.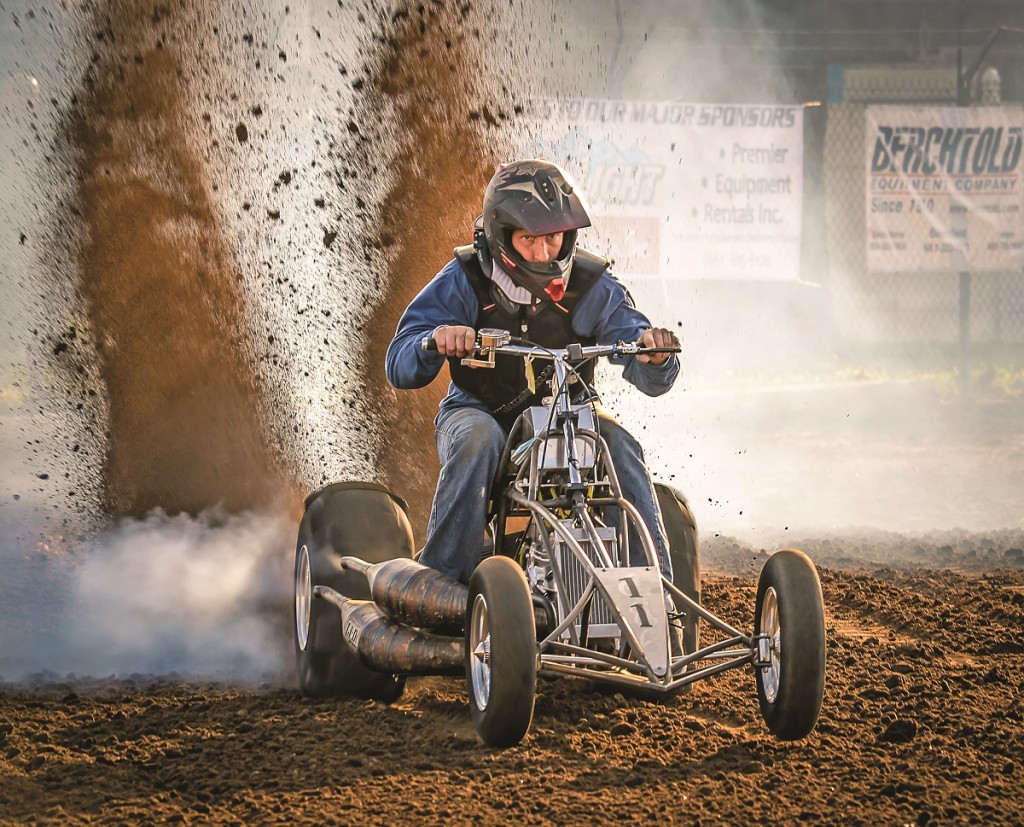 ALL ABOUT DRAG RACING
Bako provides a good time in a safe, friendly, relaxed and professional racetrack atmosphere for all ages. Each day starts with machine testing. Racers run the carefully groomed, super-fast track as many times as needed. Launching at the NHRA-style drag race, starting lights, fine-tuning, and tire testing are important to do if you want to win. The rest of the day is all about racing, extending into the night, under brights lights, which is an amazing time to race! There are race classes starting from beginner to pro. Drag racers average an elapsed time from the three-second-plus range for some of the custom nitrous rides to around 6.5 seconds for stock quads. My pro, stock YFZ450 runs a 4.7-second elapsed time, but I dropped it down into the 4.63-second range due to having better starts off the line and mechanical improvements that we made to my ATV this winter. Race categories include kids' and first-timer races, the popular sport and pro bracket racing, heads-up racing classed by engine cc, and, my favorite race to enter, the intensely competitive Pro Index Heads-Up races. There was even a fun Doughboy race this year where riders had to weigh more than 250 pounds to enter. Raceentry fees range from $25 for testing and kids' races to $40 for Sport races. The upper classes cost $60 for Pro, Heads-Up and Index races.  First- and second-place winners received sweet plaques, in addition to bankable awards for Pro races.
PUTTING ON THE SHOW
Long-time Bakersfield racers Robert and Christy Garnas are the owners and promoters of the Bako Sand Drags. The event has been held annually since 2007, with help from sponsors like Coors Light, Ultra Gro Plant Food, RBT Motorsports and a number of local businesses. The event is part of the Central Valley Sportsman Boat and RV Show, so there's camping, plenty of food vendors and a good time with your family and new racer friends. There is a trout fishing pond, a tractor pull show on Saturday night, and this year they even raffled off a 250R at the track on Sunday! Bako is a great opportunity for any rider who's ever wanted to try sand-drag track racing. Be warned: sand-drag racing is a very addicting sport because it's a lot of fun! For information, go to www.facebook.com/bakosanddrags. We hope to see you lining up at the lights at the next event! Stay tuned to Dirt Wheels for upcoming sand-drag articles.