READERS SEND IN THEIR BEST: SAND DUNE PHOTOS
HUNDREDS OF GOOD PICTURES TO CHOOSE FROM
Riding the dunes on a quad is one of the best feelings there is. In this environment, no other kind of vehicle can match an ATV for carving, jumping and roosting to the top of the tallest hill. Once you've been there, you just have to go back and do it again. For some people, it's an addiction they just can't kick.
We asked our readers to send in photos that illustrate why they ride the dunes. Tons of e-mails and envelopes poured in. Why do we get the biggest response when asking for sand dune riding photos? Take a look for yourselves and you'll see why. How could any normal human being not want to be in those pictures, riding free across nature's playground like the wind? It's what man was meant to do.

Jim Canada pitches it sideways at Utah's Sand Hollow. Cherri Steele, Las Vegas, Nevada.

(Left) California's Dumont Dunes is the pot of gold at the end of this rainbow. Jerry Hilger, Elk Grove, California. (Right) Dorr Fey climbs a Dumont Dune on his Quadzilla with a Kawie 972 street bike motor. Tara Fey, Coarsegold, California.

John Ellis of Dayton, Ohio throws a Raptor Roost at Michigan's Silver Lake Sand Dunes.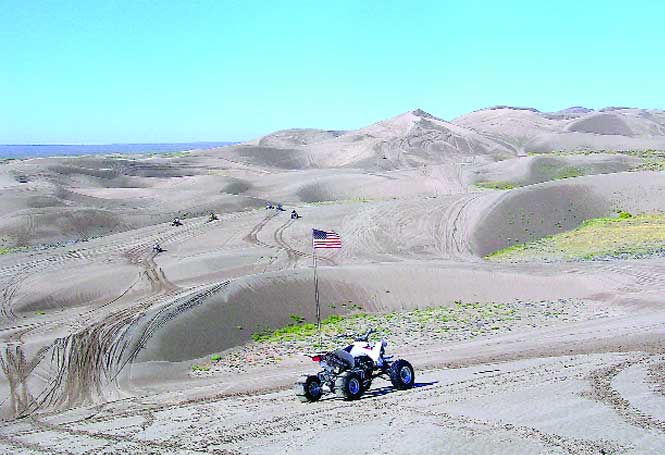 St. Anthony Dunes in Idaho. Steve Roberts, Corvalis, Montana.

The unique scenic splender of Oregon Dunes. Chad Burke, Arlington, Washington.

"I'm giving it gas, so why won't it go?!", says Gene at Glamis. Martin Harer, Tucson, Arizona.

Chris Little of Tulare, California, rearranges some sand at Pismo.

Larry Abo climbs Choke Cherry Hill on his Quadzilla at St. Anthony Dunes in Idaho.