THE BEST VALUE IN USED ATVS IS THE YAMAHA RHINO
Buy it, modernize it, and have fun without the expensive monthly payment.
— Giving a modern touch to a bulletproof UTV, By the staff of Dirt Wheels —
If you're looking for a cheap used alternative to the ever increasing cost of purchasing a new side-by-side, it probably doesn't get any cheaper than this – Find yourself a Yamaha Rhino.
Yamaha has always known to look outside of the box when it comes to producing new and exciting machines. Starting with the original DT1 in the 1960s, Yamaha has consistently created performance machines that shape the future of off-road vehicles, like the Banshee, Raptor, YZ400 and the YFZ450 to name a few. They are never scared to throw knowledge, design and futuristic flair into every machine it produced. In 2003 a new class of what would end up being UTVs was born. But back then, the classification was called "RUV" (Recreation Utility Vehicle), and who was at the forefront of this new era of machines? You guessed it, Yamaha. The machine was the Rhino 660, which was then followed by Yamaha releasing the Rhino 450 in the same year. At the time of its conception, the Rhino excelled compared to the much heavier/slower UTVs of that era, like the Polaris Rangers and Kawasaki Mules. With a more powerful engine, nimble independent suspension and higher top speed, the Rhino was the future. It was so popular, in fact, that Yamaha sold well over 100,000 Rhinos from 2003 to its demise in 2013 when the Viking replaced it.
The other cool fact is that the Rhino ignited the aftermarket, and eventually there was an immense amount of aftermarket parts available. If you didn't have a Rhino that had cool rims, a cage with an extra seat in the bed, long-travel suspension and a bumping sound system, you were out of the cool club. Even though the Rhino is one tough and versatile machine in stock trim, some of these aftermarket companies made it even more enjoyable.
Former associate editor Colt Brinkerhoff's father happened to have a 2008 Yamaha Rhino 700 that remained mainly stock, but did feature some wheels, tires, a rear cage, extra seat and a light bar. It's not as fun to drive as the newer machines for a lot of reasons, mainly power, suspension and creature comforts. Our mission was to give this Rhino a new life by adding some simple bolt-on parts to make it more modern, because there are still hundreds of thousands of Rhinos that are paid off and are still being used today. Those owners love their Rhinos and are looking for something to make them even better!
NEW LEGS
This 2008 base model came with painted, non-serviceable shocks that offered only preload adjustment. After a while, and with the weight of the aftermarket rear cage and seat, they were better off as pogo sticks.
Our friends over at Walker Evans have Rhino OEM replacement shocks. They are billet-aluminum, 16-way compression-adjustable with a piggyback reservoir, 1.75-inch shock body and offer preload adjustment. When we ordered the shocks, we let the experts at Walker Evans know that the Rhino had an aftermarket rear cage and seat, and the shocks came with the correct valving and springs for that added weight. They were simple to install and took about 30 minutes total for all four shocks. Oh, and did we mention they only cost $299.99 per shock? This is one of the best deals we've come across for upgraded shocks!
NEW SHOES
The ITP SS212 wheels and Maxxis Bighorn 2.0 tires would still work, but they were a bit beat up. Sedona provided us with their 14-inch Spyder aluminum wheels and 26×9-14 Rip Saw R/T tires. These gave it a more modern look, as many of the new UTVs come stock with 14-inch wheels and the same size tires on each corner. The Rip Saws are six-ply rated, have 1 1/8-inch-deep lugs and offer tread on the sidewall to increase traction in corners. We went with the 5+2 offset on the Spyder wheels for handling purposes. When the center of the wheel is in line with the spindle, any rig will handle more efficiently.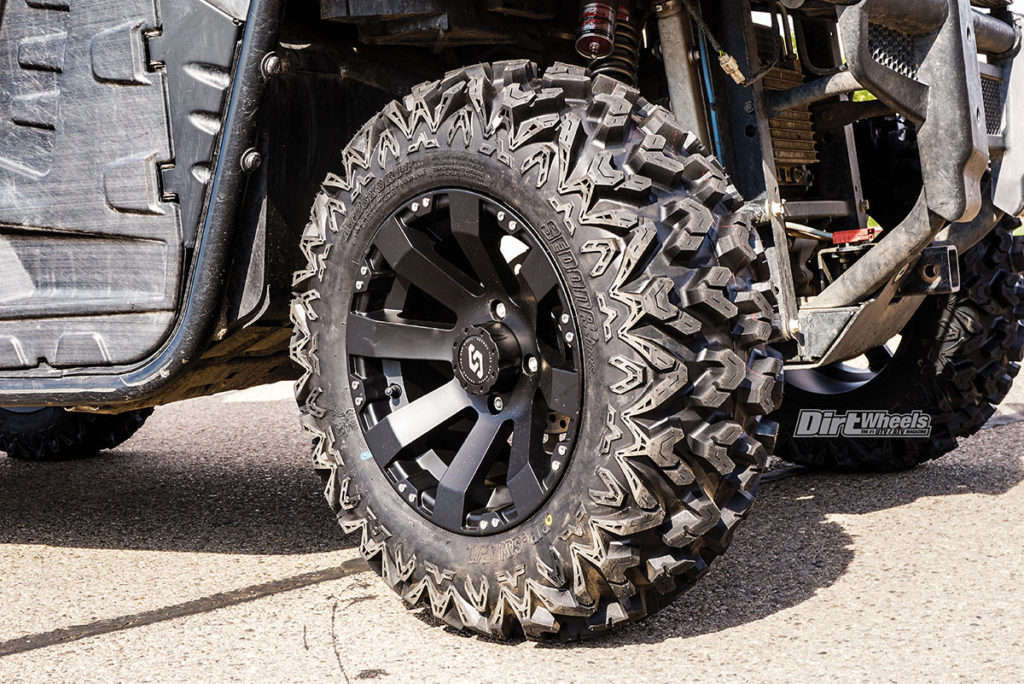 NEW TURNING
And last, we are spoiled with new UTVs, since virtually every model comes stock with power steering. The Brinkerhoff family despised driving the Rhino for that reason, especially in four-wheel drive or the dreaded feeling you get when you drive one in four-wheel differential lock. It makes the Rhino feel like it weighs the same as an actual rhinoceros, and it will rip the steering wheel out of your hands if you hit an obstacle aggressively.
Rocky Mountain ATV offers a trick kit to solve this cumbersome problem with their house-brand Tusk electronic power steering kit. It comes with everything we needed to upgrade this old Rhino, including a 220-watt electric motor that is speed sensitive and adjusts to more torque or resistance from the wheels. It also came with clear instructions, hardware, steering shafts and a wiring harness to make it a seamless install. This entire kit is sealed, which protects it from water, dust and other debris. All in all, it took about 2–3 hours total to mount this system up to the Rhino. This kit retails for only $589!
A WHOLE NEW WORLD 
Like we mentioned, the Rhino was a workout to drive. With the shocks blown, it handled poorly and rode worse. The lack of power steering made the machine unpredictable and, at times, would give us some pretty good steering-wheel burn, and the wheels and tires were starting to get worn out. But after these modern upgrades, it was one of the most enjoyable rides we've been on in a long time.
The biggest improvement had to be the Tusk power steering kit. It didn't matter if we were in two-wheel drive or going to the extreme of four-wheel-drive differential lock, the 220-watt electric motor turned those front tires just the same. We no longer felt like we were in a tussle with an actual rhinoceros when in nasty rock sections or high-speed sections. It was something that we wish Yamaha would have done in stock trim, and they would have probably sold even more Rhinos!
We couldn't believe the performance the Walker Evans shocks provided. The Rhino was now standing on its own four feet, and it could float over whoops and conquer rocks without us feeling the repercussions of the OE shocks. At $699 a pair for these shocks, they are worth every penny. The Rip Saw R/T tires are great in every terrain we tested them in. They worked great on hardpack desert terrain, excelled in rock crawling and performed extremely well in the mud during an elk hunting trip. However, they did throw quite a bit of muck into the cab, so we suggest getting fender flares and some mud flaps if you decide to go with a more aggressive tire.
WHAT A MACHINE! 
These upgrades proved to be an amazing combo for the Rhino. For less than $3800, you can do these same upgrades and have a much more relaxing ride. The Brinkerhoffs now love to drive the Rhino, when before Colt's father Val was ready to sell it and upgrade to a new UTV. But, with how low the cost was on these new and improved parts, it made much more sense for the hunter to keep this awesome machine in the family so it can be used for many years to come.