THE MIGHTY TIGER 500
The fastest 3-wheeler
By the staff of Dirt Wheels
THE MIGHTY TIGER 500
What was the fastest 3-wheeler? That distinction has to be the Tiger 500. So, you say you never heard of the Tiger 3-wheeler brand? Well, that's understandable. It wasn't a very large company, but you could buy machines from them between the years of 1983 and 1986. The company was founded by Peter Wood, so the story goes, and the Tiger factory was in Minnesota.
The company made their own frames and plastic, and they installed 2-stroke engines from Rotax. The Tiger 500 had the big air-cooled 2-stroke motor that cranked out lots of explosive horsepower, as one might guess. You could also buy a 250cc, 200cc, and 125cc Tiger that used liquid-cooled 2-stroke engines. There is evidence that they also made a 4-wheeler 250 briefly before the company folded.
THE MIGHTY TIGER 500
The Tiger 500 pictured at the top is owned by Dale Shively. His wife says it is his pride and joy.  It's easy to understand why, because of its fame and rarity. There just aren't too many Tiger 500s around today, since there wasn't a ton of them made, to begin with.
The production run was nowhere near the quantity of Honda ATC250Rs. Tiger 3-wheelers were basically made to special orders, meaning they may not all be exactly the same. The majority of them may have been ordered by racers.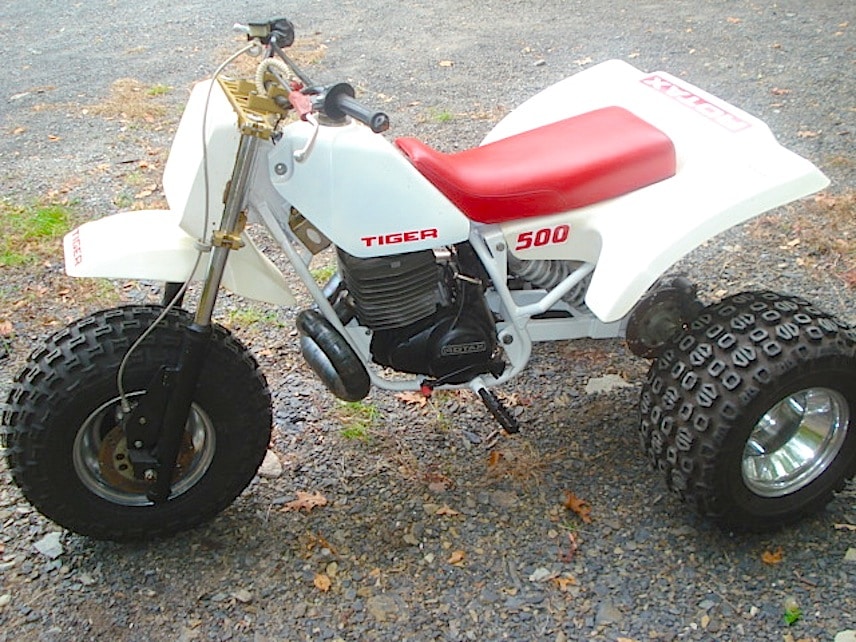 Here's another Tiger 500 which was tested by Dirt Wheels back in the day.
As the Dirt Wheels crew found out back in 1984, the Tiger 500's big 2-stroke motor had more power than you'd ever need.  You certainly made sure you had it pointed where you wanted to go when you pulled the trigger.
THE MIGHTY TIGER 500
These days it has become increasingly popular for ATV riders to find old 3-wheelers and restore them back to like-new condition. That is a good thing because it gives young riders a chance to see what the sport was about before the change over to quads.
There are still plenty of people who maintain a passion for riding 3-wheelers even though they haven't been in production for over 30 years. Many race tracks have started to include 3-wheeler classes again based on the increased interest and growing number of entries.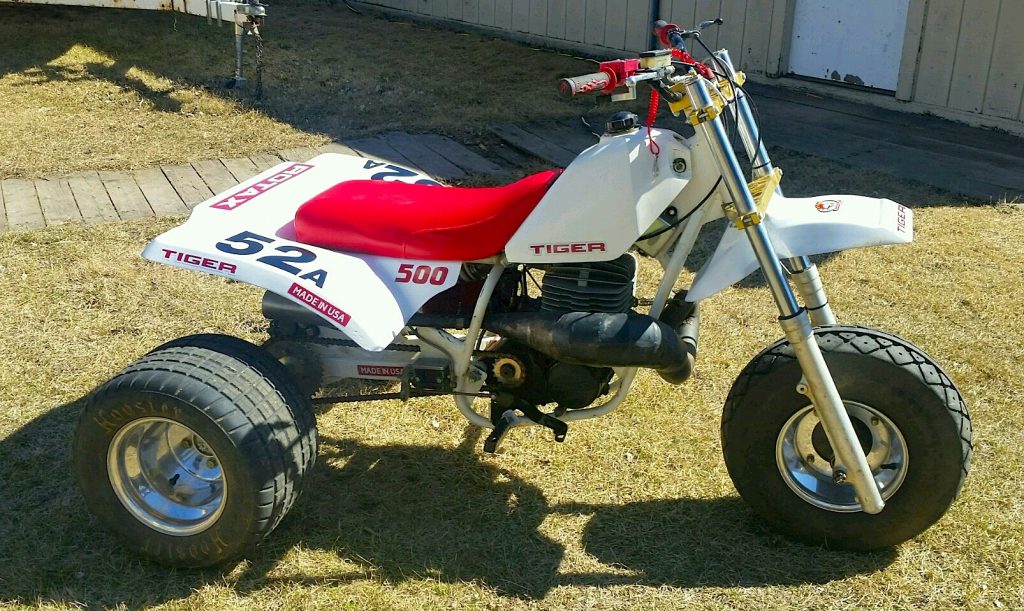 MORE 3-WHEELER ARTICLES BELOW:
https://dirtwheelsmag.com/3-wheeler-news/
https://dirtwheelsmag.com/look-back-from-the-honda-us90-to-the-atc250r/
https://dirtwheelsmag.com/baddest-mud-atc/
https://dirtwheelsmag.com/1985-honda-atc250r/
https://dirtwheelsmag.com/street-legal-atc450x/
https://dirtwheelsmag.com/1985-yamaha-tri-z-250-2/
GET YOUR $25 GIFT CARD> https://hi-torque.com/product/dirt-wheels-holiday/
To subscribe to Dirt Wheels Magazine in print or digital form click here https://hi-torque.com/product/dirtwheels.
.
.