HISTORY LESSON
TOP 10 ATVs OF ALL TIME
   Over 40 years have passed since Honda introduced the first ATV—the 1970 ATC90. This machine takes credit for starting the segment of the off-roading sport we all love. According to Honda, the industry sold over 6.5 million three- and four-wheelers in the first 30 years. In the last 10 years, four-wheel ATVs and now UTVs are still selling and offering millions of owners fun-filled family-friendly excitement. Following is a look at some of the machines that helped shape our sport into what it is today.

1970 HONDA ATC90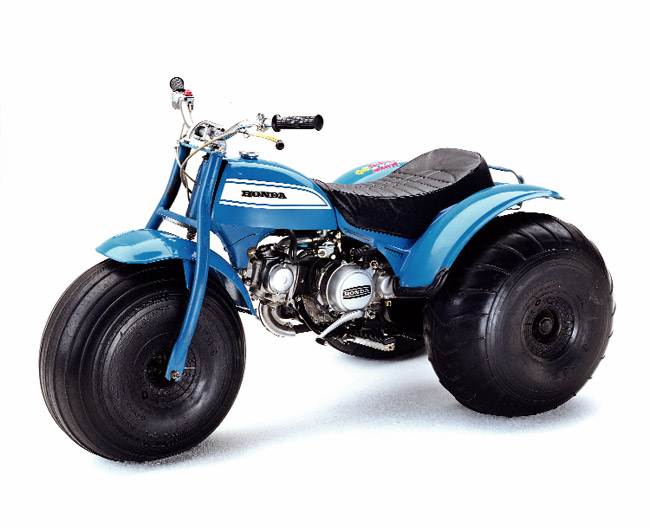 During its development, the ATC90 was known as the US90 or ATC90. The All Terrain Cycle (ATC) provided the opportunity for riders to easily tackle deep sand and mud. The three-wheeler had no suspension (except for balloon tires) and an air-cooled, SOHC, four-speed engine with a recoil (rope-pull) starter. Another unique feature is that the machine had folding handlebars, an easy-to-remove hub and wheel assembly, and a pull-apart rear axle so the unit could be broken down and placed into the trunk of a car. Early colors were blue and yellow for a price tag under $600.
1982 SUZUKI LT125


Suzuki entered the market over a decade later with two three-wheelers and the first four-wheeled QuadRunner 125. The quad had a five-speed transmission and a reverse gear. At this time, people were still in love with the three-wheeler, but Suzuki had the forethought to come out with something new. Even today, they use the claim, "First On Four Wheels." The 125 was very compact, with a chassis the size of a modern day TRX90. We still see these machines used as pit vehicles at races.

1985 SUZUKI QUADRACER 250


Even though Honda's 250R (1986-1989), outsold and outperformed the QuadRacer, this machine takes credit for introducing us to modern-day quad racing. It had a fast, liquid-cooled, two-stroke engine, high-performance shocks (for the day) and racy bodywork (when trimmed). Early QuadRacers were raced by some of today's industry executives. Dirt Wheels Editor Cain Smead piloted a 1985 QuadRacer 250 over 20 years ago. The QuadRacer 250 was last available for sale in 1992.

1987 YAMAHA BANSHEE


Instead of battling Honda, Suzuki and Kawasaki in the 250 racing game, Yamaha went after the dune crowd and had an instant hit. The Banshee put Yamaha on the four-wheeler map. The Banshee was and still is today powered by a twin cylinder, liquid-cooled, 350cc powerplant. The manual clutch transmission has six speeds with no reverse or electric start. Although 2006 was the last year you could buy a new Banshee in the U.S., they are still being sold in several countries like Germany and Australia for around $6100.
1988 HONDA 300 4×4


Honda was the first to introduce 4WD on an ATV in 1986, but it didn't have cargo racks at that time. In 1988, the 4×4 was revamped with a more compact chassis and smaller 300 engine. The 300 4×4 quickly became Honda's all-time top-selling ATV. The machine's 282cc, air-cooled powerplant and strong chassis solidified Honda's reputation as having ultra-reliable machines. There are still thousands of these machines in service on farms, ranches and rental outfits around the world.

1996 POLARIS SPORTSMAN 500


After a little over 10 years in the ATV business, Polaris introduced a class leader with the Sportsman 500. Its main draw was the never-seen-before independent rear suspension. Although it made the machine heavy, a big (at the time) 500cc motor and 4WD made the Sportsman a great machine that beat out many of the competing Japanese flagship 4x4s. Around this time, the Japanese companies started taking notice of how Polaris customers preferred their fully automatic CVT transmission over a manual tranny.
2002 CANNONDALE FX440


It was almost 10 years ago when we were riding the first liquid-cooled production four-stoke quad two years before Yamaha's YFZ450. Maybe it was built before its time, but this machine had an aluminum frame five years before Kawasaki and fuel injection four years before Suzuki. This model was also available in three versions: MX called the Moto at 50-inches wide, XC called the Blaze, and the standard trail unit called the Cannibal. This American-based company got the ball rolling for the Japanesse to start producing better sport quads.

2004 YAMAHA YFZ450


The sport ATV world had a rebirth with the introduction of Yamaha's YFZ450. ATVs were now using current motorcycle technology in both power and suspension departments. Dune riders and racers quickly started selling their almost two-decade-old, Honda 250Rs and switching to four-stroke power. Honda released their 450 a year later, followed by Suzuki, then Kawasaki.
2004 YAMAHA RHINO 660


Like four-wheelers did three decades earlier, the UTV came on to the scene like a wildfire. It took only two years for several other OEMs (Polaris and Arctic Cat) to have a unit competing with the Rhino. The versatile, steering-wheel-equipped, two-seat, side-by-side machine was amazing its first year out and became wildly popular in its second year. Polaris did have a similar 500cc (Ranger) product available, but it was the Rhino's independent rear suspension, tractor-like four-wheel drive and comfortable cockpit that attracted the recreational customer to this style of off-road vehicle.
2006 YAMAHA GRIZZLY


Power steering made its debut on the 2006 Yamaha Grizzly. The electronic, speed-sensitive unit was installed on a new Grizzly chassis featuring a 686cc, fuel-injected engine. Before our first test of the EPS-equipped Grizzly was over, we were hooked. As it turns out, Honda was also in development of an EPS unit, which found a home on the 2006 Rancher. Polaris, Suzuki, Can-Am and Arctic Cat soon followed suit with EPS on many models. We are still waiting for Kawasaki to issue EPS, as well as the aftermarket to come up with a retrofit for older models.