TOP 10 SOCAL RIDING AREAS
How to find off-road fun in Southern California
By the staff of Dirt Wheels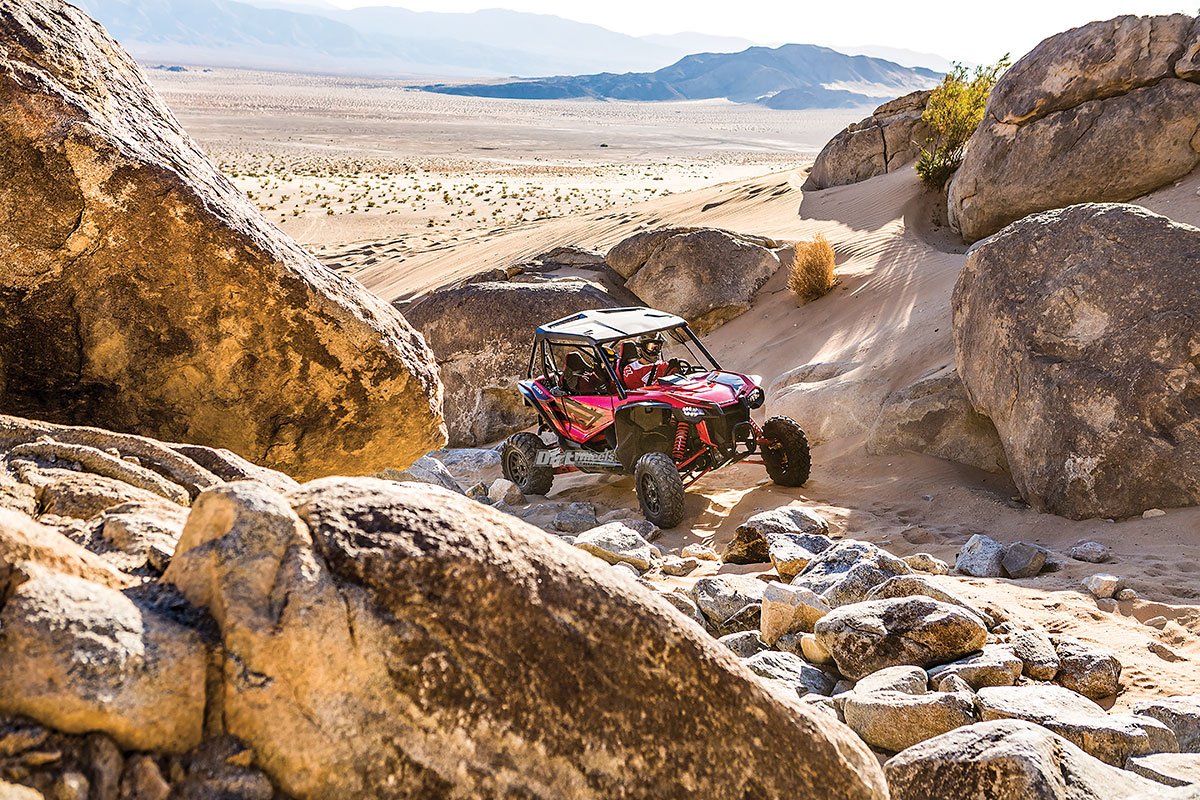 TOP 10 SOCAL RIDING AREAS
Johnson Valley OHV area
Address: 15 miles east of Lucerne Valley on Highway 247. Access is Camp Rock, Boon, and Bessemer Mine roads (dirt).
Contact: Barstow Resource Area, 2601 Barstow Rd, Barstow, CA 92311, (760) 252-6000.
Camping: Plenty of dispersed dry camping. No improved sites or hook-ups.
Fees: None
Lodging: Lucerne Valley, Landers, Yucca Valley, Barstow. Victorville all have lodging with a minimal drive.
Rentals: www.happytrailsrental.com
What we think: Johnson Valley near Lucerne Valley, California, is the home of much of SoCal's desert racing competition. The area has widely varied riding experiences ranging from smallish sand dunes to massive rocks and everything in between. There are also dry lake areas. Some of the roads in like Bessemer Mine Road are pretty bumpy and make for slow and painful going to get into the riding areas. You can do some amazing loops and routes and put in serious miles.
Imperial Sand Dunes Recreation Area/ Glamis
Address: Gecko Rd, Brawley, CA 92227
Contact: (760) 337-4400
Camping: Dry camping with very few paved parking areas.
Fees: One-week minimum permit for $35
Lodging: The nearest lodging is in Brawley on the California side and Yuma on the Arizona side. Most folks choose to camp. If you don't have your own rig, there are companies that will deliver and set a trailer up for you. These are the most popular:
www.luv2camp.com, www.campnstyle.com,
www.glamisrentals.com/rv-rentals.html,
www.glamistrailerrental.com and www.albertsrvrental.com. 
Rentals and other services:
www.glamisrentals.com/atv-rentals.html.
What we think: America's most famous and busy sandbox. Imperial Sand Dunes is a vast area (40 miles in a band averaging 5 miles wide). Over the years the area has seen restrictions for OHVs, but it remains a massive area that ranges from relatively small and rolling dunes suitable for new riders and small machines to giant faces and bowls best suited to skilled riders on powerful machines. Thanks to user fees and the huge amount of user traffic on long winter weekends, there is a significant BLM presence.
Fines for no permit and some other infractions can be severe. Non-registered or improperly registered machines may be confiscated. On the plus side, the riding is fabulous. Some of the parking areas are paved, there are bathrooms, the Glamis Beach Store, trash dumpsters, and signs on popular routes. Major weekends can have upwards of 30,000 visitors. Normal two-day fall, winter, and spring weekends see only a fraction of that number. Daytime temperatures are crazy in the summer, and there are few if any off-roaders visiting. There are camping and amenities at the store, but no lodging or restaurants within 25 miles.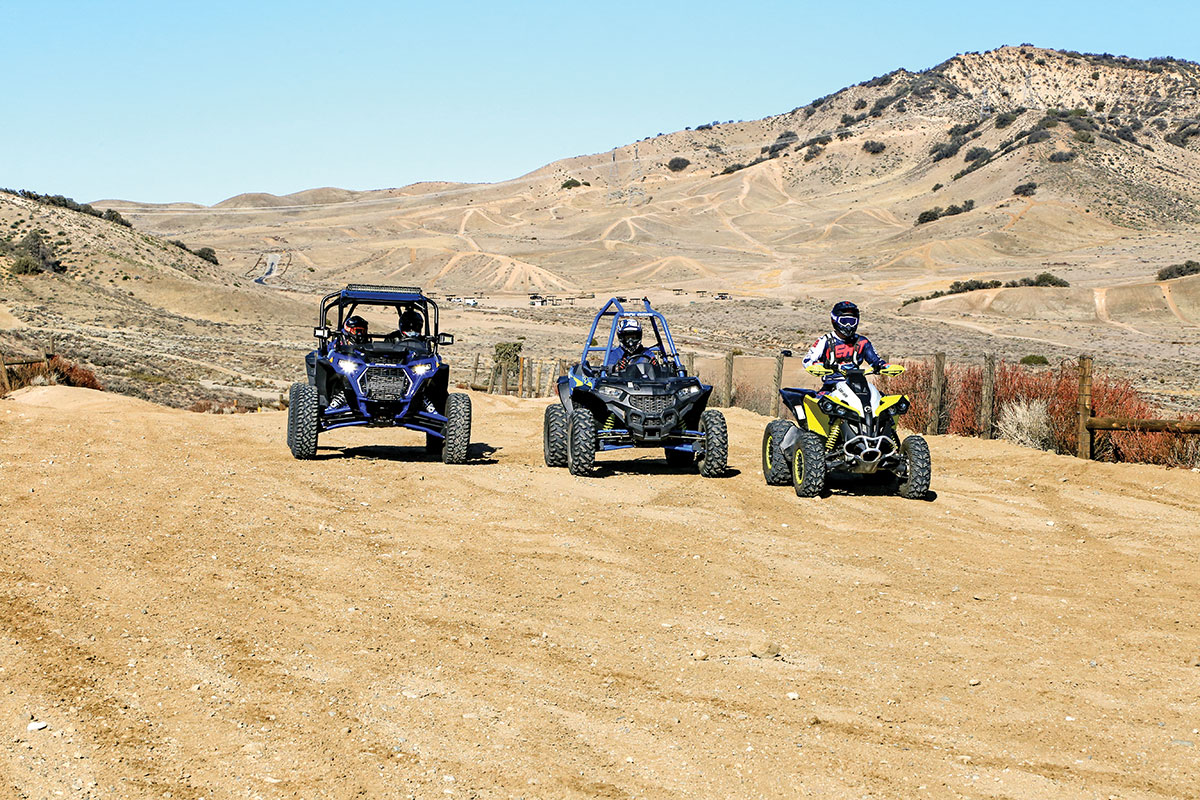 TOP 10 SOCAL RIDING AREAS
Hungry Valley SVRA
Address: North Kiosk & Visitor Center, 5301 Ralphs Ranch Road (previously known as Peace Valley Road), Gorman, CA 93243
Contact: (661) 248-7007
Camping: Hungry Valley has approximately 150 campsites throughout the park. Located adjacent to Gold Hill Road and Hungry Valley Road are nine semi-developed campgrounds, which provide shade ramadas, picnic tables, fire rings, vault restrooms, and trash cans. There is no water available in the park.
Fees: OHV vehicle day-use annual pass, $50/year; day-use parking fee, $5/day; non-resident OHV use permit $30/calendar year
Lodging: None on-site. Available nearby in Gorman, Lebec, and Frazier Park
Rentals: None on-site
What we think: Hungry Valley has over 100 miles of designated and intelligently signed trails. For quads, our favorite trails are those that are designated one-way. Only a very few trails and roads in the park are restricted to ATVs.
UTVs face more limited use. This is a great riding area, but on busy weekends it is imperative that riders are aware of the risks of oncoming traffic (why we love the one-way trails). Whether you are on a sport quad or a 4×4 quad, Hungry Valley offers excellent riding and amazing terrain and views.
It can be hot, dusty, and slippery in the summer. It is heavily policed for spark arrestors, sound, and vehicle registration. This is a "green sticker" area, but a red sticker (generally closed course machinery) is allowed during Red Sticker Season that opens October 1 to April 30. Only green sticker machines are allowed from May 1 to September 30.
TOP 10 SOCAL RIDING AREAS
Jawbone Canyon/Dove Springs
Address: 2811 Jawbone Canyon/Dove Springs. Cantil, CA 93519,
Contact: Jawbone BLM or Friends of Jawbone. (760) 373-1146. Located 20 mi. north of Mojave on Highway 14. Access is Jawbone Canyon Road and Dove Springs Road. 
Camping: Camping is permitted anywhere in the open area, but is limited to a maximum of 14 days.
Fees: None
Lodging: None on-site
Rentals: www.funtimeatv.com
What we think: These two OHV areas actually touch boundaries, and many trails run through both. They also include parts of Red Rock Canyon. Inside the boundaries are two open areas for 8,570 acres available for all forms of cross-country motorized vehicle use. They border a limited use area (existing roads and trails only) and Red Rock Canyon State Park.
They are part of the Mojave desert and are on the extreme eastern edge of the Sierra Nevada. The riding includes steep canyons, hill climbs, and trails. Both areas are scenic with some nice vista points. Jawbone Canyon is perhaps less suited for UTVs and better for quads. Dove Springs is great for both types of machines. Jawbone Canyon is located about 20 miles north of Mojave on Highway 14. Dove Springs is another 5 miles north of the Jawbone turn-off past Red Rock Canyon State Park. 
The draining of holding tanks is prohibited. Green sticker OHV registration is mandatory for all vehicles, which are not street-legal. Vehicles must have legal headlights and taillights if they are used at night. All commercial or competitive OHV use requires a permit. These OHV areas are home to the Desert Tortoise. Collecting tortoises is prohibited.
TOP 10 SOCAL RIDING AREAS
Oceano Dunes State Vehicular Recreation Area/Pismo
Address: Ranger station/maintenance shop: 928 Pacific Blvd., Oceano, CA 93445
For information, contact: Oceano Dunes District Office, 340 James Way, Ste. 270, Pismo Beach, CA 93449; 805-773-7170
Contact: 805-473-7220
Camping: Camping is allowed south of Post 2 on the beach and in the open dune area, but getting into the open dune area (and back out) takes a pretty serious and specialized vehicle. Vault toilets and chemical toilets are provided, and water-delivery and holding-tank pump-out services are available on the beach. Campsite reservation information can be obtained by calling (800) 444-7275. Campsites are available by reservation year-round and can be made from 48 hours up to six months in advance. Reservations are highly recommended (especially for holiday periods). There are a limited number of camping permits, and if they sell out, you are out of luck. You can still day park.
Fees: Day-use parking, $5; camping, $10
Lodging: There is no lodging in the SVRA, but there are ample places to stay close by in town. You can have a trailer delivered by www.luv2cap.com, (888) 898-2267.
Rentals and other services: Yo, Banana Boy! Inc. (vacuum pump service and retail sales), www.yobananaboy.com; Kautz Towing (805) 489-2336, Sun Buggie Fun Rentals, www.sunbuggy.com; Steve's ATV Rental Service, Inc., www.stevesatvrentals.com; Arnie's ATV Rentals, www.pismoatvrentals.com; BJ's ATV Rental & Accessories Center, www.bjsatvrentals.com; and Pacific Adventure Tours www.pacificadventuretours.com.
What we think: This sand dune area provides an impressive playground for off-highway enthusiasts. It is one of several OHV areas administered by the California Department of Parks and Recreation, Oceano Dunes also offers visitors other recreational activities, such as swimming, surfing, surf fishing, camping, and hiking.
This is the only SoCal sand dune area with great summer weather. Pismo has been under constant attack from anti-OHV groups, and as such, the area has a number of restrictions that you should be aware of. High tides, heavy rains, and blowing sand determine whether or not you can drive down the beach without getting stuck.
Access to the OHV and camping area may be restricted periodically by Arroyo Grande Creek,  which is subject to water releases at Lopez Dam and increased flow during winter storms. Beach camping is recommended for four-wheel-drive vehicles only. A dump station, located on Le Sage Drive, 1/10 miles north of Grand Ave. on Highway 1, is available to campers.
Post 2 is 1 mile south on the beach from Pier Avenue and marks the beginning of the OHV area. All OHVs must be transported to this point before off-loading. Fenced and signed areas are closed to vehicular use either because the property beyond is private or because the area contains sensitive plant and animal life. All OHVs must be registered through the Department of Motor Vehicles and display a current green or red sticker. It is recommended that all ATV operators take part in a formal safety training course under the supervision of a certified ATV instructor. Such training is mandatory for those under 18.
TOP 10 SOCAL RIDING AREAS
Dumont Dunes OHV Area
Address: 33 miles North of Baker, CA on Highway 127. A roughly 2-mile dirt/gravel road will take you across a small stream and past a ranger information/pay station, and then up a plateau to the camping area. Little Dumont is just east of Highway 127 31 miles north of Baker. Latitude/longitude: 35.69138056/-116.2389028
Contact: (760) 252-6000; [email protected]; Bureau of Land Management, Barstow Field Office, 2601 Barstow Rd., Barstow, CA 92311
Camping: Dry camping with pit toilets. Camping is allowed anywhere within the riding area as long as it does not block travel on a road and is limited to a 14-day stay. 
Fees: $30 for a weekly pass for any non-holiday week; $40 for a weekly pass that includes a holiday weekend; $90 for a season pass with holiday black-out dates; $120 for a season pass that includes holidays
Lodging: Baker, California, and Pahrump, Nevada, are the closest lodgings. 
Rentals: None on-site
What we think: Dumont is a much smaller dune area than Glamis/Imperial Dunes. The dunes also tend to have a sharp edge to the top that takes experienced riders or drivers to handle. Both Little Dumont and Dumont are fee areas. Little Dumont requires less driving on dirt and sand, and the areas are linked. You can easily ride from one to the other.
This area is one of the hottest areas in California, so visitor days are mostly in the late fall, winter, and early spring. Long holiday weekends get very crowded. All vehicles must have a muffler or spark arrester and have either a street-legal license or be registered as an off-highway vehicle. All OHVs must have a mast and red or orange flag for visibility in the dunes. Vehicles operated at night must use both headlights and taillights. Helmets are required to be worn by all riders of ATVs or UTVs.
Only one person at a time is allowed on an ATV. Possession or use of any glass container, empty or not, used for carrying any liquid for drinking purposes is prohibited (43 CFR 8361.1-6). Shooting is not permitted within this area. Draining of sewage tanks, littering, or dumping of trash is prohibited.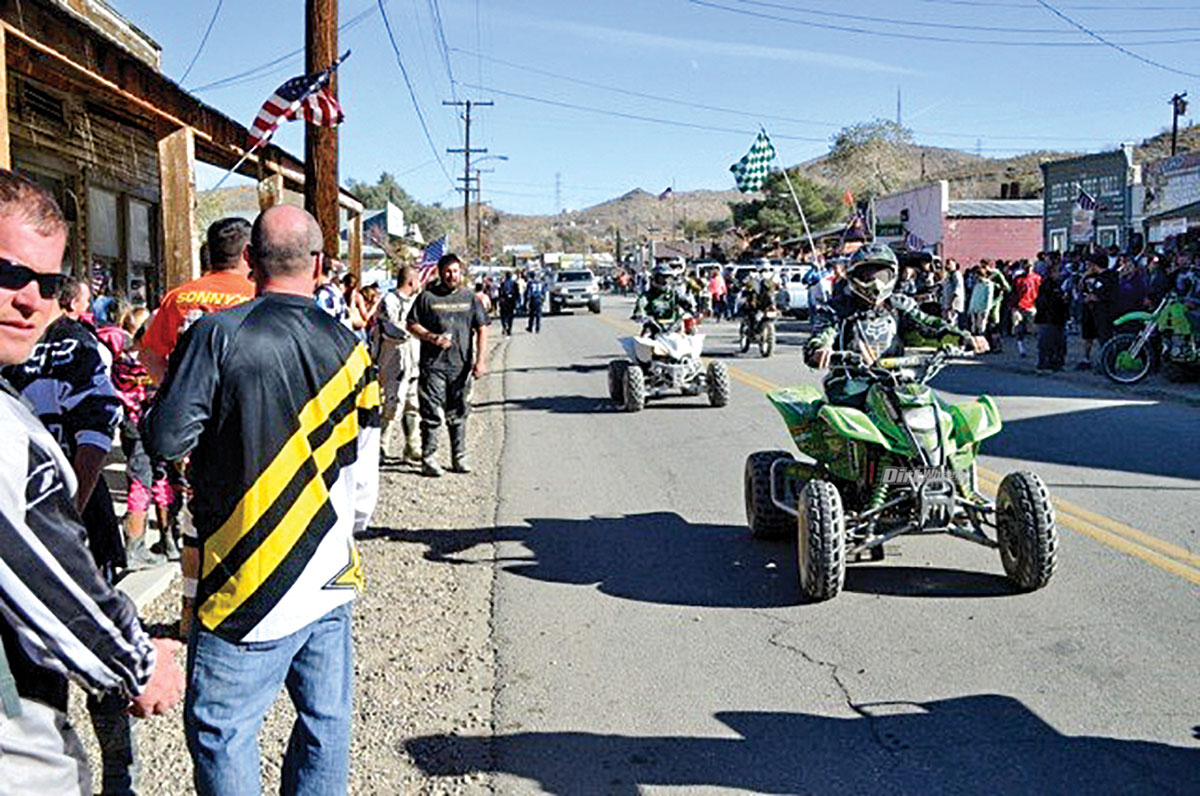 TOP 10 SOCAL RIDING AREAS
Spangler Hills OHV Area
Address: Located 10 miles north of Red Mountain on Trona Road.
Contact: Ridgecrest Resource Area, 300 S. Richmond Rd., Ridgecrest, CA 93555, (760) 384-5400.
Camping: Lots of dispersed camping and a few designated areas, but no improved sites. 
Fees: None
Lodging: Some in Randsburg, but ample in nearby Ridgecrest.
Rentals: None on-site.
What we think: Cuddeback Dry Lake, Spangler Hills, Searles Station, Wagon Wheel, Red Mountain, and a few other riding areas all revolve around the living ghost town of Randsburg. Randsburg and the other areas are reached via Highway 395 between the towns of Kramer Junction and Ridgecrest.
The only riding in Randsburg proper is designated OHV routes into the city so OHV people can enjoy the food, supplies, and history available there. Cuddeback Dry Lake, the Husky Monument, Trona Pinnacles, and other destinations are all linked by the trails through and into Randsburg. Aside from being able to ride into Randsburg, there is little in the way of amenities. There is fuel in Johannesburg near the intersection of Highway 395 and Trona Road. Despite the lack of support infrastructure, we love riding Spangler Hills.
TOP 10 SOCAL RIDING AREAS
Ocotillo Wells SVRA
Address: 5172 Highway 78, Borrego Springs, CA 92004
Contact: Mail: P.O. Box 360, Borrego Springs, CA 92004, (760) 767-5391
Camping: Plenty of dispersed camping. Picnic tables, shade ramadas, fire rings, and dump stations available. No Water Available. Bring plenty of drinking water.
Fees: None
Lodging: None on-site. Vehicle repair shops, telephones, groceries, hotels, motels, RV parks, and restaurants are available in the surrounding communities of Borrego Springs, Ocotillo Wells and Salton City.
Rentals: www.ironwoodsrental.com,
https://stevesatvrentals.com/ocotillo-wells,
https://sdmotorsportrentals.com/ocotillo-wells-atv-rentals,
www.albertsrvrental.com,
www.rvfunrental.com
What we think: Ocotillo Wells has varied terrain and a lot of recreational areas. The driving distance to food and lodging is not too bad. The area varies from small sand dunes to hard clay. There are even some geothermal features to see. This can be a rowdy area at night, so park your camp in a way that people cannot drive through it. Over 42,000 acres of desert terrain, from below sea level to 400 feet elevations. Open daily, 24 hours, no reservations. There are even pay showers.
TOP 10 SOCAL RIDING AREAS
California City
Address: 16363 20 Mule Team Pkwy, California City, CA 93505
Contact: (760) 373-8606
Camping: There is ample dispersed camping, plus camping at Borax Bill Park for sites with water and power. Prices range from $25 to $40 a day for power and $10 to $20 for water.
Fees: OHV riding permit (per OHV) (valid through June 2019), $15 season pass; OHV permit 4-pack (4 OHVs; no water/dump), $50.00/season pass; RV fresh water & dump pass* (per) $30/season pass; small family pack (includes 4 OHV permits & 1 RV/dump pass) ($90 value), $60/season; large family pack (includes 8 OHV permits & 1 RV dump pass; $150 value, $100/season.
Lodging: 11 local hotels
Rentals: At Jawbone store
What we think: California City is a fee area, but the city offers plenty of value to accompany the fees. It is one of the few cities to welcome OHVs. Cal City also has routes into town for OHV riders and drivers to reach food establishments and stores.
The city also provides police, medical rescue, water, RV dump stations, restrooms, hot showers, patio shades, and a motocross track. Randsburg, the Rand Hills, Spangler Hills, Cuddeback Dry Lake, Jawbone Canyon, and other areas can be reached by legal OHV routes. The riding is pretty basic for the most part, so it is prized by families and learning riders. Camping is easy no matter how large your rig is. Cal City is also the closest major desert riding area to the Los Angeles metropolitan area.
To subscribe to Dirt Wheels Magazine in print or digital form click here https://hi-torque.com/product/dirtwheels.