THE TOP 5 ATV'S FOR BOTH ON THE FARM & ON THE TRACK
THE TOP 5 ALL-PURPOSE VEHICS FOR BOTH ON THE FARM & ON THE TRACK
ATVs are not just your run-of-the-mill vehicles, they are all-purpose vehicles used for the toughest and roughest terrains. They are like civilian armored personnel carriers — in that ATVs can be used for numerous activities. Indeed it is looking like they could be used for an endless list of events and purposes.
ATVs are used in sports for racing — both recreational and professional racing, on the farm, in mountains, and so on. Their four-wheelers are also ideally capable of traversing all types of terrains and routes. Below are some of the very best ATVs we've been able to compile for you.
---
1. Arctic Cat Alterra 300 UTV
The typical Alterra 300 sells for about $4,300. It is an ATV well suited for racing and sporting life. This newly updated vehicle is rugged, has the durability and strength to complete incredible miles. Alterra's turning radius is an improvement on the previous models. It also has a nice riding suspension that has a low center of gravity — seems exciting right?
The new and improved automatic transmission function is quite helpful as it means anyone can get on it and ride without much trouble. There are also some trim level options available to you, each of these levels brings some stability and ruggedness to the fore.
2. Polaris Sportsman 450 UTV
This particular ATV starts at a cost of about $6,000 and is particularly suited for farm and ranch work. It can also be used for trail riding, hunting, and so many more activities. This ATV has incredible displacement, super speed, and stronger torque than its previous models — this is indeed an upgraded and improved model. What this means is more power and strength for rocky obstacles and deep sand, allowing you to cover a lot more ground.
3. Textron Alterra VLX 700 UTV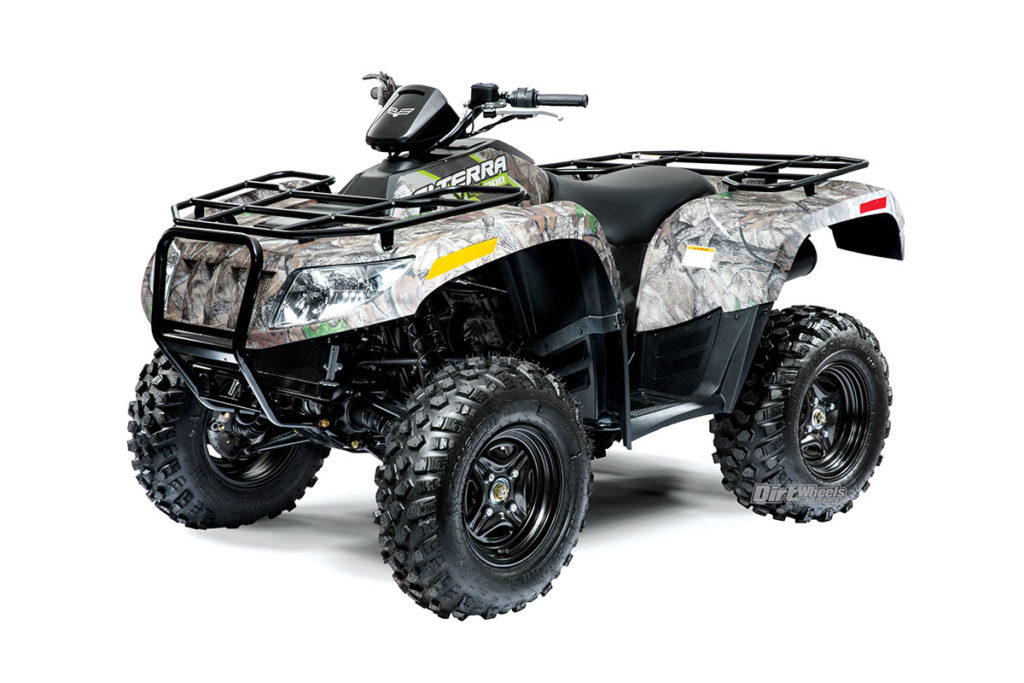 This is another Alterra ATV model! This ATV is among the most high-powered and relatively affordable ATVs in the market. You can be absolutely certain that you're getting your money's worth. This big boy also has some added presents including an adjustable front shock absorber!
Additionally, it comes highly recommended and equipped with mechanical "on-the-fly" AWD and 515 pounds of total weight-bearing capacity.
4. Honda Fourtrax Foreman 4×4
This particular all-terrain vehicle model has oftentimes been described as a beast of a vehicle. It actually has an astounding power boost and a far stronger torque than its previous models. The fuel injection sets this vehicle far apart from its peers — it has an electronic fuel injection system. If you want a highly rated and incredible vehicle, here's the one for you. It screams uniqueness and oozes class.
Additionally, this ATV has a 5-speed semi-automatic user-friendly transmission and also comes equipped with driving modes. What's more? The interchanging 2WD/4WD system gives the rider 2WD, 4WD, and 4WD with a locking front differential to "optimize traction."
5. Suzuki Kind Quad 750UTV
This is one all-terrain vehicle that everyone aspires to acquire. It has it all — the speed, strength, ruggedness, comfortable and so many more. This ATV is also one of the most powerful ATVs in the game and for all its qualities, it costs no more than $14,000! While this may be very expensive, this is one ATV you'll never regret getting.
If you're a betting man, you might want to put a stake on this beast of a vehicle at https://www.americancasinoguide.com/ whenever you see it on the track.
It has an upgraded and massively efficient engine and transmission. And although it weighs about 1500 pounds, it has more speed on it than some lighter ATV models
---