TOP TEN LED LIGHT BARS WORTH THE MONEY!
TOP TEN LED LIGHT BARS
Enter to win a free set of tires and wheels by taking our 2021 readers survey here.
For More Top Notch Picks, Subscribe to Dirt Wheels HERE!
— Some of the most fun we have had in a UTV or on an ATV has been during an epic night ride. Whether it's in the dunes or on a mountainous trail, there is just something about not knowing what obstacles could be on the trail that gets your heart rate and excitement level up! However, if you decide to go into a night or a lowlight ride without the correct lighting equipment, your ride might be too memorable and even a little dangerous. With safety and illumination in mind, we have compiled the top ten LED light bars. From great value and performance to top-of-the-line light bars, here's Dirt Wheels' picks.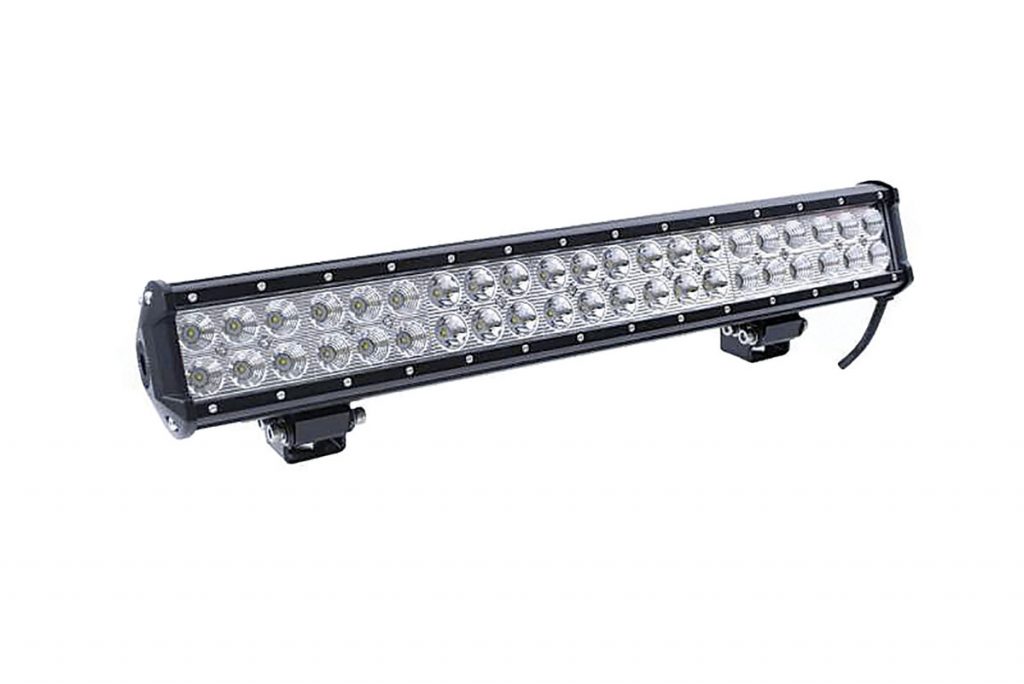 LAZER STAR PRE-RUNNER LED PRICE: $59.99 to $549.99
Lazer Star has just added the PreRunner LED to their already stellar lighting lineup. The light bars boast 900–34,200 lumens depending on what model you purchase. They are available in cubes, single-row bars and double-row bars, with spot, flood or combination lighting patterns. Each kit comes ready to install with an included wiring harness, relay switch, bar covers, end mounts and adjustable sliding lower mounts. These are offered in 12-, 20-, 30-, 40-, 50- and 54-inch sizes. Lazer Star has again brought out a great lighting system in an affordable price range. To order your own Lazer Star PreRunner LED, call (800) 624-6234 or visit www.lazerstarlights.com.
XTREME OFF-ROAD BRITE-LITES PRICE: $299.99 to $1199.99
Bluhm Enterprises has a new offering with their Xtreme Off-Road LED light bars. The cool factor on this light bar is the color-changeable, remote-controlled halo that can be turned on or off even if the light bar isn't on! There are multiple colors to choose from to match your mood that day or your ride. They offer great light strength, and they're available in multiple lengths from 14, 22, 32, 42 and 50 inches. The Brite-Lite has a lifespan of 30,000 hours. That equals too many great memories and hours of constant use. You will be able to use these on several new machines over the years. All necessary hardware is included to mount the unit to your ride. To order your own Xtreme Off-Road BriteLites call (612) 812-5191 or visit www.bluhmenterprises.com.
RIGID INDUSTRIES RADIANCE PRICE: $170.99 to $474.99
If you are looking to bring some light bling and performance to your ride, then you will want to check out the Radiance LED light bars from Rigid. The Radiance offers your choice of a backlit color to match your machine's color scheme or just to be awesome! The backlit color choices are white, amber, red, green and blue. According to Rigid, the Radiance offers forward-projecting Broad Spot optics, which combine the attributes of a spot- and floodbeam pattern for optimum lighting. They are available in 10-, 20-, 30-, 40- and 50-inch lengths, and the price is right for a cool light. To order your own Rigid Design Radiance light bar, call (855) 760-5337 or visit www.rigidindustries.com
TUSK COMBO LED KIT PRICE: $89.99 to $249.99
Rocky Mountain ATV/MC's own house brand, Tusk, is known for quality parts at a fraction of the expected price. They have a great offering when it comes to the light bars, as well as with their Tusk Combo LED light bar kit. This combo unit comes in a flood and spot setup with a plug-and-play wiring harness for easy installation. It also comes with a rubber mount for the L-bracket to reduce vibration and all of the necessary hardware for your specific UTV. Kits are available for Arctic Cat, Can-Am, Honda, Kawasaki, Kymco, Polaris and Yamaha. Tusk has done it again with a great lighting solution at a great price. To order your own Tusk Combo LED light bar kit, call (800) 336-5437 or visit www.rockymountainatvmc.com.
BAJA DESIGNS ONX6 PRICE: $429.95 to $1,749.95
When it comes to race lighting, Baja Designs has been at the forefront. With many off-road race teams using their products over the years, they have lighting down to a science. The OnX6 is one of their offerings, and it's a powerhouse of a light bar. It packs 7,350 lumens per 10-inch section, and it uses their trademarked High-Speed Spot reflectors for a long light projection. It is available in 10-, 20-, 30-, 40- and 50-inch lengths for ATVs and UTVs. They are on the more expensive side, but these would be great for someone who is a serious race enthusiast or weekend warrior that doesn't mind spending the extra money for race-proven durability and performance. Baja Designs also offers a 30-day satisfaction guarantee and a limited lifetime warranty. You can rest assured knowing that you'll have a great night of riding or racing with Baja Designs. To order your own Baja OnX6 LED light bar, call (800) 422-5292 or visit www.bajadesigns.com.
LIGHTFORCE LED PRICE: $40 to $1,154
Lightforce has been around for a long time in Australia—25 years to be exact. In that time they have created great lights that are actually using modern composite and eco-friendly materials. In the throwaway-product era that we live in, this is one of the coolest things about the Lightforce products! These lights are very rugged. In fact, they offer a Gore waterproof membrane that allows them to be submersed in 9 feet of water. That also means no more moisture behind the lens. Lightforce also uses white light, which is similar to daylight color and helps with eye fatigue. Each light bar comes with a full wiring harness complete with a fuse and switch. Lightforce offers their light bars in 10-, 20-, 30- and 50-inch lengths. After hearing about the goods, we are convinced these will be a great and safe bet for any off-road enthusiast. To order your own Lightforce LED light bar, call (877) 510-9204 or visit www.lightforceusa.com.
TASK RACING RECHARGEABLE SYSTEM PRICE: $324.99 for a 10-inch and $389.95 for a 12-inch
Task Racing has been known for making cool rechargeable lighting systems. We've tested their LED rechargeable helmet lights for night racing before, and we were impressed. They have started a niche with their newest light bar setup that also has rechargeable batteries. This a killer option for ATVs, mainly two- strokes, that don't have the battery or stator that can run light bars efficiently. When fully charged, the 10-inch light will last for 3.5 hours, while the bigger 12-inch light will stay lit for 2.6 hours. At any rate, this system would be great for any ATV, UTV or motorcycle since it runs under its own battery power. Each kit comes with one battery and all of the necessary wiring needed. Other batteries can be purchased directly from Task Racing. To order your own Task Racing rechargeable light bar system, call (774) 766-7917 or visit www.taskracing.com.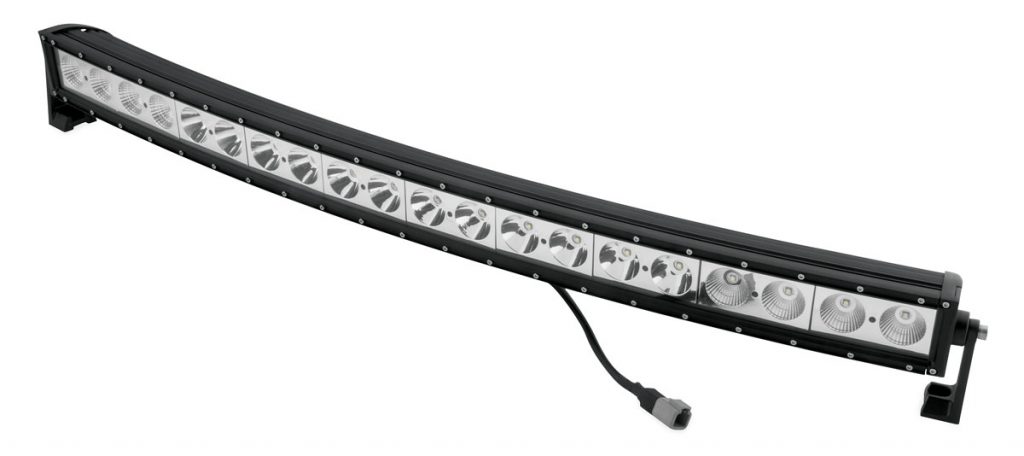 QUAD BOSS CURVED LED PRICE: $279.95 to $508.95
Quad Boss is well known for making great ATV and UTV products. They recently entered the lighting world as well. Their curved light bar, like the rest of their offerings, has a group of Cree LEDs that brightens up the trail or racecourse. It comes in lengths of 22, 30 and 41 1/2 inches and is a single-row design. With spot beams in the center and flood beams on the sides, it makes it easy to see what's coming at any angle. Being curved helps with the wide angle of vision too. These are a great light option at a great price, and we appreciate the curved option. To order your own Quad Boss curved LED light bar, call (817) 258-9239 or visit www.quadboss.com.
MOOSE FLOOD LED PRICE: $434.95 to $769.95
Moose Utility Division, or MUD for short, has entered the light game with their Flood LED light bars. These are a great option if you want to get the widest lighting possible. They offer a polycarbonate lens and are built from a die-cast aluminum housing for durability. This light would work out great if you have a spot pattern on a different section of your machine to help light up the night! They are available in 15, 25 and 40 inches. At this time they don't offer a spot pattern, but we are sure one day they will. To order your own MUD Flood LED light bar, visit www.mooseutilities.com.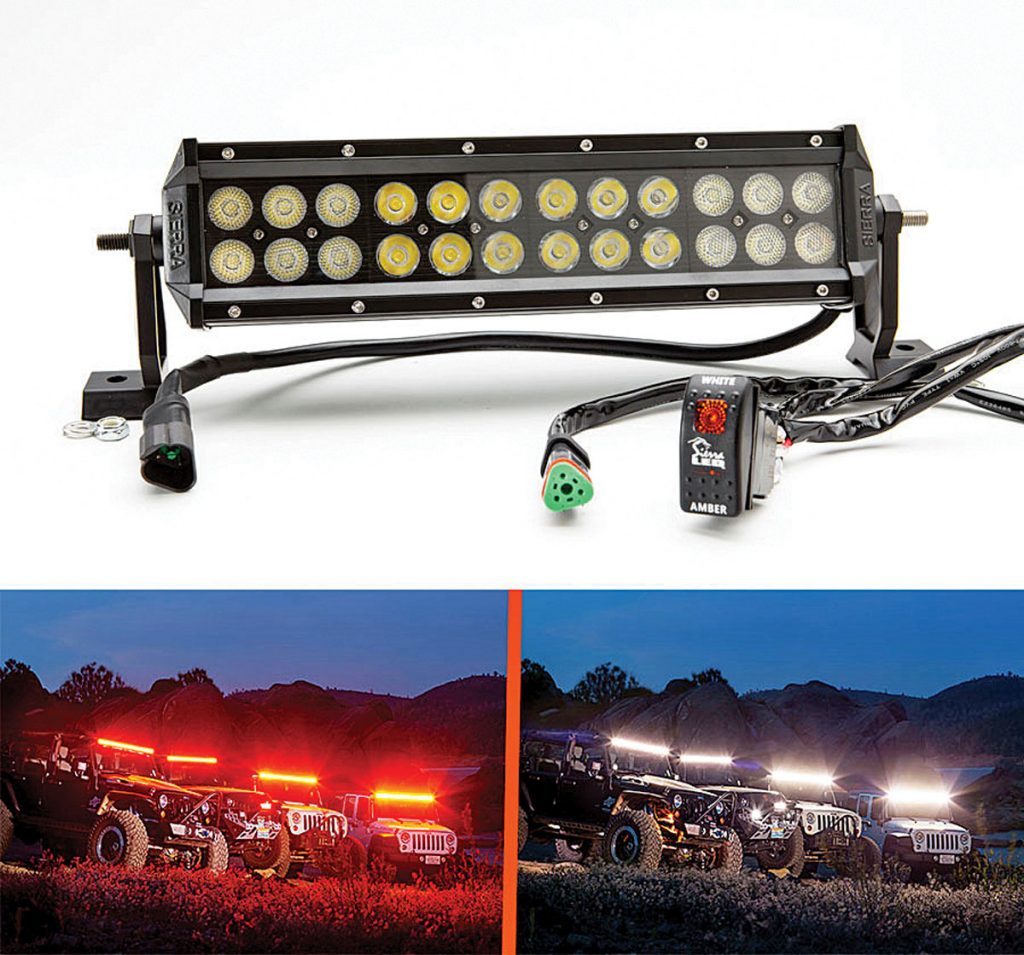 SIERRA DUAL AMBER-WHITE LED PRICE: $164.50 to $711.55
Sierra LED is known for great offroad lighting equipment. The founders grew up racing their trucks in several off-road series. They took their knowledge and came out with a unique lighting system that offers white light and amber light for the dustier conditions. This is a killer option for the pure fact that you have an all-in-one light setup at your fingertips. This also means less weight and less wiring to mess with, which are both a plus! These are only offered in a straight/spot design. They are offered in 7-, 12-, 15-, 18-, 20-, 23-, 26-, 28.5-, 31-, 37-, 45- and 50-inch lengths. To order your own Sierra Dual AmberWhite LED light bar, call (916) 800-7776 or visit www.sierraledlights.com.