TRAVIS SPADER'S FACTORY FLYER |
Duncan Racing/Doug Roll Honda 250R
TRAVIS SPADER'S FACTORY FLYER
Winning the Grand Na­­tional Pro Series is the ultimate goal for most of today's top ATV riders. Along with the excitement, ad­renaline rush, and glamor, one can al­­so experience constant frustration, heartbreak, and disappointment. Such was the case last year for New Jer­sey's Travis Spader.
While showing the talent and speed to run up front, he failed to make it to the checkered flag on nu­mer­ous occasions. Call it bad luck if you will, but mechanical breakdowns and crashes were happening so frequently that the fun factor was di­minishing fast.
"I had so many DNF's last year that for the final race, I borrowed a friend's quad [250A class champ T.J. Chesson's 250R] and raced it instead of mine," said Spader. Not only did he finish the final pro race at Loretta Lynn's, but he won it!
Knowing the value of fast and reliable machinery, Travis went shopping. For '98, he landed a ride with Dun­­can Racing. A rejuvenated Trav­is Spader candidly filled us in on his new machine, new team, and new plans for the future.
"This year I intend to make good on win­­ning the GNC 250 pro class cham­­pionship. With my new Duncan Rac­ing engine and Doug Roll Lobo chas­sis, I think I stand the best chance I ever have to win. I'm sure go­­ing to give it everything I've got."
FACTORY RIDE
TRAVIS SPADER'S FACTORY FLYER
Since the major ATV manufacturers have all but abandoned ATV racing, the aftermarket suppliers have stepped in and filled the void. Actually, if the factories did get back into rac­ing, they would probably have to play "catch-up" with the ATV performance companies. Companies such as Duncan, LRD, Sparks, PEP, Custom Axis, Laeger and Roll Design are just a few of the top players in this highly competitive field.
"Once the factories left, we picked up the ball and have been running with it ever since, " says Duncan Racing guru Loren Duncan. "I would ex­pect the factories would probably have to come to us if they started racing again. We have been modifying and racing the Honda 250R for well over ten years now. If they [the factories] suddenly got back into it, they'd have to come out gunning for us."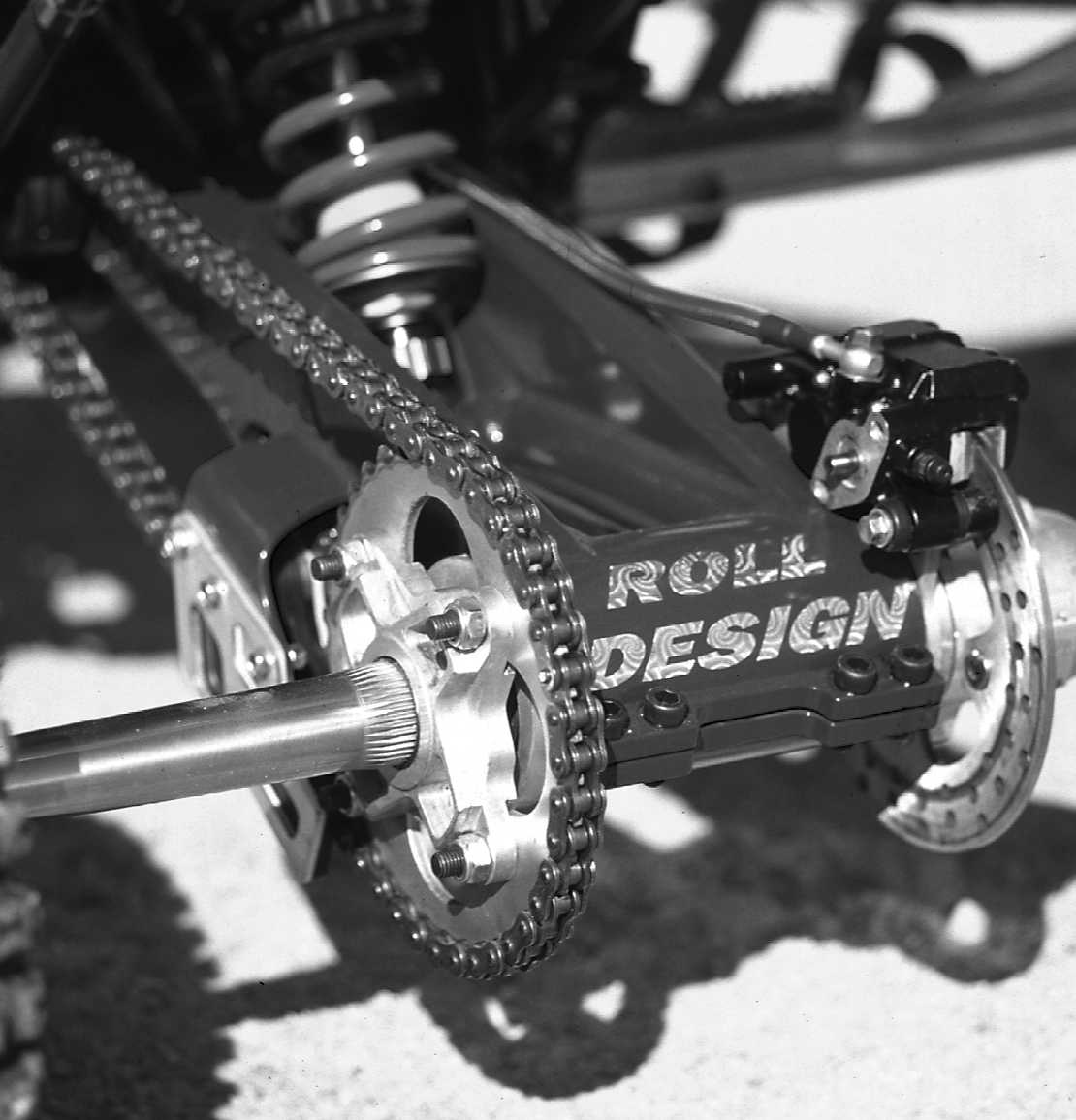 TRAVIS SPADER'S FACTORY FLYER
"This year, Loren and I are sponsoring probably the closest thing to a factory ride anyone has ever seen in the ATV ranks," said Lobo chassis de­signer Doug Roll. "I've developed a new Lobo chassis that has even more suspension travel without raising the ride height. This is probably the most tunable ATV racing chassis there has ever been."
"Both Loren and I, as well as a long list of other sponsors, are working on making Travis Spader's new ma­chine the ultimate racing vehicle in the quad ranks, " claims Roll. "Travis is an excellent rider who trains hard and wants to win. His desire and de­termination, along with our state-of-the-art machinery, should give him the edge he needs to win the National Championship."
WHAT'S NEW & WHAT'S NOT
Duncan Racing has used a proven performance package to make its 250R motors hook up and fly. Instead of high rev, finicky powerbands, Duncan prefers to make a broad, easy-to-use powerband that aids the rider in getting around the track at a rapid pace.
TRAVIS SPADER'S FACTORY FLYER
"I have always been a believer in ride­able midrange power and smooth trackability," says Duncan. "You want a lot of aggressive pow­er de­livery on the bottom with a strong midrange and revvable top-end. We use the new Eliminator '98 pipe and Fat-Boy silencer on Travis' quad. Combined with our new PTR [Paul Turn­er Racing] Hyperdyne II mid­range cylinder, this gives the en­gine a very broad spread of power for racing purposes."
"We install our Pyramid reed valve and reeds, a Pro-X piston, keep the ignition stock and bolt-on a 39mm PWK Keihin carb with a Duncan Racing Super-flow modification," says Duncan.
"Travis likes his racing quad to have some overrev on the top-end," says Duncan. "That's in case he finds him­self in a situation where he can't shift when he wants to. The 39mm PWK is well suited to that type of situation."
LOBO'S 1998 CHASSIS
Doug Roll has come up with a few im­provements on his fully adjustable racing chassis. First of all, he has mod­ified the front end to allow it to run at a full 49-inch width, which is just under the AMA racing rules of 50 inches.
"For the motocross races we wanted a front track width that was as wide as possible," says Roll. "We al­so are running our chassis with some of the top cross-country racers [Chad Du­val, Matt Smiley, William Yokely] who set it up to run at 44 inches wide to make it fit and be more maneuverable between the trees."
TRAVIS SPADER'S FACTORY FLYER
For '98, Roll is offering a complete racing package that will transform your ordinary quad into a factory rac­er. It consists of the Lobo chassis, en­gine mount kit, subframe, swing­arm with pivot bearings, chain rollers and hardware, chrome steering shaft with mounting kit, complete A-arm kits, and hardware, stainless steel tie-rods, aluminum airbox with airboot adaptor, and Custom Axis dual front shocks and single rear shock with all the mounting hardware included. The total price for this high-performance racing package is $6995.
"We are working with Custom Axis to give us the most technologically ad­vanced quad racer in existence," said Roll.
"The Custom Axis front damp­ers offer 10-3/4 inches of wheel travel, and we can dial in the A-arms and ride height of the machine for any track in the country. On the back end, we run a no-linkage Custom Ax­is single shock that gets over 11 inches of wheel travel. We went to the no-link system because linkage shocks are more prone to heat build-up than a no-link is."
TRACK TESTING
Travis Spader, his mechanic, Mark Keen, Doug Roll, and Loren Duncan agreed to meet us at Southern California's Glen Helen Raceway. We wanted to get an idea of how well the '98 Duncan/Roll 250R performed in its element.
First of all, the machine looks im­mac­ulate. Loren, Doug, and Mark are all perfectionists who pride themselves on making the final product as "works-like" as possible.
"The Duncan Racing motor is easier to ride than most of the racing en­gines I've ridden," says Spader. "The chas­sis and suspension is unbelievable, it is so versatile that you can make simple changes and dial it into what­ever track conditions exist."
"When you want to turn, it turns. It's very predictable, as long as you know that when you move the bars, it's going to go in that direction in­stant­ly. It holds a line extremely well."
TRAVIS SPADER'S FACTORY FLYER
Travis had ridden the ma­chine for photos, he pulled the quad in­to the pits, and Doug dialed in the suspension sag for our test crew. The Custom Axis shocks have compression and rebound adjustments that make dialing them in as easy as turning a knob on the reservoir body.
Confirmation
Our testers confirmed Travis' ob­ser­vations as to the handling and pow­­er characteristics of the Duncan/Roll 250R. It does have a very broad and easy-to-ride power spread that hooks up early, pulls hard, and has a good amount of overrev on the top-end.
This is not the type of power that comes on suddenly with an explosive burst that yanks the bars out of your hands. It is smooth, linear, and gets the power to the ground.
By making the power easier to control, Duncan has, in fact, made it fast­er at getting around the track. It pulls hard on the bottom with a smooth tran­sition to the midrange and top-end. We found ourselves shifting ear­ly and letting the strong low-end and midrange pull us through the power spread. Top-end power was there if needed, and the engine would overrev when the situation called for it, such as approaching a double jump and not wanting to shift into the next gear. Overall, we would rate the pow­er as being broad, smooth to use, and very tractable.
Turning
Cornering on the Lo­bo chassis is among the most predict­able we have ever ridden. Move the bars and it turns right now. There is no twisting the bars back and forth and sawing your way through a corner. You pick your line, turn the bars and go. The wide front end resists two-wheeling through corners. Slippery track racers will like the way it holds a line around the slickest of corners as if it were on rails.
In the rougher sections of the track, the Custom Axis shocks prove their worth with a responsive and plush ride. You don't get the bottoming-out sen­sation you can with some of the oth­­er aftermarket shocks we have tried. They soak up the braking and stut­ter bumps going into and out of cor­ners and still suck up the major hits off the sky shot jumps. Overall, we would give the suspension and chassis an A+ rating for tunability and performance.
CONCLUSION
Travis Spader's Duncan/Roll 250R is as close to being a factory quad rac­er as there is available today. Sure it's expensive, but take a look at any form of serious automotive-type competition and you start to realize it isn't all that much in comparison.
It just goes to show how highly evolved the quad aftermarket has be­come in the absence of factory in­volvement. Sure, we would like to see the major quad manufacturers get back into racing, but you can be sure they would have to set their sights on machines like Travis Spader's Duncan/Roll 250R to be competitive again.
TRAVIS SPADER'S FACTORY FLYER
DUNCAN RACING/DOUG ROLL DESIGN HONDA 250R
Rider Travis Spader
Age 24
Hometown Brick, NJ
Weight 165 lb.
Height 5'10"
Main sponsors .Duncan Racing and Roll Design
Secondary sponsors Paul Turner Racing Engines,
PCI, Custom Axis, Douglas Wheel, RPM,
Hinson, Braking, Trick, Maxima, Tsubaki,
Motion Pro, OuterWears, Hot Dog Designs,
Acerbis, Shoei, Sunstar, CEET
Frame Doug Roll '98 Lobo chassis
Engine Duncan Racing
Porting PTR Hyperdyne II Mid-range
Piston Pro-X
Ignition Stock
Reed cage/reeds Pyramid Reed valve & reeds
Carburetor/mods 39mm PWK w/Duncan
Superflow mod.
Airbox/filter/oil Roll/K&N/K&N oil
Pipe/silencer '98 Eliminator/Fatboy
Fuel Trick
Oil/ratio Maxima 927/32:1
Clutch Duncan C-12 clutch kit w/Hinson basket
Transmission oil Maxima MTL ENdur.
Chain/lube Tsubaki/WD-40
Sprockets Sunstar
Gearing f/r 14/40
Front A-arm/width Lobo/48.5"
Spindles '89 TRX250R
Shocks/travel Custom Axis/10.75"
Steering stem Roll Design Lobo
Steering stabilizer Duncan Racing adjustable
Swingarm/length '98 Lobo/18"
Axle RPM
Shock/travel Custom Axis 11.25"
Tires:
Front Riken "Grooved" Radial 145/80R10
Rear Titan Turf Tamer 18×11-8
Tire pressures f/r 18 psi/7 psi
Wheels:
Front Douglas Red Label w/Champion bead locks
Rear Douglas Red Label w/Champion bead locks
Hubs Duncan Racing billet front hubs
Brakes:
Calipers O.E.M. Honda TRX250R
Pads Braking
Rotors Braking
Brake lines Duncan steel braided
Brake fluids Motul
Handlebars Answer Pro Taper CR/High bend
Throttle Motion Pro
Clutch lever O.E.M.
Cables Motion Pro
Grips Scott
Kill switch Pro Design
Seat Ceet
Front bumper/grab bar Duncan Racing/Roll
Skidplate Roll Design
Mechanic Mark Keen
CLICK LINK BELOW TO SEE OUR 250 TWO-STROKE QUAD SHOOTOUT:
https://dirtwheelsmag.com/two-stroke-quad-shootout/
To subscribe to Dirt Wheels Magazine in print or digital form click here https://hi-torque.com/product/dirtwheels.