BUILDING THE ULTIMATE OFF-ROADER
PART 1: PROJECT HONDA TRX600
By the semi-factory boys of DIRT WHEELS
*From DW 1998 Feb. issue
ULTIMATE OFF-ROADER
Building the Ultimate Off-Roader was now our mission.  To do that we set out to build, what we considered, to be our own version of this Ultimate Off-Road vehicle. This classic Dirt Wheels sport quad would be our first step in doing that.  We set out assembling everything we knew off-road riders wanted in a smoking hot recreational vehicle. To tell the truth, we got tired of waiting for it.  Seems like it has been the same old story, year after year now.
We pa­tiently wait, anticipating that this year will be the one that Honda re­leas­es a new sport ATV to pick up where the TRX250R left off some ten long years ago. However, each year all we got was the same old story. Zip. Nada. Squat. Nothing.
Anchor's Away…
Well, like that 'Anchor Man' in the movie Network…" we've taken all we can take, and we can't take any more".  So now we were determined to do something about it. Rather than simply scream out the window, we thought we would come up with a machine of our own.
Since the product planners at Honda had not seen the light just yet, we would go ahead and show it to them. We would build our version of what the Ultimate Off-Roader sport-based factory quad should be.
WHAT YOU WOULD NEED TO DO THAT
We wanted a vehicle that was ver­satile, powerful, easy to ride, had great suspension and handled like a dream. To accomplish all this, we based the machine on a proven de­sign. We did not want to experiment with different frames and geometries. We wanted something that was right from the get-go.
ULTIMATE OFF-ROADER
The first order of business was to de­cide on a frame for our project quad. Mark Laeger, the man behind Laeger Racing, (https://laegerracing.com/ ). Mark has a reputation for building quality frames for Honda TRX 250R, 250X, 300 EX, and Banshee owners. His frames have won more Na­tional Championships than all the other aftermarket manufacturers com­bined, both on the GNC and GNCC circuits. Mark agreed to help us with our project and supply the frame, subframe, swingarm, front A-arms, and shock linkage for our proj­ect sport quad.
Laeger not only sells chassis' for Hon­da and Banshee owners but also has one of the best suspension setups in the business. His Pro-Trax suspension kits allow racers to get up to 16 inches of wheel travel on their ma­chines, depending on the shocks used.
FOCUS POKUS?
For now, though, we wanted to keep our project quad's suspension travel lower and the center of gravity down. We opted to go with one of Lae­ger's chassis that use the stock 250R's wheel travel of nine inches up front.
Laeger supplied us with his +2"-over A-arms. On the rear suspension, Lae­ger uses a '91 Honda CR500 mo­to­cross bike linkage on his chassis. It al­lows from ten to 12 inches of travel, de­pending on the shock used. That would be plenty for our project ma­chine, we felt.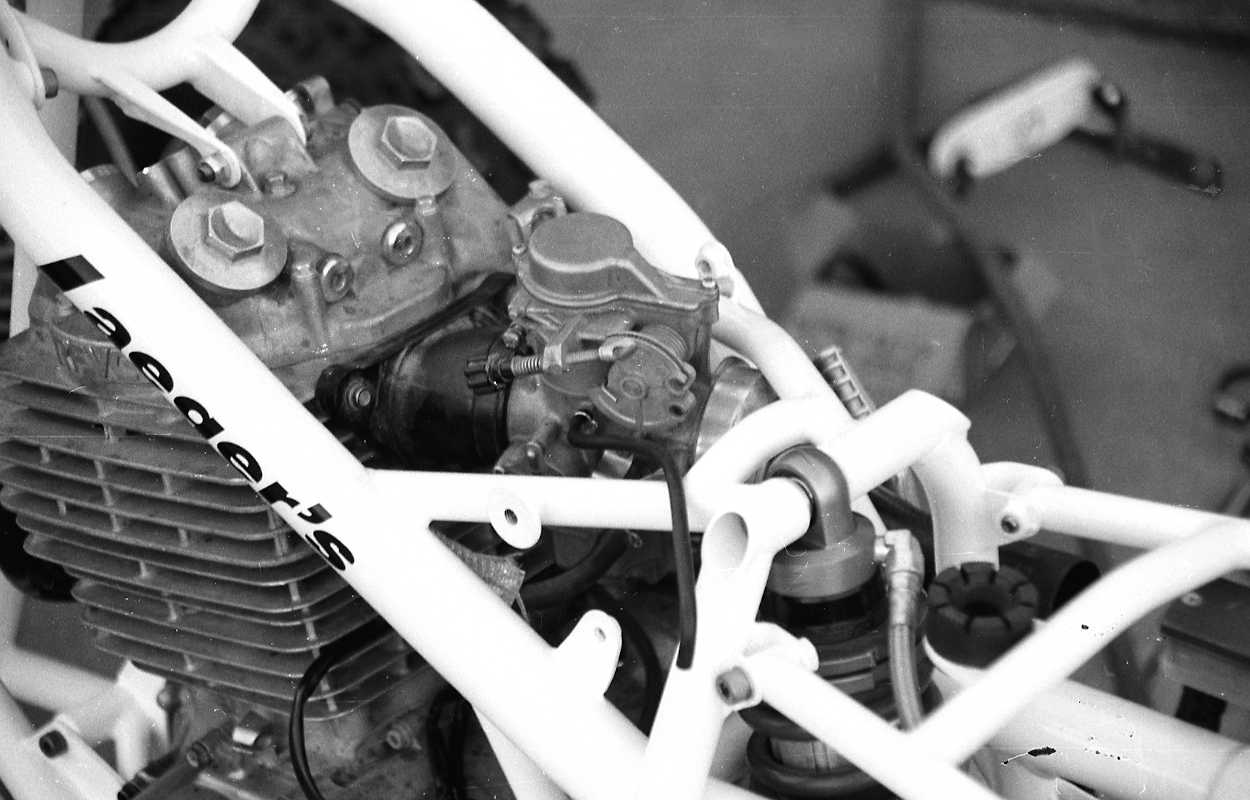 ULTIMATE OFF-ROADER
geometry on the Laeger chassis is actually very similar to the TRX250R's. Since we did not have a 250R available, we wanted to use parts such as spindles, hubs, brakes, rotors, and plastic components off a readily available quad like the 300EX.
Laeger makes a frame that al­lows you to use the stock plastic and component parts off either a Honda 250X or the 300 EX. Since we already had an EX to pull parts from, it was a logical choice. Now, all we needed was a motor to put in it.
MOTOR MADNESS
When it came time to decide on an en­gine for our project quad, we were confronted with several choices. Two-stroke or four-stroke? Monster displacement or lightweight? Liquid-cooled or air-cooled? We finally de­cid­ed that until the new miracle, non-polluting two-strokes arrive, we were go­ing to have to go with a four-stroke engine.
The idea of monster displacement intrigued us. We could live without li­quid-cooling, especially if it saved much-needed weight to make up for the heavier monster motor. Honda's XR600 dirt bike engine fits the bill for monster displacement.
This 591cc, four-stroke engine had lots of torque and a good reliability record. The four-valve, SOHC air-cooled engine weighs in at 100 pounds, and while not exactly a lightweight, it was not out of the ballpark, either.
ULTIMATE OFF-ROADER
Lucky for us, we just happened to have one lying around. Bruce Ogil­vie, of American Honda, had supplied us with a used XR600 motor for our proj­ect. With a little work, Laeger as­sured us, he could make the XR600 en­gine fit inside his 250X/300EX chassis. This chassis will al­so accept a Hon­da 350X engine for anyone wishing to install this popular three-wheel­er engine into this chassis.
PUTTING IT ALL TOGETHER
To get this project going would re­quire us to merge the parts from a Honda 300 EX with the engine from an XR600 dirt bike, into Laeger's EX chas­sis. Anyone thinking about doing a project like this had better be pre­pared to shell out plenty of dead presidents.
We were already looking at $2300 alone, for the frame and subframe, for the Laeger chassis. The Lae­ger swingarm will set you back another $520, as well as an extra $525 for Laeger's +2" A-arms, ball joints, bushings, bolts, and tie-rod ends. The '91 CR500 shock linkage for the back end of the Laeger chassis sells for around $400 at your local Honda dealer.
ULTIMATE OFF-ROADER
If you already happen to have a Hon­da 300EX you can save quite a bit of money by bolting on the gas tank, plastic, wheels, axles, brakes, bump­er, grab bars, airbox, spindles, and miscellaneous parts off it. By carefully scouting your local want ads you might even find a used XR500 or 600 for a good price—maybe even a wrecked bike, with a good engine. Make sure you get the carb, coil, and spark plug lead off the old machine. You will need them later.
We also used a right side footpeg off a Honda XR600 (so the kickstarter would not interfere with the peg) and XR600 motor mount nuts and bolts to in­stall the engine in the Laeger frame. We mounted an XR600 rear brake pedal on our machine because we liked the feel and the fit.
PAINT & DRIVETRAIN & WHEELS…
Olympic Powdercoating, out of Es­con­dido, CA did a superb job Powdercoat painting our Laeger chassis a brilliant white. Maier Plastic ( https://maier-mfg.com/ ) supplied us with white 300EX plastic for the front and back that bolted right on. We ran an RPM adjustable axle and dual-row axle carrier with Hole­shot 18×11-8 rear wheels mounted on Douglas Beadlock aluminum rims on the back end. Upfront, we ran a set of Holeshot 20×11-10 tires with Douglas Beadlock rims. Budget-conscious riders could use the stock EX axle, axle-carrier, wheels, and tires.
Our project machine also ran the stock EX brake rotors and calipers on the front and back with Graydon steel-braided brake cables. On the 300EX airbox, we found that a '96 air boot fit our machine better than the '97 model. We also used a stock EX seat, but plan on updating this in the near future with a better-padded de­sign. Our project quad also used one of Laeger's flip mounts for the rear plastic to clear the kickstarter on the XR600 engine. Note: We found we had to add a spot weld on the kickstarter stop to keep it from hitting the pipe.
SPECIALTY ITEMS & ASSEMBLY TIME
You will also need to fabricate some sort of an oil tank to hold the two quarts of oil the XR engine re­quires. Gary Jones made us a custom aluminum oil tank that resides just in front of the engine and hooked up the XR's oil lines. He also came up with a custom WB Alloy head pipe and SuperTrapp Exhaust for our machine. These were all hand­made for us so we don't know what the exact price would be. Gary says he might consider selling the pipe bends and muffler to anyone in­ter­ested in duplicating our project.
PUTTING ALL TOGETHER…
Assembling the machine with all the parts laid out in front of us took three people the better part of four hours. At that time we were able to get a complete rolling chassis together. All the EX parts bolted right on and the fit and quality of the Laeger chassis became readily apparent.
The only major hassle we had was wedging the mighty XR600 engine in­to the frame. It took several at­tempts before we managed to contort the engine at just the right angle and lodge it into place. (One word of caution here. It is a good idea to duct-tape some rags over the bottom frame rails so that you don't scrape the paint off as you move the engine about to get it in the frame. We were sure glad we did!)
Once we had the engine inside the frame the rest of the installation was a piece of cake. Everything else just bolts on. We were soon hooking up brake lines, bleeding them, and checking all the nuts and bolts and miscellaneous parts. It took a while but everything fit right and we had few problems finishing our installation. We set a ballpark adjustment on the camber and toe-in on the front end and we're now ready for stage two.
PART ONE COMPLETE . . .
ULTIMATE OFF-ROADER
Now that we had our basic ma­chine to­gether, it was time to fine-tune the pack­age. Since this is a multi-part proj­ect, we will be looking at these projects next. First, we will delve into how to set up the suspension. Next, we will look into getting the engine up and running. Finally, we will get all the details finished up.
Of course, there will be the in­ev­it­able bugs to iron out on a project such as this. Only time will tell what our finished machine will be like. Now that we have come this far we can hardly wait to see what our Project TRX600 will be like. This is one monster quad we're just itching to try out.
(Stay tuned; Part Two is coming)
To subscribe to Dirt Wheels Magazine in print or digital form click here https://hi-torque.com/product/dirt-wheels.