UTV SUMMER SURVIVAL GUIDE: 2019
How to make your machine better...
UTV SUMMER SURVIVAL GUIDE: 2019
Roof:
Some machines come stock with a roof, but if you don't have one it will make a big difference during the sunny months. All machines are different, so there is no one-size-fits-all. However, we have a few places that can help you find the right roof for your next ride. While going fast can help keep you cool, a roof keeps you from getting burned whether it be from the sun or ultra hot seats.  Here are a few places that will help you find the right roof:
Rocky Mountain UTV Roof
Kolpin Outdoors
Gear Up 2 Go
Forced Air & Vented Helmets:
Summer heat in most parts of the world means dry dusty conditions. Some people will just wear a face shield to keep things under control, however, if you live in a desert climate as we do then you know that might not cut it. A fresh air system can make a world of difference.
Parker Pumper Starter Kit: $169.95
Out of the world of off-road racing, a filtered air-breathing helmet to cut down on the dust and fatigue that race car driver endures was born. At that time the longest, roughest, dustiest off rod race was the Parker 400, thus the name Parker Pumper.

 Rugged Radios M3 Air Pumper: $381
Using a specially built high static pressure fan the M3 produces 5 times the pressure and more volume than any other helmet pumper available! Eliminate the dust with the purpose-built washable dry media filter with Outerwear particulate wrap.

S&B Helmet Particle Separator: $399
With no filter to clog, start and end your ride with the same great airflow. Based on technology used by the military, our helmet air pumper system removes 99.36% of the dust without a filter to provide you with consistent airflow throughout your ride. Important: Attachment straps and hoses are sold separately.

Tinted Goggles:
Tinted goggles are great any time of year but when that summer sun burns bright well into those summer nights, it could save your eyes from a world of hurt. The better you can see, the safer (and faster) you can drive!
EKS Brand 19 GOX Flat Out Mirror Goggle 35.99
GOX Flat-Out goggle includes the highest quality polycarbonate, shatter-resistant, anti-scratch, and anti-fog coated lens with 100% UVA protection. Tear-off posts integrated into the premium lens for quick and easy tear-off installation. Anti-static smudge-resistant goggle bag comes standard in every box.

Leatt Velocity 6.5 Iriz Goggle $89.99
Our goggles are bulletproof, they work in all conditions, look great, fit perfectly, and they won't break the bank. The unique combination of safety, optically correct and permanent anti-fog lenses, optimal fit and overall aesthetics make these goggles a great buy.

100% Strata Goggle: $35
All 100% MX goggles share the same lens and tear-off profile. Curvature suited for comfort and great field of vision. Plush, Dual-Layered face foam soaks up sweat. Constructed out of flexible yet durable urethane featuring a combined matte and gloss finish. Anti-fog, scratch-resistant lens for unimpaired vision complete with tear-off pins. Shares the same lens shape across the product line.
UTV SUMMER SURVIVAL GUIDE: 2019
UTV SUMMER SURVIVAL GUIDE: 2019
Coolant:
It's crucial to stay cool on a hot day, but overheating can be dangerous for machines as well. Keep your rig running happy and beat the heat with the right coolant.
Cycle Logic Engine Ice: MSRP $23.95
Engine Ice is a high-performance motorcycle and ATV coolant and antifreeze. The coolant formula is pre-diluted and environmentally friendly. Engine Ice coolant and antifreeze keep engines running cooler while offering protection against freezing. Engine Ice coolant has been proven to reduce operating temperatures by as much as 50ºF. Antifreeze offers freeze protection up to -26 degrees Fahrenheit.


Maxima Coolanol: MSRP $17.95
Maxima COOLANOL is a premixed ready-to-use 50/50 blend of premium quality ethylene glycol-based antifreeze and deionized water to provide optimum cooling, water pump lubrication, and rust & corrosion protection for all aluminum and magnesium motorcycle, ATV, and side-by-side liquid-cooled engines.


Twin Air IceFlow Coolant: MSRP $19.95
Long-lasting protection, friendly to all metals and water pump seals. Created for all extreme conditions. Protection good down to -26 degrees C/ -14.8 degrees F. A Mono Propylene Glycol-base, silicate-free, using demineralized water. Non-toxic and biodegradable.

For more coolant options, check out the selection at Rocky Mountain ATV MC
UTV SUMMER SURVIVAL GUIDE: 2019
Fuel Containers:
Being stranded in the heat can be brutal. Sometimes we get lost in the ride and forget that gas gauges exist. Whether it is not getting stuck, or just riding longer, extra fuel is your friend.
SureCan VP Racing (carb approved) : MSRP $54.95
This is not your same old cheaply-built, hard-to-use, spill-on-yourself gas can. The Surecan® is a precision, high-quality, dispensing machine. Built-in the USA, this gas can exceeds industry standards and will exceed your expectations! CARB and EPA Approved Fuel Can. Thumb Trigger and Locking System – Start, Stop, you control the flow. Child-Proof Caps. Self-Ventilating.


Giant Loop Gas Bag 2-gallon: MSRP $199.99
Giant Loop's Gas Bag™ Fuel Safe Bladder conveniently transports 2-gallons of hydrocarbon fuel for power sports racing in a collapsible welded film and ballistic nylon reinforced container that rolls up or packs flat when empty, weighing less than 1 pound.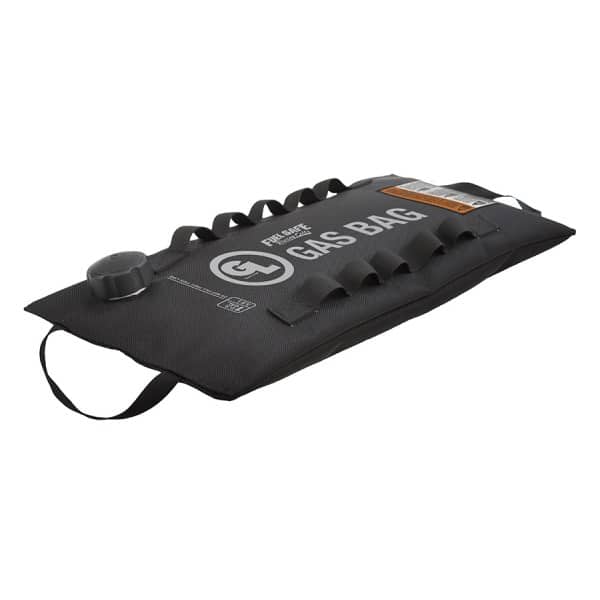 Rotopax 2.5 gallon FuelpaX: MSRP $69.99
Have you ever been out and needed extra fuel? Are your current fuel cans leaking? If you are ready for a unique product, and an item that will stand up to the test of time- it's right here. FuelpaX comes with a 5-year manufacturer (that's us) warranty! Our packs are individually pressure tested and manufactured 100% in the USA by American workers, ensuring a quality, leak-free product.

Matrix Concepts M3 USA Utility Can: MSRP $64.95
With an all-new shape and design, the 2 handle M3 Utility Can is easy to pour.  Comes complete with a 3″ long extender hose spout with a 1″ plastic fill reducer with cap. 4-gallon capacity keeps the weight of the can easy to handle. Strategically placed side handle and special unique bottom handle for balance and easy handling. Can include an indent for the Matrix Concepts security strap for strapping it in place while transporting. Vented top for easy flow 3″ extra wide fill cap for easy and quick filling of the can. Made from high-quality PVC plastic with heavy-duty wall thickness. Reinforced ribbed bottom for extra strength.

Fire Extinguisher:
We've all seen the memes of rigs going up in flames, but we've seen it in real life, and it is never pretty. Make sure your ride stays lit, without going up in flames. Safety first with these handy fire extinguishers.
Assault Quick Release Fire Extinguisher Kit: MSRP $169.99
Mounting Hardware Designed and Engineered by Assault.  Lightweight, Proven Design. Made from Aircraft-Grade Aluminum. Quick Release 2lbs. Kidde Fire Extinguisher Included. Track Tested by Assault Sponsored Racers. Fits any 1.75", 1.875″ & 2″ diameter bar. Made in the USA.

SafeCraft Model UT Fire Suppression: starting at $553
Safecraft's ingenuity is unveiled with this fully automatic system for the UTV market. This system provides fire suppression capability to both the engine and fuel areas. The easy-to-install kit places the thermal sensor on a flexible line routed directly to the area to be protected. Billet brackets specifically designed for mounting this system on the roll bar are included. Multiple sensor systems can be used for expanded coverage.

Tusk UTV Fire Extinguisher Kit: MSRP $84.99
The Tusk UTV Fire Extinguisher Kit is the perfect way to add a safety feature to help protect your investment. The quick-release two-piece mount is made from steel construction to ensure rugged durability in attaching the Kidde 2.5 lb. ABC fire extinguisher securely to your machine. The Tusk Fire Extinguisher Mount is equipped with four stainless steel T-bolt clamps for a sleek look and ease in mounting.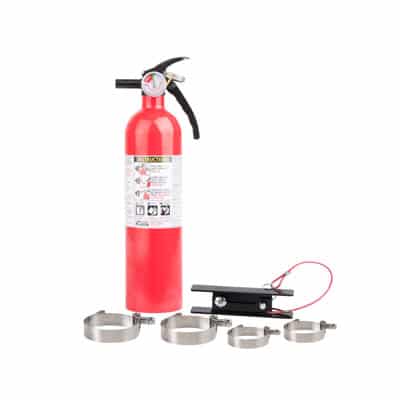 UTV SUMMER SURVIVAL GUIDE: 2019
Tool Kit:
Sometimes we see it coming and sometimes it is out of nowhere, but having tools to fix a problem is always a smart idea. We recommend always having your trusty zip ties and duct tape on hand, but when those won't cut it here's what you should have in your arsenal.
Assault Black Ops On-The-Go UTV Tool Kit: MSRP $399.99
This kit is tailored to fit the needs of most UTV enthusiasts looking for a simple, lightweight solution that has everything, can be mounted in the vehicle, and doesn't make noise! This kit without carrying case is a $455+ value via Boxo! Roll-up Storage Pouch – Maximize space & organization, minimize noise!

Savage UTV Tool Kit: MSRP $169.95
1 Savage UTV Case with mounting hardware, 11″ Needle Nose Pliers, 18mm Utility Knife, Ratcheting screwdriver with 8mm, 10mm sockets.  There is an open space in the foam for you to add the belt change tool specific to your make, model, and year of your vehicle. The space is designed to fit OEM belt change tools from Turbo and naturally aspirated Polaris, Can-Am, Kawasaki, and Teryx UTVs.

Windzone Tool Kit: MSRP $99.95
Kit includes: 1/2″ & 9/16″ open ended wrench; 3/8″ & 7/16″ open ended wrench; 5/8″ & 3/4″ open ended wrench; 10mm combination wrench; 3/8″ ratchet driver; 9 hex keys/allen wrenches; 7-piece torx set (T-10 – T-40); Phillips screwdrivers #1 & 2, small and large slotted; Spare turn/tail light bulb; Locking pliers; Tire pressure gauge; Electrical wire; Electrical tape; Flashlight with battery; 5/8″ spark plug socket; 13/16″ spark plug socket; Spark plug gap gauge.

Coolers:
What is a man without his cooler? No one wants a lukewarm drink.
SOFT SIDE:
Assault Industries Rugged Offroad Cooler Bag: MSRP $59.99
Available in black and white. Easy to clean and fade resistant. The soft side keeps cans from being destroyed during hard rides. The ultra-durable, 1000 Denier vinyl outer skin features a high strength, tear-resistant fiber weave, and UV protective anti-fade coating. This high-quality cooler is constructed using proprietary methods to ensure that it keeps contents colder longer!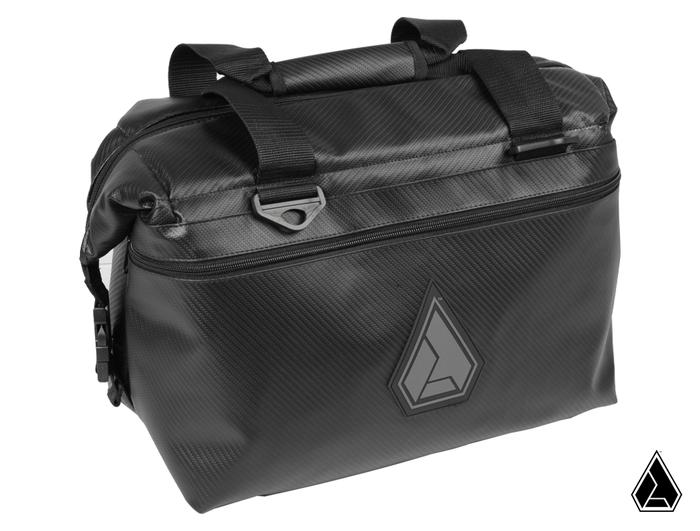 Yeti Hopper BackFlip 24 Backpack Cooler: MSRP $299.99
A cooler engineered to carry as a backpack, using the best tech of both worlds. It promises superior cold-holding, a 100% leakproof zipper, and a tough DryHide™ Shell. Perfect for carrying more than just brews, but all your important goods.

Pelican Dayventure Sling Cooler: $149.95
The Pelican™ Dayventure Sling Cooler is a water-resistant and incredibly durable soft cooler with a wide top opening for easy access. Holds up to four wine bottles, 12 cans, or 8.5 total liters.  A convenient side pocket for additional dry storage and a leak-resistant zipper helps keep drinks cold and belongings safe.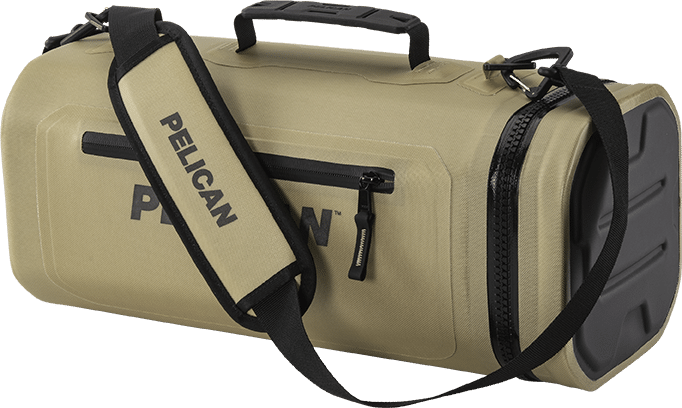 HARD SIDE:
Canyon Outfitter 55QT: $229.99
Sized right to keep food and beverages cold for 2 people on a 4 to 5-day adventure. Will keep ice for up to 8 days, depending on environmental conditions and use. One-piece bombproof construction for a lifetime of use. Covered by Canyon's unconditional, no-hassle, no-fault lifetime warranty.


Polaris Northstar 30QT: $239.99
Our Polaris® Northstar® coolers survive just about anything – from extreme heat to a full-on bear attack – it's IGBC Certified Bear-Resistant. Holds Ice 30+ Hours Longer Than YETI® TravelLock System: Integrated tie-down cleats easily secure to any off-road vehicle, boat, or truck. IceLock Seal: Airtight gasket along the lid keeps cold air in. PolarWall Insulation: Thick 2-inch insulation ensures premium cooling. EasyOut Drain System: Large, easy to open plug for rapid draining. ComfortCarry Handles: Carry a fully-loaded cooler with comfort and ease. NoSlip Rubber Feet: Firm placement on any surface. Made in the USA. Add wheels for $94.99!


Yeti Tundra 35QT: $249.99
The YETI Tundra® 35 is the right size for personal hauls or food for a small crew. It boasts up to three inches of PermaFrost™ Insulation and rugged rotomolded construction for optimum adventure performance. And it fits nicely in an inner tube, making it the perfect, portable cooler to take tubing down the river. This Tundra cooler comes with one dry goods basket.

Belt Temp Gauges:
Sure, changing a belt isn't hard, but why go there in the first place. The easiest way to break a belt is to get caught up in the moment on a hot day. Never second guess your fun by monitoring your belt temp!
Splurge: Razorback 3.0 edition Infrared Belt Temp Gauge  $300
This gauge allows for real-time monitoring of belt surface temperature with medical-grade sensors and features multicolor LED temperature alerts. On the anti-glare LCD screen, you'll be able to easily monitor current, average, and high belt temperatures.

Save: Trail Tech TTO CVT Belt Temp Sensor $49.95
The Trail Tech TTO Digital Temperature Gauge allows you to easily monitor your CVT Belt Temperature 30-500°F (0-270°C) on all UTV and ATV applications which incorporate a CVT type transmission ensuring that your CVT belt is not overheating extending belt life and preventing failure. Trail Tech's TTO Temperature Gauge offers features that include an easy to read LCD display, and an ultra-thin design.

UTV SUMMER SURVIVAL GUIDE: 2019
Whips & Lights
If it gets too hot to ride during the day, then try riding at night! Night rides are so much fun, and with the right technology, you can harness the power of the sun to see any trail.
Buggy Whip 6-foot Safety Antenna: $249
Buggy Whip LED safety antenna has set a new standard globally with key features such as our exclusive tubing that meets military, NASA, and aerospace specifications. The LED safety antenna is designed to handle the harsh conditions of your environment and can withstand speeds of over 150 miles per hour. 1440 LEDs. Made in the USA. 100% exclusive tubing. UV protected for 10+ years. Resistant to chemicals, fluids, impact, abrasion, cuts, and all-weather. Flame retardant.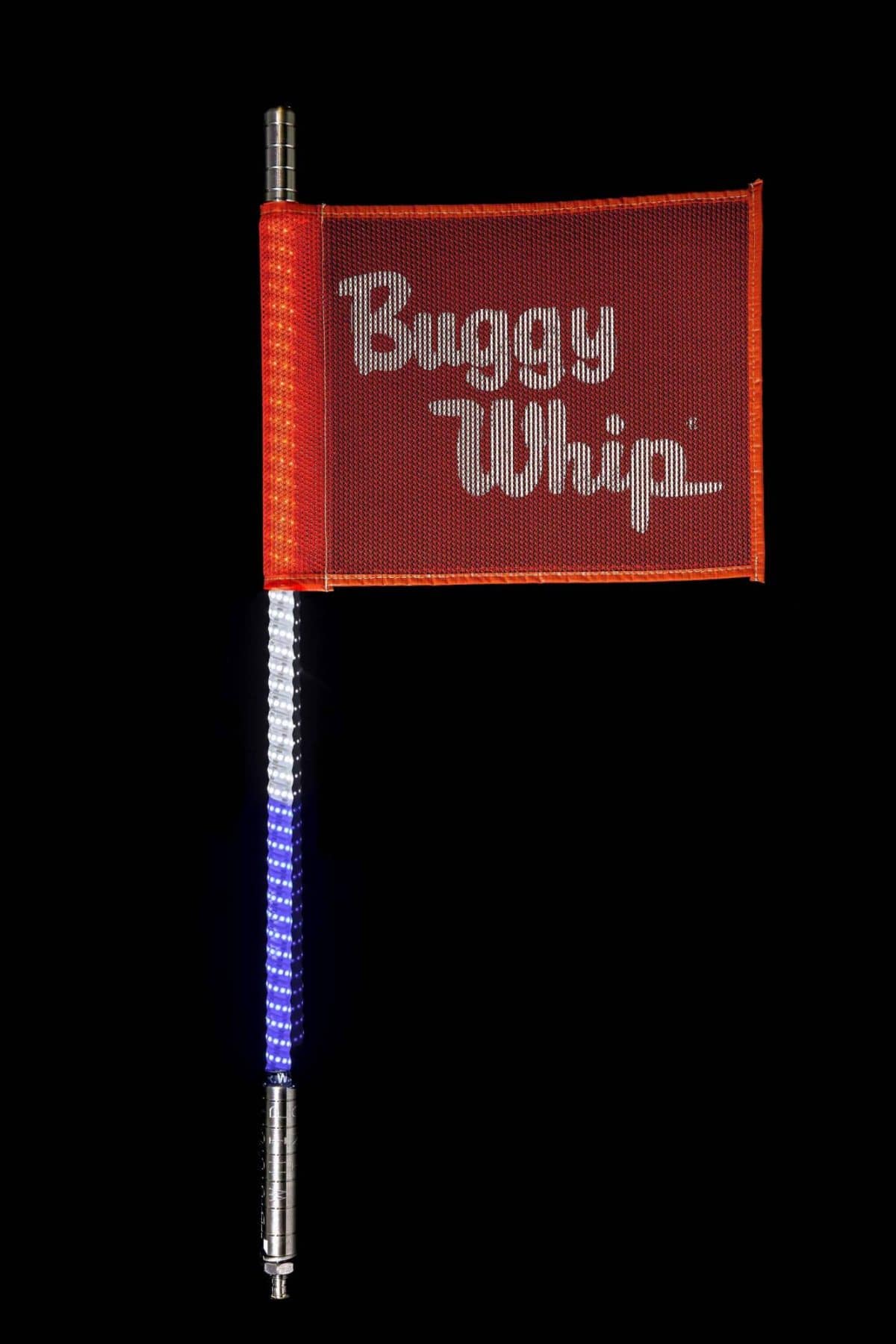 Quad Boss Single Row Hi Lux Light Bar: $59.95-$309.95
5.5″ to 39.5″ Slim, single row LED bars with ultra-high efficient Hi LUX OSRAM LEDs to generate huge performance. A low-profile, sleek housing design provides multiple mounting bracket options. One-year manufacturer's warranty.

Tusk LED Light Bar: $89.99-$269.99
Rubber mounting used for great vibration control. Combo-style lens for a great spot and flood illumination. Includes plug-and-play harness for easy hookup and waterproof Deutsch connectors. Bayer polycarbonate lens is used to protect the projection lens of the light bar. Osram LED lights. Housing is made of extruded 6061 aluminum. Operating Temperature: -40°C to +60°C.

Super ATV 6″ LED Combo Spot/Floodlight : $134.95
Includes (1) 6″ LED Light Bar and (1) LED Rocker Switch (additional rocker switch options available) Wiring Harness Included. 12 LEDs per light. 36w Total Power Consumption Per Light. 2.3 Amp Draw at 12V. 2880 Lumens. Easy to install. Aluminum Mounting Brackets. Working Temperature: -40 F – 140 F. IP67 Water Resistant Rating (Immersion up to 1 m for up to 30 minutes)

QuadBoss 3″ Pod Light Flood Beam: $54.95
Six individual high-intensity Cree® LEDs. 18-Watts, 1620-Lumens. 100% waterproof enclosure. Combination beam pattern with flood and spot reflectors for maximum spread and throw. Works great with 12-Volt DC applications. One-year manufacturer's warranty.For use with QuadBoss® wiring harness.


Super ATV 3″ LED Cube Lights Flood Pattern: $99.95
Includes Two (2) 3″ LED Cube Lights 4 LEDs per light. .98 Amp Draw at 12V (per light) 1080 Lumens. Easy to install. Working Temperature: -40 F – 140 F. IP67 Water Resistant Rating (Immersion up to 1 m for up to 30 minutes)
To subscribe to Dirt Wheels Magazine in print or digital form click here https://hi-torque.com/product/dirtwheels